Grilled Halloumi Black Lentil Salad
Pantry foraging is not my go-to strategy when I am making a salad.
I usually start with the fridge on the hunt for crisp, fresh ingredients with plenty of color.

Salads are not known for their long-shelf life components.

I found myself standing on a dining chair carefully going through the contents of one my high shelves.

My dream kitchen has no upper cabinets for this reason. I have nightmares about injuring myself falling a chair in this exact scenario.
Also, when you put anything on a high shelf it's pretty much a guarantee that you're not going to use it before it's past its expiration date.
I doubt I will ever live anywhere that I will have the luxury of all storage spaces at an arm's reach.
While I stood on the chair, I found a lonely jar of black lentils. I used them a while ago in a summer salad with peaches.
Lentils are high in fiber and great at making soups and salads more filling. They have such a satisfying chewy bite.

I ended up making a grilled halloumi black lentil salad with zucchini and red peppers.

To use lentils in a salad, you have to cook them until they are just tender. You don't want them to be too soft or fall apart.

Halloumi is a wonderful cheese from Cyprus. It's firm, salty, and the best part is that it can be grilled. I've used it in veggie skewers.

I grilled the halloumi, zucchini and red peppers in larger slices. Then I diced them for the salad.

The lentils and vegetables needed more flavors, so I stirred in baby arugula and scallions.
For dressing, I whisked together a simple lemon vinaigrette.
This grilled halloumi black lentil salad was a nice, unplanned changed to my summer salad routine. I will definitely be raiding the pantry again even if it is for a salad.
Print
Grilled Halloumi Black Lentil Salad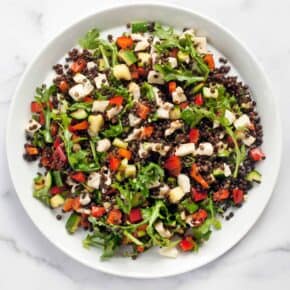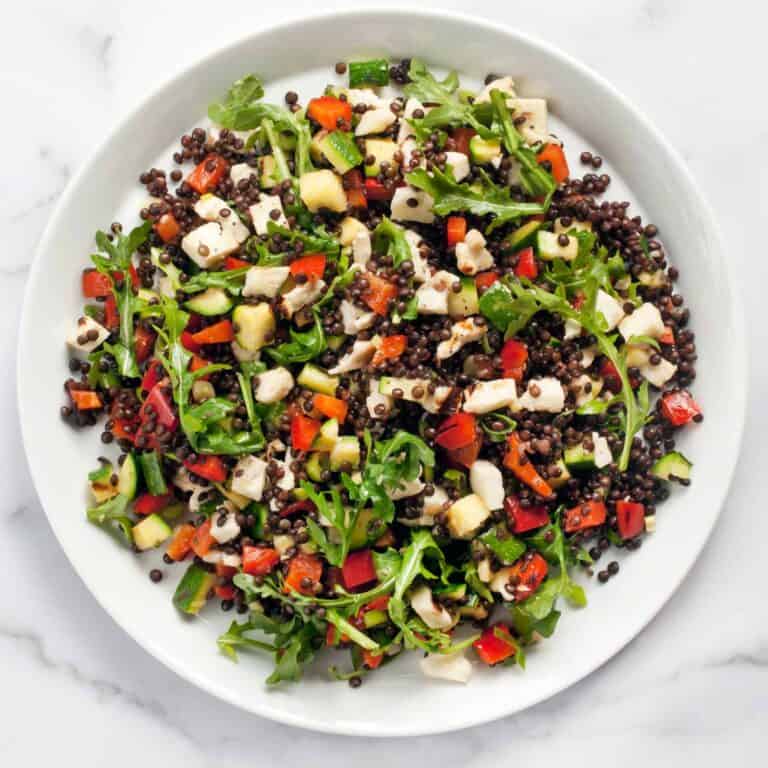 Prep Time:

10 minutes

Cook Time:

18-24 minutes

Total Time:

28-34 minutes

Yield:

Serves 4
Ingredients
For salad
3/4 cup black lentils
1-1/4 cups water
1 medium zucchini, cut lengthwise into 1/4-inch-thick slices
1 small red bell pepper, cut into 3-inch wide strips
2 teaspoons olive oil
1/2 teaspoon kosher salt
1/4 teaspoon black pepper
1/2 pound halloumi cheese, cut lengthwise into 1/4-inch-thick slices
2 scallions, thinly sliced
2 handfuls baby arugula
For vinaigrette
Juice of 1 lemon
1 teaspoon kosher salt
1/2 teaspoon black pepper
1/4 cup olive oil
Instructions
Combine the lentils and water in a small saucepan. Bring to a boil and then reduce to a low simmer. Cook for 15-20 minutes until the lentils are tender. Transfer to a strainer and rinse with cold water. Transfer the lentils to a large bowl.
Preheat a gas or charcoal grill on high heat.
Toss the zucchini and peppers in olive oil, salt and pepper. Grill the vegetables until they are grilled marked, about 3-4 minutes.
Grill the halloumi until it has grill marks, about 2-3 minutes per side.
When they are cool enough to handle, dice the zucchini, peppers and halloumi. Combine with the lentils. Fold in the scallions and arugula.
For the vinaigrette, stir together the lemon juice, salt and pepper in a small bowl. Whisk in the olive oil until fully combined.
Drizzle the vinaigrette into the salad before serving.
SHARE THIS