Roasted Tomato Zucchini Squash Pasta Salad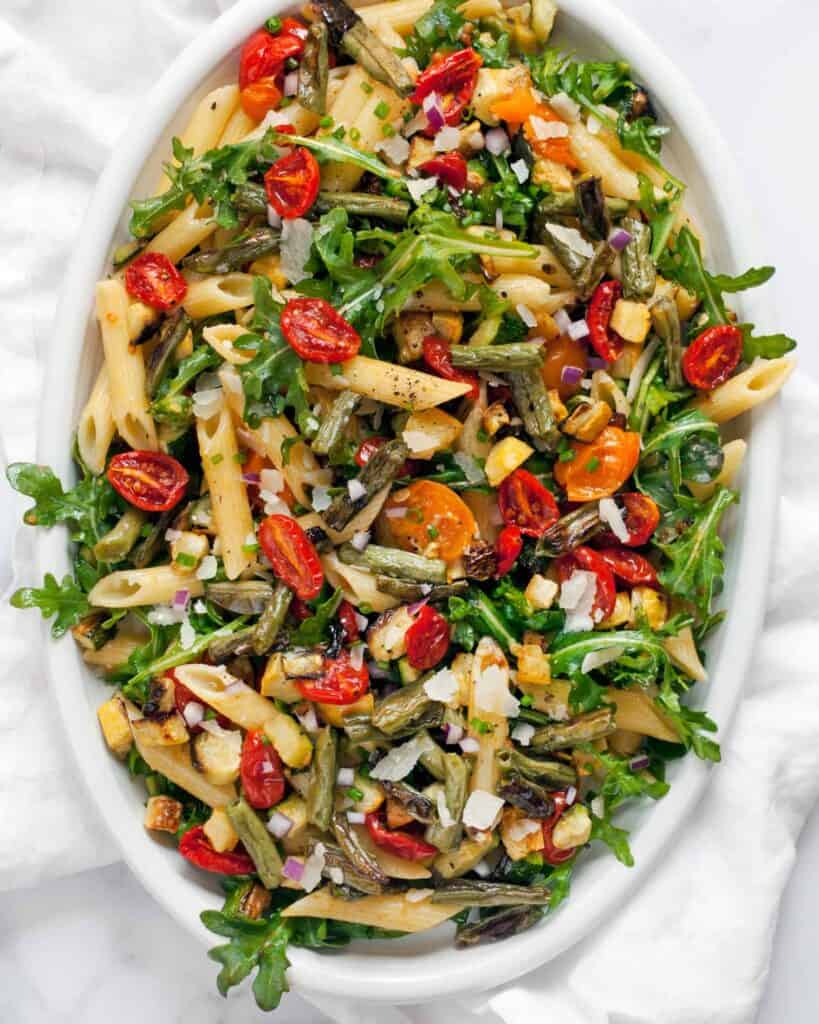 Summer is prime pasta salad season. And I am taking full advantage of eating noodles at room temperature or even straight from the fridge.
Pasta salads make fantastic sides for grilled mains like meat and chicken.

They are also satisfying options for vegetarians who want feel full at a barbecue and not just nibbling on chips and other things here and there.

There are so many different veggies, herbs and greens that you can stir with whatever pasta shape to turn it into a salad.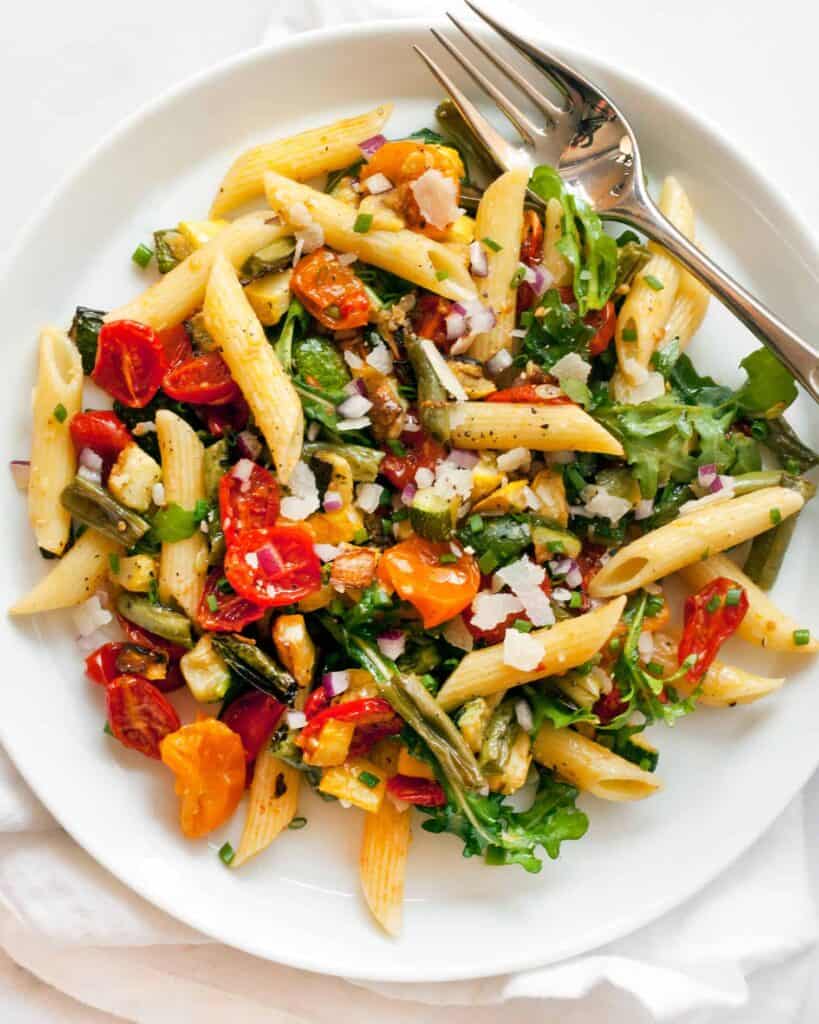 I like either grilled or roasted vegetables in my pasta salads.

Even when it's warm outside, I still switch on my oven to roast a sheet pan full of veggies.

One of my go to combinations is this roasted tomato zucchini squash pasta salad.

Yes, it is a long name, but I want to give proper credit to each vegetable.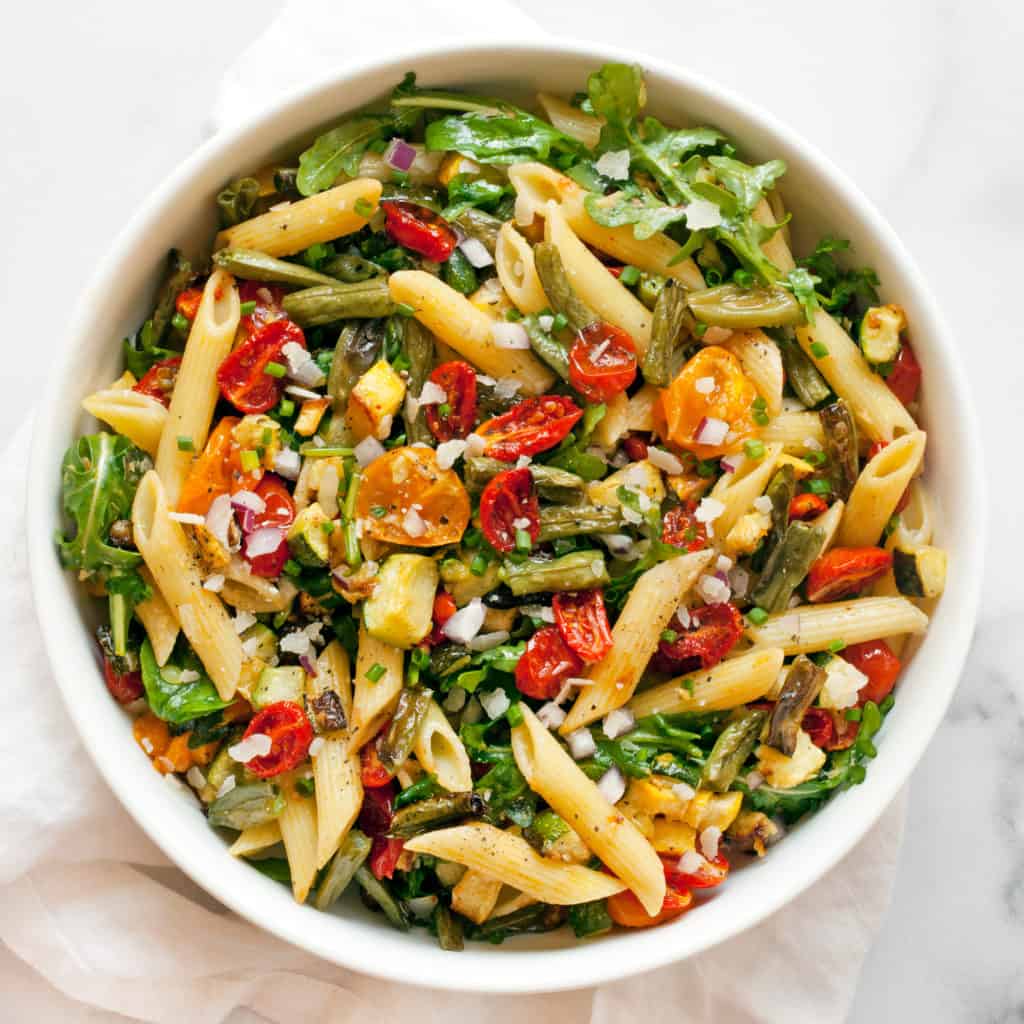 How To Make Roasted Tomato Zucchini Squash Pasta Salad
First I preheat the oven to 400 degrees F.

Then I get started arranging the zucchini and squash on one sheet pan and the tomatoes and green beans on the other.

In the past I have made the green beans on the stovetop in boiling water for this recipe, but it just seems unnecessary to add yet another cooking method. And another pot to wash!
Why not just roast the green beans with everything else?
While the vegetables cook, I boil the penne on the stove.
You can use another pasta shape if you want.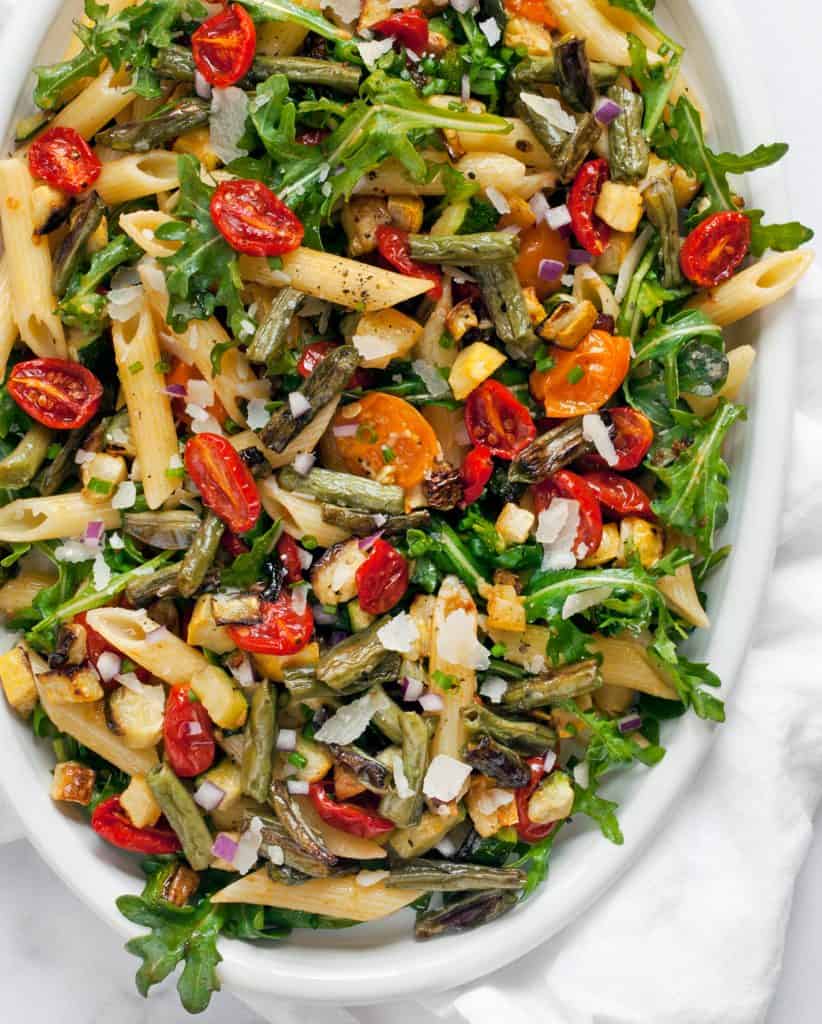 It helps to marry the flavor of the veggies with the pasta by folding them in hot straight from the sheet pan.

I stir in a couple generous handfuls of arugula, which lightly wilt from the heat.

Then I add a splash of white balsamic vinegar, red onions, chives and Parmesan.
I love how this roasted tomato, zucchini squash pasta salad is more about the veggies than the penne.
With pasta salad, I always make sure that the pasta is al dente. Having that slight chew allows it to stand up to all the rest of the ingredients.
Also, this is a wonderful make-ahead dish.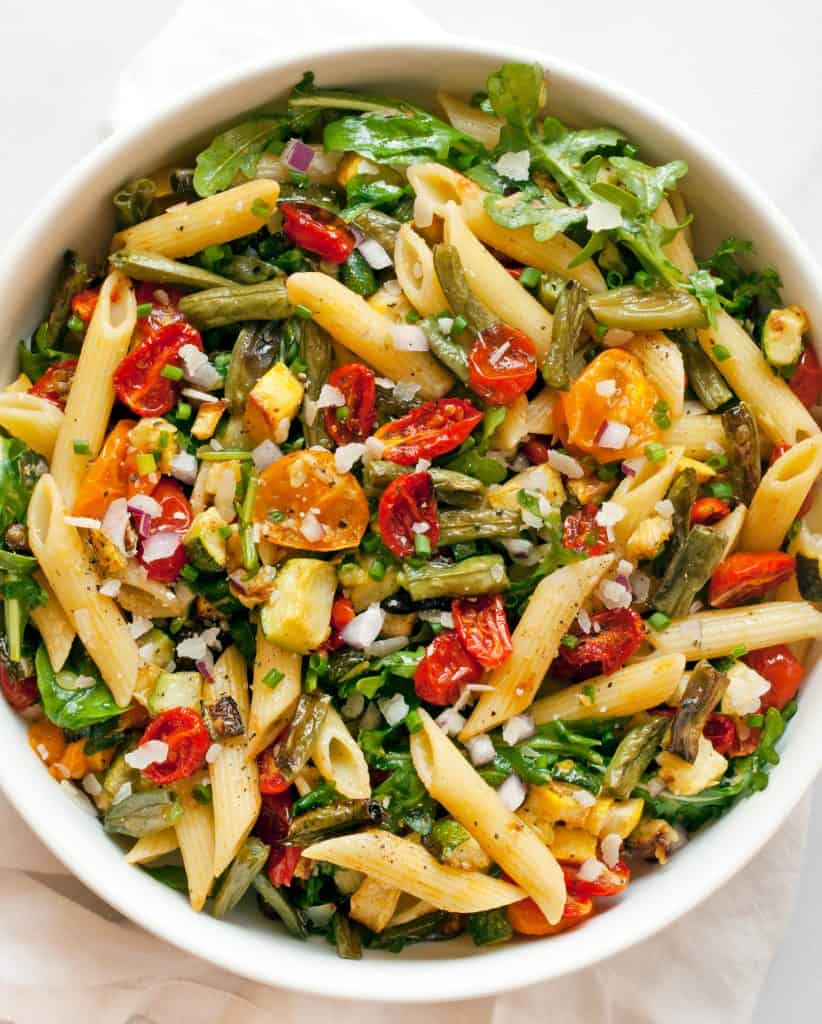 Print
Roasted Tomato Zucchini Squash Pasta Salad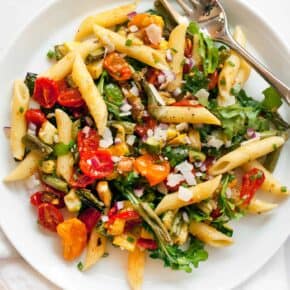 Prep Time:

15 minutes

Cook Time:

20-25 minutes

Total Time:

35-40 minutes

Yield: Serves

6

1

x
Scale
Ingredients
1 pint cherry tomatoes, halved
4 ounces green beans, trimmed and cut into 1-inch pieces
2 medium zucchinis, cubed
2 medium yellow squash, cubed
3 tablespoons olive oil
1-1/2 teaspoons kosher salt
1 teaspoon black pepper
8 ounces penne pasta
2 generous handfuls of arugula
1/4 cup finely diced red onion
2 tablespoons minced chives
1 ounce grated Parmesan
2 teaspoons white balsamic vinegar
Instructions
Preheat the oven to 400 degrees F. Line two sheet pans with parchment paper. Arrange the cherry tomatoes, cut side up, with the green beans on one sheet pan. On the other sheet pan, spread the zucchini and squash in a single layer. Toss with 2 tablespoons olive oil, 1 teaspoon salt and 1/2 teaspoon pepper. Roast for 20-25 minutes until the tomatoes are slightly wrinkled, and the green beans, zucchini & squash are lightly browned at the edges.
Bring a large saucepan of salted water to a boil. Cook the penne according to package instructions. Drain the pasta in a colander and rinse with cold water.
Combine the tomatoes, zucchini, squash, pasta, green beans, arugula, red onions, chives and Parmesan in a large bowl. Toss in the white balsamic vinegar and 1 tablespoon olive oil. Season with the remaining salt and pepper.
SHARE THIS