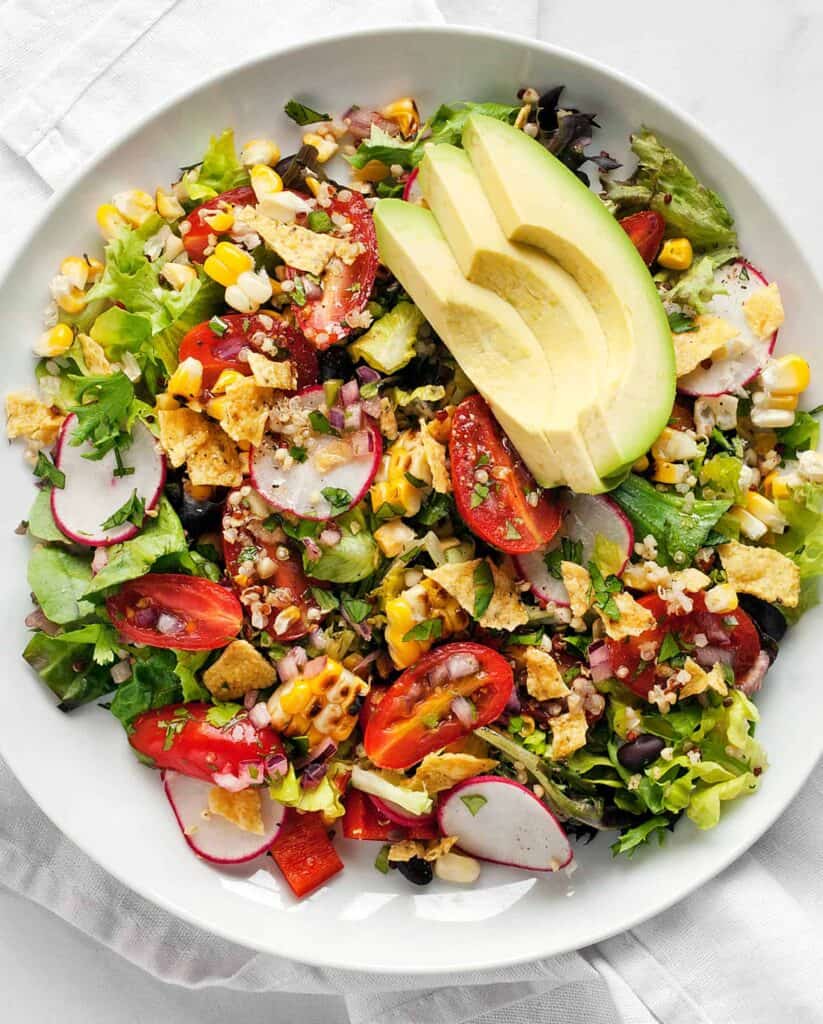 There's one thing that pretty much all the salads I've consumed in the last week or so have had in common—grilled corn.

I am obsessed going fully headfirst in this summer staple.

There are occasions when I will eat it on the cob, but most of the time I take my chef's knife and slice those bright yellow kernels right off.

Then I keep a container of them in my fridge for salads and veggie scrambles with tomatoes.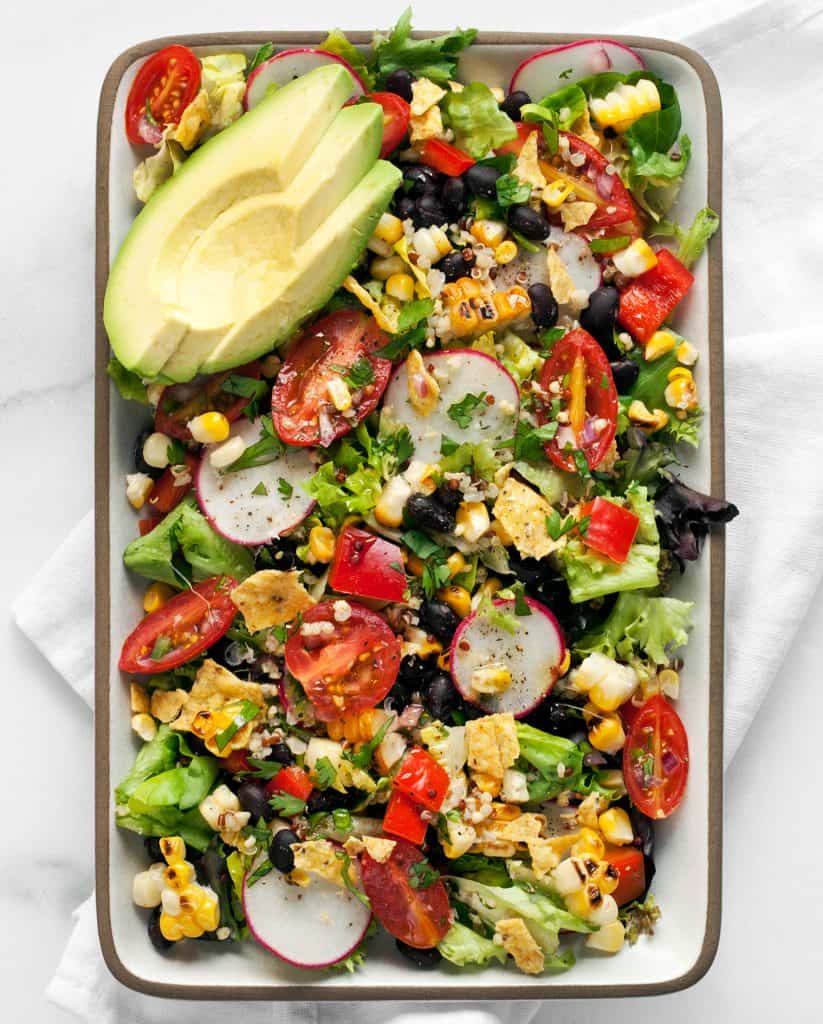 As hard as I try, I still can't convince my 6-year-old to try corn.

It seems like a more approachable vegetable than most for a kid especially when a cob is dressed with just the right amount of butter and flaky sea salt.

My strategy of explaining to him that the tortilla chips he loves so much are made from corn hasn't worked.

He would rather stick to his snack food version.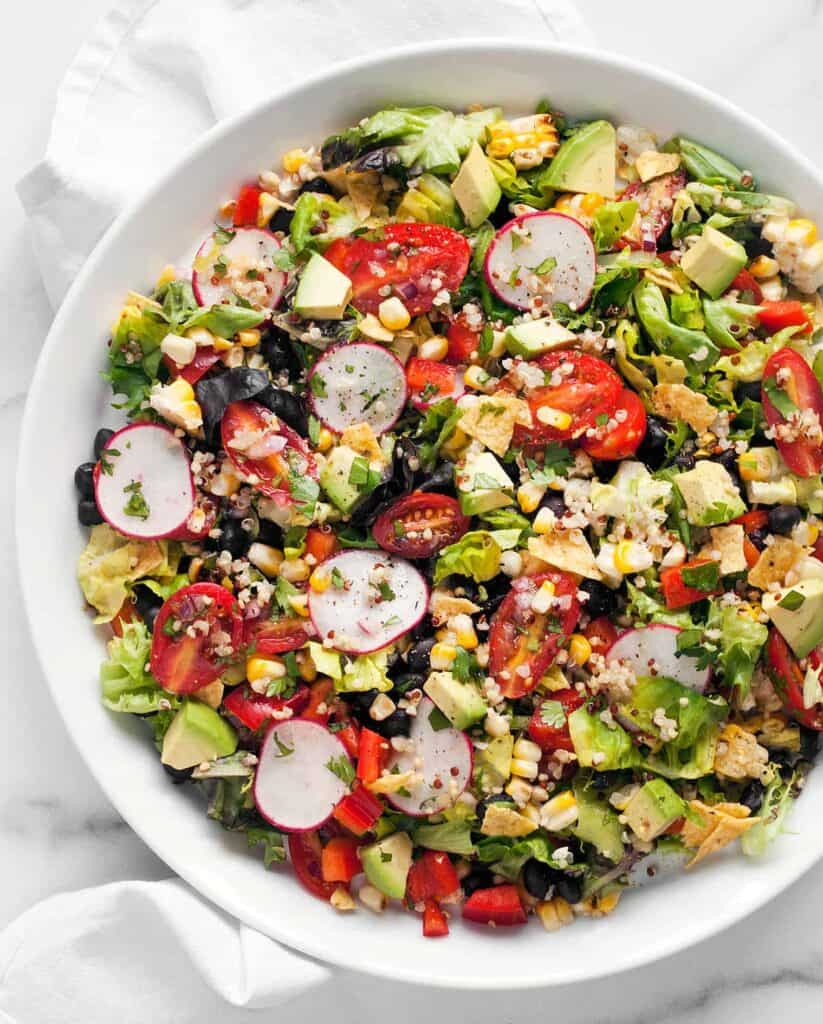 Whenever I buy tortilla chips, they never last long at our house.

I admit I'm in on some of the snacking too.
Since we all find chips so irresistible, I don't always put them on my regular shopping list.

Chips are just too tempting. I try to think of them more like a treat instead of part of my regular snack rotation.

Of course I miss those addictively salty, crunchy chips, but now when I have them they taste even better.
The other week we had a bag of tortilla chips to go with a bowl of grilled pineapple salsa.

How could I throw away the precious crumbs at the bottom of the bag?

I love a salad with toasted bread like a panzanella. Why not use the broken chips like croutons in a salad? They have such good crunch.

This quinoa taco salad has a Tex-Mex spin reminiscent of those giant taco shell bowls, but the ratios are different.

There's a lot more lettuce than shell.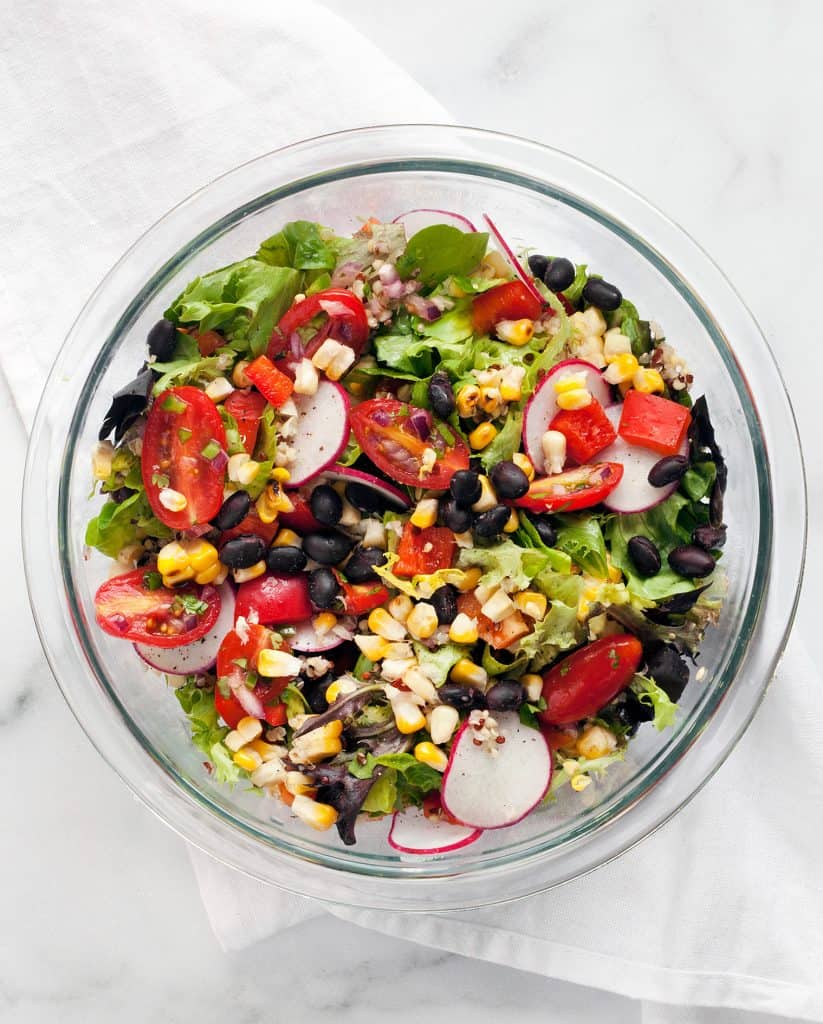 How To Make A Quinoa Taco Salad
The first step is to grill the corn. You can definitely do this a couple days in advance.

The same goes for the quinoa. I like keeping leftovers of different ingredients in my fridge just to add them to salads.
The quinoa is seasoned with a mix of cumin, paprika, salt and pepper.
For a simple pico de gallo, I combine halved cherry tomatoes, red onions, jalapeños, cilantro and lime juice.
Along with the greens, grilled corn and pico de gallo, I toss in black beans, diced bell peppers and either sliced or diced avocado.
The quinoa taco salad is finished with the crumbled tortilla chips and cilantro lime vinaigrette.

Print
Quinoa Taco Salad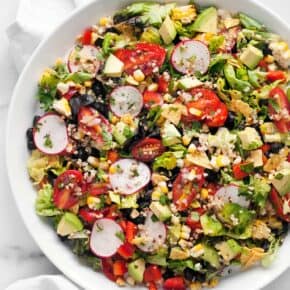 Prep Time:

15 minutes

Cook Time:

17-20 minutes

Total Time:

32-35 minutes

Yield:

Serves 4
Ingredients
For grilled corn
2 ears corn, shucked
1 teaspoon olive oil
For quinoa
1/2 cup uncooked quinoa, rinsed and drained
1 cup water
1/2 teaspoon cumin
1/4 teaspoon paprika
1/2 teaspoon kosher salt
1/4 teaspoon black pepper
For pico de gallo
1/2 pint cherry tomatoes, halved lengthwise
1/4 cup finely chopped red onion
1 jalapeno, deseded and minced
Juice of 1 lime
1-2 tablespoons chopped cilantro
1/4 teaspoon kosher salt
Pinch black pepper
For vinaigrette
Juice of 1 lime
1 tablespoon chopped cilantro
1 garlic clove minced
1/4 teaspoon kosher salt
Pinch black pepper
1/4 cup olive oil
For salad
1 head romaine trimmed and roughly chopped
1-15 ounce can black beans, rinsed and drained
1 red bell pepper, diced
3 radishes, thinly sliced
1 avocado, sliced or diced
1/3 cup crumbled tortilla chips
Instructions
Preheat a gas or charcoal grill on high heat.
Rub the corn with 1 teaspoon olive oil. Grill, turning occasionally, until lightly charred, about 5-7 minutes. Let the corn cool slightly before slicing the kernels off the cob.
In a small saucepan over medium high heat, bring the quinoa and water to a boil. Add the cumin, paprika, salt & pepper. Cover and simmer for 12 minutes until the quinoa is tender and the water has been absorbed. Fluff with a fork and let the quinoa cool.
For the pico de gallo, combine the tomatoes, onions, jalapeños, lime juice, cilantro, salt and pepper in a medium bowl.
For the vinaigrette, whisk together the lime juice, cilantro, garlic, salt, pepper and olive oil in a small bowl.
For the salad, toss together the corn, quinoa, pico de gallo, romaine, black beans, bell peppers, radishes, avocado and tortilla chips. Drizzled with vinaigrette.
Notes
The corn and quinoa can be made 2-3 days in advance and stored in airtight containers in the refrigerator.
SHARE THIS