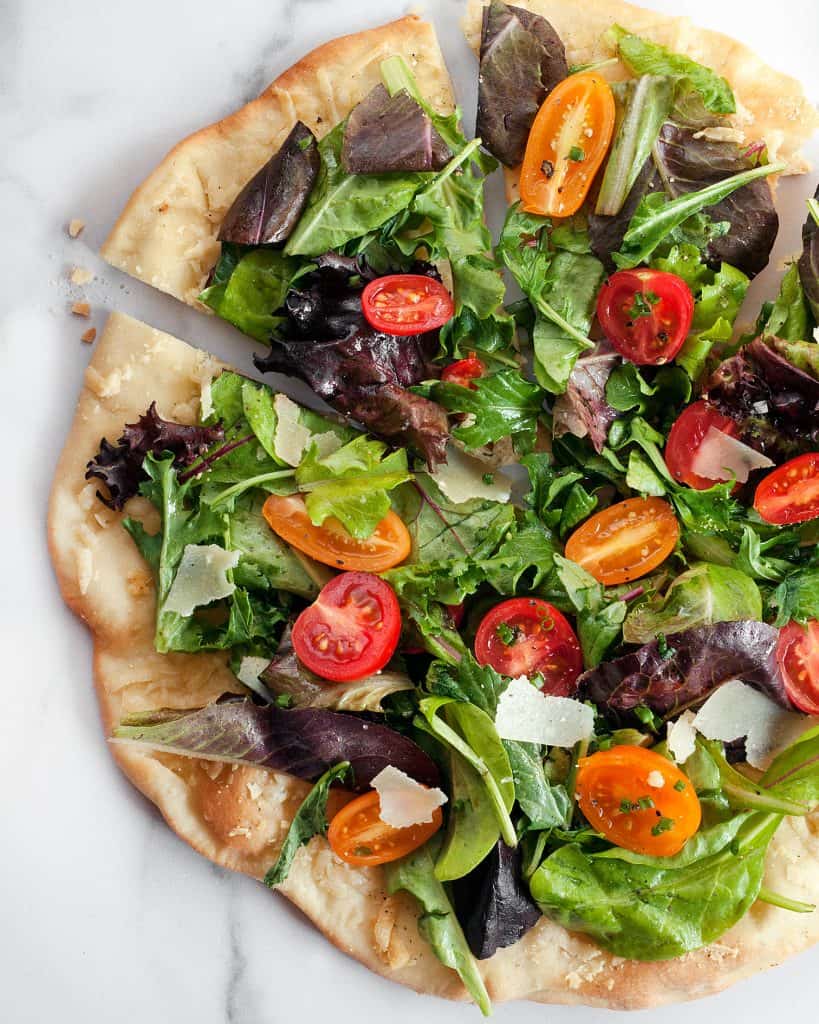 My five-year-old thinks I eat salads for every meal.

Whenever we have a conversation about what he wants to eat and then get to what I'm going to have, he says yuck when I mention a salad.
I explain to him that I never liked salads when I was a kid, and that it's the kind of thing you grow into.
Just like you eventually grow out of wanting to have pizza for every meal.

He disagrees with my theory. And he might be right.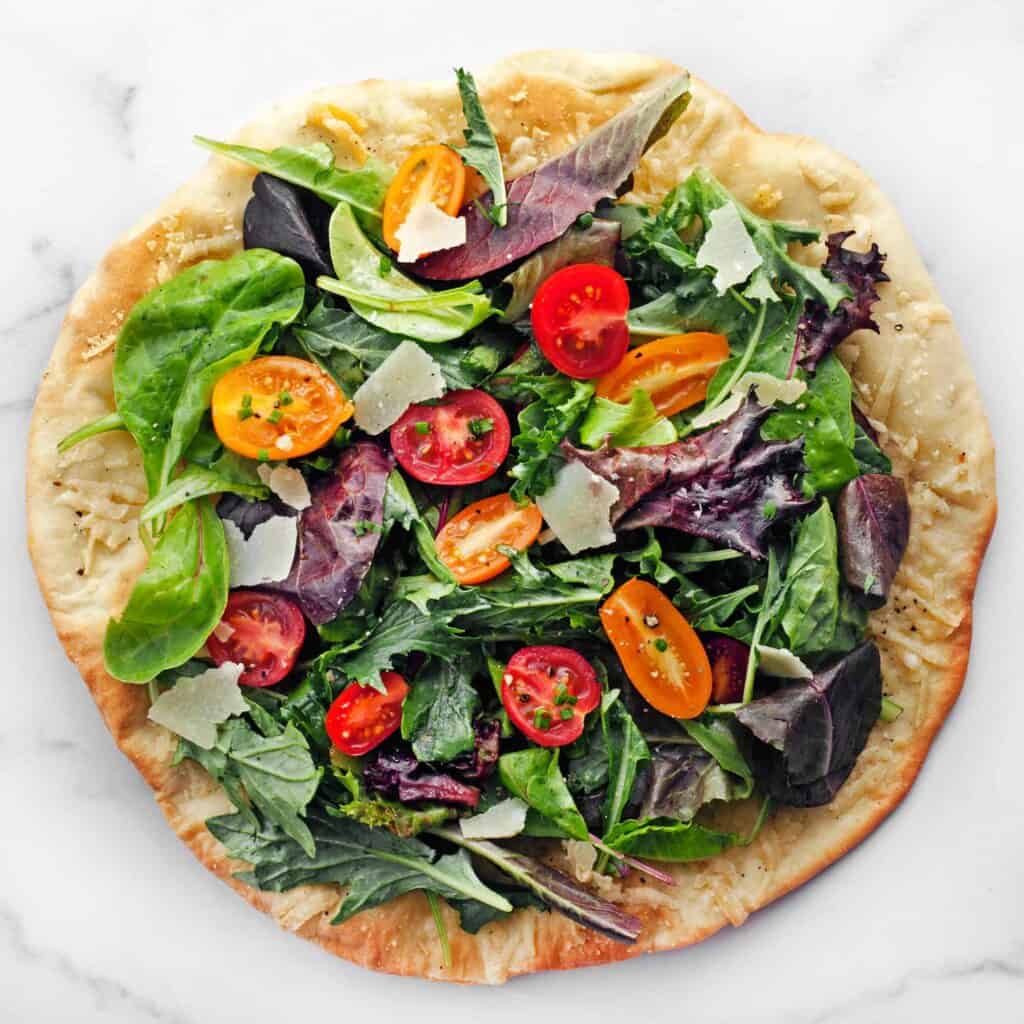 I think we all still secretly want to eat like the under-10 set, devouring pizza on daily basis, but most of us control the urge. We don't actually go through with it.

Pizza 24/7 is completely acceptable when you are a picky, carb-loving kid. As my fellow desperate parents would agree, I just want my child to eat something more substantial than bagged snacks.

With this mixed greens salad pizza, I combined the best of both of our favorites—a thin crisp base and plenty of leafy greens.

I used a version of my go-to pizza dough, but I made a big change. Instead of waiting 2 hours for the dough to rise and double in volume, I gave it a 30-minute rest.

That shortened rise time was to make sure that my pizza turned out thin and crispy, almost like a cracker in spots.

I reminisced back to the first time I had salad pizza. It was at California Pizza Kitchen. I used to love their Tricolore Salad Pizza.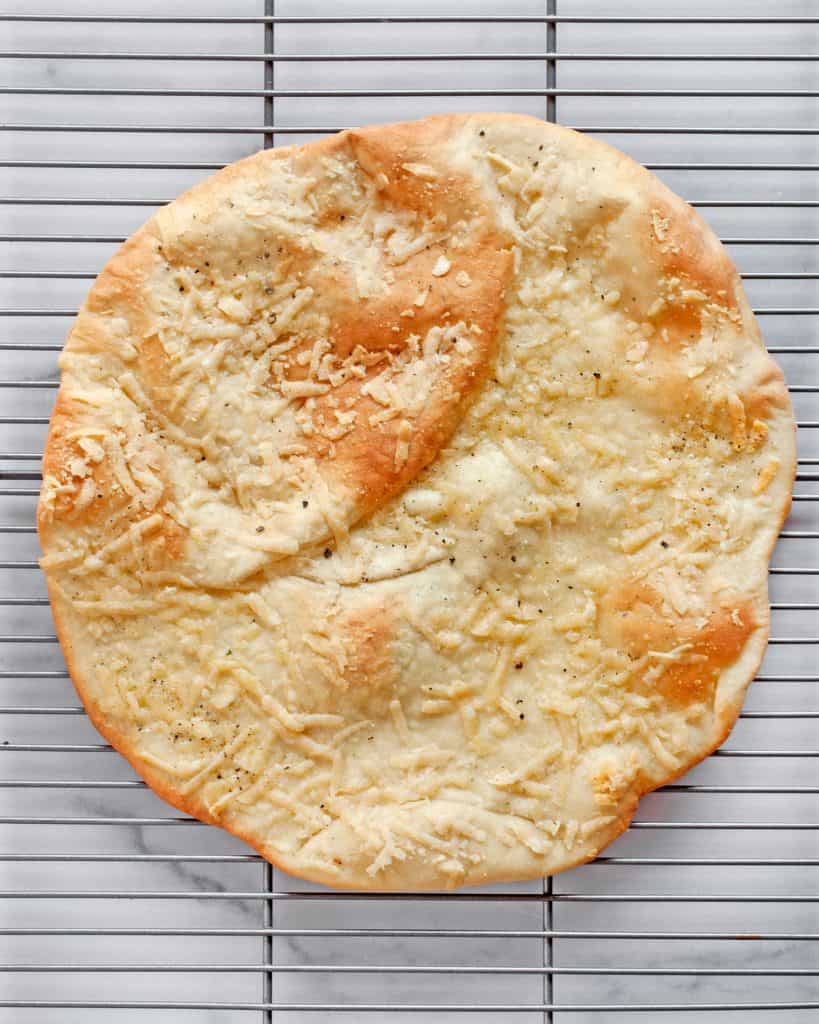 I haven't been to a CPK in a million years. I'm not sure if it's still on the menu.
The crust on that pizza had a little cheese melted on it.
I rolled out the dough, let it bake on a pizza stone for a bit and then topped it with coarsely grated Parmesan.
It only took a few minutes for the cheese to melt.
While the crust cooled, I whisked together balsamic vinaigrette and tossed that with the greens.
I piled the salad onto the crust along with cherry tomatoes, grated Parmesan and chives.
My son was actually a fan of my mixed greens salad pizza. He loved the cheesy crust, but he requested that I leave off the salad.
Print
Mixed Greens Salad Pizza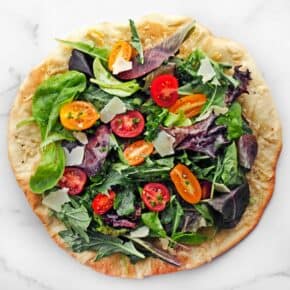 Prep Time:

45 minutes-60 minutes

Cook Time:

10 minutes

Total Time:

55-70 minutes

Yield:

Two 10-inch pizzas
Ingredients
For dough
2/3 cup warm water
1/2 teaspoon dry active yeast
1/2 teaspoon granulated sugar
1 teaspoon olive oil plus more for bowl and brushing pizza
1-1/2 cups bread flour plus more for work surface
1/2 teaspoon kosher salt
For vinaigrette
1 tablespoon balsamic vinegar
3 tablespoons olive oil
1/4 teaspoon kosher salt
1/4 teaspoon black pepper
For crust and salad
1/2 cup coarsely grated Parmesan
1/4 teaspoon black pepper
3-4 ounces mixed greens
1/2 cup halved cherry tomatoes
1 tablespoon minced chives
Shaved Parmesan
Instructions
In a small bowl, combine the water, yeast, sugar and olive oil. Let stand until foamy, about 5 minutes.
In the bowl of a food processor, pulse the flour and salt. Add the yeast mixture and process until a ball of dough forms. Transfer the dough to an oiled bowl, cover and let rest for 30 minutes.
Preheat the oven to 450 degrees F with a baking stone inside.
For the vinaigrette, whisk together the balsamic vinegar, olive oil, salt and pepper.
On a lightly floured work surface, split the dough into two balls. Roll the dough into 10-inch diameter circles.
Transfer the dough to the baking stone. Brush with olive oil. Bake for 7 minutes. Sprinkle the crust with coarsely grated Parmesan and pepper. Continue baking for 3 minutes until the cheese has melted.
Let the crust cool.
In a large bowl, toss the mixed greens with cherry tomatoes and chives. Drizzle with balsamic vinaigrette.
Top the pizzas with salad and finish with shaved Parmesan.
SHARE THIS