Best Grilled Pizza Recipes
Don't get me started with how much I love grilled pizza. You won't be able to stop me from going on and on. Because the grill is hotter than the oven, it's the easiest way to get chewy crust with just the right amount of puffed up bubbles. You will be amazed how simple it is to make restaurant-level pizza at home.
Trust me, after you grill pizza the first time there's no looking back. You will join all of us in the know donning raincoats and winter coats to stand at the grill no matter the weather. The good thing is that pizza cooks very quickly on the grill, so you won't have to brave the elements that long before you can get back inside to devour your pie.
Tips For Grilling Pizza
Have your ingredients ready before you start grilling: Pizza cooks fast on the grill, so I like to have my toppings very organized. I use a rimless sheet pan to transport the rolled out dough to the grill. A rectangular baking pan comes in handy to carry everything else.
Use toppings that are already cooked: There isn't enough time to cook the toppings when they are on the pizza as it grills. That's why I like to roast my tomatoes, grill my corn and take care of all prep in advance.
Go light on the toppings: Grilled pizza crust is very tasty. Don't weigh it down by overloading it with sauce and toppings.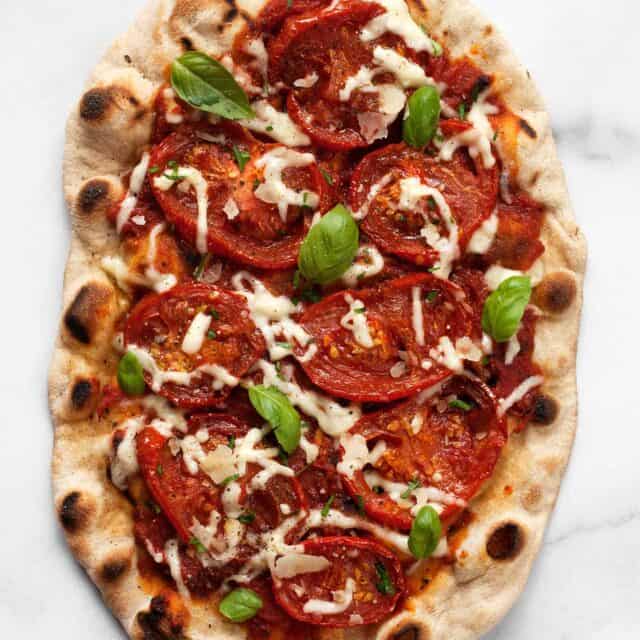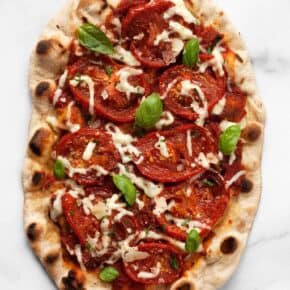 How To Grill Pizza
This is where it all begins. Restaurant-quality crust is a sure thing with grilled pizza. The dough goes straight on the grates guaranteeing perfect grill marks and charred bubbles. Basic has never looked better with tomato sauce and cheese.
For recipe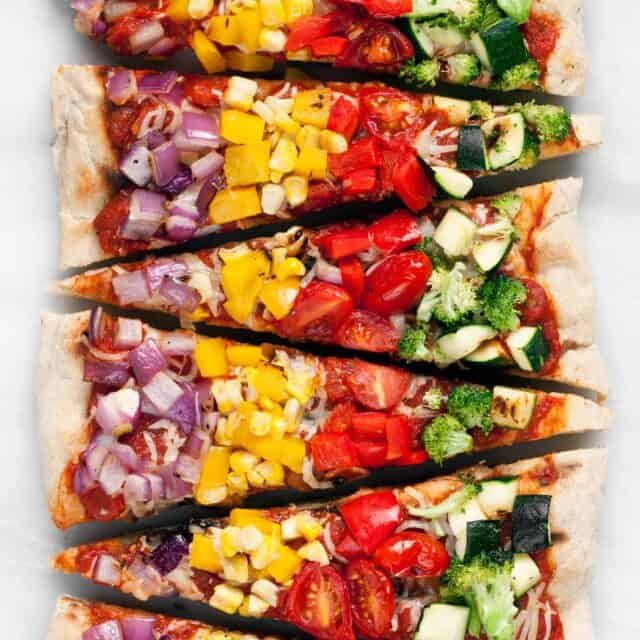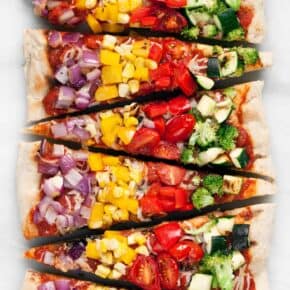 Grilled Rainbow Veggie Pizza
For this colorful grilled rainbow veggie pizza, I use a combination of vegetables in red, green, yellow and purple including zucchini, broccoli, tomatoes, peppers, corn and onions. I grill them and chop them before topping the pizza.
For recipe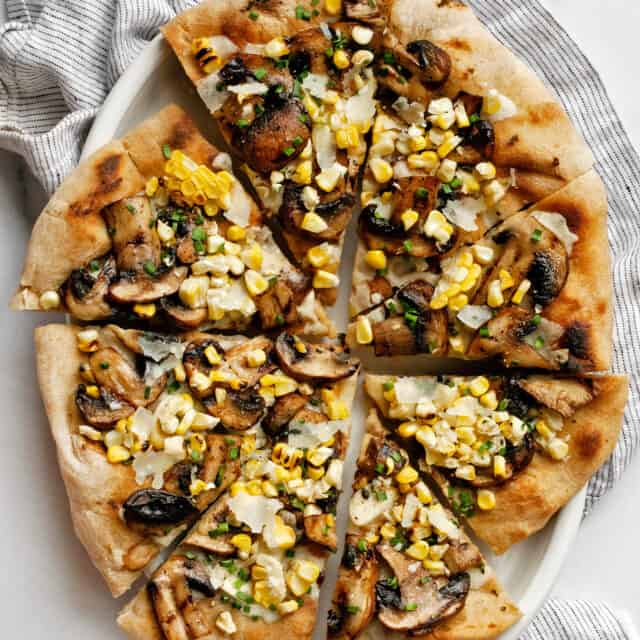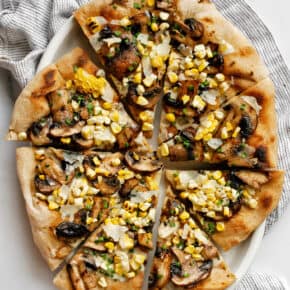 Grilled Mushroom Corn Pizza
I marinate the the mushrooms for this grilled corn mushroom pizza in balsamic vinegar and olive oil. For toppings, I also include thinly sliced garlic and mozzarella.
For recipe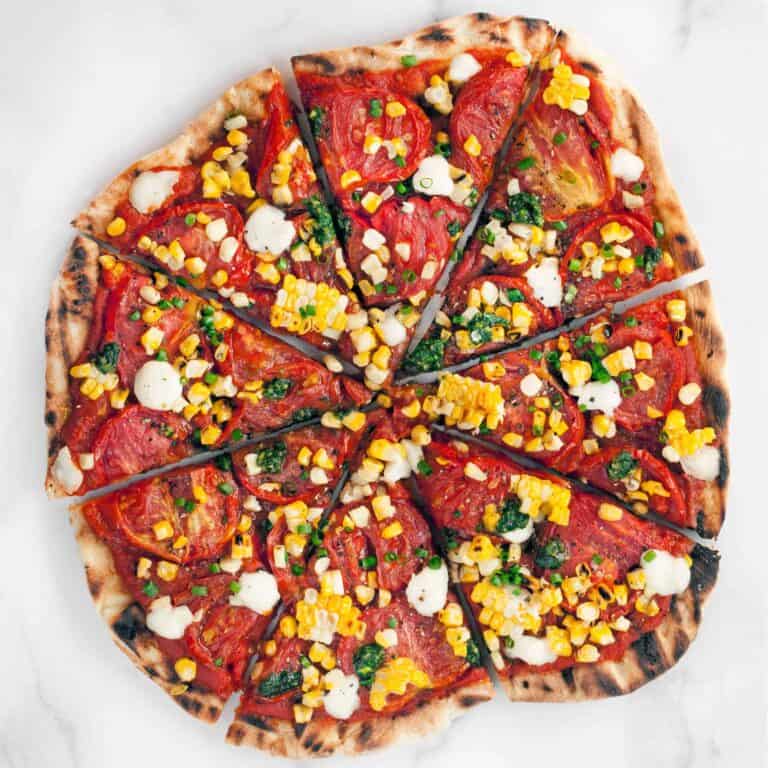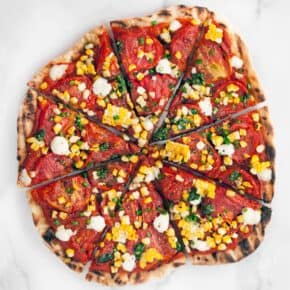 Grilled Corn Roasted Tomato Pizza
This grilled corn and roasted tomato pizza celebrates peak summer produce. I recommend roasting the tomatoes and grilling the corn in advance. This saves you time for when you actually grill and assemble the pizza.
For recipe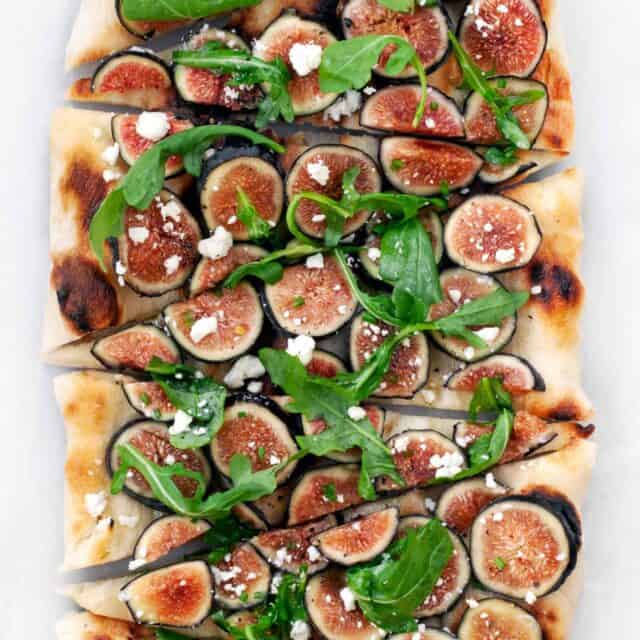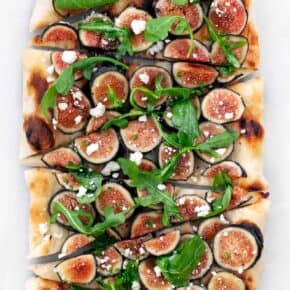 Fig Goat Cheese Flatbread
With a grilled crust, I top this beautiful fig goat cheese flatbread with sliced fresh figs, baby arugula, walnuts, crumbled goat cheese and herbs.
For recipe