Grilled Rainbow Veggie Pizza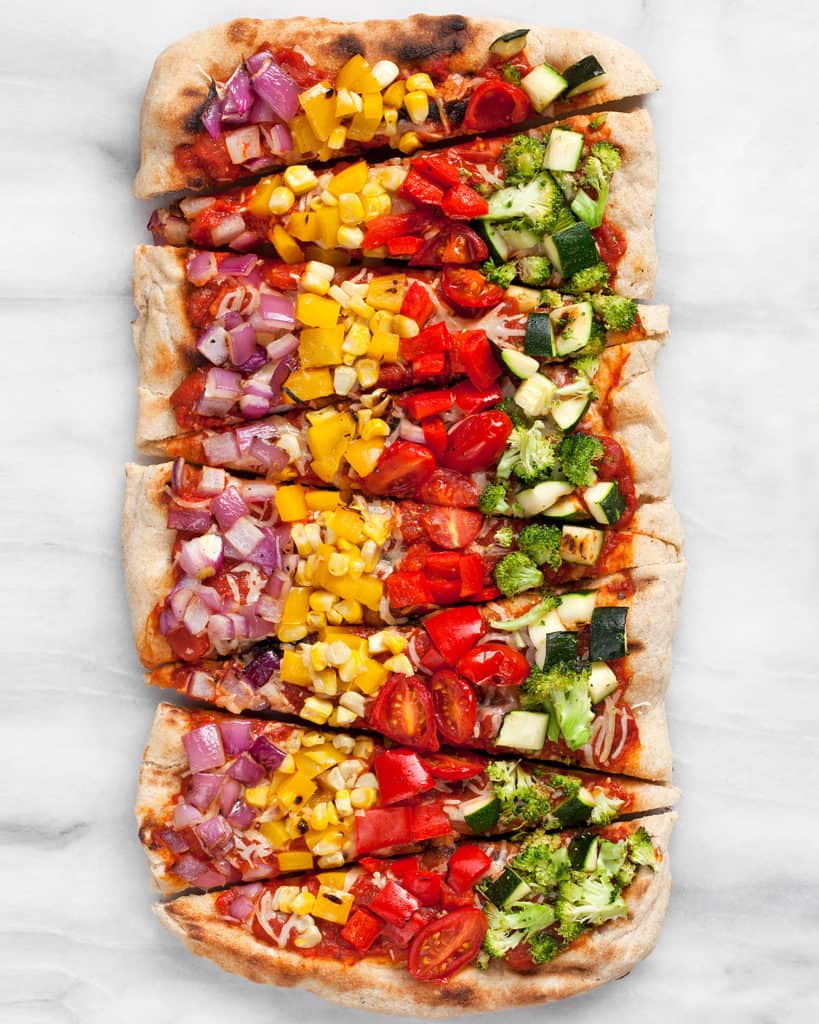 Whenever I go to a new pizza place, I always keep my order simple: cheese and tomato sauce. That's it.
Nothing else, ever.
Pizza might be the most perfect food. Sampling it in its most uncomplicated form allows me to do a full assessment of the crust and the rest of the basic components.
Then the next time I eat that pizza, I will probably add a topping or two. I may even go as far as the restaurant's signature pie.
When I make pizza at home, I am pretty much a short-order cook. My husband, son and I all have our preferences, so it's just easier to make individual pizzas. Sometimes I'll do a larger pizza divvied up into sections for our assorted toppings of choice.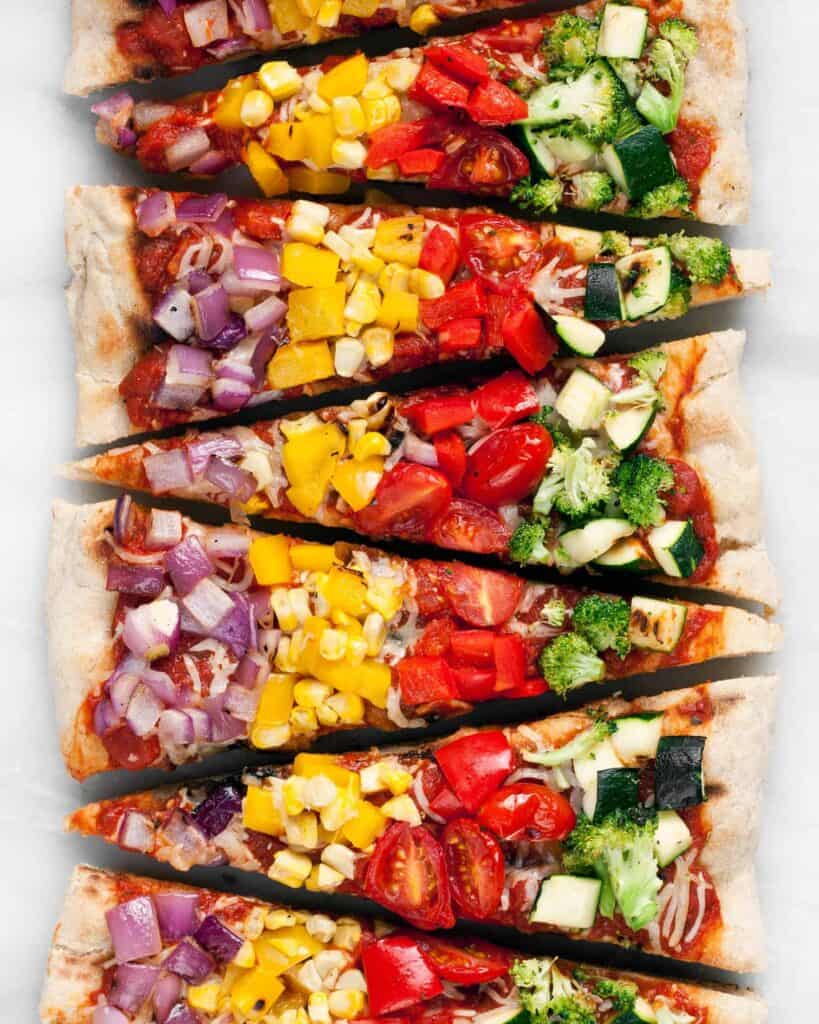 My third is guaranteed to be loaded with lots of vegetables.
Meticulous multi-topping pizzas are my thing. It only made sense to take a break and make one all for myself.
This grilled rainbow veggie pizza was a test to see how many vegetables I could manage to cram onto a single pie.
Grilling pizza is my absolute go-to way to cook it, weather permitting.
For this recipe, I didn't start by grilling the crust. Instead I grilled the vegetables first.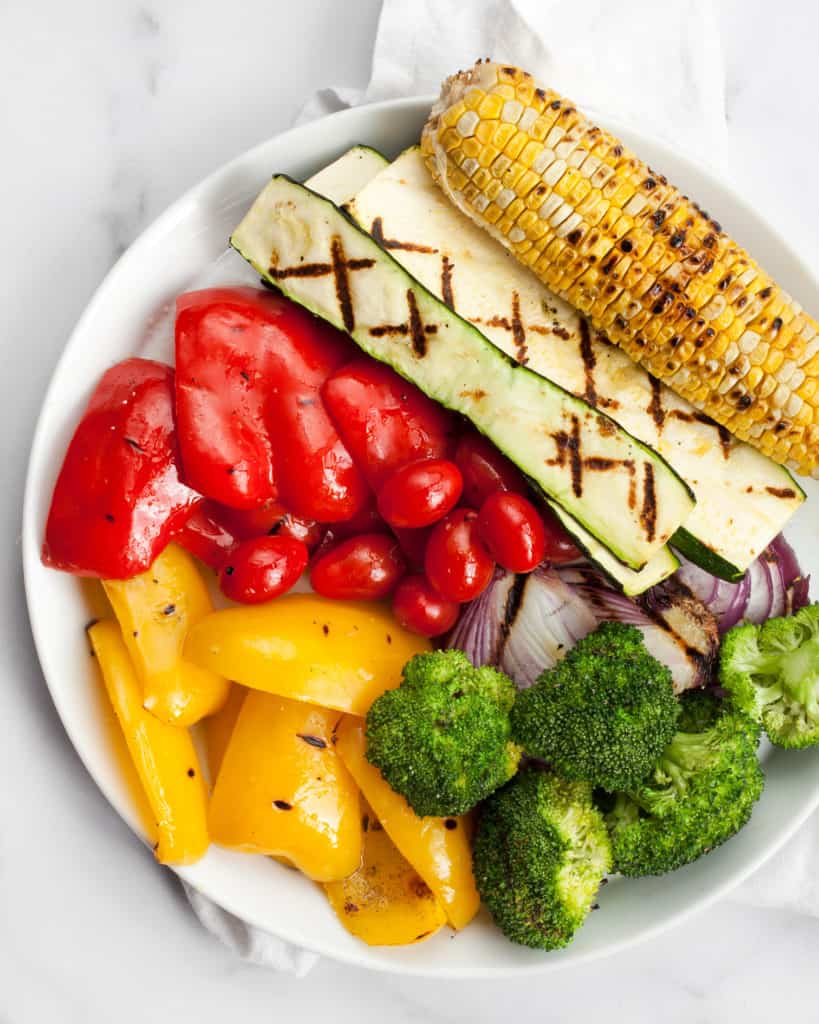 Going for the most color possible, I incorporated the full spectrum:
Green: Zucchini and broccoli
Red: Grape tomatoes and red peppers
Yellow: Corn and yellow peppers
Purple: Red onions
Once the vegetables were cooked with just the right amount of char and grill marks, I grilled the crust straight on the grates.
Then I took the crust off the grill to spread it with the tomato sauce and sprinkle on the cheese. It was important to leave the vegetables till last, so the cheese didn't cover up the colors.
After a couple minutes, the cheese melted, and the grilled rainbow veggie pizza was ready
Vegans can leave off the cheese, of course.
Print
Grilled Rainbow Veggie Pizza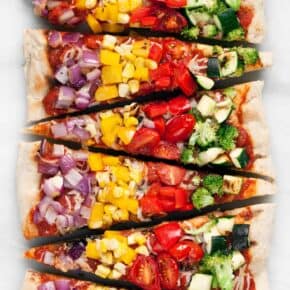 Author:
Prep Time:

2 hours 30 minutes

Cook Time:

12-15 minutes

Total Time:

2 hours 42-45 minutes

Yield:

One 8-inch by 12-inch pizza
Ingredients
For dough
2/3 cup warm water
1/2 teaspoon dry active yeast
1/2 teaspoon granulated sugar
1 teaspoon olive oil plus more for bowl
1 cup bread flour plus more for work surface
1/2 cup whole-wheat flour
1 teaspoon kosher salt
For toppings
1 corn cob, shucked
1 small red bell pepper, cut into 3-inch wide strips
1 small yellow bell pepper, cut into 3-inch wide strips
1 small zucchini, cut lengthwise into 1/4-inch-thick slices
1/2 small red onion, sliced 1/4-inch-thick
1 small head broccoli, trimmed and split into large florets
3/4 cup grape tomatoes
2 tablespoons olive oil
1 teaspoon kosher salt
1 teaspoon black pepper
1/2 cup tomato sauce
1/2 cup finely shredded Italian cheese blend
Instructions
For the dough, in a small bowl, combine the water, yeast, sugar and olive oil. Let stand until foamy, about 5 minutes.
In the bowl of a food processor, pulse both the flours and salt. Add the yeast mixture and process until a ball of dough forms. Transfer the dough to an oiled bowl. Cover and let rise until doubled in volume, about 2 hours.
Preheat a gas or charcoal grill on high heat.
On a lightly floured work surface, roll out the dough into an 8-inch by 12-inch rectangle.
Toss the vegetables in olive oil, salt and pepper.
Grill the corn, turning occasionally, until lightly charred, about 5-7 minutes. Grill the peppers, zucchini, onions and broccoli until grilled marked, about 3-4 minutes. Grill the tomatoes until their skin just starts to split, about 2 minutes.
Slice the kernels off the corn. Dice the peppers, zucchini, onions and broccoli. Halve the tomatoes.
Dicing the zucchini, squash and peppers and slicing the kernels off the corn cobs.
Place the rolled-out dough directly on the grates and grill for 3 minutes with the lid closed until the crust has grill marks and has puffed up. Turn over the crust and grill for an additional 2 minutes.
Remove the crust from the grill. Spread the tomato sauce leaving a 1/2-inch border at the edge and scatter the cheese on top. Arrange the vegetables in stripes by color. Return the pizza back on the grill for a couple minutes to let the cheese melt.
SHARE THIS