There are a few foods I love so much that I could eat them every single day, and pizza makes the cut.
I adore chewy, perfectly browned crust only with tomato sauce and mozzarella. How can something so simple be absolutely magical?
Toppings make an occasional appearance, but lots of times I am more than content with a classic margarita pizza void of gimmicky additions.
Whenever I try a pizza place for the first time, I like to order a plain cheese pizza as a test. If the most basic pizza is good, then usually the fancier ones will be too.
Any style pizza will do as long as it is not deep dish—apologies to Chicago! I feel fortunate to call this phenomenal city home, but I have never been a fan of its signature pie.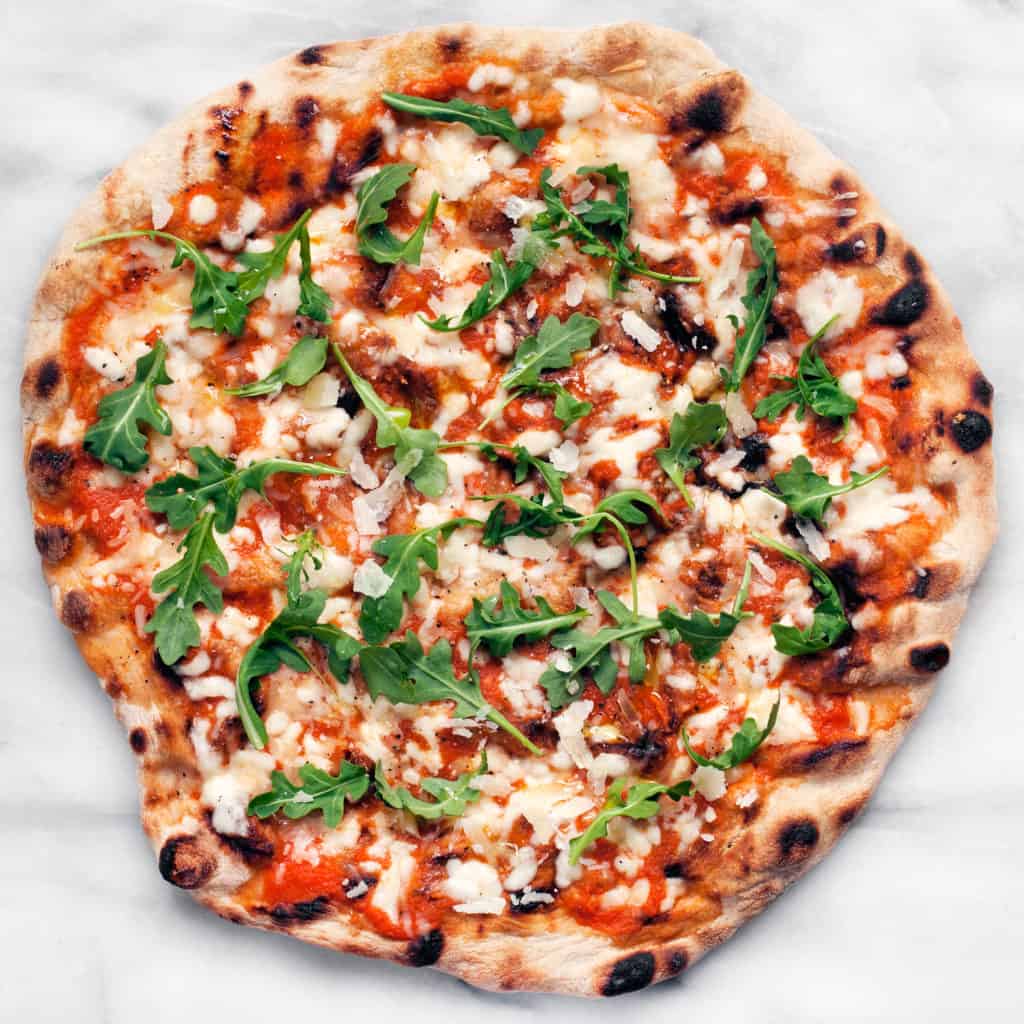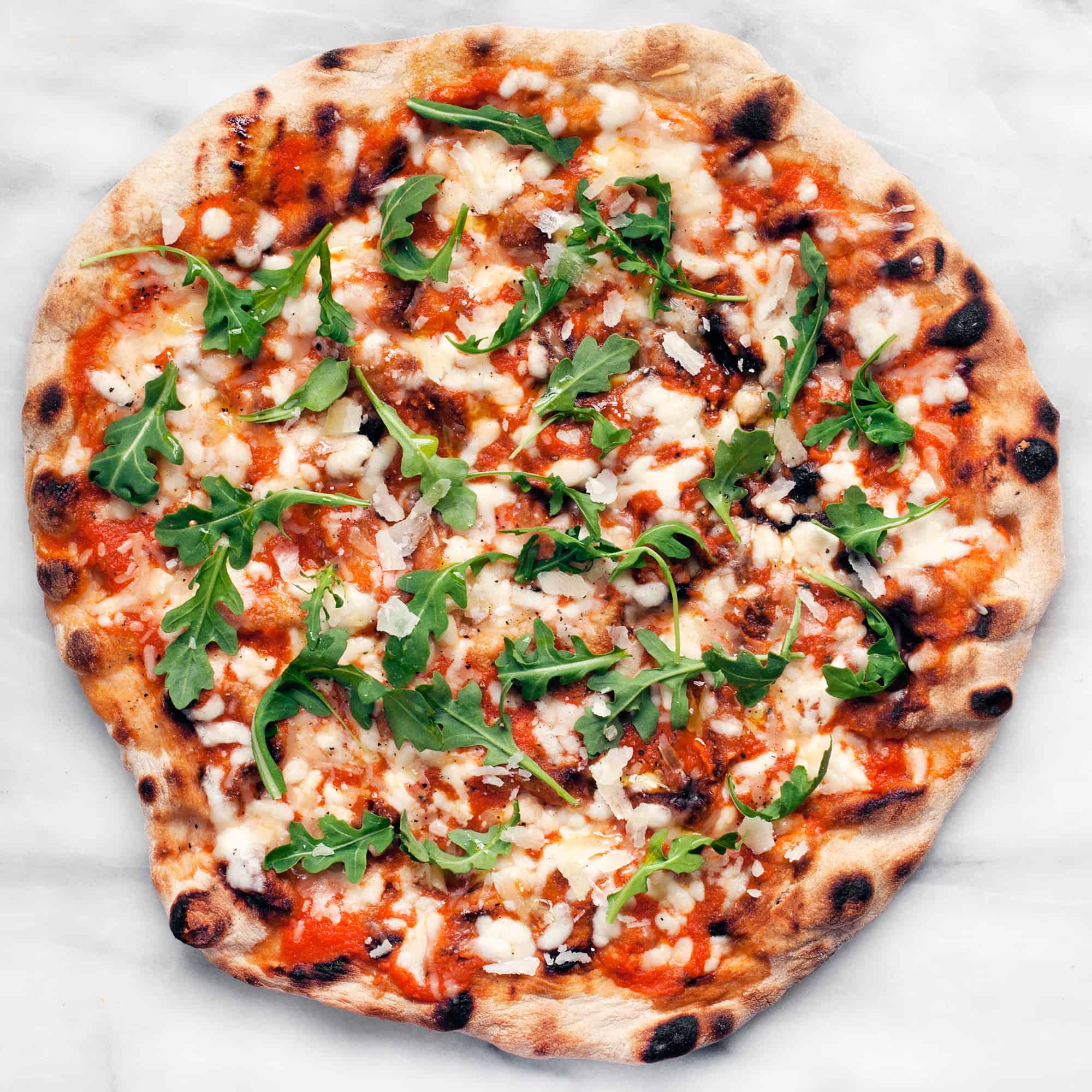 Why Grilled Pizza is the Best
And I never understand why tourists feel obligated to make it one of their meals. There is so much other incredible food to sample.
With all the Neapolitan pizza spots that have opened here in the last few years, I know I am in the good company of other Chicagoans who have shunned thick crust.
My pizza consumption is not limited to dining out or delivery. I rely on my well-worn pizza stone during cold weather months. When the temperature warms up, I head straight outside to the grill.
Restaurant-quality crust is a sure thing with grilled pizza. Better than any other method for home cooks.
The dough is placed right on the grates and grilled on both sides before it is taken off, so the toppings can be quickly slathered and sprinkled on the crust.
Then the pizza returns to the heat to allow the cheese to melt. The grill-marked pie is enough to make me reconsider how I make pizza year round. For now I will bask in the sunshine-filled months ahead
Print
Grilled Pizza
Prep Time:

2-1/2 hours

Cook Time:

5-6 minutes

Total Time:

2-1/2 35-36 minutes

Yield:

Two 12-inch pizzas
Ingredients
For dough
1-1/4 cups warm water
1 packet dry active yeast (2-1/4 teaspoons)
1 teaspoon granulated sugar
1 tablespoon olive oil plus more for oiling bowl
3 cups bread flour plus more for dusting
1 teaspoon kosher salt
For tomato sauce
1 tablespoon olive oil
3 garlic cloves, peeled and smashed
1-28 ounce can whole peeled tomatoes
1/4 teaspoon salt
1/4 teaspoon black pepper
1 pinch red pepper flakes
For pizza
1 tablespoon olive oil
8 ounces fresh mozzarella cheese, roughly torn into pieces or shredded
1 handful baby arugula
1 tablespoon crumbled Parmesan
Instructions
For the dough, combine the water, yeast, sugar and olive oil and let stand for 5 minutes until foamy. In a large bowl, mix together the flour and salt. Add the wet ingredients to the dry and stir until it forms a shaggy dough. Turn the dough onto a lightly floured work surface and knead for 10 minutes until the dough is smooth and elastic. (Alternatively, the dough can be mixed in the bowl of a stand mixer using a dough hook.)
Gather the dough into a ball, transfer to an oiled bowl and cover. Place the bowl in a warm spot to allow the dough to rise until it has doubled in size, about 1-1/2 – 2 hours.
For the tomato sauce, heat the olive oil in a large skillet until it is shimmering. Sauté the garlic cloves for a few minutes, so they become fragrant. Add the tomatoes, salt, pepper and red pepper flakes and simmer for 30 minutes until the sauce has slightly thickened. As the sauce is cooking, break up the tomatoes using the back of a wooden spoon or a potato masher. If you prefer a smoother consistency, when the sauce has finished cooking, transfer it to a blender and puree.
Once the dough has risen, give it a quick knead and divide it into 2 equal portions. On a lightly floured work surface roll out the dough into two 12" diameter circles. They do not need to be perfectly round.
Preheat a gas or charcoal grill on high heat. Place the rolled dough directly on the grates and grill for 3-4 minutes with the lid closed until the crusts have grill marks and have puffed up. Turn over the crusts and grill for an additional 2 minutes.
Remove the crusts from the grill and flip them over so the first side that was grilled is facing down. Brush the tops of the crusts with olive oil. Spread the sauce leaving a 1/2-inch border at the edge and scatter the cheese on top.
Return the pizzas to the grill and cook until the cheese has melted, about 3 minutes. You may need to lower the heat a bit to make sure the crusts do not burn.
Top with arugula and crumbled Parmesan before serving.
Note: If you have extra tomato sauce, store it in the refrigerator up to 5 days or keep it in the freezer up to a month. The tomato sauce also works well on pasta.
SaveSave
SHARE THIS