Grilled Pizza
on May 21, 2020, Updated Dec 19, 2021
Restaurant-quality crust is a sure thing with grilled pizza. The dough goes straight on the grates guaranteeing perfect grill marks and charred bubbles.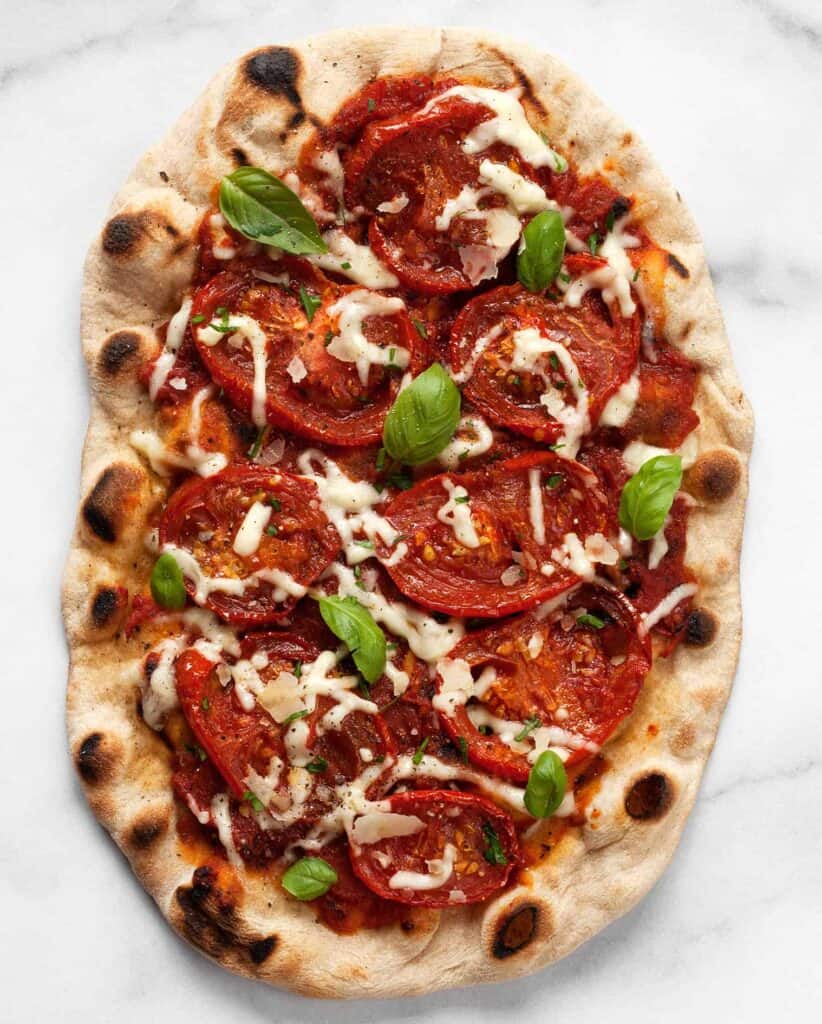 There are two foods I love so much that I could eat them every single day. They include peanut butter and pizza.
Don't worry. I'm not eating them together!

I adore a pizza with chewy, perfectly browned crust and just tomato sauce and mozzarella. Sometimes the simplest things are the most magical.
Toppings make an occasional appearance, but lots of times I am more than content with a classic margarita pizza maybe with the addition of roasted tomatoes, basil and other fresh herbs.

Whenever I try a pizza place for the first time, I like to order a plain cheese pizza as a test.

If the most basic pizza is good, then usually the fancier ones will be too.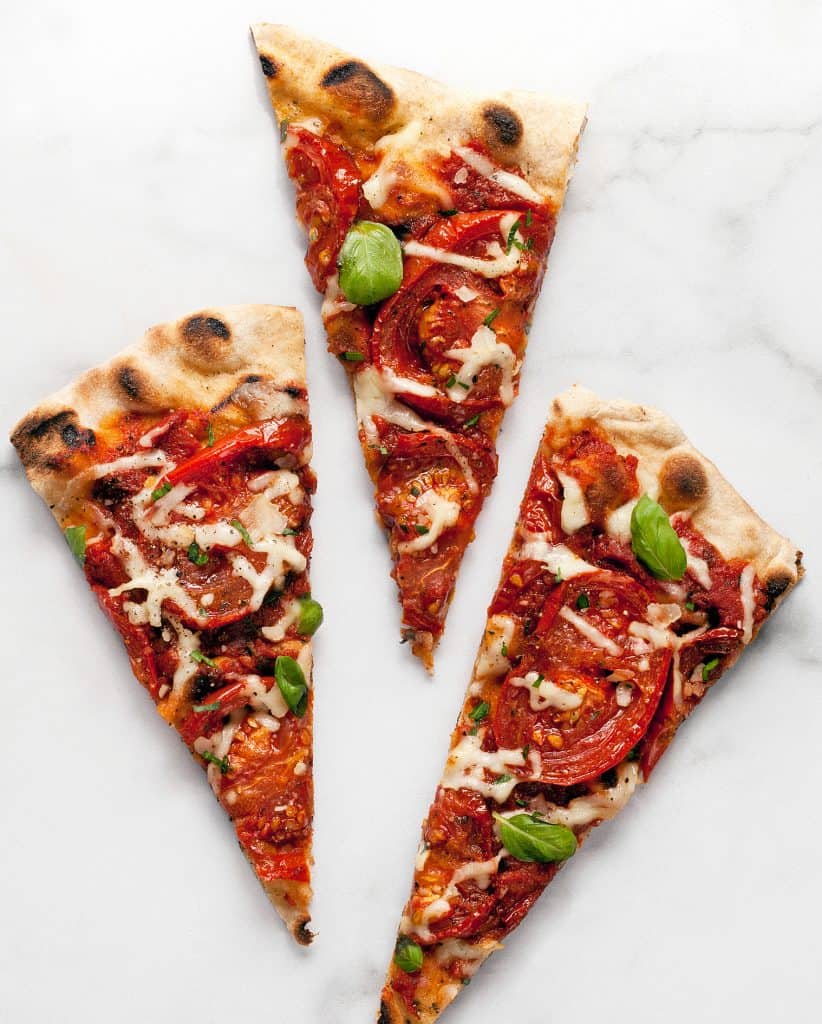 Why Grilled Pizza is the Best
My pizza stone gets plenty of use in my oven especially during the bitterly cold months, but my favorite homemade pizzas are grilled.

When the temperature warms up, I head straight outside.
Restaurant-quality crust is a sure thing with grilled pizza because the grill is hotter than the oven.

And the dough cooks right on the grates, so gets a little char.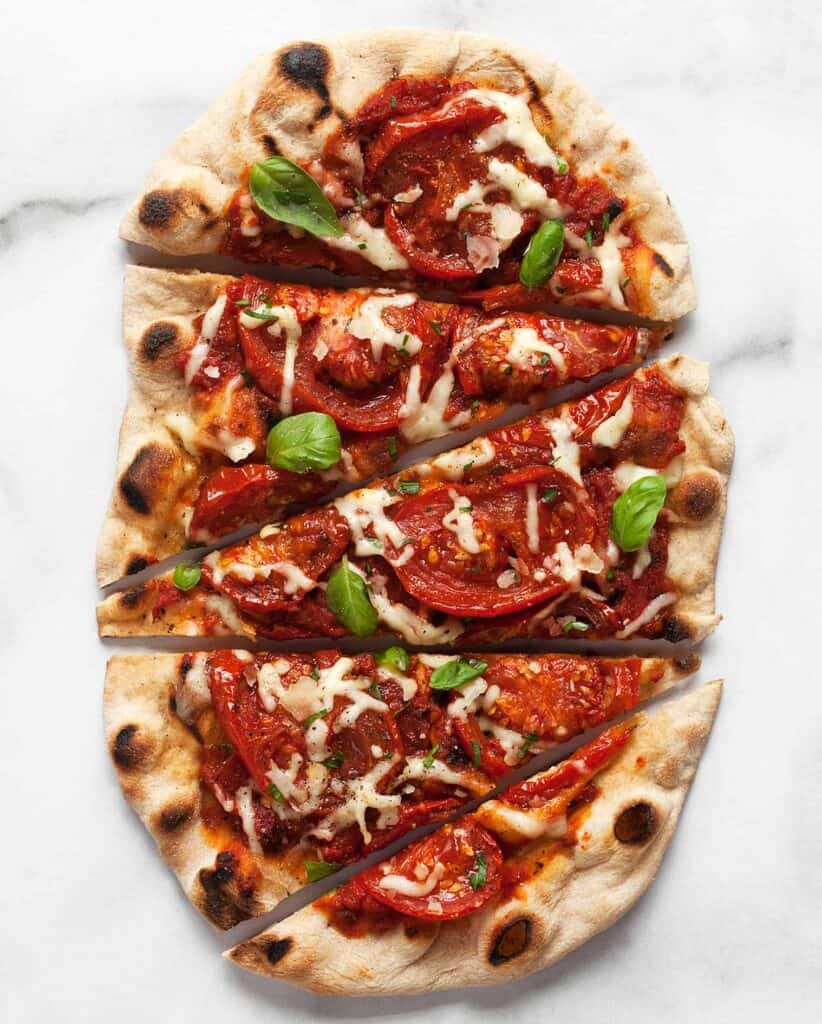 How To Grill Pizza
I always make my pizza dough from scratch with a mix of bread and whole-wheat flours.

You can use ready-made dough. Even better if you buy thar dough from a restaurant rather than refrigerated dough from the grocery.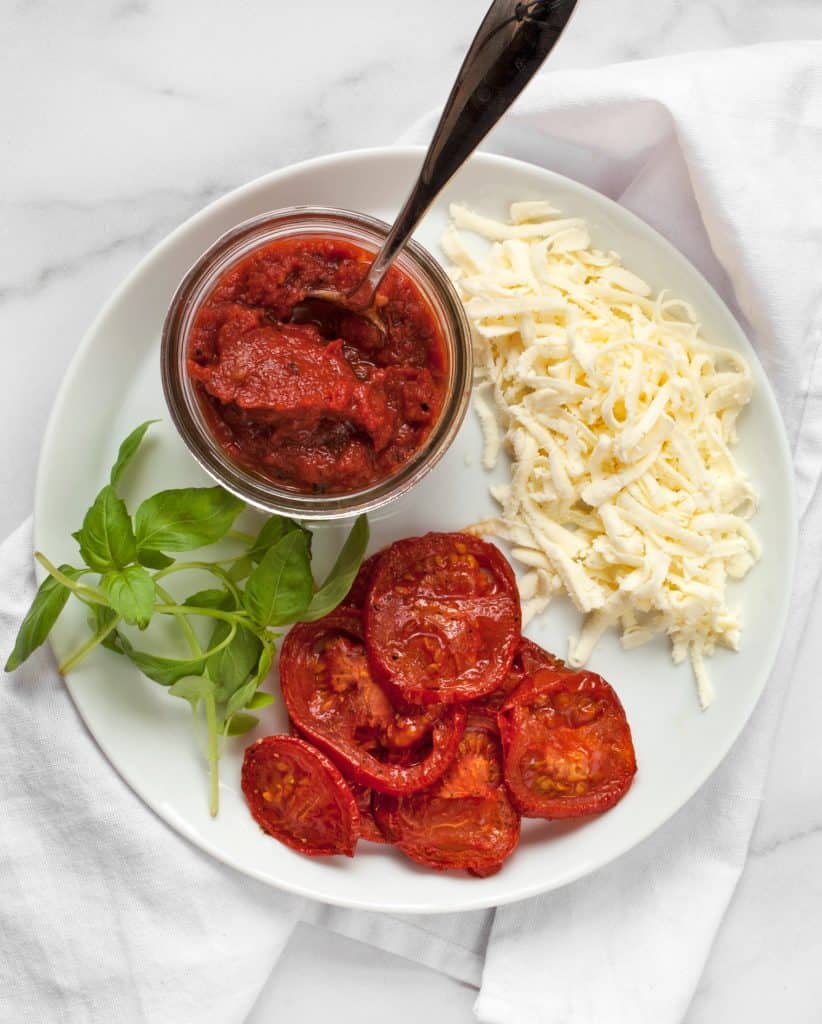 It is important that you have all your ingredients ready before you start grilling.

If you are making your own dough, use the rising time to whip up the tomato sauce and prep everything else.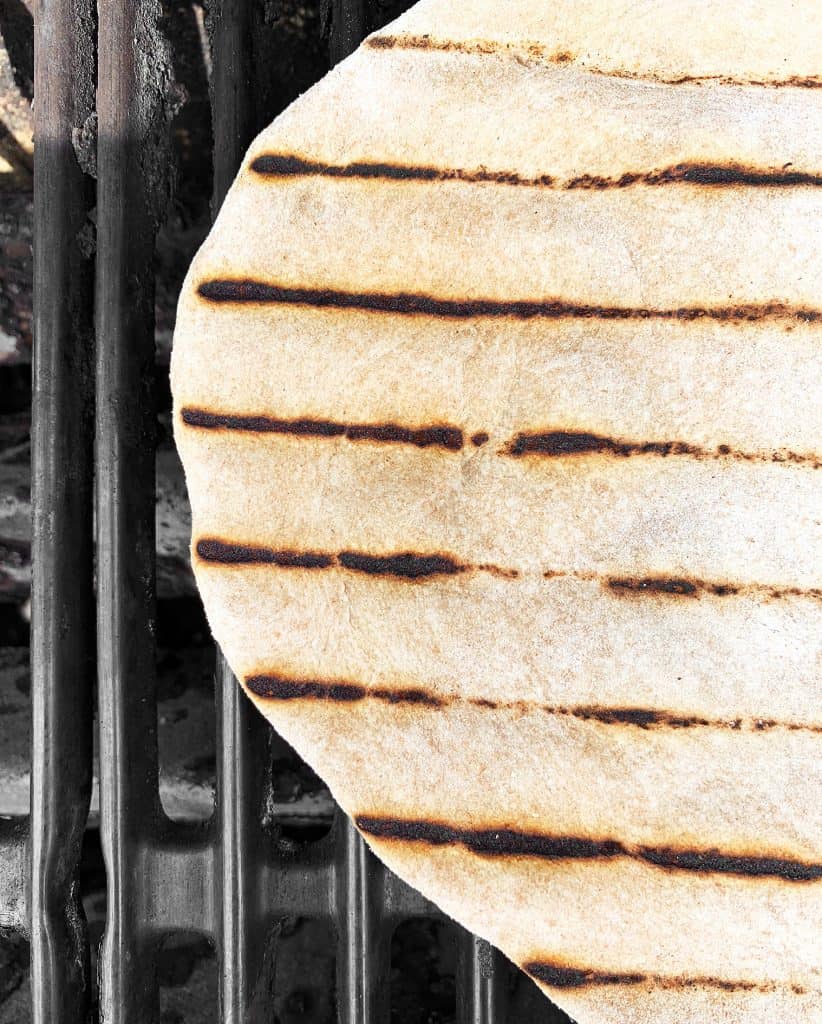 I like to roll out my dough on a floured rimless sheet pan because it makes it easy to slide off onto the grill.

Don't roll out your pizzas too big or they will be hard to handle.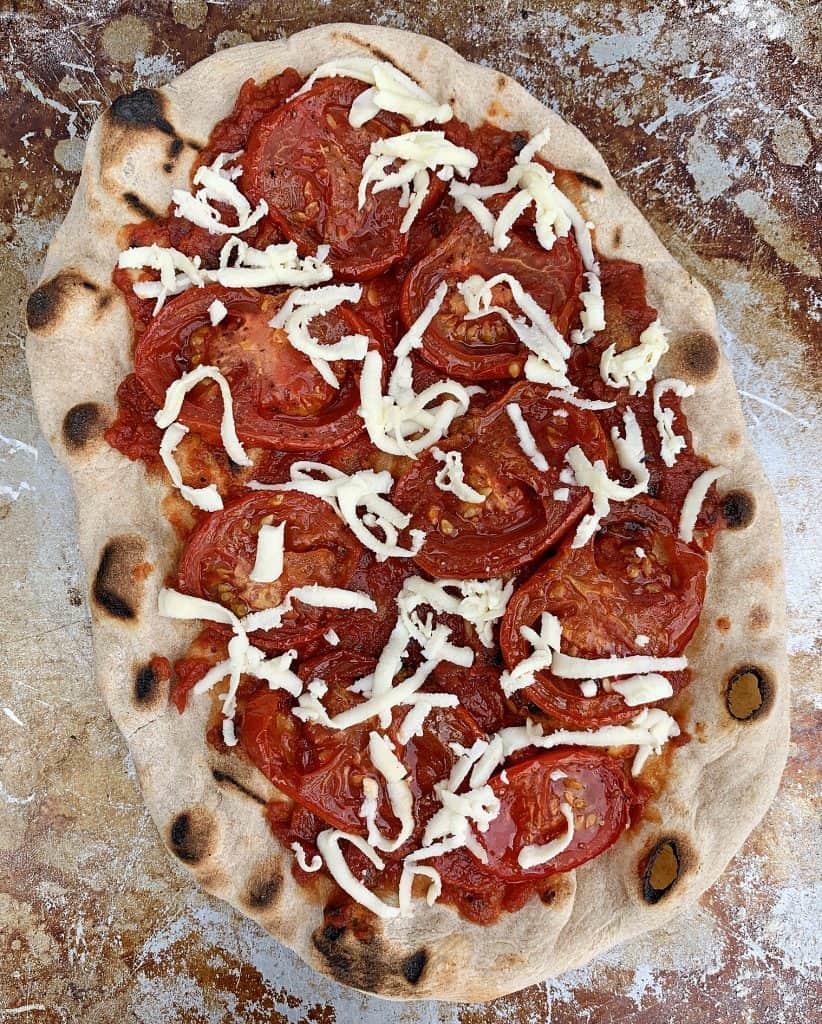 I grill the dough for 2-3 minutes on the first side, and then flip it to grill for another couple minutes.

At this point, I take the crust off the grill and put on my toppings.

It's best not to go to heavy on the sauce and cheese.

When the pizza goes back on the grill, it's only for a couple minutes to let the cheese to melt and the rest of the toppings warm up.

Save fresh basil and grated parmesan to sprinkle on once the pizzas are off the grill.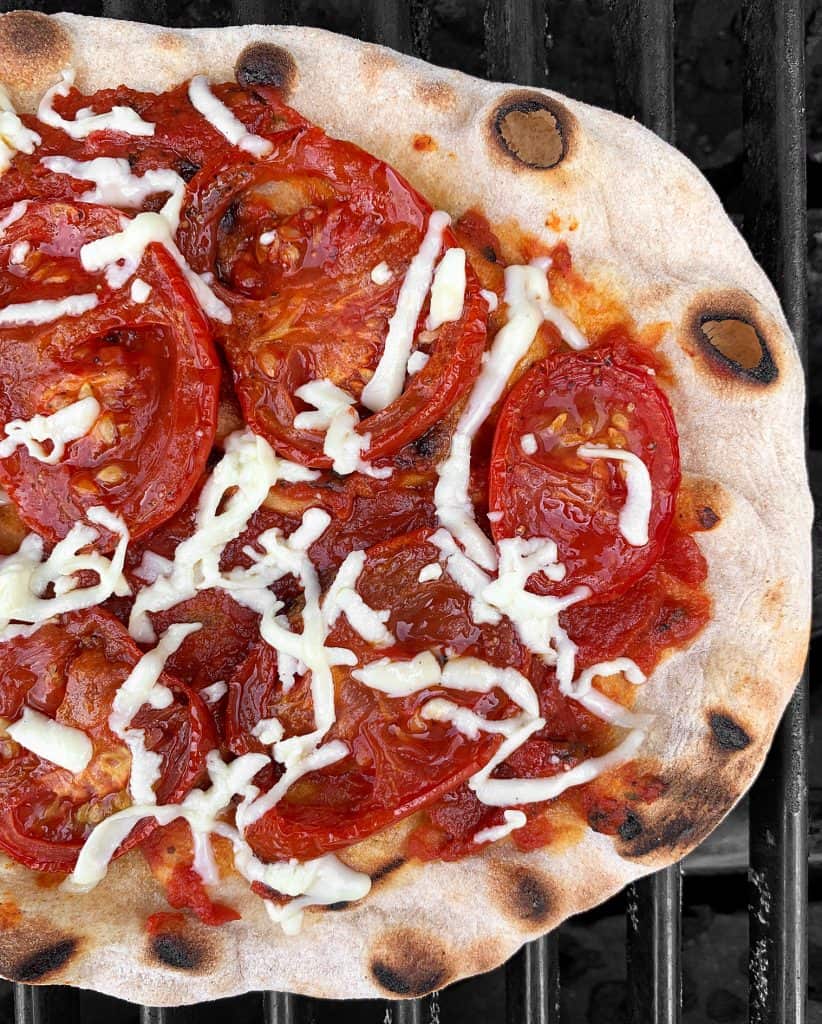 Grilled Pizza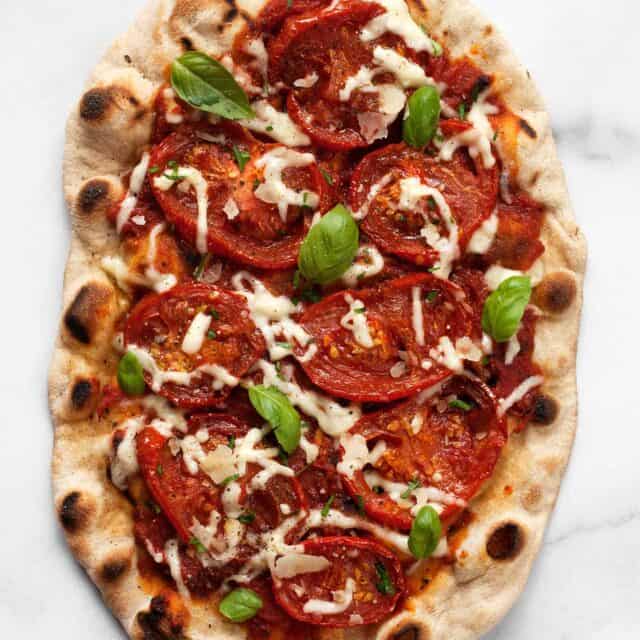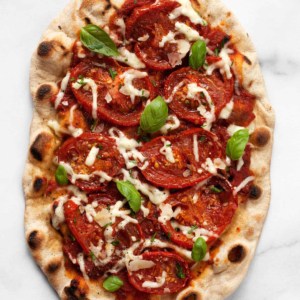 Restaurant-quality crust is a sure thing with grilled pizza. The dough goes straight on the grates guaranteeing perfect grill marks and charred bubbles.
Ingredients
For dough

2/3

cup

warm water

1/2

teaspoon

dry active yeast

1/2

teaspoon

granulated sugar

1

teaspoon

olive oil plus more for oiling bowl

1

cup

bread flour plus more for dusting

1/2

cup

whole wheat flour

1

teaspoon

kosher salt

For tomato sauce

1

tablespoon

olive oil

3

garlic cloves

peeled and smashed

1-28

ounce

can whole peeled tomatoes

1/4

teaspoon

salt

1/4

teaspoon

black pepper

1

pinch

red pepper flakes

For pizza

4

ounces

fresh mozzarella cheese

grated

Shaved parmesan

Basil leaves
Instructions
For the dough, combine the water, yeast, sugar and olive oil and let stand for 5 minutes until foamy. In a large bowl, mix together the flour and salt. Add the wet ingredients to the dry and stir until it forms a shaggy dough.  Turn the dough onto a lightly floured work surface and knead for 10 minutes until the dough is smooth and elastic. (Alternatively, the dough can be mixed in the bowl of a stand mixer using a dough hook.)

Gather the dough into a ball, transfer to an oiled bowl and cover. Place the bowl in a warm spot to allow the dough to rise until it has doubled in size, about 2 hours.

For the tomato sauce, heat the olive oil in a large skillet until it is shimmering. Sauté the garlic cloves for a few minutes letting them get fragrant. Add the tomatoes, salt, pepper and red pepper flakes and simmer for 20-25 minutes until the sauce has slightly thickened.  As the sauce is cooking, break up the tomatoes using the back of a wooden spoon or a potato masher. If you prefer a smoother consistency, when the sauce has finished cooking, transfer it to a blender and puree.

When the dough is ready, give it a quick knead and divide it into 4 equal portions. On a lightly floured work surface roll out the dough into a rough circle or oval. (They do not need to be perfectly round.)

Preheat a gas or charcoal grill on high heat. Place the rolled dough directly on the grates and grill for 2-3 minutes with the lid closed until the crust has grill marks and has puffed up. Flip and grill for an additional 2 minutes.

Remove the crusts from the grill and turn them over so the first side that was grilled is facing down.  Spread the sauce leaving a 1/2-inch border at the edge and sprinkle on the cheese and other toppings.

Return the pizzas to the grill and cook until the cheese has melted, about 1-2 minute. You may need to lower the heat  or move the pizzas to a cooler part of the grill to make sure the crusts do not burn.

Top with Parmesan and basil before serving.

Note: If you have extra tomato sauce, store it in the refrigerator up to 5 days or keep it in the freezer up to a month. The tomato sauce also works well on pasta.
Nutrition
Calories:
220
kcal
|
Carbohydrates:
29
g
|
Protein:
9
g
|
Fat:
8
g
|
Saturated Fat:
3
g
|
Polyunsaturated Fat:
1
g
|
Monounsaturated Fat:
4
g
|
Cholesterol:
15
mg
|
Sodium:
795
mg
|
Potassium:
330
mg
|
Fiber:
3
g
|
Sugar:
4
g
|
Vitamin A:
289
IU
|
Vitamin C:
13
mg
|
Calcium:
147
mg
|
Iron:
2
mg
Nutrition information is automatically calculated, so should only be used as an approximation.