Fig Goat Cheese Flatbread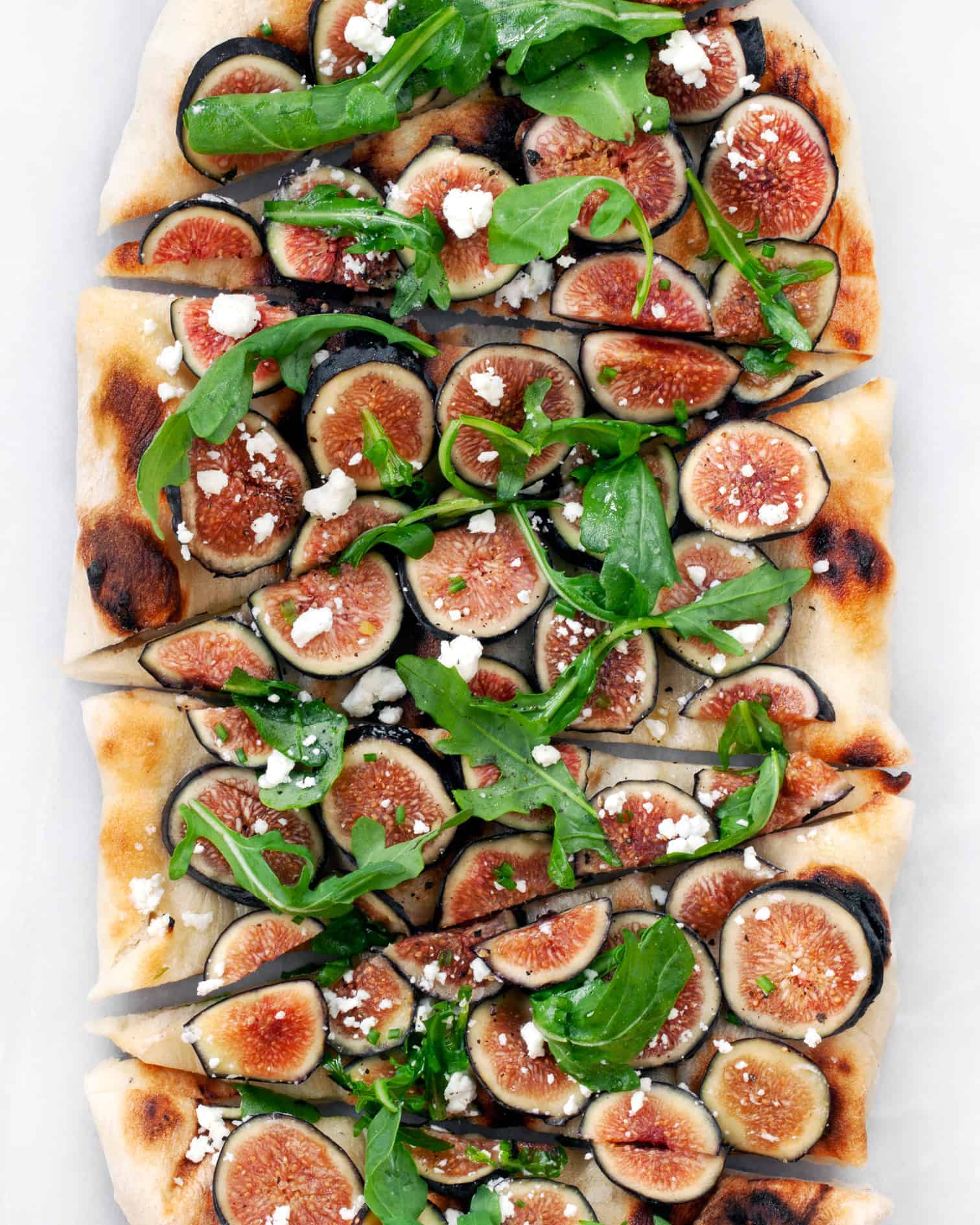 My purse is never without a spiral notebook and a pencil, so I can erase. On the pages are scribbles with recipes and shopping lists. You never can count on the grocery to have absolutely everything you need. Fresh figs are an ingredient I jot down with an even lighter touch because it's iffy that such a fragile fruit will be in stock, but right now the odds pretty good. On my last trip I picked up a tiny basket and made a fig goat cheese flatbread.
I wanted this flatbread to be all about figs, so I started by grilling the crust on both sides, which gave it a slightly charred, smoky flavor. Then I brushed on olive oil and arranged sliced figs over the flatbread as close together as they would fit. Not wanting to cover that beautiful fig pattern and overwhelm them, I sprinkled on crumbled goat cheese and baby arugula. The flatbread was finished with chives, flaky sea salt and black pepper.

Fig Goat Cheese Flatbread
Makes 1-12-inch flatbread
For dough
2/3 cup warm water
1/2 teaspoon dry active yeast
1/2 teaspoon granulated sugar
1/2 teaspoon olive oil plus more for bowl
1-1/2 cups bread flour plus more for work surface
1/2 teaspoon kosher salt
For flatbread
2 teaspoons olive oil
10-12 fresh figs, sliced
1/4 cup roughly chopped walnuts
1/4 cup crumbled goat cheese
1 handful baby arugula
1 teaspoon minced chives
1/4 teaspoon flaky sea salt
1/4 teaspoon black pepper
In a small bowl, combine the water, yeast, sugar and 1/2 teaspoon olive oil. Let stand until foamy, about 5 minutes.
In the bowl of a food processor, pulse the flour and 1/2 teaspoon salt. Add the yeast mixture and process until a ball of dough forms. Transfer the dough to an oiled bowl. Cover and let rise until doubled in volume, about 2 hours.
Roll out the dough on a lightly floured work surface. Place the dough directly on the grates and grill for 3 minutes with the lid closed until the crust has grill marks and has puffed up. Turn over the crust and grill for an additional 2 minutes.
Remove the crust from the grill. Brush with olive oil and arrange the figs in a single layer leaving a 1/2-inch border at the edge. Scatter the walnuts, goat cheese and arugula on top. Sprinkle with chives, sea salt and pepper before serving.
SHARE THIS