Fig Goat Cheese Flatbread
on Sep 10, 2018, Updated Jun 28, 2023
With a grilled crust, this colorful fig goat cheese flatbread is topped with sliced fresh figs, baby arugula, walnuts, crumbled goat cheese and herbs.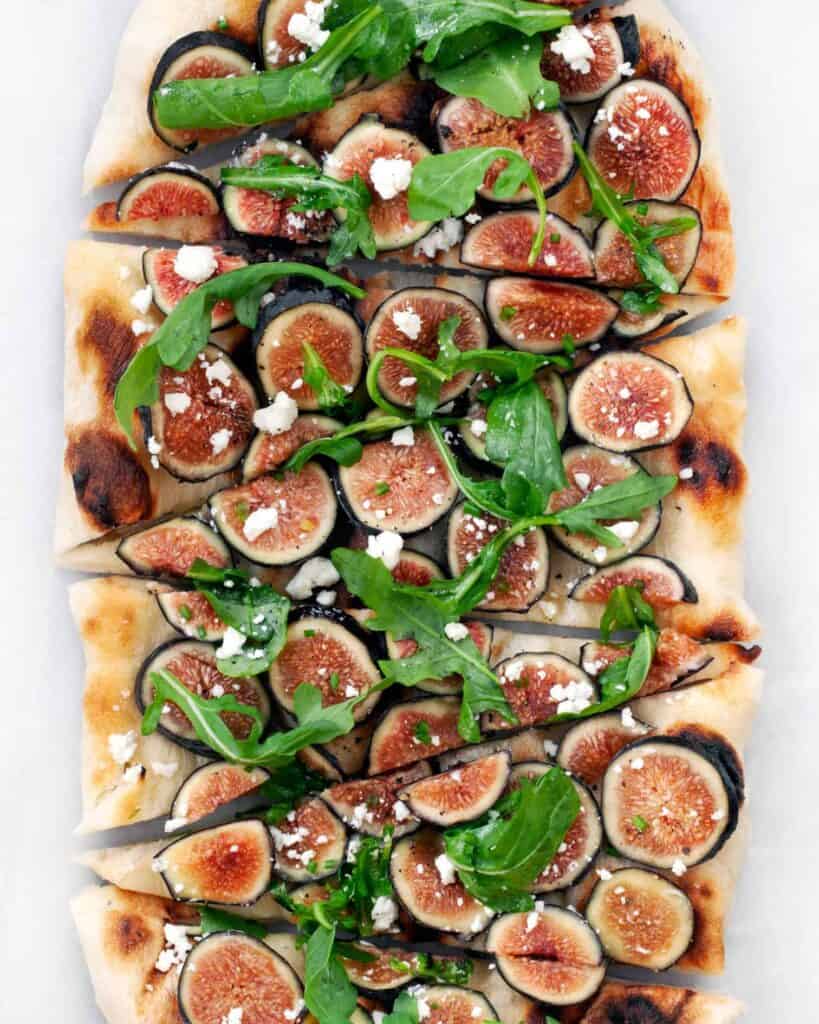 My purse is never without a spiral notebook and a pencil.
Not a pen. A pencil–I know I am picky.
Having an eraser is key to coming up with ideas. Things are always evolving for me especially when it comes to food shopping.
On the pages of my notebook are scribbles with recipes and shopping lists of what I am hoping to buy.
But you never can count on the grocery having absolutely everything you need.
Fresh figs are an ingredient I jot down with an even lighter touch because it's so iffy that such a fragile fruit will be in stock
Depending on the season, certain times of year the odds are better than others.
On my last trip I got lucky and picked up a tiny carton of precious figs.
Of course I felt like I hit the jackpot.
I love figs in salads and grain bowls, but this time I put in a little more work and made a fig goat cheese flatbread.
And it felt like the appropriate homage to this fruit.
How To Make A Fig Goat Cheese Flatbread
First I start with the dough. There is nothing difficult about making flatbread or pizza dough.
It's only a mix of yeast, water, olive oil, a touch of sugar, flour and salt.
You just have to allow a couple hours for it to rise.
After waiting, I fire up the grill and roll out the dough.
The dough goes straight on the grates as it cooks. My goal is good grill marks on both sides.
The Toppings
Once the crust is finished on the grill, I get to assembly. I brush it with olive oil.
Then I arrange sliced fresh figs over the flatbread leaving a border at the edges.
Next I lightly sprinkle on crumbled goat cheese, baby arugula and walnuts making sure that the figs are still showing.
Finally, I top the fig goat cheese flatbread with chives, flaky sea salt and black pepper.
Fig Goat Cheese Flatbread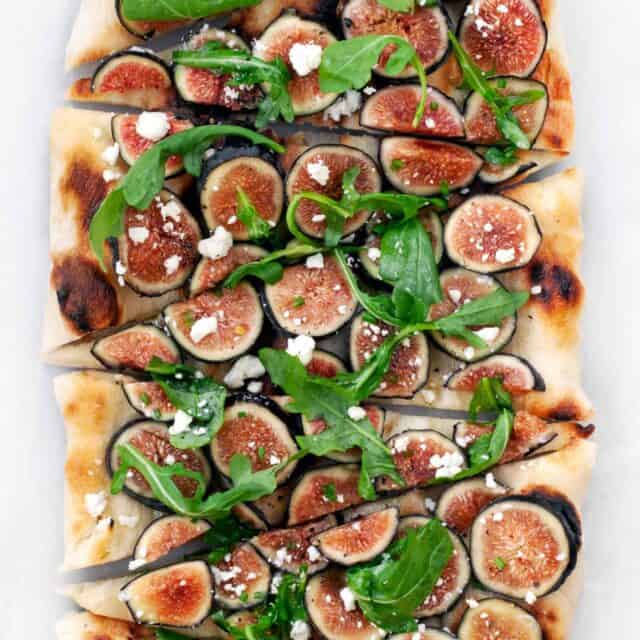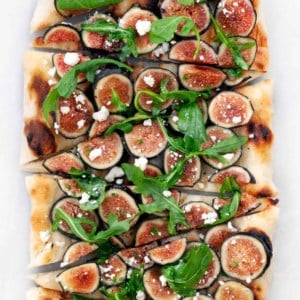 With a grilled crust, this colorful fig goat cheese flatbread is topped with sliced fresh figs, baby arugula, walnuts, crumbled goat cheese and herbs.
Ingredients
For dough

2/3

cup

warm water

1/2

teaspoon

dry active yeast

1/2

teaspoon

granulated sugar

1/2

teaspoon

olive oil plus more for bowl

1-1/2

cups

bread flour plus more for work surface

1/2

teaspoon

kosher salt

For flatbread

2

teaspoons

olive oil

10-12

fresh figs

sliced

1/4

cup

roughly chopped walnuts

1/4

cup

crumbled goat cheese

1

handful baby arugula

1

teaspoon

minced chives

1/4

teaspoon

flaky sea salt

1/4

teaspoon

black pepper
Instructions
For the dough, combine the water, yeast, sugar and olive oil and let stand for 5 minutes until foamy. In a large bowl, mix together the flour and salt. Add the wet ingredients to the dry and stir until it forms a shaggy dough.  Turn the dough onto a lightly floured work surface and knead for 10 minutes until the dough is smooth and elastic. (Alternatively, the dough can be mixed in the bowl of a stand mixer using a dough hook.)

Gather the dough into a ball, transfer to an oiled bowl and cover. Place the bowl in a warm spot to allow the dough to rise until it has doubled in size, about 2 hours.

Roll out the dough on a lightly floured work surface. Place the dough directly on the grates and grill for 3 minutes with the lid closed until the crust has grill marks and has puffed up. Turn over the crust and grill for an additional 2 minutes.

Remove the crust from the grill. Brush with olive oil and arrange the figs in a single layer leaving a 1/2-inch border at the edge. Scatter the walnuts, goat cheese and arugula on top. Sprinkle with chives, sea salt and pepper before serving.
Notes
Recipe makes 1 12-inch flatbread.
Nutrition
Calories:
374
kcal
|
Carbohydrates:
60
g
|
Protein:
11
g
|
Fat:
11
g
|
Saturated Fat:
3
g
|
Polyunsaturated Fat:
4
g
|
Monounsaturated Fat:
3
g
|
Cholesterol:
7
mg
|
Sodium:
494
mg
|
Potassium:
398
mg
|
Fiber:
5
g
|
Sugar:
21
g
|
Vitamin A:
457
IU
|
Vitamin C:
3
mg
|
Calcium:
88
mg
|
Iron:
1
mg
Nutrition information is automatically calculated, so should only be used as an approximation.