Braided Cranberry Fig Rolls

Brie adds a savory note to balance the sweetness of the jam in these Braided Cranberry Fig Rolls. They are sprinkled with rosemary and sea salt.
This post is sponsored by Calphalon.
So far the most progress I've made on designing my dream kitchen is a Pinterest board in need of an edit.

At least 90% of those 543 photos (and counting) should be deleted. Then I could identify themes in style, material and function with a sense of confidence.
The hardest part of a big project like a kitchen renovation is figuring out what you like. Hopefully then you don't question your decision-making.
One thing on my lengthy wish list is a double oven since I'm the ultimate multi-tasking home cook, managing each minute with the goal of getting everything to the table at the same time
Thanksgiving is the most challenging day of the year to pull that off.

As part of the new line of Calphalon appliances in sleek dark stainless steel, Calphalon has introduced a modern Quartz Heat Countertop Oven. No need to wait for a kitchen reno—my double oven dreams have come true.

While working on recipes for Thanksgiving, my absolute favorite food holiday, I baked braided cranberry fig rolls in the Calphalon Quartz Heat Countertop Oven.

Its quartz heating element ensures more even heat, and preheating is incredibly fast.
The oven has all sorts of presets allowing you to bake, broil, toast, and even dehydrate.

I've been very into the bake setting making everything from chocolate chip cookie bars to reviving leftover waffles I stashed in the freezer.
How To Make Braided Cranberry Fig Rolls
The dough for the rolls is a version of my standard pizza dough.
That includes a combination of bread and whole-wheat flours as well as plenty of fresh rosemary.

I like to whip up the dough from scratch. Overwhelmed with dinner prep? If you're looking for an easy shortcut, try store-bought pizza dough.

No judgement here!
While the dough is rising, I make the cranberry fig jam on the stovetop.
Once the dough is ready, I divide it into 12 balls and roll them out into small rectangles. After that I spread on soft brie and jam.
I roll each rectangle into a log, slice them in half and twist the ropes together tucking in the ends to form a wreath.
As soon as the rolls finish baking, I sprinkle them with fresh rosemary and flaky sea salt.
They are best served warm.
The brie adds a savory note to balance the subtle sweetness of the jam and the herby rosemary.

This is a 2-for-1 recipe because you will end up with extra jam that you can also serve with the turkey and sides.
Print
Braided Cranberry Fig Rolls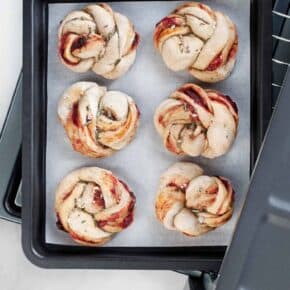 Prep Time:

2-2-1/2 hours

Cook Time:

15 minutes

Total Time:

2 hours 45 minutes

Yield:

12 rolls
Ingredients
For dough
1-1/3 cups warm water
1 packet dry active yeast (2-1/4 teaspoons)
1 teaspoon granulated sugar
1 tablespoon olive oil plus more for bowl
2 cups bread flour plus more for work surface
1 cup whole-wheat flour
1 teaspoon kosher salt
For jam
1-12 ounce bag fresh cranberries
10 dried figs, roughly chopped
1/2 cup granulated sugar
Peel of 1 lemon
1-1/2 cups water
For rolls
4 ounces brie, rind removed, at room temperature
Flaky sea salt for serving
Instructions
For the dough, combine the water, yeast, sugar and olive oil and let stand for 5 minutes until foamy. In a large bowl, mix together both flours and the salt. Add the wet ingredients to the dry and stir until it forms a shaggy dough. Turn the dough onto a lightly floured work surface and knead for 10 minutes until the dough is smooth and elastic. (Alternatively, the dough can be mixed in the bowl of a stand mixer using a dough hook.)
Gather the dough into a ball, transfer to an oiled bowl and cover. Place the bowl in a warm spot to allow the dough to rise until it has doubled in size, about 1-1/2 – 2 hours.
For the jam, combine the cranberries, figs, sugar, lemon peel and water in a large saucepan. Bring the mixture to a boil over medium high heat, stirring frequently. Reduce the heat and simmer the jam until thickened, about 20 minutes. Let the jam cool to room temperature. Discard the lemon peels.
Preheat the countertop oven to 400 degrees F.
On a lightly floured work surface, divide the dough into 12 balls. Roll each ball into a 6-inch by 3-inch rectangle. Spread with brie and cranberry jam leaving a 1/4-inch border. Starting with a long side, roll the dough into a log. Use a knife to slice it in half lengthwise, leaving a half-inch uncut at one end. Twist the ropes together, tucking the edges underneath and pinching them together.
Bake the rolls on a parchment-lined sheet pan for 12-15 minutes until golden brown. Sprinkle with chopped fresh rosemary and flaky sea salt before serving the rolls warm.
SHARE THIS