There's no excuse for why I didn't discover the absolute delight that is The Great British Bake Off until now.

We finally took the plunge into Netflix, and with that has come a full-fledged obsession with the show. And it's not just me.
My five-year old is also hooked, and he even likes re-watching episodes.

That's a good thing considering we've binge-watched our way through every single one.

The other morning when he woke up, he said to me, "Mommy, can we talk about baking?"
Ummm, can we??? Of course!
I love to chat about cookies, bread, cakes and pretty much everything in between.

Fougasse is a Provençal flatbread often considered the French version of focaccia baked with olive oil and fresh herbs, but it has a more crusty and chewy bite than focaccia.
How To Make Rosemary Fougasse
I started by making the dough by hand.

Using a mixer and a dough hook or a food processor are my shortcuts, but I really wanted to knead and put some muscle into the fougasse.

It was a great reminder of how wonderful it is to feel the dough in your hands and get a bit messy.
A heaping tablespoon of chopped fresh rosemary made its way into the dough.

I split it into two equal balls and then waited for the first rise. Once it had puffed up, I shaped the dough into ovals.
For the fern look, I slashed an oval down the center leaving a 1-inch border at each end.

Next I made smaller downward diagonal slashes just adjacent to the centerline, again leaving a border.

To put finishing touches on the rosemary fougasse, I made a few small cuts around the outside.

It was another 30 minutes for the second rise.
Then I brushed the loaves with olive oil and baked them. In the last few minutes in the oven, I sprinkled on more rosemary.
I don't know how the judges would rate my rosemary fougasse, but we enjoyed tearing off chunks and dipping them in olive oil.

It's the perfect tear and share kind of bread.
Print
Rosemary Fougasse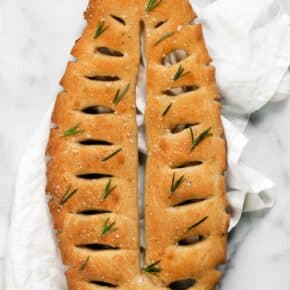 Prep Time:

2 hours 15 minutes

Cook Time:

15-20 minutes

Total Time:

2 hours 30-35 minutes

Yield:

2

loaves

1

x
Scale
Ingredients
1–1/3 cups warm water
1 teaspoon dry active yeast
1 teaspoon granulated sugar
1 tablespoon olive oil plus more for oiling bowl and brushing bread
2 cups bread flour plus more for work surface
1 cup whole wheat flour
1 teaspoon kosher salt
2 tablespoons chopped fresh rosemary
2 teaspoons flaky sea salt
Instructions
In a small bowl, combine the water, yeast, sugar and olive oil. Let stand until foamy, about 5 minutes. In a large bowl, combine the bread flour, whole wheat flour, salt and 1 tablespoon chopped rosemary. Stir in the wet ingredients until it forms a shaggy dough.
Turn it out on a lightly floured work surface and knead until it is smooth and elastic, about 10 minutes. Divide the dough in half and transfer to 2 oiled bowls. Cover and let rise until doubled in volume, about 2 hours.
On a work surface dusted with flour, roll out the dough into 2 ovals about 1/2-inch thick. Place each oval on a parchment-lined sheet pan. Using a pizza wheel, cut a slit down the center of the oval without splitting it in half. Then make shorter diagonal slashes on either side of the center slit.
Gently pull the dough to open up the slits. Make a small cuts at the perimeter between the diagonal slashes. Cover and let rise for 30 minutes until it has puffed up.
Preheat the oven to 450 degrees F.
Brush the dough with olive oil and sprinkle with salt. Bake for 15-20 minutes until golden brown. In the last few minutes of baking, sprinkle the loaves with the remaining rosemary.
SHARE THIS