Worthy of a place at the Thanksgiving table, but even better for leftovers, Cranberry Fig Jam is a sweet and tart spread. Try it on a day after sandwich.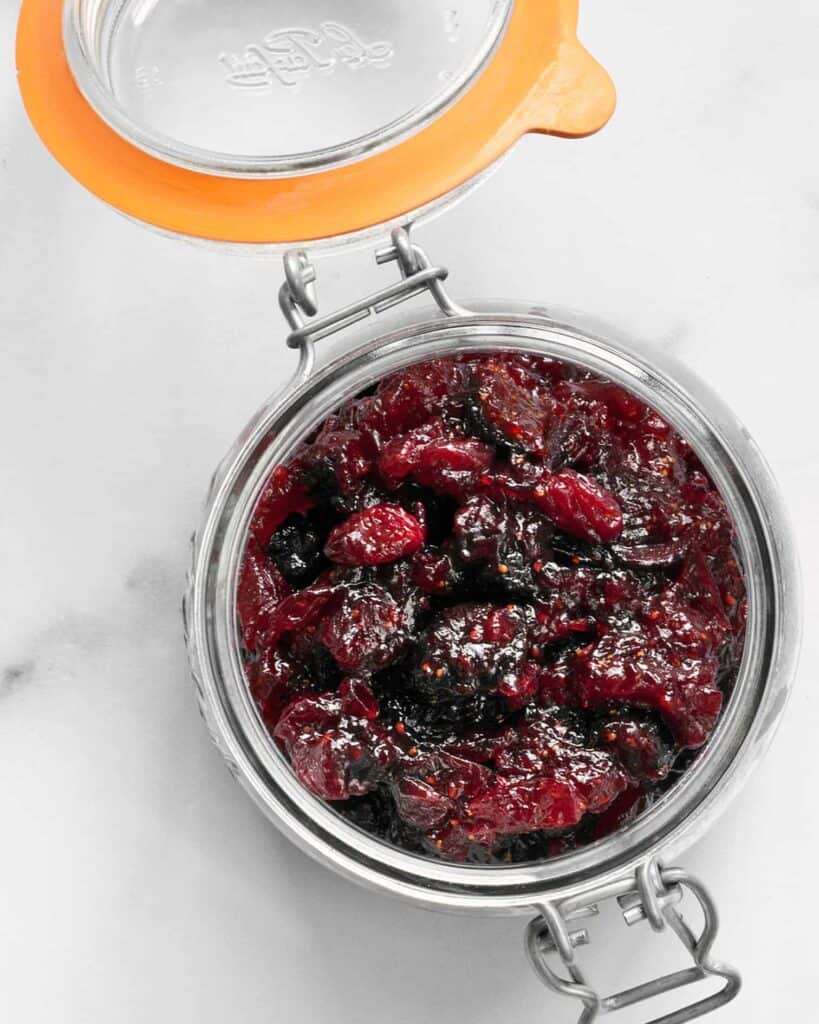 I'm never sure what category to put cranberries in. Side? Condiment? Dessert?
The easiest way to get cranberries on the table for Thanksgiving is to crack open a can, and slice that gelatinous ruby red cylinder.
Those ring prints from the can are actually kind of charming—at least I think so.

Our family tradition is my aunt's recipe for a cranberry apple crumble. With plenty of sugar and butter, I always think it seems more like a dessert than a side, but my mom and brother insist on serving it with the main meal.
Cranberries are something that I like just a dollop or two on my plate.
Sometimes I think cranberries really shine after Thanksgiving than on the day. They brighten up leftovers right after the holiday.
Wanting something homemade but nearly as easy as canned, I like to make cranberry fig jam.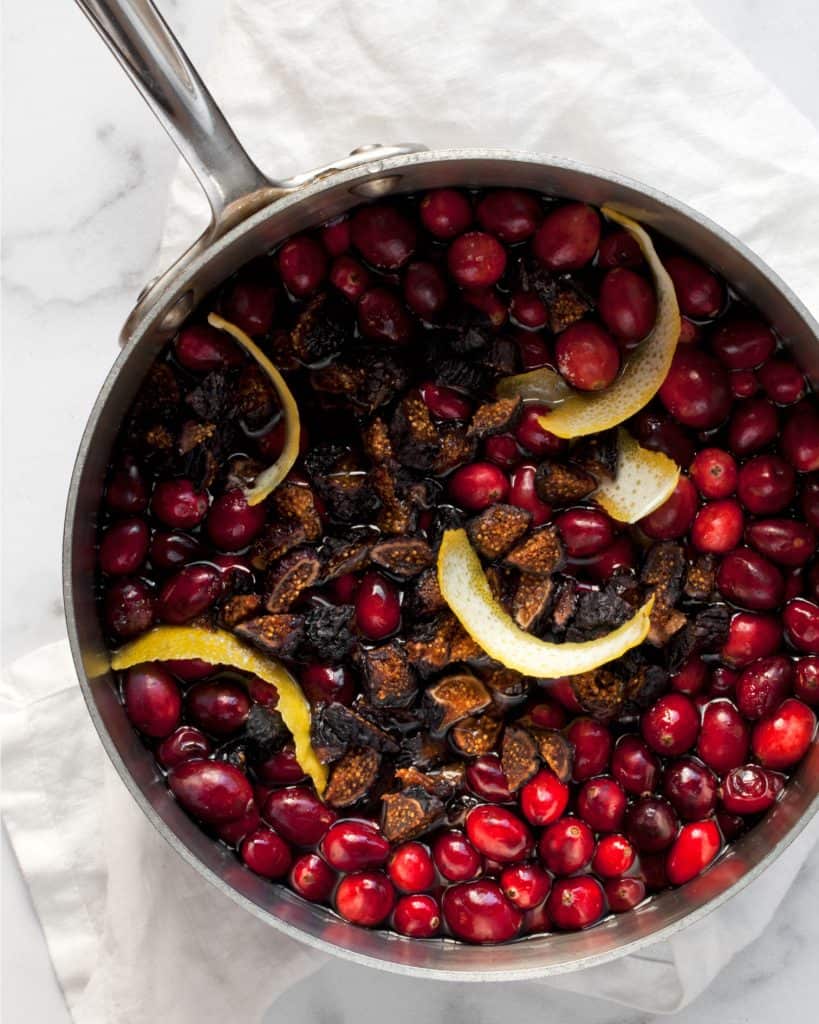 If you've never made jam before, don't be intimidated. Whipping up small batches of jam doesn't require more than simmering.

And you don't need a huge amount of cranberry jam to have enough for Thanksgiving and the days after.

Cranberries are quite tart on their own, so the key is to find balance.
Sugar offsets the tartness and helps the cranberries gel together, but my favorite addition are dried figs.

I adore fresh figs, but they are expensive and tough to find. Dried figs, whether black Mission or brown Turkish, are absolutely fantastic.

For this cranberry fig jam, the figs provide flavor and texture. I like their tiny seeds because they add subtle, microscopic crunch.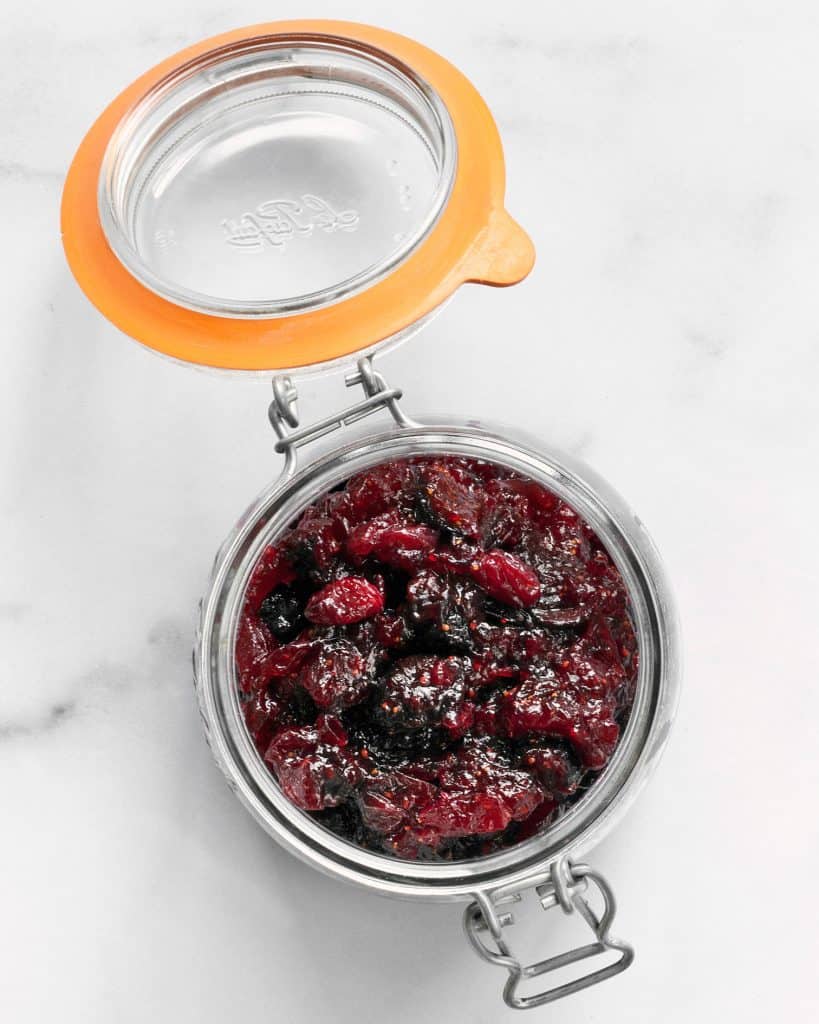 How To Make Cranberry Fig Jam
The first step is to combine all the ingredients in a large saucepan. That includes the cranberries and figs along with water, sugar and lemon peel.
Then bring the mixture to a boil, reduce the heat and let it simmer for about 20 minutes.
In that time the cranberries and figs break down and thicken into a jam.

I like pulling the pot off the heat when the jam is still slightly thinner than I want it to end up because it will thicken more as it cools.

Cranberry fig jam turns out chunky, but still spreadable. It's a great accompaniment for a Thanksgiving meal.

Plus you can smear it on a slice of breakfast toast or on the all-important leftover turkey sandwich the next day.
Print
Cranberry Fig Jam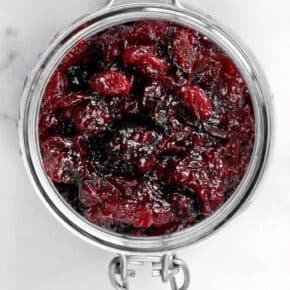 Prep Time:

5 minutes

Cook Time:

20 minutes

Total Time:

25 minutes

Yield:

2 cups

1

x
Scale
Ingredients
12 ounces fresh cranberries
15 dried figs, roughly chopped
1 cup granulated sugar
Peel of 1 lemon
1–1/2 cups water
Instructions
Combine the cranberries, figs, sugar, lemon peel and water in a large saucepan. Bring the mixture to a boil over medium high heat, stirring frequently. Reduce the heat and simmer the jam until thickened, about 20 minutes.
Discard the lemon peel and allow the jam to cool before serving. Store in an airtight container in the refrigerator up to 1 month.
SHARE THIS