Ready in 20 minutes, this is the homemade cranberry sauce you need on Thanksgiving Day. Say no to canned sauce. With just 5 ingredients this is a simple from-scratch condiment. You can even make it ahead of time and freeze it, so then it is crossed off your to-do list long before the holiday.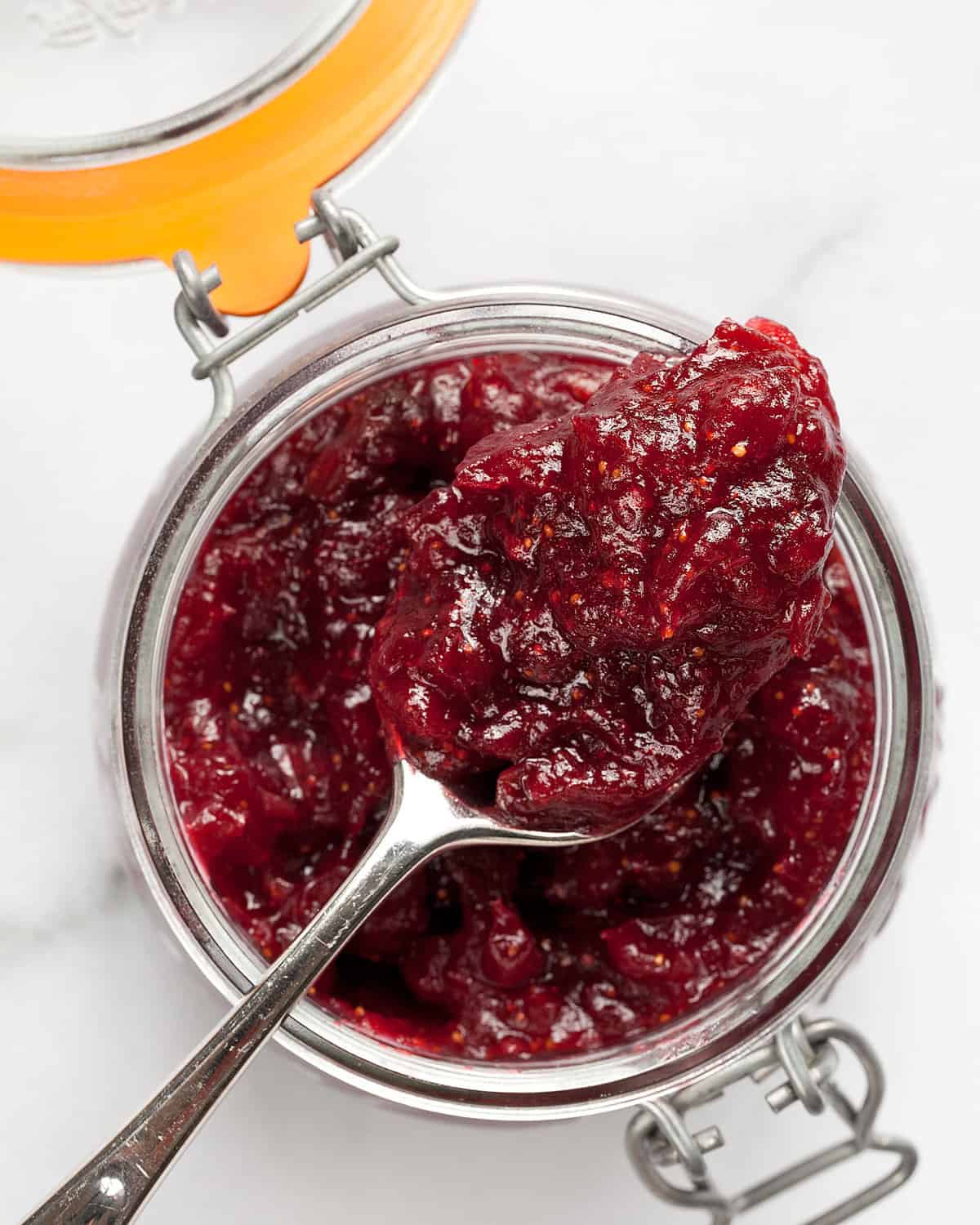 If you've never made a fruit sauce or jam before, it might sound more complicated than it is. First things first, you should know that the cooking part is easy. It just involves putting everything into a pot and simmering.
And then you don't have to go through a complicated canning process afterward. You can freeze this jam, so the only thing you have to do is give it time to thaw before you're planning to serve it.
Is This Sauce or Jam?
That's kind of a trick question. It's actually both, so you can use those words interchangeably. Pectin is the ingredient in fruits that make them gel along with sugar and acid. Cranberries are naturally high in pectin, so they get to that perfect jammy consistency without much work.
This sauce turns out chunky. I don't recommend using an immersion blender to puree it because it will lose so much of its character.
The Ingredients
This is what you need:
Cranberries are usually sold in 12-ounce bags at the grocery, which is the amount called for in the recipe. Fresh cranberries should have smooth skin and no soft spots. They should be light and bounce.
Dried figs are not traditional in cranberry sauce recipes, but they add a kind of honey-like sweetness. And most importantly, they give it some texture. When you take a bite of a dried fig it is chewy and has a slight crunch from the tiny seeds. This does mellow out as the figs cook in the sauce, but it is definitely there. My preference is Mission figs.
Granulated sugar sweetens the tart cranberries. You need that combination of fruit with pectin, sugar and acid to turn these ingredients into a jam-like sauce.
Orange zest: Instead of including orange juice, the peel is where that fragrant, concentrated orange taste is. Take a vegetable peeler and strip off the peel in paper-thin sections. You can use a lemon as a substitute. Zest is just another way to say peel.
Variation
Spices: If you want to make a spiced jam and lean into fall flavor, stir in 1/2 teaspoon ground cinnamon and pinches of ground ginger, nutmeg and cloves when you put the ingredients in the saucepan.
How To Make This Homemade Cranberry Sauce
1. Combine the cranberries, figs, sugar, orange peel and water in a medium pot.
2. Bring the ingredients to a boil over medium high heat.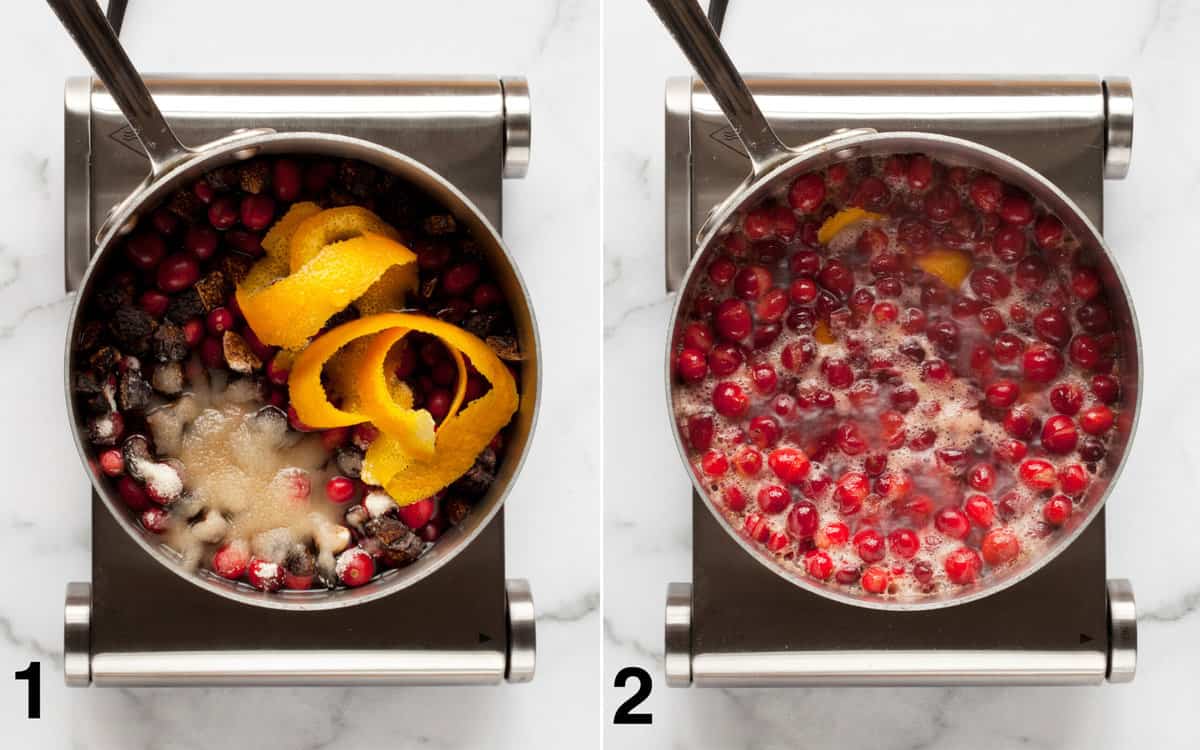 3. Reduce heat and simmer until thickened, about 18-20 minutes.
4. Let the sauce cool before serving. Make sure to remove it from the heat. It will thicken a bit as it cools. Stir it around to check the consistency, but be careful because it will be very hot.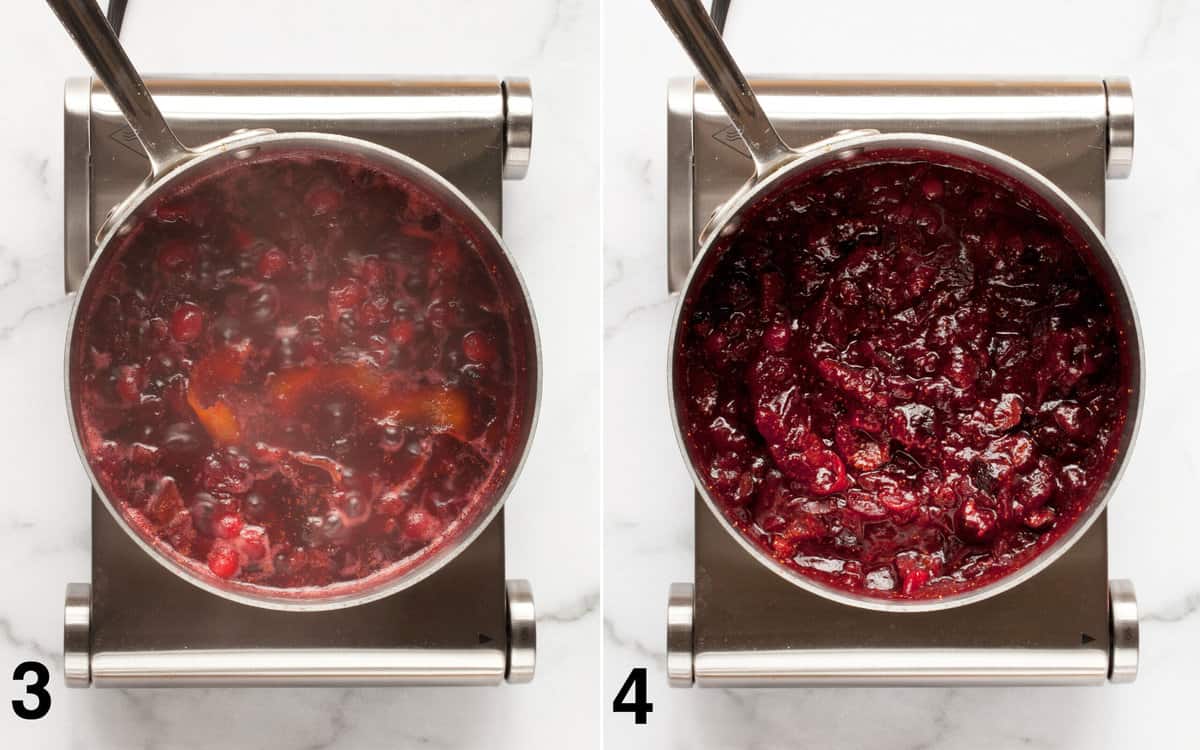 Serving
Spoon the sauce into a small bowl and treat it like a condiment for Thanksgiving or another big traditional meal. It will give you much-needed brightness to cut through all the heavy roasted dishes on the table. And it is wonderful on leftover turkey sandwiches.
Another way to serve the sauce is as jam on a cheese board. It pairs beautifully with hard and soft cheeses, an assortment of charcuterie and crackers.
I also love this cranberry spread for breakfast. Smear it on a toast or swirl it into oatmeal or yogurt. And it's good along with maple syrup drizzled on pancakes or waffles.
Don't forget dessert. You can even top vanilla ice cream with it.
Leftovers and Make-Ahead Tips
You can make it 1 week in advance. Store leftover cranberry sauce in a jar in the fridge. If you want to keep it longer, you can freeze it up to 2 months. If you are planning to freeze it, I recommend dividing it into small containers to portion it out, which will make it quicker to thaw.
Since this sauce is so freezable, it is a great thing to make in advance, so then it is checked of your list, which is always helpful when you are putting together a big meal with different dishes and lots of guests.
FAQs
Can you use frozen cranberries to make sauce?
Yes, but since frozen fruit has more water content than fresh, you may need to simmer the sauce longer for it to thicken. You do not need to thaw the cranberries before simmering them with the rest of the ingredients.
How long does cranberry sauce need to set?
The sauce will be set when it has cooled. You can make this go faster if you transfer it from the hot pan to a bowl to cool. It will take at least an hour, but likely closer to 2 hours.
What To Serve with Cranberry Sauce
Dry Rubbed Turkey Breast
Garlic Herb Roasted Fingerling Potatoes
Healthy Mashed Sweet Potatoes
Maple-Glazed Acorn Squash
Parmesan Herb Roasted Acorn Squash
Crispy Roasted Brussels Sprouts
Sauteed Butternut Squash and Kale
Sauteed Broccolini with Spiced Almonds
Hasselback Sweet Potatoes
Did you make this easy jammy cranberry sauce? Please leave a rating and comment below. Thanks!
Best Homemade Cranberry Sauce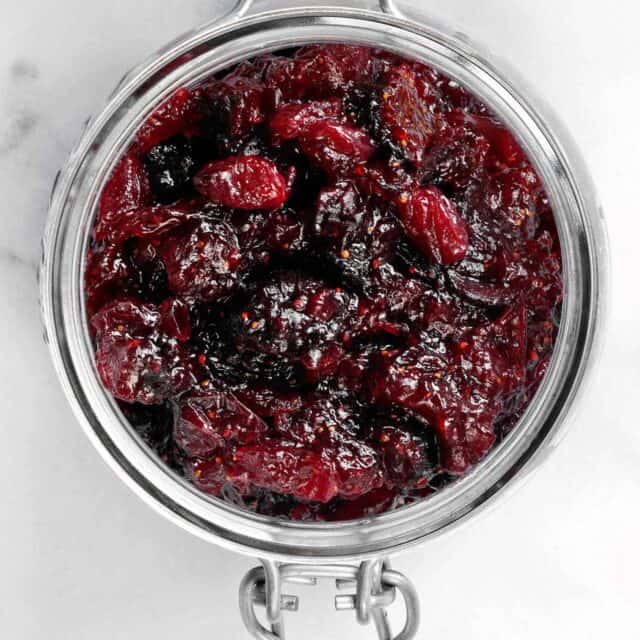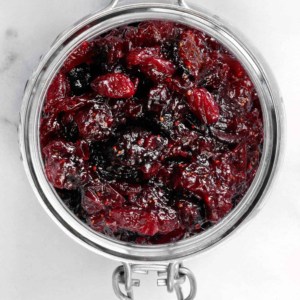 Worthy of a spot on your Thanksgiving table, but even better for leftovers, this cranberry sauce is a sweet, tart spread. Dollop it on your plate and then slather it on a day after the holiday sandwich.
Ingredients
12

ounces

fresh cranberries

15

dried Mission figs

trimmed and roughly chopped

1

cup

granulated sugar

Peel of 1 orange

1-1/2

cups

water
Instructions
In a medium saucepan, combine the cranberries, figs, sugar, orange peel and water.

Bring the mixture to a boil over medium high heat.

Reduce the heat and simmer until it thickens, about 18-20 minutes. Remove the sauce from the heat.

Discard the orange peel and let the sauce cool before serving. Store in an airtight container in the refrigerator up to 1 week.
Notes
Recipe makes about 2 cups.
To make a spiced sauce, add 1/2 teaspoon ground cinnamon and pinches of ground ginger and ground cloves.
You can freeze the sauce in an airtight container up to 2 months. Thaw in the refrigerator.
Leftovers are great on turkey sandwiches, waffles and pancakes or stirred into oatmeal or yogurt. Also, you can serve it as a condiment on a cheese board.
Nutrition
Calories:
153
kcal
|
Carbohydrates:
40
g
|
Protein:
1
g
|
Fat:
0.3
g
|
Saturated Fat:
0.03
g
|
Polyunsaturated Fat:
0.1
g
|
Monounsaturated Fat:
0.03
g
|
Sodium:
3
mg
|
Potassium:
137
mg
|
Fiber:
3
g
|
Sugar:
34
g
|
Vitamin A:
27
IU
|
Vitamin C:
6
mg
|
Calcium:
28
mg
|
Iron:
0.4
mg
Nutrition information is automatically calculated, so should only be used as an approximation.
Originally published November 14, 2019. Updated: November 18, 2022.