How To Make Homemade Croutons
on Mar 18, 2021, Updated Jun 23, 2023
The first time you make homemade croutons there is no going back to store-bought croutons. They are so simple. And more importantly, they turn out perfectly browned with the best texture and crunch. They will transform a straightforward mixed greens salad with a sprinkle of Parmesan cheese and a drizzle of your favorite vinaigrette.
You can also make these easy cornbread croutons.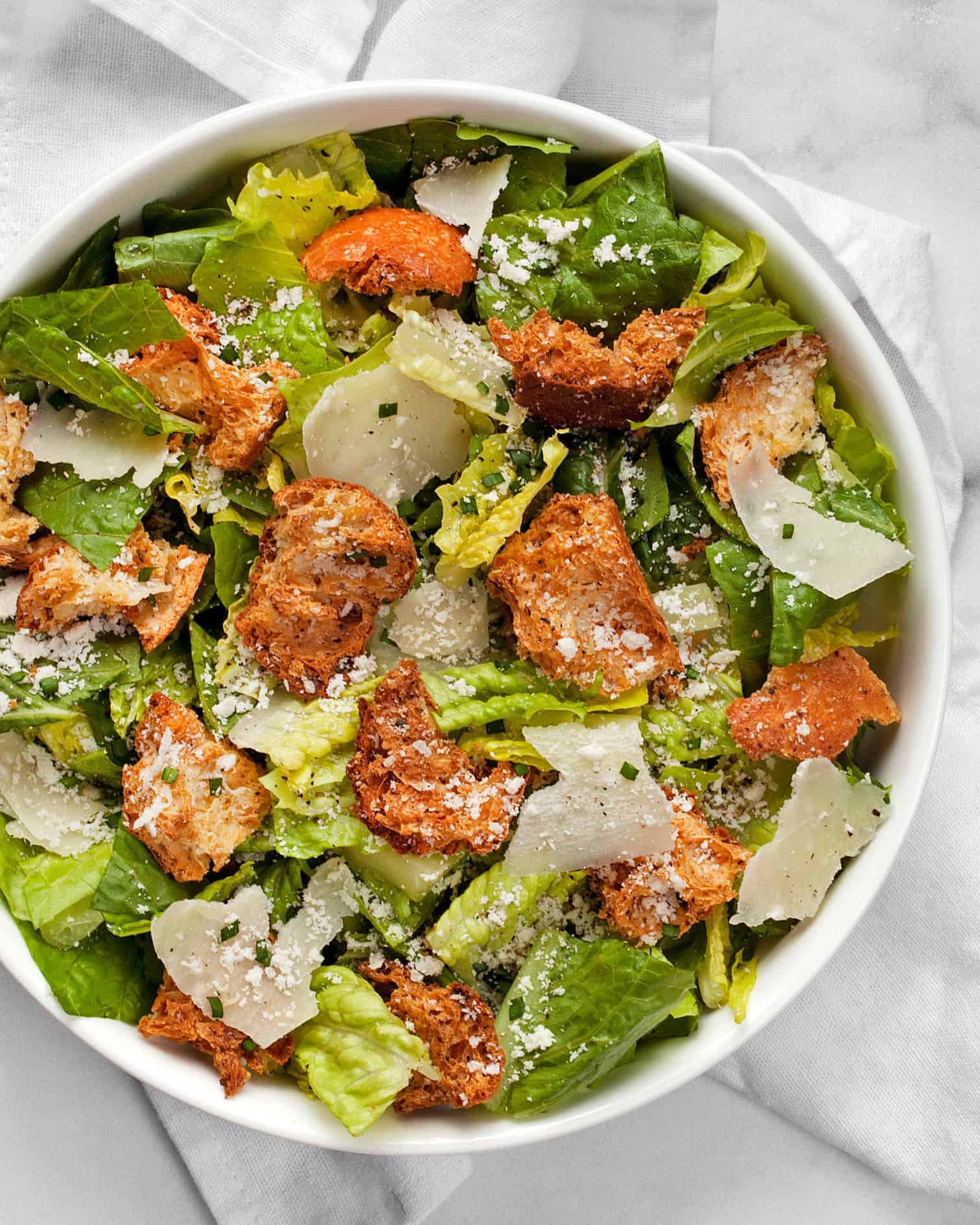 Why You'll Love This Recipe
It is a great way to use up bread. When I have part of a loaf leftover, I like to turn it in croutons. It is a very tasty way to avoid food waste.
You can extend the life of bread without freezing it. There is nothing wrong with saving bread in the freezer to use for something else later. But every so often I will do a freezer clean and realize I have all this random bread that I should have used months ago before it developed freezer burn. I would have been better off making croutons.
Once you get the hang of it, you can improvise. Use this recipe as a starting point. For instance, you may have a smaller quantity of bread, so just make a smaller batch. Or come up with your own mix of spices to flavor it.
These are vegan croutons. Instead of melted butter or a combination of butter and oil, I stick to just olive oil.
Best Bread for Croutons
I prefer bread that has an even balance of crust to the interior. Ciabatta and baguettes are my favorites because nearly every crouton ends up with some crust on it. In general, you should use a more rustic or country style loaf that has some structure to it. Skip sliced sandwich bread because it's too soft and your croutons won't have good crunch.
Tips for Preparing the Bread
Instead of cutting the bread into uniform cubes with a knife, I tear it. The pieces are jagged and uneven. I love the variety. Some will brown more than others depending on their size and the heat inside the oven.
When you rip the bread apart, do your best not to squash the crumb. It is ok if the bread is a little dry and stale, but make sure it's not so hard that it's impossible to split it into individual pieces.
The Ingredients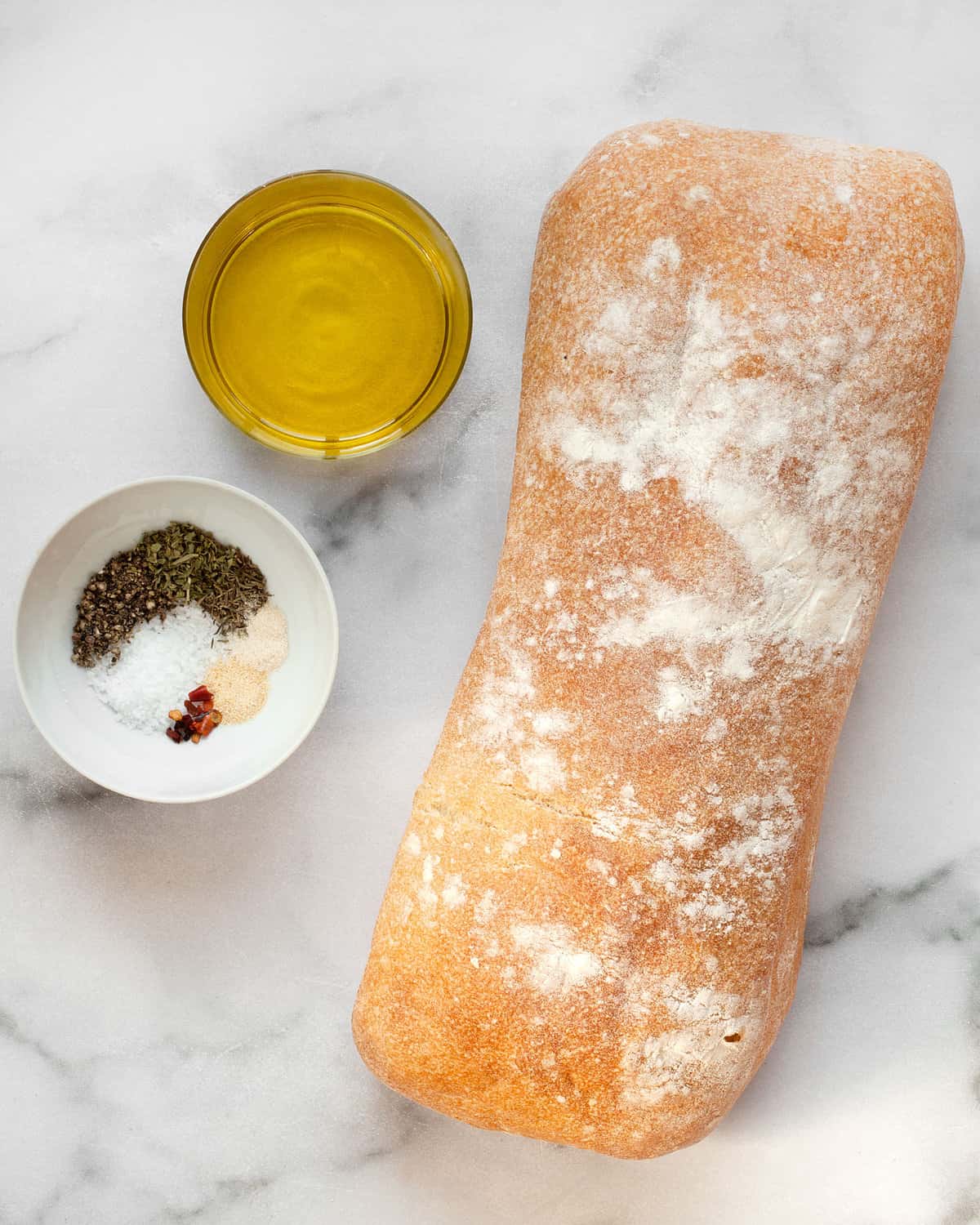 You don't need much for this homemade crouton recipe:
Bread: As mentioned, use a more artisan, rustic loaf. I like to call these crusty breads. Sourdough bread is wonderful because of its signature tang. Or try a multigrain.
Oil: Always use extra-virgin olive oil for its quality and flavor.
Dried seasonings: I use a mix of oregano, thyme, garlic powder, onion powder, red pepper flakes, kosher salt and black pepper. Some combination of these is often found in Italian seasoning blends.
How To Make Homemade Croutons
Preheat the oven to 375 degrees F.
1. Tear the bread into pieces. They should be about 1-inch to 2-inches.
2. Whisk together the olive oil and dried spices including oregano, thyme, garlic powder, onion powder, red pepper flakes, kosher salt and black pepper.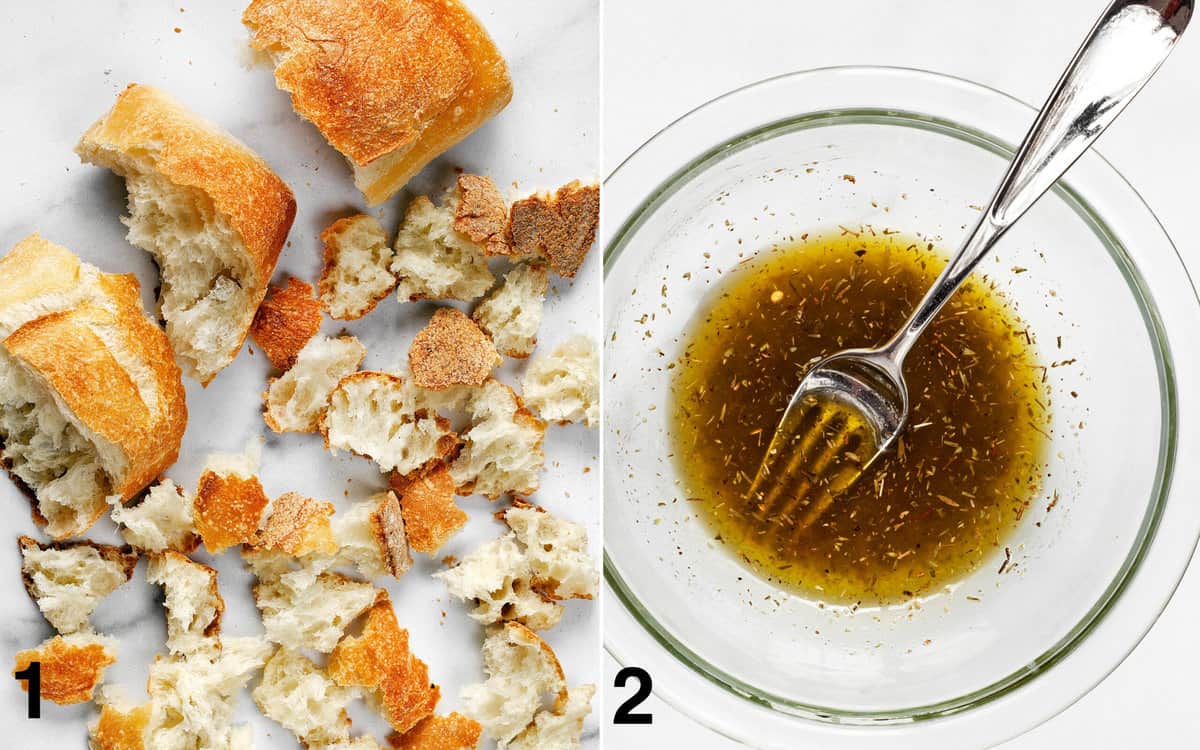 3. Put the bread on a baking sheet and pour the oil mixture over it. Use your hands to toss it, so each piece absorbs the oil. Spread the bread in single layer on the pan. I do this on the pan to save myself from washing a large bowl.
4. Bake the croutons until they are deep golden brown and crisp. Start with 10 minutes on one side and then flip them over and continue cooking for an additional 7-10 minutes.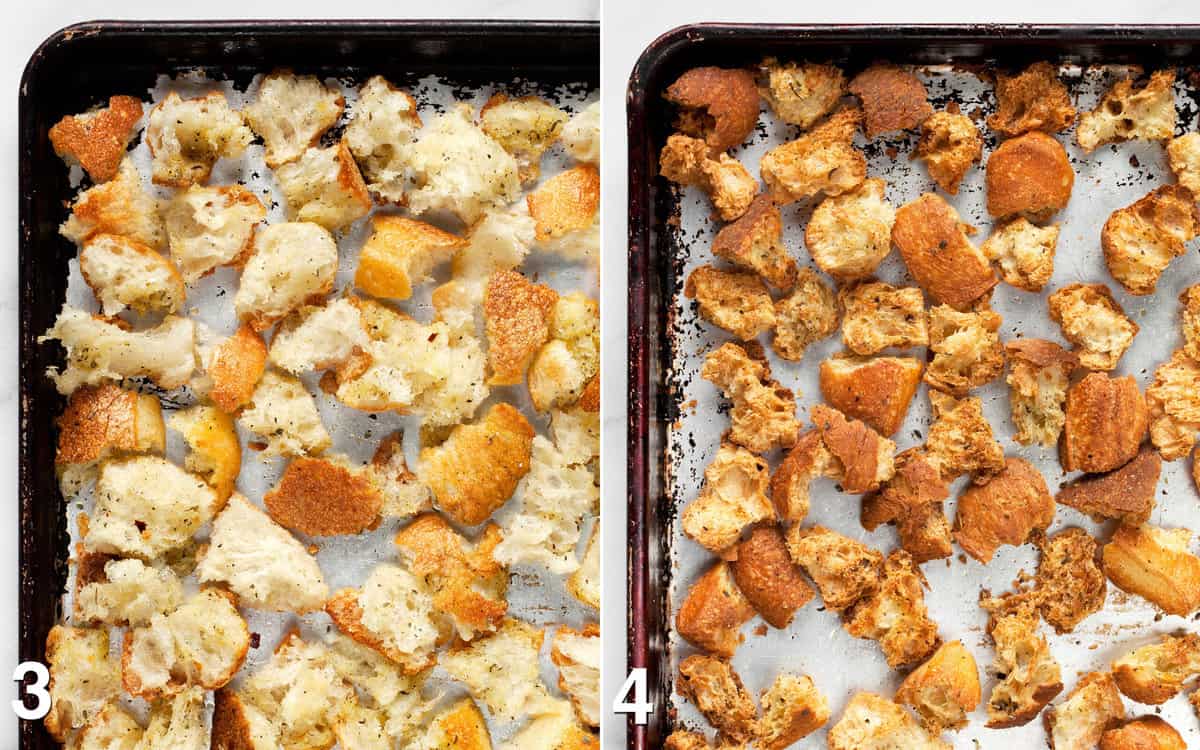 Uses for Croutons
Salads are the most obvious way to eat croutons, but they can also top pureed veggie soups like Roasted Tomato Soup or soups with lots of beans or lentils. Try them on Rosemary Tomato White Bean Soup or Pasta e Fagioli.
You can turn them into breadcrumbs too. Just put the croutons in a bag and crush them with the bottom of a heavy pot or skillet. If you want them to be finer, then use a food processor.
Storing
Keep your croutons in an airtight container at room temperature. They will last for 2 weeks. Do not put them in the refrigerator or freezer or they will lose their crunch because of the moisture.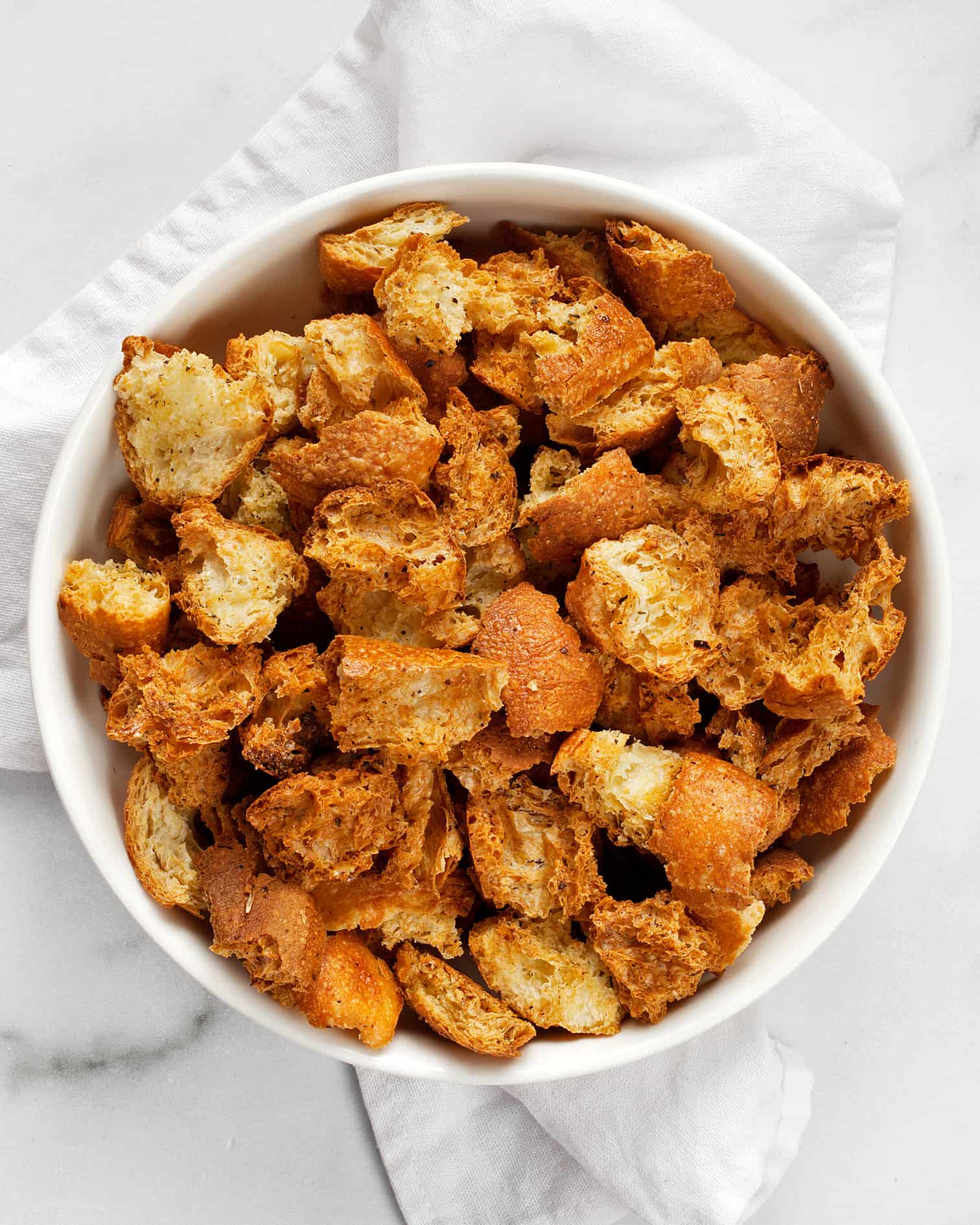 FAQs
What temperature should you bake croutons in the oven?
Bake them on a sheet pan at 375 degrees F for 17-20 minutes flipping them over 10 minutes into baking.
What can you use croutons for other than salads?
Put croutons on top of thicker soups as a garnish. Or crush them to make breadcrumbs.
How long do croutons last?
They will be good for about 2 weeks stored in an airtight container at room temperature.
Do you need to line the baking sheet when you make croutons?
Do not line the pan with parchment paper or aluminum foil. You want the bread to touch the metal directly in order to maximize browning.
Add Croutons to These Salads
Italian Chopped Salad
Brussels Sprout Caesar Salad
Roasted Pepper Panzanella
Brussels Sprout Apple Salad
Caprese Salad
Homemade Croutons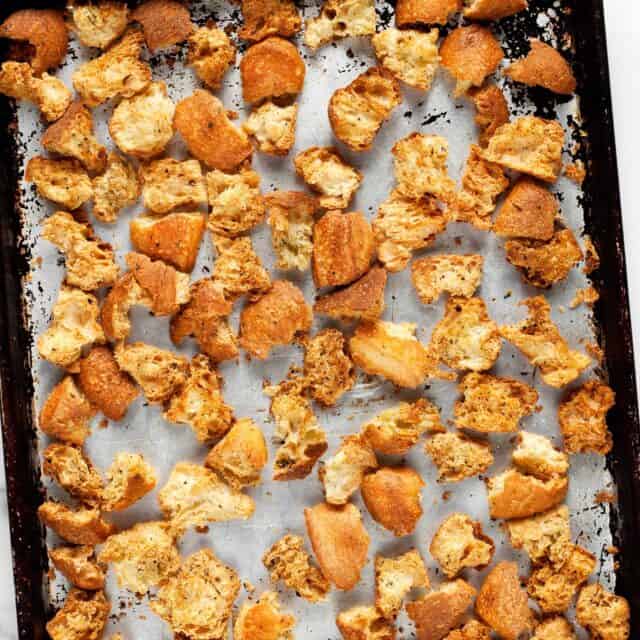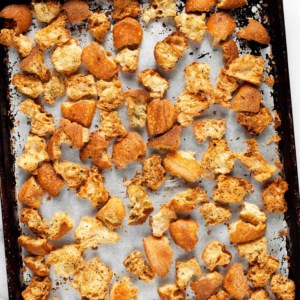 With olive oil, Italian seasonings and a sheet pan, it's easy to toast bread in the oven and make a batch of homemade croutons for salads.
Ingredients
1

loaf ciabatta

sourdough or multigrain bread or 2 baguettes (about 12 ounces)

1/3

cup

olive oil

1/2

teaspoon

oregano

1/4

teaspoon

thyme

1/4

teaspoon

garlic powder

1/4

teaspoon

onion powder

Pinch

of red pepper flakes

1

teaspoon

kosher salt

1/2

teaspoon

black pepper
Instructions
Preheat the oven to 375 degrees F.

Tear the bread into 1-inch to 2-inch pieces. Place the bread on a sheet pan.

In a small bowl, whisk together the olive oil, oregano, thyme, garlic powder, onion powder, red pepper flakes, salt and pepper.

Pour the olive oil over the bread. Use your hands to toss it around, so all the oil is absorbed. Spread out the bread across the entire sheet pan in a single layer.

Bake the bread for 10 minutes. Turn it over to the other side. Continue baking for 7-10 minutes until the croutons are golden brown.

Let the croutons cool before using them or storing them.
Notes
This recipe makes 4-5 cups croutons.
Store croutons in an airtight container at room temperature up to 2 weeks. To maintain their crunchy texture, do not refrigerate or freeze them.
In addition to salads, use these croutons as garnish on soups. Also, you can turn them into breadcrumbs by crushing them in a food processor or putting them in a bag and crushing them with a heavy pot.
Nutrition
Calories:
168
kcal
|
Carbohydrates:
21
g
|
Protein:
4
g
|
Fat:
8
g
|
Saturated Fat:
1
g
|
Polyunsaturated Fat:
1
g
|
Monounsaturated Fat:
5
g
|
Sodium:
453
mg
|
Potassium:
4
mg
|
Fiber:
1
g
|
Sugar:
0.01
g
|
Vitamin A:
5
IU
|
Vitamin C:
0.1
mg
|
Calcium:
3
mg
|
Iron:
0.1
mg
Nutrition information is automatically calculated, so should only be used as an approximation.
Originally published March 18, 2021. Updated: December 29, 2022.