Things can get a little crazy in my fridge. With all sorts of jars aligned in tall stacks, there is never a shortage of ingredients to come up with something to eat.
Every so often I have to do a fridge-foraged meal to do a serious purge.
To make matters worse, our refrigerator is 12 years old. It's still puttering along with a few kinks. The bottom 2 drawers in the fridge are more like freezer temperature limiting my storage. I don't need extra freezer space!
Besides the jars, there is always pizza dough stored in bags. It comes in handy for weeknight meals for my three-year-old. Pasta and pizza are on heavy rotation when it comes to his eating.
I got kind of fancy with my pizza dough the other week. It didn't all go to my little one's dinner. Instead of stretching it into a rough, lopsided circle per usual, I made braided pizza bread.
First I rolled out the dough in a rectangle and spread on tomato sauce and pesto followed by a sprinkle of my favorite Italian blend cheese with Parmesan, Provolone, Fontina and Asiago.

Then I took my pizza cutter to slice angled strips on each side that I overlapped into a braid. Before baking it, I sprinkled the top with a mix of finely grated Parmesan, fresh thyme and garlic powder.
Braided pizza bread is a great appetizer for a crowd. I like to make my dough from scratch, but store-bought would work just fine.
You can use all sorts of different fillings. From veggies to meat, it's an easy way to satisfy different tastes and preferences.
Even though this pizza bread has sauce inside of it, I like to serve it with more dips on the side. Tomato sauce and pesto are my favorites, but ranch would be another good option.
SaveSave
SaveSaveSaveSave
SaveSave
SaveSave
SaveSave
SaveSave
SaveSave
SaveSave
SaveSave
SaveSave
Print
Braided Pizza Bread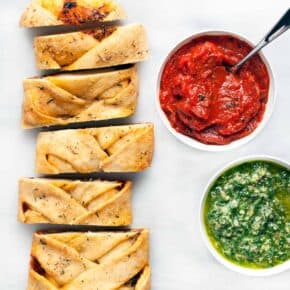 Prep Time:

2 hours 20 minutes

Cook Time:

20-25 minutes

Total Time:

2 hours 40-45 minutes

Yield: Serves

8

–

10

1

x
Scale
Ingredients
2/3 cup warm water
1/2 teaspoon dry active yeast
1/2 teaspoon granulated sugar
1 teaspoon olive oil plus more for bowl and brushing dough
1-1/2 cups bread flour plus more for work surface
1/2 teaspoon kosher salt
1/2 cups tomato sauce plus more for serving
1/2 cup pesto plus more for serving
1/4 cup shredded Italian cheese blend
1/4 cup finely grated Parmesan
1/4 teaspoon dried thyme
1/4 teaspoon garlic powder
Tomato sauce and pesto for serving
Instructions
In a small bowl, combine the water, yeast, sugar and olive oil. Let stand until foamy, about 5 minutes.
In the bowl of a food processor, pulse the flours and salt. Add the yeast mixture and process until a ball of dough forms. Transfer the dough to an oiled bowl. Cover and let rise until doubled in volume, about 2 hours or up to overnight in the refrigerator.
Preheat the oven to 400 degrees F.
Roll the dough into a 12-inch by 15-inch rectangle on a sheet of parchment paper Spread the tomato sauce lengthwise in center of the dough leaving a 5-inch border on either side. Spread on the pesto and sprinkle on the cheese. Using a pizza wheel, cut the dough into angled strips about 1-1/2-inches wide. Start at one end and fold each strip over the filling alternating sides.
In a small bowl, combine the Parmesan, thyme and garlic powder. Brush the dough with olive oil and sprinkle the Parmesan mixture on top. Transfer the braid on the parchment paper to a sheet pan.
Bake for 20-25 minutes until puffed up and golden brown. Serve with tomato and pesto.
SHARE THIS