Rigatoni with Tomato Sauce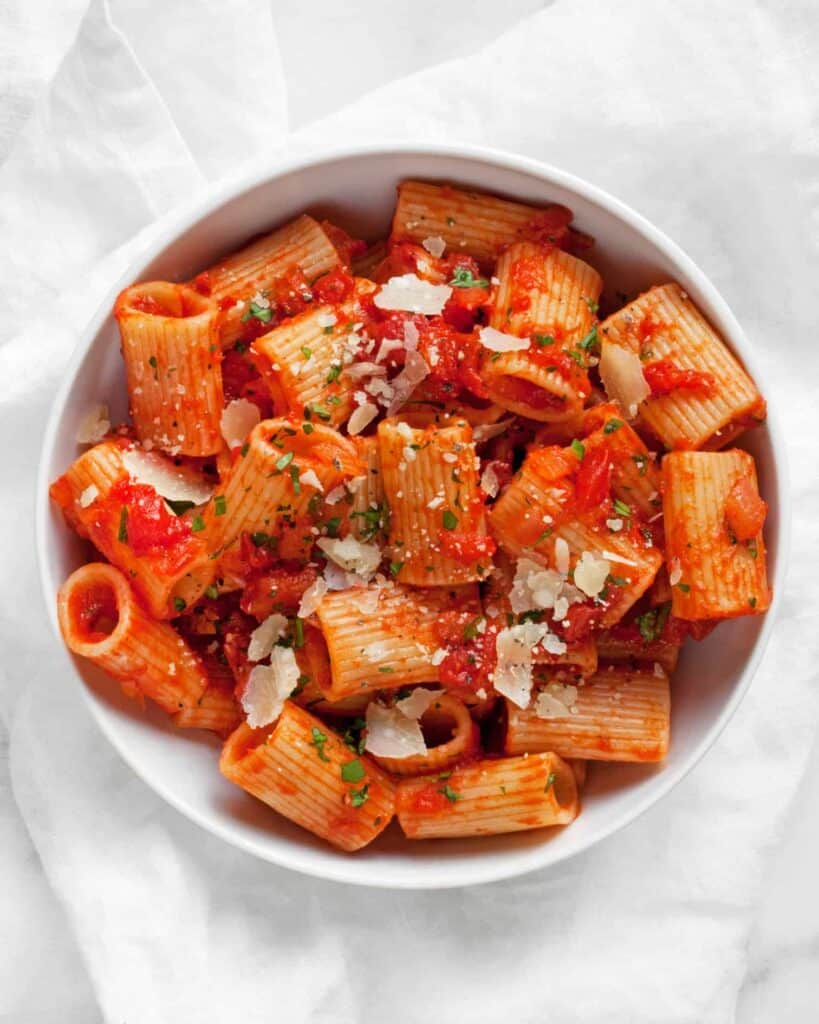 I don't like to make a big deal out of tomato sauce.

Canned tomatoes are a pantry staple, so I think of them as a weeknight/whenever go-to ingredient.
It doesn't even have to be sauce. Tomato soup is pretty much just thinned out sauce.
I know there are people who spend hours crafting their rendition of a treasured family recipe, but my version is finished simmering in about 15 minutes.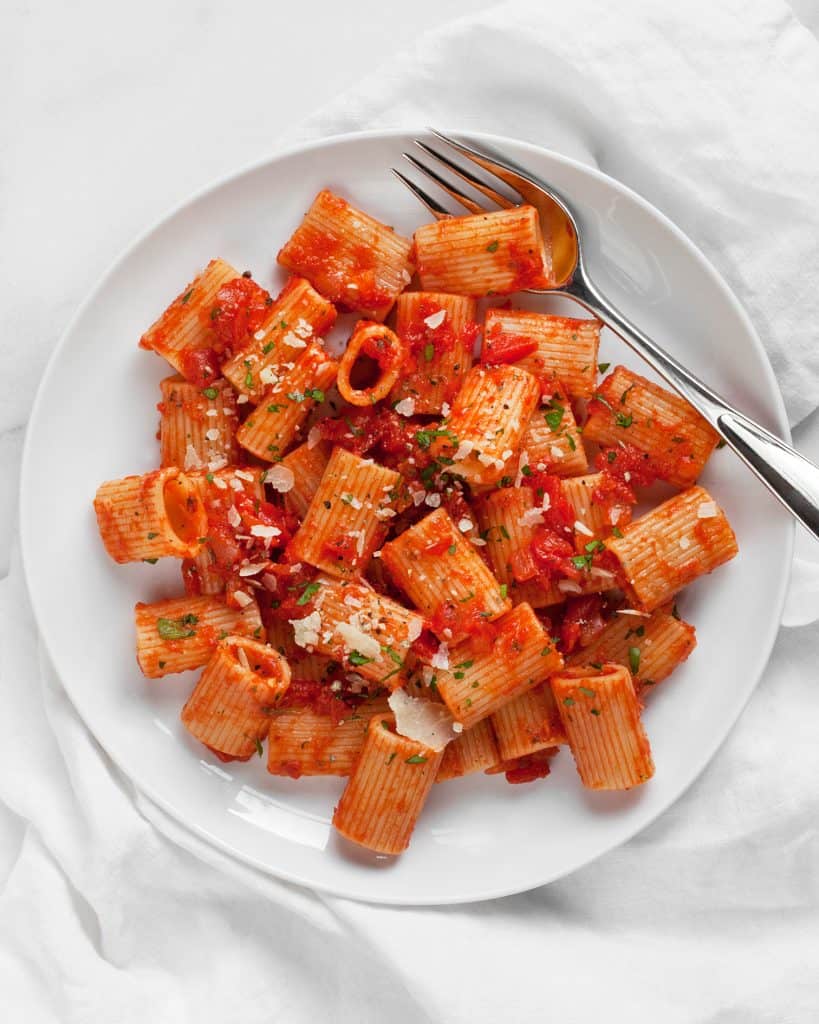 Keeping with that simple, no fuss meal prep, last week I made rigatoni with tomato sauce.
There is a range of effort that I find myself putting into this sauce depending on my mood.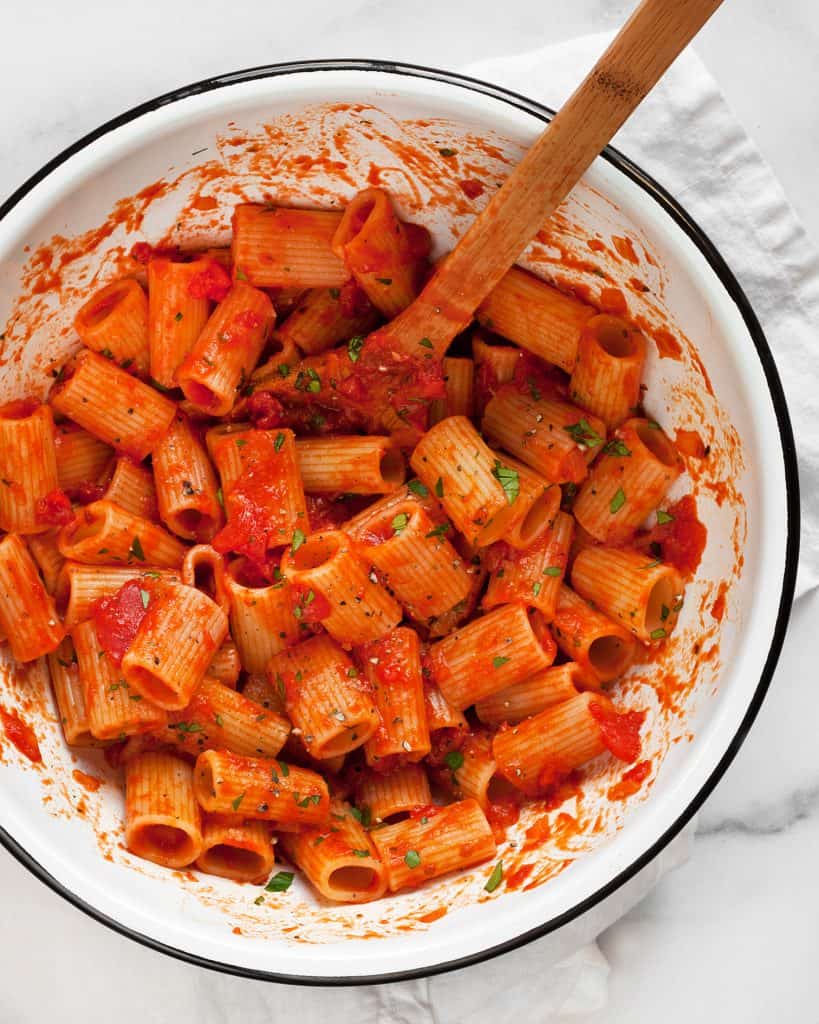 How To Make Rigatoni With Tomato Sauce
The first step is to sauté onions in olive oil. Once they are soft and translucent, I add minced garlic.

To make the sauce even more fragrant and give it a good kick, I always stir in red pepper flakes. A little goes a long way!

After that, I dump in a big can of crushed tomatoes, bring everything to a boil and then turn down the heat to let the sauce simmer.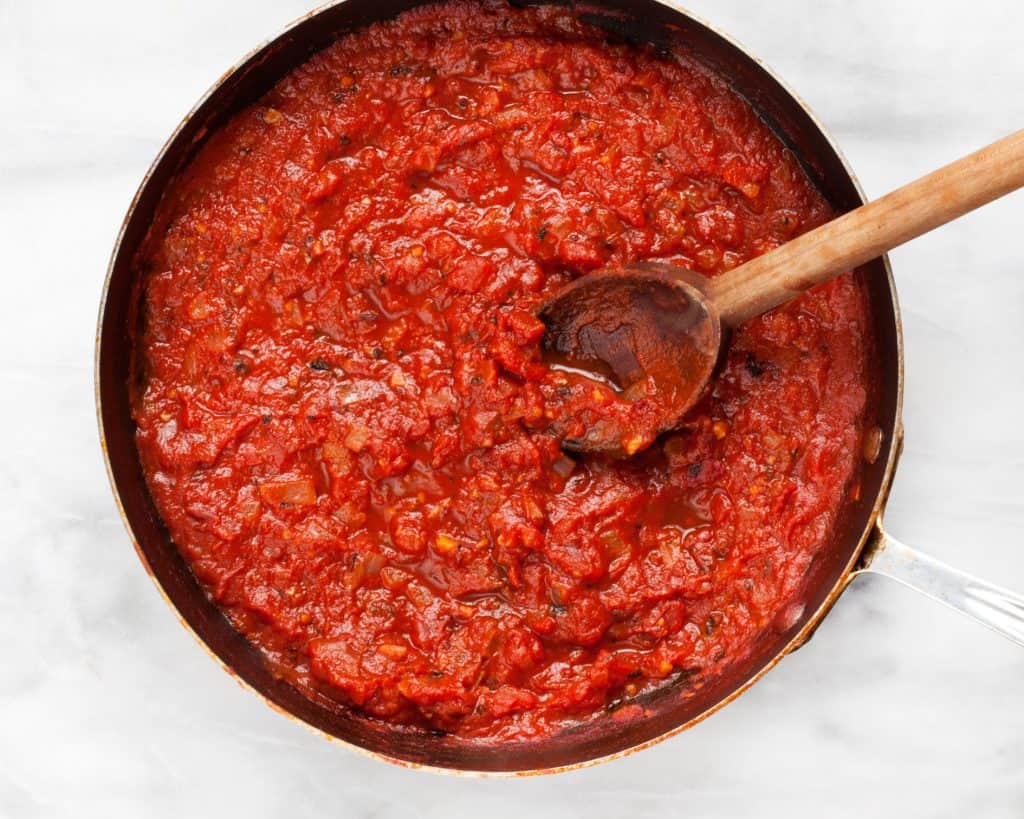 A Sauce For Pasta And Pizza
The cook time kind of depends on what I'm planning to do with the sauce.

For pasta, I usually keep it a little thinner. Remember that you can always use pasta cooking water to thin it out, too.
For pizza, I like a thicker sauce, so I simmer it longer.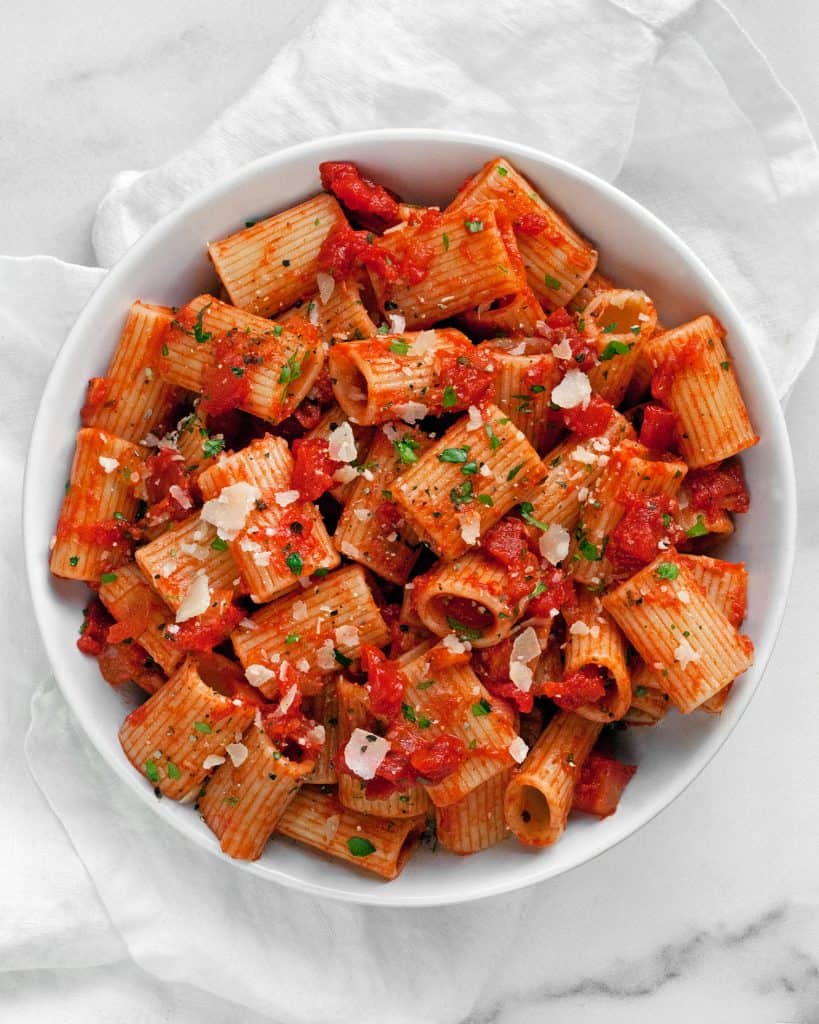 Depending whether you prefer smooth or chunky sauce, you can puree it in the blender.
As the sauce is cooking, I like to add a Parmesan rind.

I hoard them in a little baggie in my fridge. They add a subtle richness, and pardon the cheffy word, umami.
If I know I'm not going to be able to use all the sauce in a few days, I freeze it in ice cube trays, so it's easy to only use as much as I need for a single meal.

Rigatoni with tomato sauce is such a simple and cozy dinner.
Print
Rigatoni with Tomato Sauce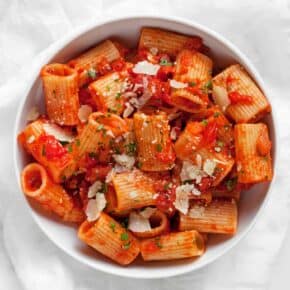 Prep Time:

5 minutes

Cook Time:

17-22 minutes

Total Time:

22-27 minutes

Yield: Serves

4

1

x
Scale
Ingredients
1 tablespoon olive oil
1 small white onion, minced
2 garlic cloves, minced
1/4 teaspoon red pepper flakes
1 teaspoon kosher salt plus more to taste
1/4 teaspoon black pepper plus more to taste
1-28 ounce can crushed tomatoes
Parmesan rind, optional
1 pound dried rigatoni
Grated Parmesan and chopped parsley for serving
Instructions
In a large saucepan, heat the olive oil over medium heat. Add the onions and sauté until they soften, about 5 minutes. Add the garlic, red pepper flakes, salt and pepper and cook until fragrant, about 2 minutes. Add the tomatoes and Parmesan rind, if using, and bring the mixture to a boil. Reduce the heat to simmer for 10-15 minutes until the sauce has thickened.
Cook the rigatoni according to package instructions. Reserve 1 cup of pasta water. Stir the rigatoni into the sauce and add the pasta water by the 1/4-cupful to thin the sauce. Season to taste and top with grated Parmesan and parsley before serving.
Notes
If you prefer a smoother sauce, puree it in the blender.
SHARE THIS