Rigatoni Pasta & Tomato Sauce
on Dec 27, 2021, Updated Jul 08, 2022
There are so many reasons to have canned tomatoes in your pantry at all times. One of them includes this easy pasta sauce recipe that's fantastic for rigatoni pasta or penne. It's seasoned with garlic, oregano and red pepper flakes. The sauce is freezer-friendly.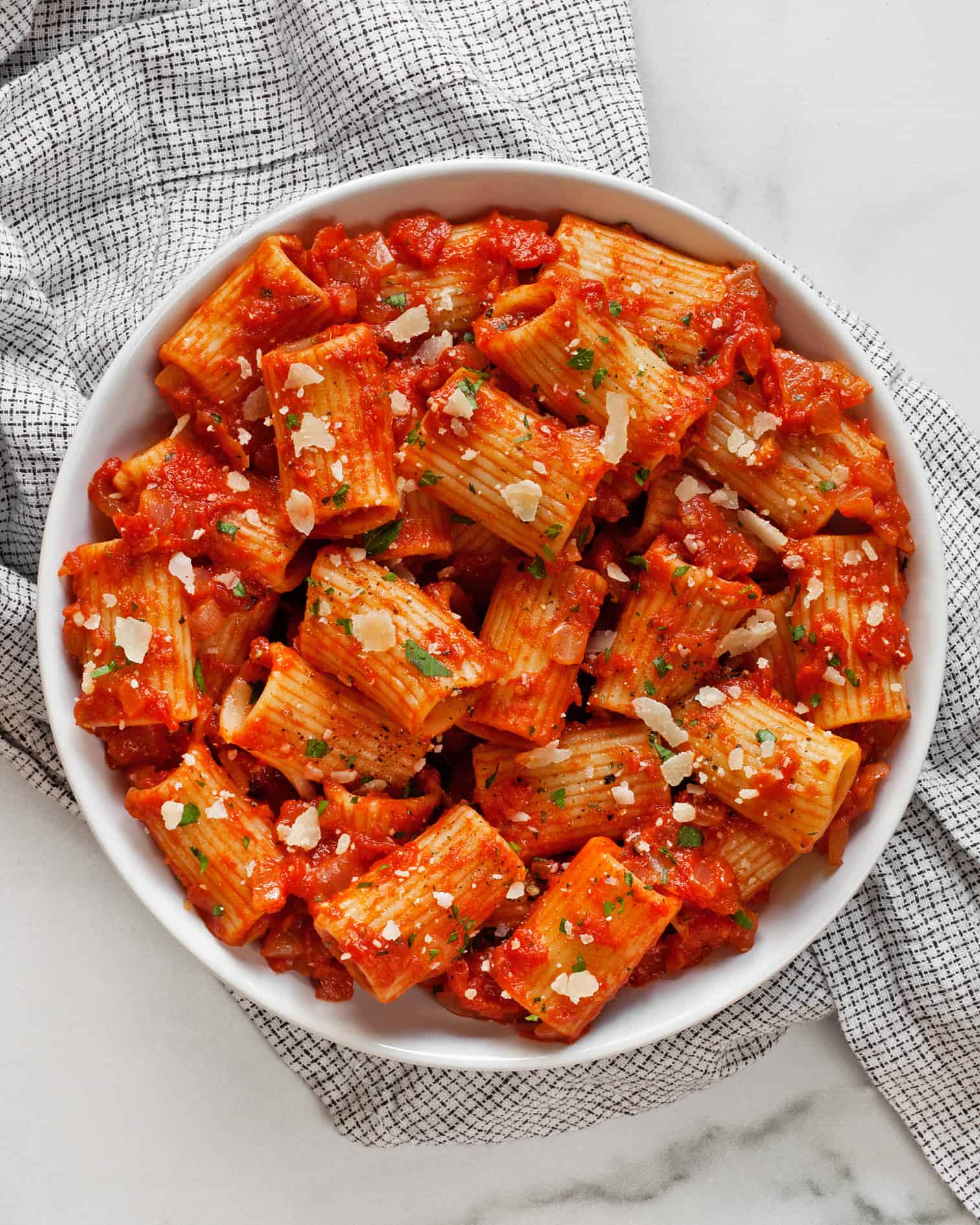 I like to keep things simple with tomato sauce. Canned tomatoes are a pantry staple, so recipes with them should be approachable. They are one of the most reliable weeknight/whenever go-to ingredients.
I know there are people who spend hours crafting their rendition of a treasured family recipe, but my marinara sauce finishes simmering in about 10-15 minutes. It's a simple sauce that definitely delivers, which is what it should be for most pasta dishes. You really don't need much more than that.
Keeping with a strategy of no-fuss meal prep, I have this rigatoni recipe with tomato sauce on regular weeknight dinner rotation. I will even make the sauce on a Sunday; so then I am ready for the busy days ahead. A bowl of spaghetti or rigatoni noodles and sauce is my kind of comfort food.
And it doesn't always have to be sauce. Canned tomatoes are the starting point for countless soups including my favorite Roasted Tomato Soup.
Rigatoni Pasta: The Perfect Shape For Sauce
With its ridges and big tubular shape, rigatoni is the ultimate noodle for thicker sauces. It really picks up the chunkier bits. Holding on to sauce is the job of those ridges.
Rigatoni is similar to ziti and penne, but it is larger in diameter. Also, the ends of rigatoni are cut straight unlike the angled ends of penne.
And ziti noodles are smooth without those signature pasta ridges. Save them for a casserole.
Rigatoni is a pasta that can do a lot of things with from being boiled to baked in pasta dishes. No matter how you cook it, you will end up with a filling meal.
Ingredients & Substitutions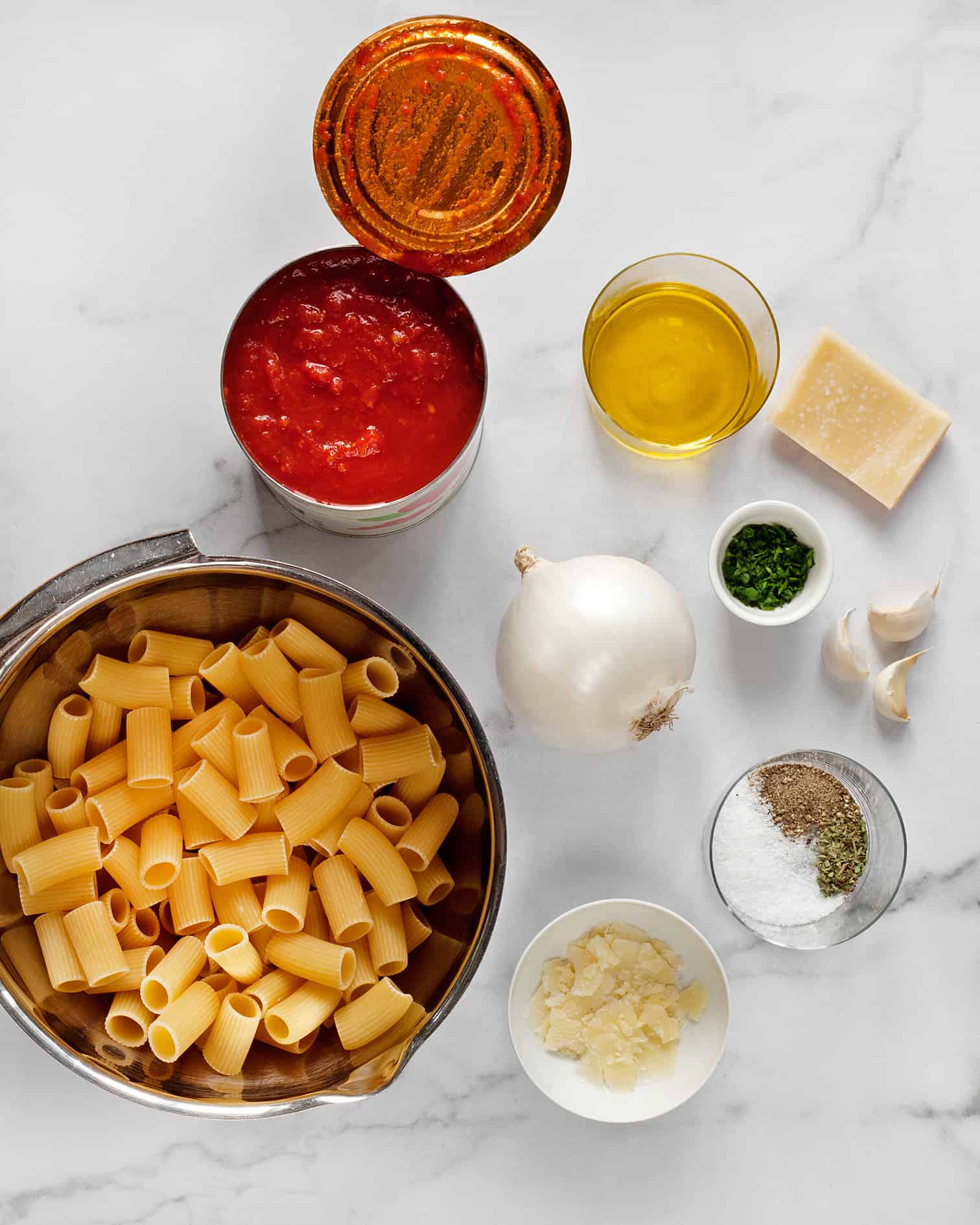 For this pasta you will need these ingredients:
Canned Tomatoes: To save a step, I use crushed tomatoes. Unlike pureed tomatoes, they still are a bit chunky. Also, you aren't obligated to blend the sauce like you would if you used diced or whole tomatoes.
Onions: This recipe uses chopped white onions. A yellow onion will work too. I cook them letting them get soft and translucent before adding anything else to the pan.
Garlic: I mince the garlic, so it ends up disappearing into the sauce as it simmers, while leaving behind wonderful garlicky flavor.
Olive oil: The recipe starts with heating the olive oil in a saucepan and sautéing the onions followed by the garlic and seasonings.
Oregano: For that signature Italian seasoning and flavor, I include dried oregano with the spices.
Red pepper flakes: A little goes a long way with red pepper flakes. They are such an easy and effective way to add heat to sauces and pastas.
Salt & black pepper: They are the essential base seasonings to any tomato sauce. Make sure to taste as you go to see if you need adjust the salt and pepper.
Parmesan rind: Even though it's optional, adding a Parmesan rind to the sauce while it simmers adds a subtle salty, savory umami flavor. I keep a container of rinds in the fridge just for tomato sauce and soup. No portion of a hunk of Parmesan goes to waste!
Rigatoni: If you happen to be out of rigatoni, penne or fusilli are great alternates because they grab the sauce.
Grated Parmesan: It just makes sense to finish the pasta with a sprinkle (or more) of Parmesan cheese. If you want to keep it vegan, use nutritional yeast instead.
Chopped parsley: For color and fresh herby taste, I top each serving with chopped parsley. If you have fresh basil leaves, you can use them for garnish too.
How To Make Rigatoni Pasta with Tomato Sauce
1. Heat the olive oil in a large skillet over medium heat.
2. Sauté the onions. After 5 minutes or so, they will start to turn soft and translucent.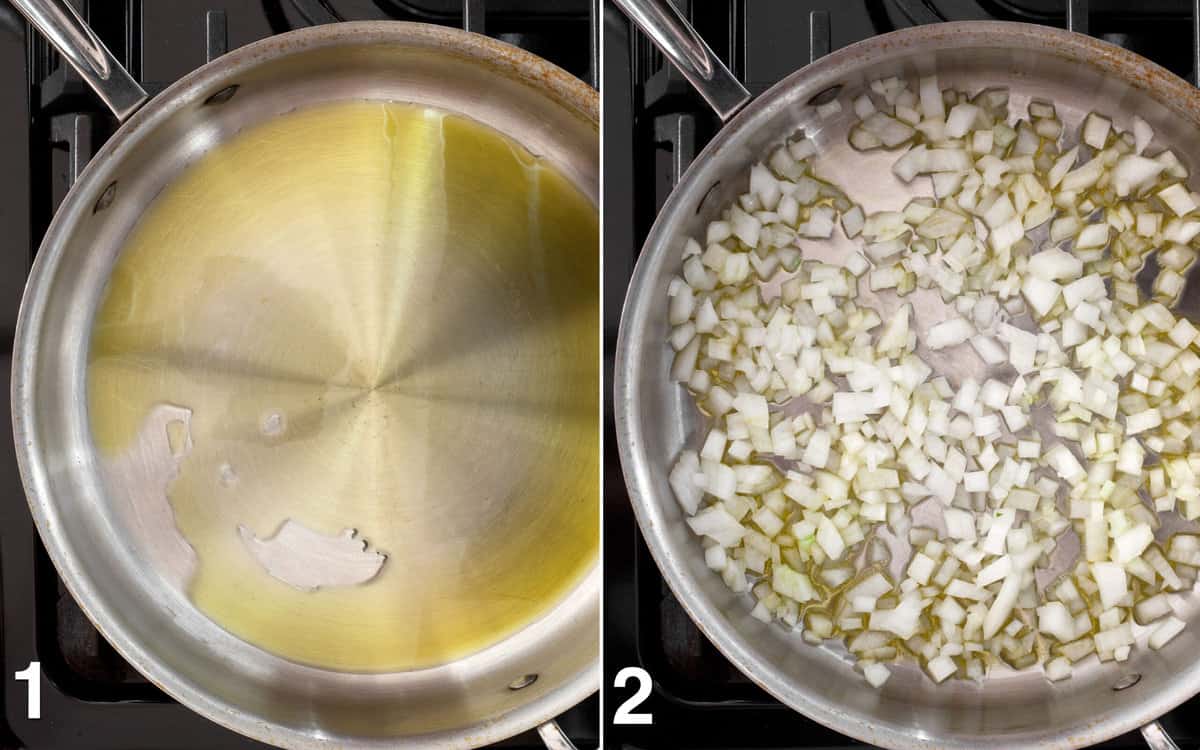 3. Add the garlic, oregano, red pepper flakes, salt and pepper. Continue cooking for a minute until fragrant.
4. Pour in the crushed tomatoes. Let the sauce simmer for 10-15 minutes until thickened. Add a Parmesan rind, if using.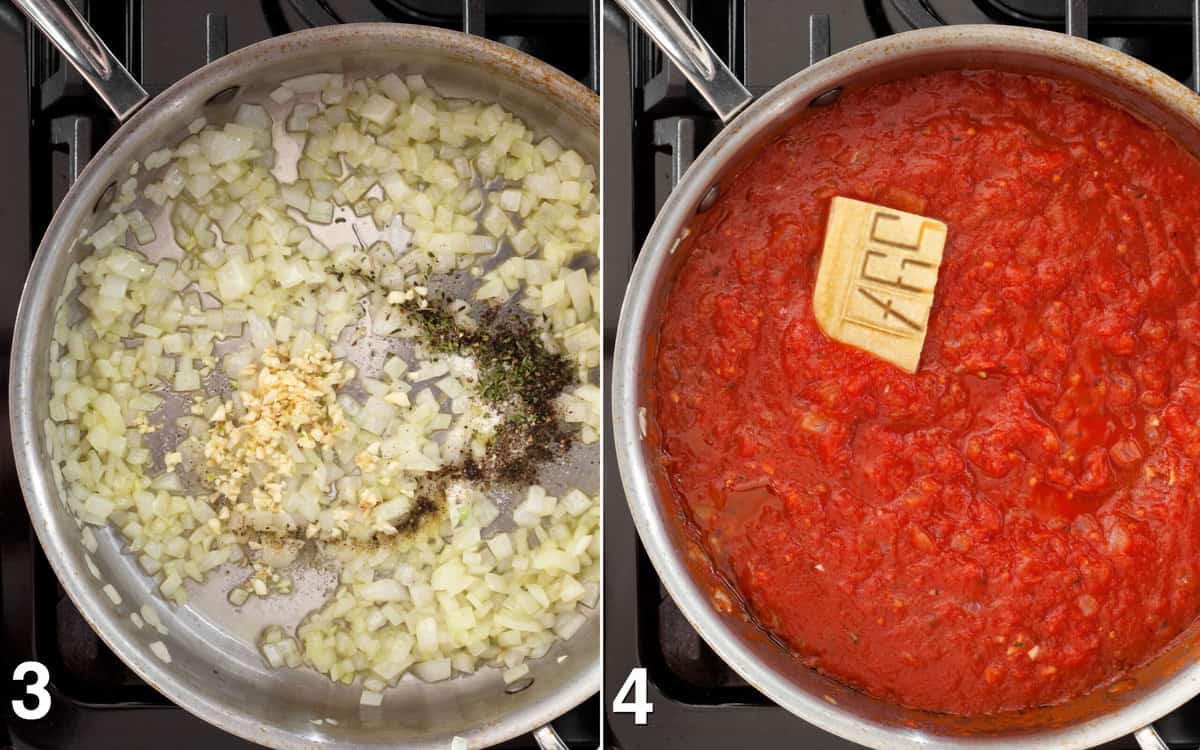 5. Cook the rigatoni in a large pot of salted boiling water while the sauce simmers for 10-15 minutes. Make sure not to overcook the pasta. You want it to be al dente, so it has some bite to match the thick sauce. Reserve 1 cup of pasta cooking water. Then drain the pasta.
6. Stir the pasta into the sauce with 1/4 cup of the reserved pasta cooking water. Let it simmer for 1 minute. You can add more pasta water if needed to thin it out. Remove the Parmesan rind before you add the pasta. Divide the pasta into serving dishes. Top with grated Parmesan and chopped parsley.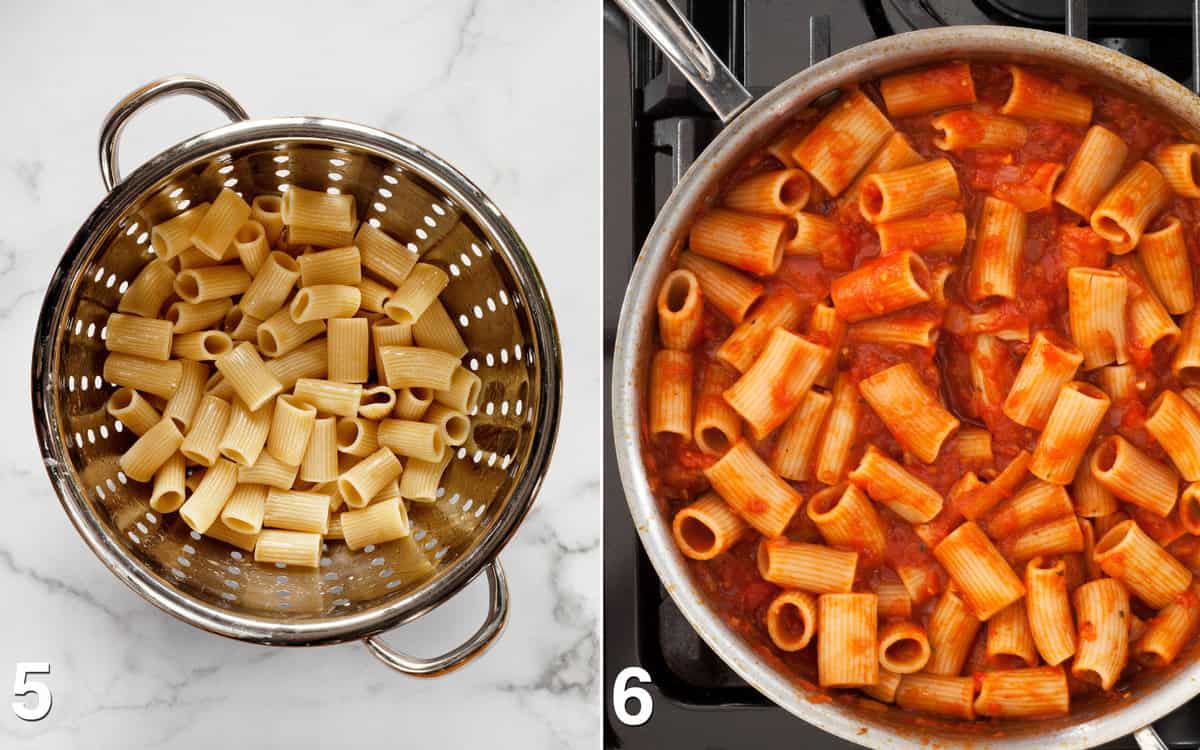 A Sauce For Pasta And Pizza
The simmer time kind of depends on what you're planning to do with the sauce.

For pasta, I usually keep the sauce a little looser and simmer it for less time, closer to 10 minutes. Remember you can always use pasta cooking water to thin it out too in case you end up simmering it too long for your intended use.
For pizza, I like a thicker sauce, so I simmer it longer, around 15 minutes. Depending whether you prefer smooth or chunky sauce, you can puree it in the blender if you want to add that step. This is more relevant for pizza than pasta.
Make-Ahead Tips & Freezing
You can make the sauce up to 3 days in advance. Wait to cook the pasta until you are ready to serve the actual meal. Then you will have the pasta cooking water to thin out the sauce as necessary, and you will have freshly simmered al dente noodles.
Store the sauce in the refrigerator in airtight container. If you are planning to store it longer (up to 1 month), go ahead and freeze it. You can put it out on the kitchen counter at room temperature to thaw.
Keep everything simple and serve the pasta with an easy arugula salad with Parmesan and lemon vinaigrette.
Variation: Rigatoni Arrabiata
If you are like me and love a spicy tomato sauce, go all in on the red pepper flakes. They are such an easy way to deliver some serious heat. Stir in 1 teaspoon of flakes into the sauce.
Optional Additions
You can take advantage of the heat of the sauce and stir in baby spinach or chopped kale. It will wilt in minutes and is such an easy way to add another nutritious ingredient.
Also, to top the pasta, try fresh basil if it's in season or torn fresh mozzarella cheese if you're craving something a little richer.
More Canned Tomato Recipes
You can't beat the convenience of canned tomatoes. They get me through the majority of the year when fresh ones are not in season.
Here are more recipes using this pantry staple:
Roasted Eggplant Zucchini Tomato Stew
Cheese Tortellini Pasta Bake
Lentil Wild Rice Soup
Baked Tomato Farro Risotto
Chickpea Arrabiata
Oven-Baked Skillet Gnocchi with Mushrooms and Spinach
Did you make this sauce? Please leave a rating and comment below. Thanks!
Rigatoni Pasta & Tomato Sauce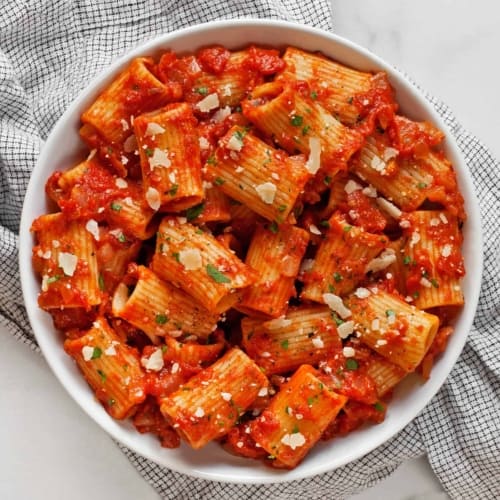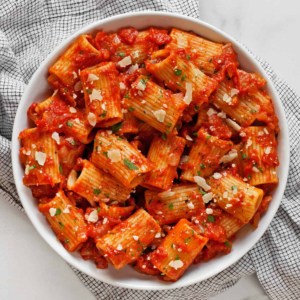 Make the most of canned tomatoes in this easy sauce recipe that's perfect for rigatoni pasta. The sauce is great for pizza too.
Ingredients
1

tablespoon

olive oil

1

small white onion

minced

2-3

garlic cloves

minced

1/4

teaspoon

dried oregano

1/4

teaspoon

red pepper flakes

1

teaspoon

kosher salt plus more to taste

1/4

teaspoon

black pepper plus more to taste

1-28

ounce

can crushed tomatoes

Parmesan rind

optional

12

ounces

dried rigatoni

Grated Parmesan and chopped parsley for serving
Instructions
In a large skillet or saute pan, heat the oil over medium heat. Add the onions and sauté until they start to soften and turn translucent, about 5 minutes.

Add the garlic, oregano, red pepper flakes, salt and pepper and continue cooking until fragrant, about 1 minute.

Pour in the tomatoes and add the Parmesan rind, if using. Simmer for 10-15 minutes until the sauce has thickened.

While the sauce simmers, bring a large pot of salted water to a boil. Cook the rigatoni until al dente according to package instructions. Reserve 1 cup of the pasta cooking water. Drain the pasta.

Remove the Parmesan rind. Stir the rigatoni into the sauce with 1/4 cup of the reserved pasta water. You can add more as necessary to thin out the sauce.

Season to taste with additional salt and pepper as needed.

Top with grated Parmesan and parsley before serving.
Notes
Storing: Let the sauce cool to room temperature before transferring to containers to store.
The sauce can be made up to 3 days in advance. Store in an airtight container in the refrigerator. Wait to make the pasta until you are planning to serve the meal. Warm the sauce on low heat on the stove.
You can store the sauce in the freezer up to 1 month. Thaw at room temperature before warming on the stove.
Arrabiata variation: To make a spicy tomato sauce, increase the red pepper flakes to 1 teaspoon.
Nutrition
Calories:
424
kcal
|
Carbohydrates:
81
g
|
Protein:
15
g
|
Fat:
5
g
|
Saturated Fat:
1
g
|
Polyunsaturated Fat:
1
g
|
Monounsaturated Fat:
3
g
|
Cholesterol:
0.1
mg
|
Sodium:
853
mg
|
Potassium:
823
mg
|
Fiber:
7
g
|
Sugar:
12
g
|
Vitamin A:
468
IU
|
Vitamin C:
21
mg
|
Calcium:
98
mg
|
Iron:
4
mg
Nutrition information is automatically calculated, so should only be used as an approximation.