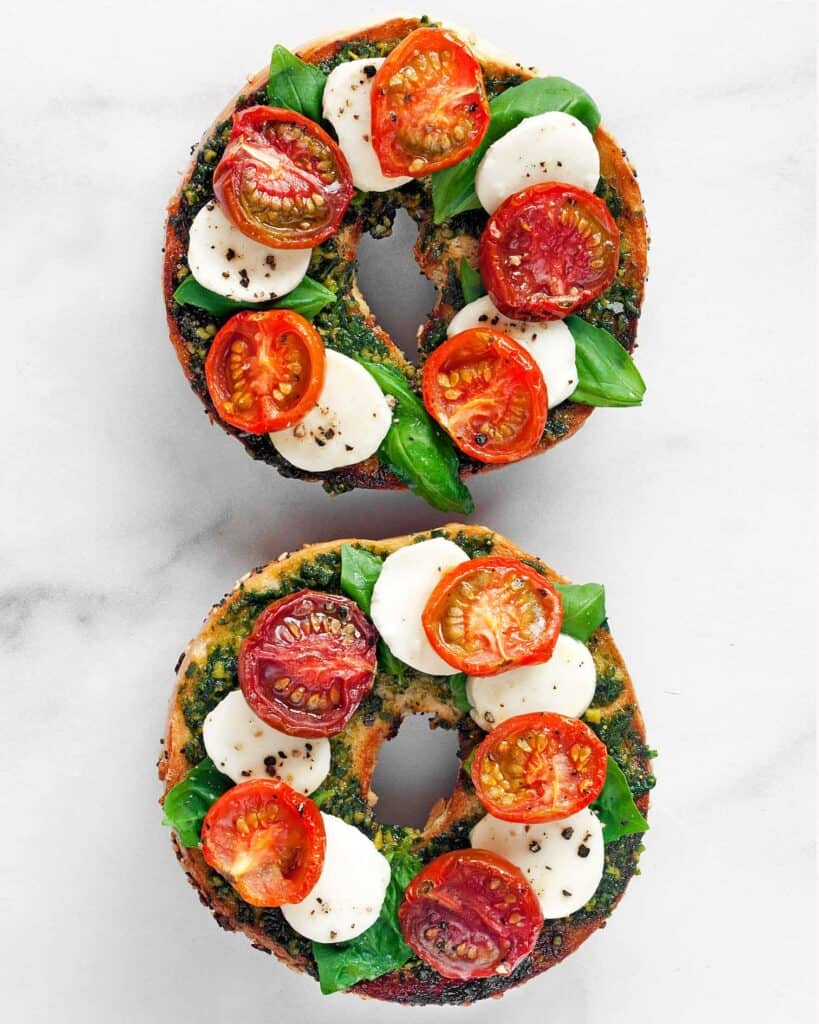 With salads, lettuce is optional.

Who says you need greens to call something as a salad? Definitely, not me.

There are even times when I like to take elements from my favorite salads and turn them into a totally different type of dish.
I might add quinoa or barley to make a grain bowl.
Or I will get as basic as can be using just a slice of toast to make this happen.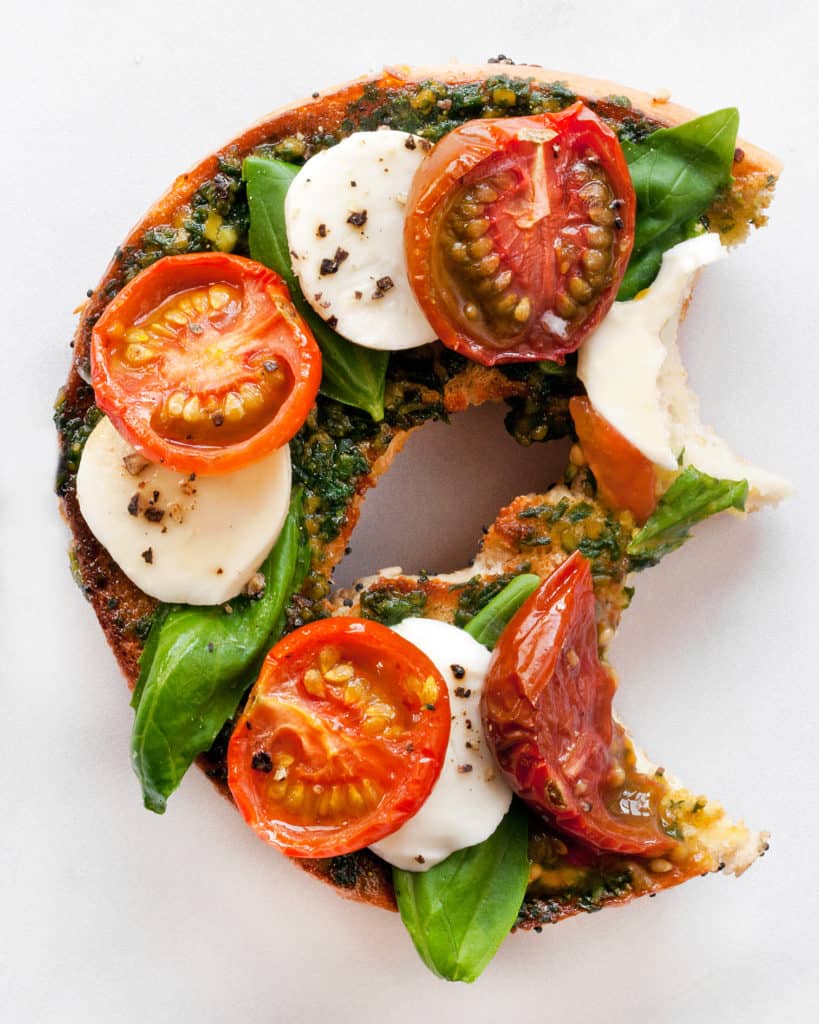 Of course you can be fancy and call it a tartine or crostini. I love eating my toasts piled high with a mix of ingredients. They require a knife and fork to consume them.

Caprese salads are one of the easiest dishes that can be transformed into anything from pasta to an elaborate toast.

Part of it is just geometry. Sliced tomatoes and mozzarella go together in both flavor and form. They stack and overlap.

Breakfast, lunch or dinner, I am a big fan of a caprese bagel.

It is the traditional summer salad just reinvented as an open-faced sandwich.

There are so many opportunities to customize it with whatever kind of bagel you chose.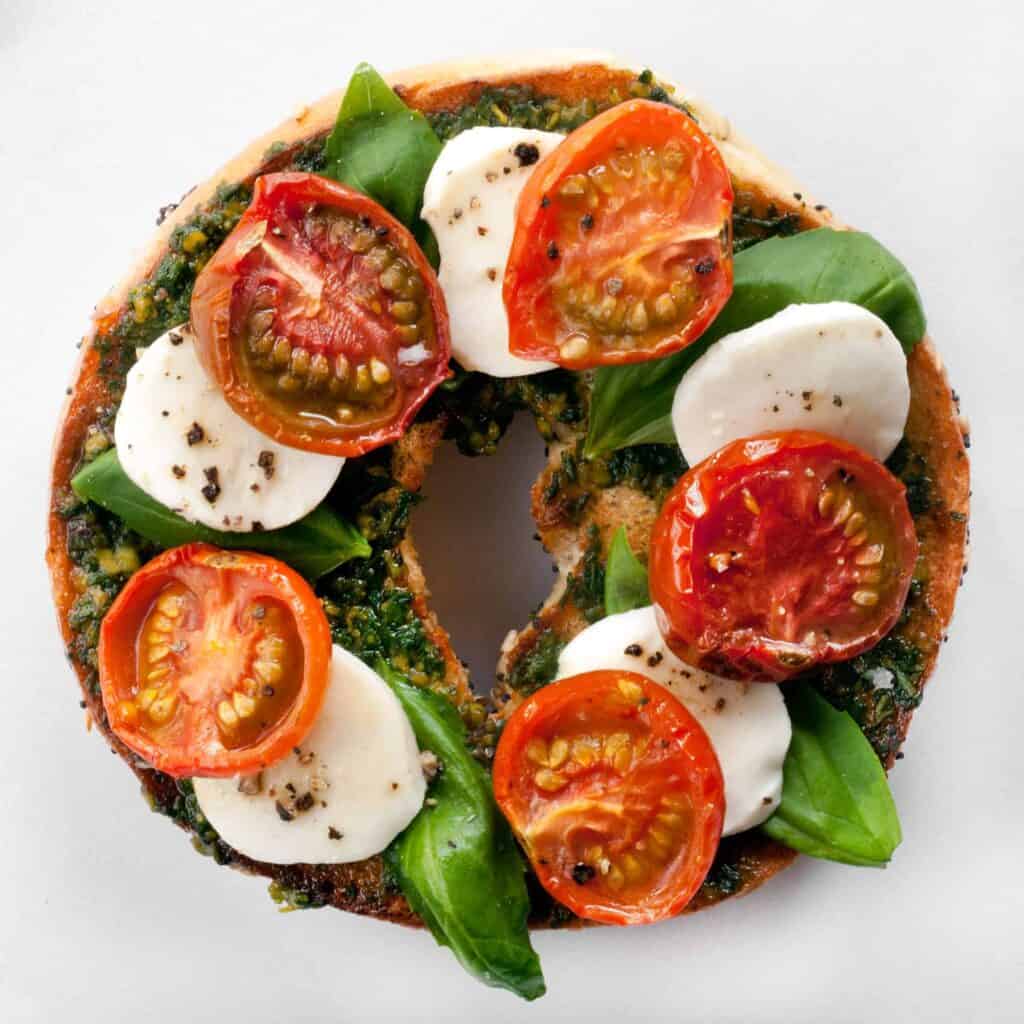 How To Make A Caprese Bagel
Everything bagels are my go-to. I am so obsessed with everything seasoning that I find myself sprinkling it on simple scrambled eggs and snap peas.

Tomatoes in a caprese salad are usually raw, but I think it's worth the time to roast them. Halved cherry tomatoes only take about 25 minutes in the oven.

I always keep a stash of roasted tomatoes in the fridge for whatever spontaneous meal that pops up.

For my caprese bagel, I like to double down on the basil. I tuck the leaves between the tomatoes and mozzarella. But I don't just leave it at that.
I spread pesto onto the bagel before I add any other toppings. The pesto almost acts like glue for the tomatoes and cheese to stay put on their bagel base.
Then I alternate tomatoes, mozzarella and basil going around the bagels. To finish them off, I sprinkle on plenty of flaky sea salt and pepper.
Print
Caprese Bagel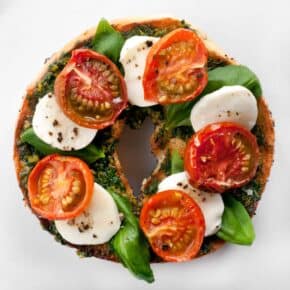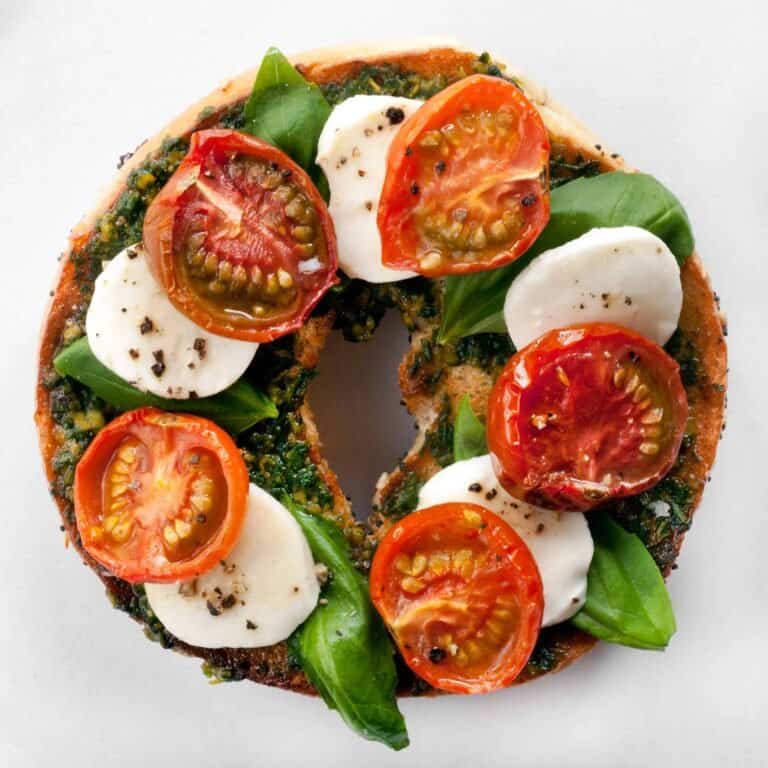 Prep Time:

10 minutes

Cook Time:

25-30 minutes

Total Time:

35-40 minutes

Yield:

Serves 6
Ingredients
For tomatoes
1 pint cherry tomatoes, halved
1 tablespoon olive oil
1/2 teaspoon kosher salt
1/2 teaspoon black pepper
For bagels
1/3 cup basil pesto
6 bagels, halved and toasted
8 ounces fresh ciliegine mozzarella, sliced
1/2 cup basil leaves
Flaky sea salt for serving
Black pepper for serving
Instructions
Preheat the oven to 400 degrees F.
Arrange the tomatoes, cut side up, in a single layer on a parchment-lined sheet pan. Roast for 25-30 minutes until the tomatoes are wrinkled at the edges, but still juicy in the middle.
Spread pesto on the bagels. Add the toppings alternating between tomatoes. mozzarella and basil leaves. Sprinkle with flaky sea salt and black pepper before serving.
SHARE THIS