Fresh Pasta With Basil Pesto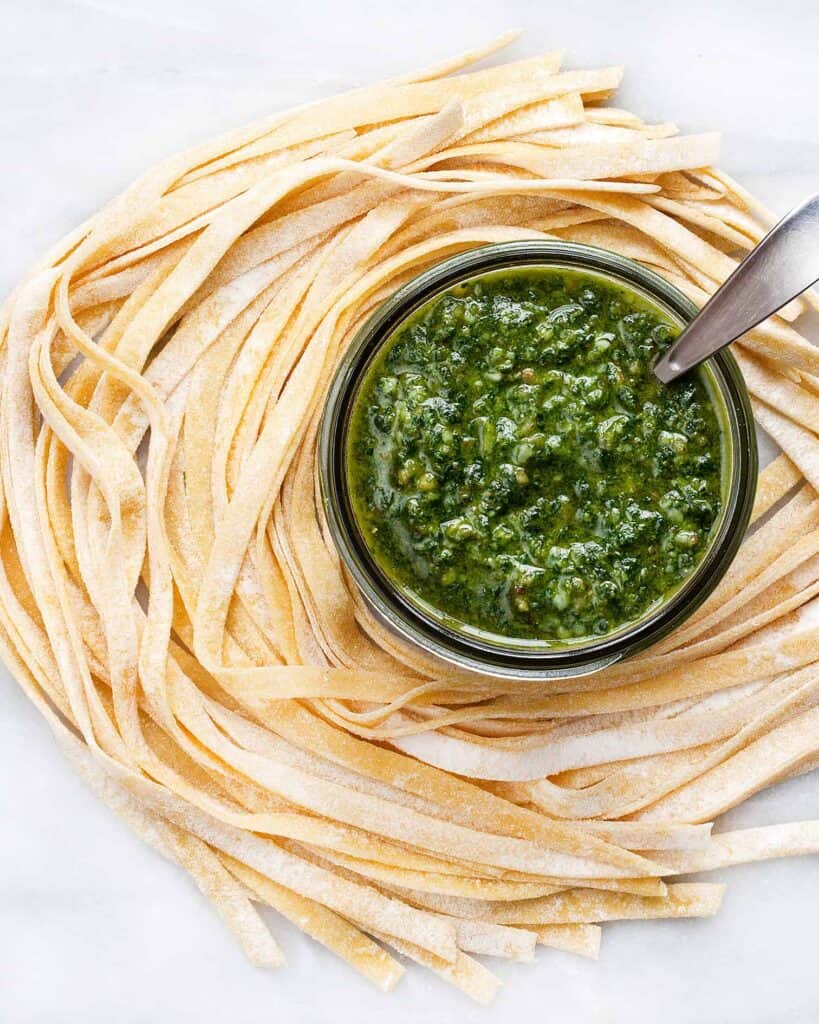 I can't take credit for the lush green foliage that now dominates our back deck.
It is an absolute dream for someone like me who never thought it was possible to live in a home with a green thumb present.
My husband is in charge of the growing in our container garden, and I cook the results.
It is another example of how we are such good partners. I am grateful for that.
Of course, I know I shouldn't speak too soon, but it looks like we're going to have quite a harvest of tomatoes, peppers, potatoes and herbs.
This should make up for Mother Nature's relentless heat last year that left us a bit burned and disappointed with the final yield.
The weather is cooperating now. Thank goodness.
Even though my husband does the most work on our container garden, I pitch in to harvest.
Whenever our basil plants seem to be slowing down, I will pinch off enough leaves to make a batch of pesto in hopes of encouraging growth.
Pesto is often considered only a sauce, but I think of it as an all-purpose topping from a sandwich spread to a dressing for grain salads.
When I really want to celebrate my love for this herby, nutty sauce, I will make fresh pasta with basil pesto.
I go through phases of making pasta from scratch. Whenever I do, I am always reminded how satisfying it is to make dough.
How To Make Fresh Pasta With Basil Pesto
You can whip up the ingredients in a food processor or by hand with a fork depending what tools you have in your kitchen.
The ingredients are simple: all-purpose flour, salt, eggs and olive oil.
I forget how quickly pasta dough comes together.

Some of the time I spend waiting for the dough to rest is made up for in the 2-minute cooking time.

For the pesto, I puree basil, garlic, walnuts, Parmesan and olive oil in the food processor.
Pine nuts are the traditional nut for pesto, but walnuts are more readily available and far less expensive.

At our house, fresh pasta with basil pesto is a true team effort. You can't beat a growing and cooking collaboration.
Print
Fresh Pasta With Basil Pesto
Prep Time:

50 minutes

Cook Time:

2 minutes

Total Time:

52 minutes

Yield:

Serves 4
Ingredients
For pasta
2 cups all-purpose flour plus more for work surface
Pinch of salt
3 large eggs
1 teaspoon olive oil
For pesto
2 garlic cloves, peeled
1/4 cup walnuts plus more for garnish
1/2 ounce Parmesan, grated, plus more for garnish
1 handful basil leaves
1/4 teaspoon salt
1/4 teaspoon black pepper
1/4 cup olive oil
Instructions
To make the pasta, place the flour and salt into the bowl of a food processor and pulse to combine. Add the eggs and olive oil and run the food processor until the dough forms.
Turn the dough onto a lightly floured work surface and knead for a couple minutes until the dough is smooth. Form the dough into a round disk and cover with plastic wrap. Allow the dough to rest at room temperature for 30 minutes or refrigerate overnight. (If the dough is refrigerated, make sure to let it come to room temperature before rolling out the pasta.)
(Note: Fresh pasta can be made by hand. Combine the flour and salt. Make a well in the center and add the eggs and olive oil. Whisk the eggs and olive oil and gradually incorporate the flour. Once the dough has formed, knead until it becomes smooth, about 10 minutes.)
While the pasta dough is resting, make the pesto. Mince the garlic cloves in the bowl of a food processor. Add the walnuts, Parmesan, basil, salt and pepper. Puree the mixture. While the motor is running, drizzle the olive oil through the feeder tube until the pesto is fully combined.
Divide the pasta dough into 4 pieces keeping them covered. Working with one piece of dough at a time, flatten slightly and feed through the smooth rollers of a pasta machine starting at the widest setting. Fold the pasta sheet in half each time it is fed through at a narrower setting until the pasta sheet is very thin but does not tear. Place the pasta sheets on a floured work surface to dry for 10 minutes. (Note: If you do not have a pasta machine, you can roll out the sheets of pasta with a rolling pin on a floured work surface.)
Cut the pasta sheets into 12-inch lengths. Sprinkle with flour and roll them up loosely. Using a knife, trim the rough edges and cut into 1/4-inch wide strips. Unroll and place the strips on a flour-dusted sheet pan. Repeat with the remaining dough.
Bring a large saucepan of salted water to a boil. Cook the pasta for 2 minutes until al dente.
Use a slotted spoon to transfer the pasta to a large bowl. Toss with pesto. Garnish with walnuts and Parmesan before serving.
SHARE THIS