How To Make Pesto
on May 23, 2022, Updated Jul 08, 2022
With a combination of fresh herbs, nuts, cheese and olive oil, it's so simple to master how to make pesto. It's one of the most versatile sauces that can be stirred into pasta, spread on a pizza or even mixed into grains and into vinaigrette for salads.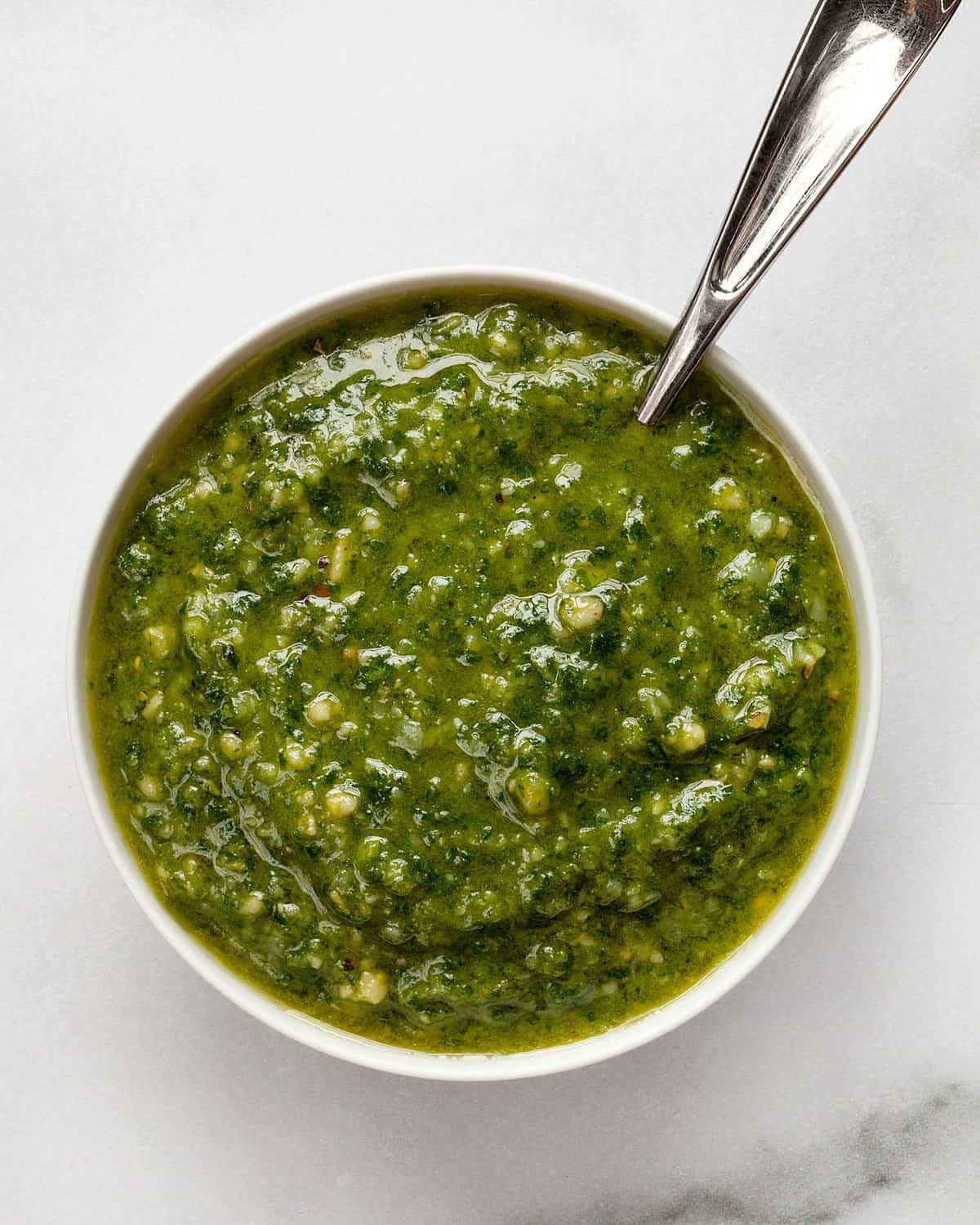 No matter the cuisine or ingredients, sauces can really transform food. That includes anything from vegetables to proteins to pasta. And it doesn't matter if they are grilled, roasted or not cooked at all.
The light herby taste of pesto is one that you can use in countless dishes that go far beyond fettuccine and fusilli. I like to think of it as a flavor booster. Add a spoon of pesto to anything from scrambled eggs to avocado toast, and they will be instantly transformed.
I like to keep a jar of homemade pesto in my fridge at all times just for this reason. Think of all the possibilities.
What Is Pesto?
Hailing from Genoa, Italy, this sauce is formally known as pesto alla genovese. In Italian, the word pesto comes from the verb pestare, which means to crush. And this really sums up how to make pesto.
The traditional ingredients include fresh basil, pine nuts, Parmesan cheese, olive oil, salt and pepper. With a mortar and pestle, you mash them together, first starting with the garlic and nuts, and then the basil leaves with the salt and pepper, and then the cheese and finally the olive oil.
Making it by hand is certainly doable with a little elbow grease, but here I will show you how to make it in a food processor or blender.
Ingredients & Substitutions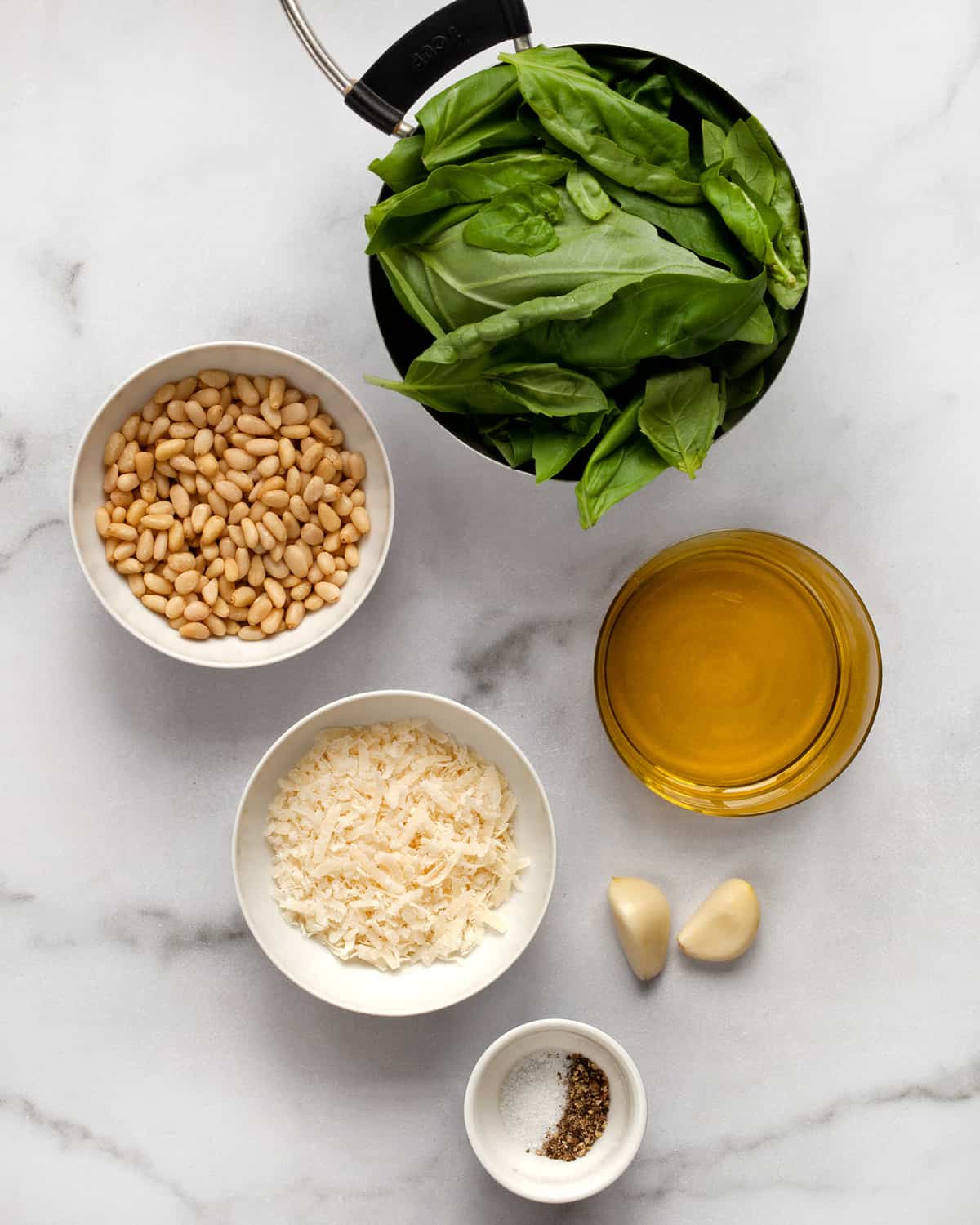 This is what you need:
Basil: Look for fresh basil leaves that are bright green and do not have any dark spots. Try to use basil as soon as you buy it. If you do need to store it, treat it like a bunch of flowers if you have a bundle of it from the farmers market, and put the basil in a jar or vase with water, so just the stem ends are submerged. At the grocery, it's typically sold in a plastic container, so look for one without condensation which can make the leaves soggy.
Garlic: I use 2 cloves, but if you like things garlicky, don't hesitate throw in another one.
Nuts: Traditionally pesto is made with pine nuts, which are soft in texture with a slight buttery flavor. Since pine nuts are expensive and can be hard to find, sometimes I substitute them with chopped walnuts or almonds.
Cheese: Parmesan is a hard Italian cow's milk cheese. Instead you can include Pecorino Romano, a hard sheep's milk cheese.
Olive oil: For the best taste, use high-quality extra-virgin olive oil for this no-cook sauce.
Salt & pepper are important seasonings to bring out all the flavors. If you want a touch of heat, add a pinch of red pepper flakes.
How To Make Pesto
My first choice is to make homemade pesto in a food processor, but you can also do it in a blender depending what equipment you have in your kitchen.
Mince the garlic. Rather than putting all the ingredients in at once and hoping everything gets pureed evenly, I start with the garlic. Take advantage of the blade of the food processor to mince the garlic, then you don't have to do it by hand with a knife.
Add the basil, Parmesan, nuts, salt and pepper to the food processor.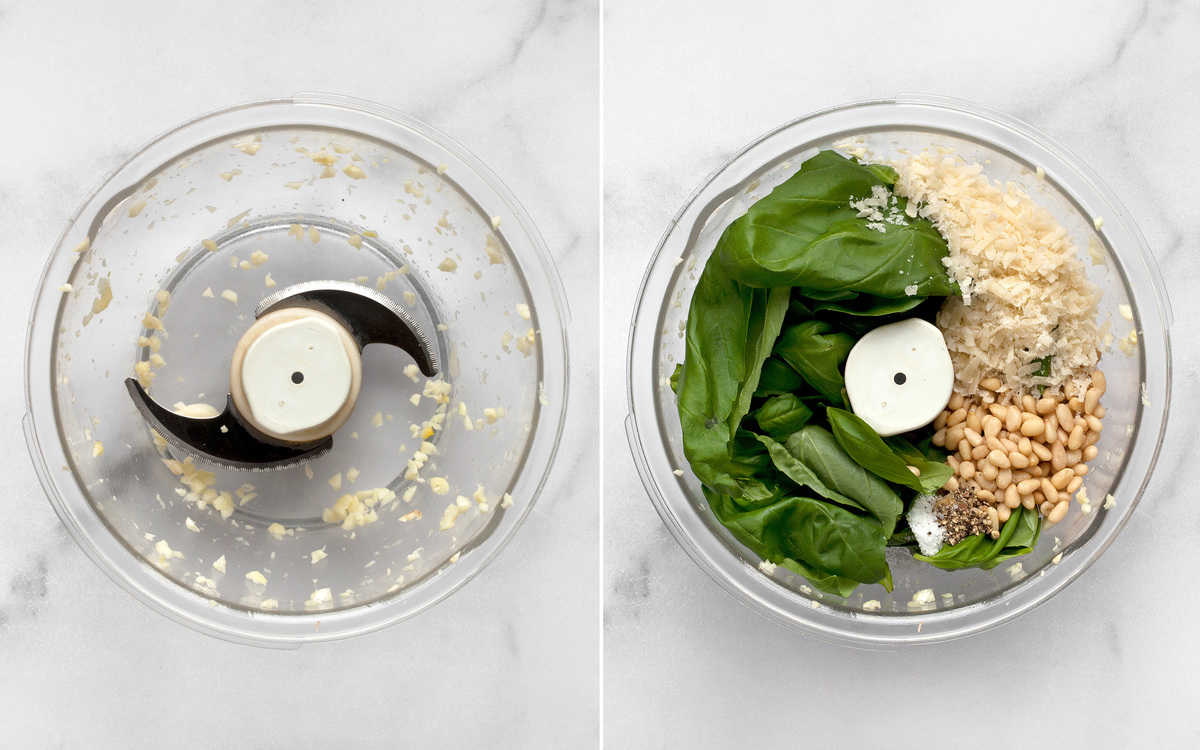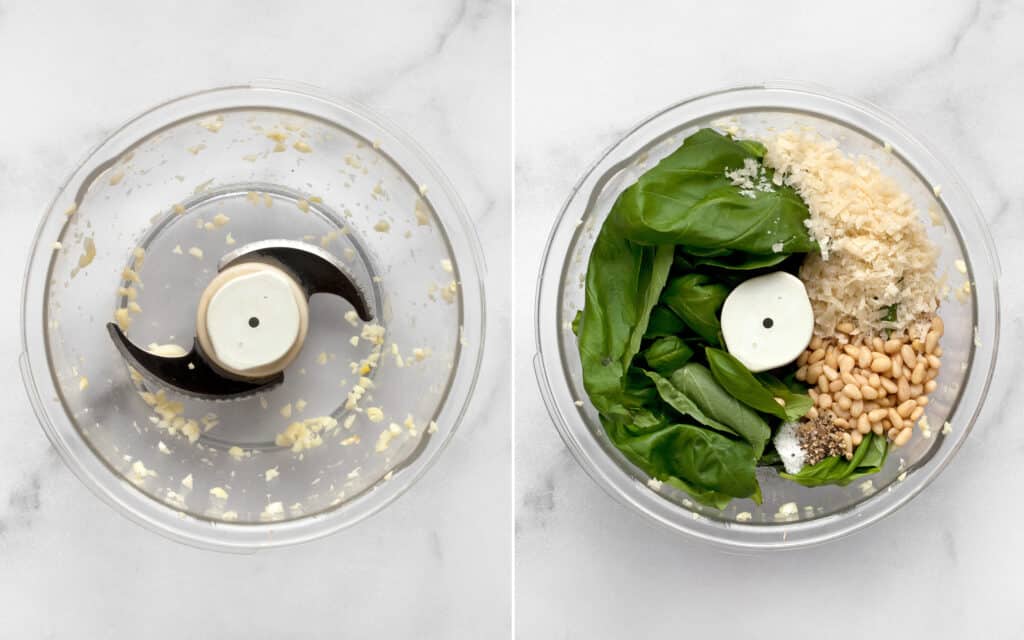 Process the ingredients until they are finely chopped.
Drizzle in the olive oil with the motor running. In a food processor you can do this through the feeder tube. And with a blender, you can pour in the olive oil by removing the cap on the lid. It won't take long to mix the oil evenly into the rest of the ingredients, and then it's ready.
Do not puree it too much. You should still be able to see tiny chopped basil leaves and nuts. You can pulse it if you're worried about over-mixing.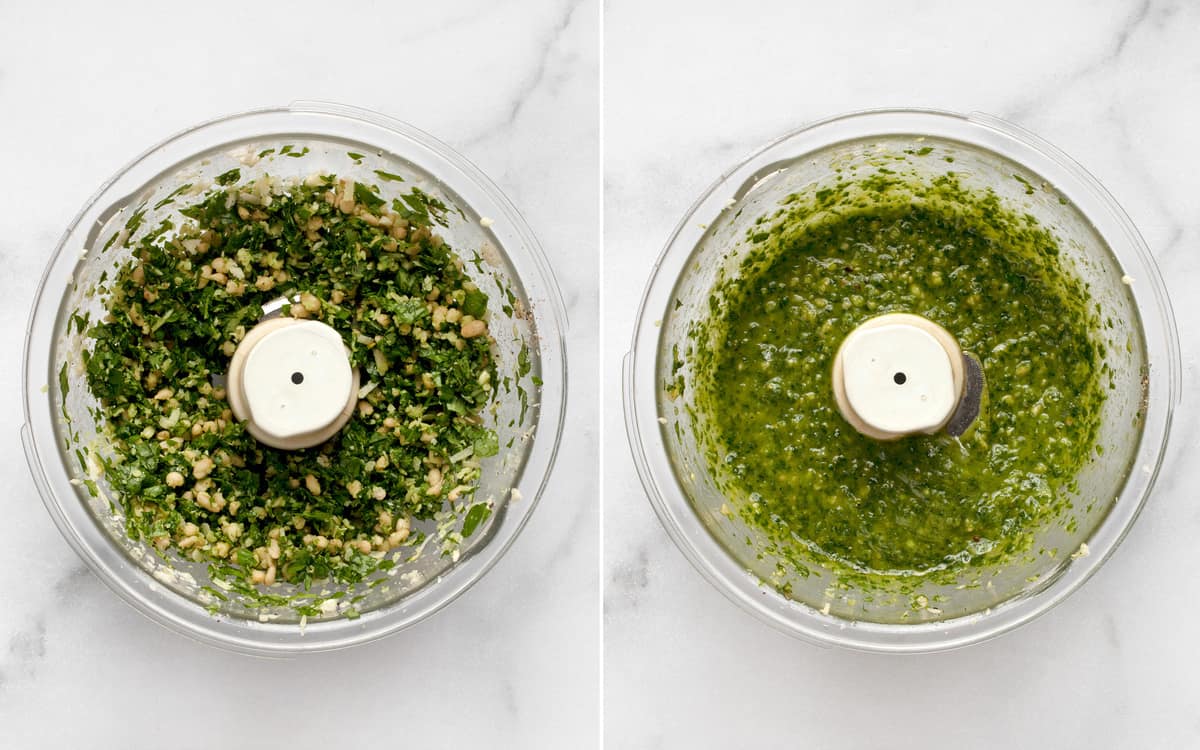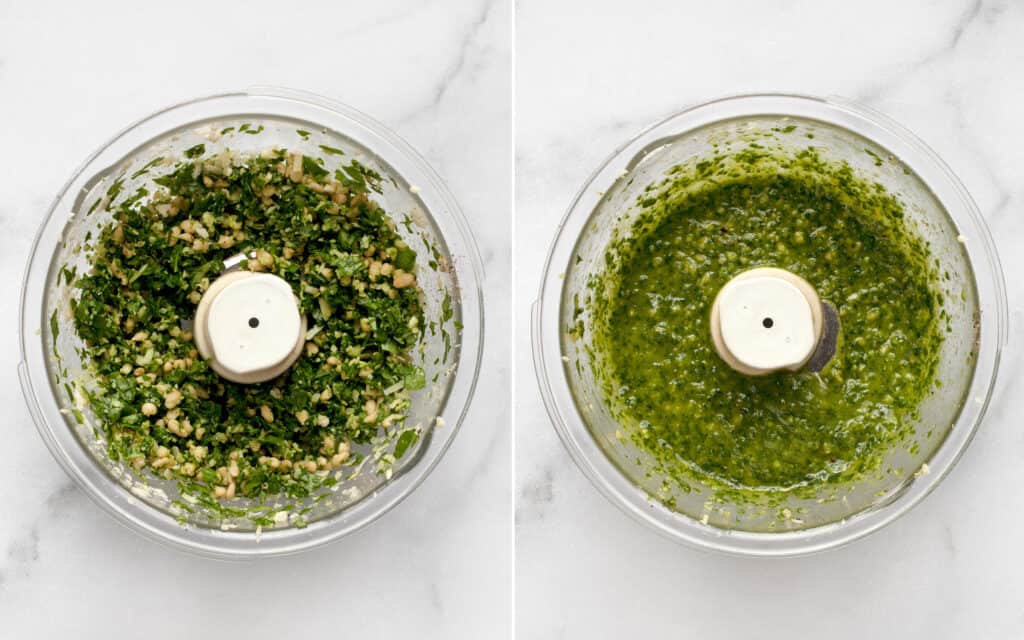 6 Ways To Use Pesto
Pesto pasta is the most obvious choice. Once your noodles are al dente, drain them reserving a little of the cooking water. With the pasta in a bowl, stir in the sauce, adding some of the reserved water as needed to coat it. Finish with Parmesan cheese, flaky sea salt and black pepper.
Pizza with tomato sauce is always good. Add pesto with it, and it's even better. Spread it on the crust, or finish your pizza with small dollops as a topping on the cooked pie.
Eggs, whether scrambled or a frittata, try whisking a spoonful of pesto into the eggs before you cook them.
Spreading pesto onto crusty bread instantly elevates a sandwich or toast that you can top with vegetables, greens and cheese.
Salad dressings like vinaigrettes get an herby accent and a bit of garlic when you mix in pesto. Or drizzle it onto a Caprese salad.
How To Store Pesto
You can store pesto in the refrigerator up to 2 weeks in an airtight container. I like to keep mine in a jar. The chill of the fridge will likely cause the olive oil to become solid. Just let the pesto sit out at room temperature for it to liquefy again.
If you want to store it longer, you can freeze it. Again, put it in an airtight container and freeze it up to 3-4 months. Thaw it at room temperature. Then it will stay good in the fridge after that for about 2 weeks.
To freeze it in smaller portions, spoon it into ice cube trays, ones with lids are even better to keep away any freezer taste. Or you can pop out the cubes and put them in a freezer bag.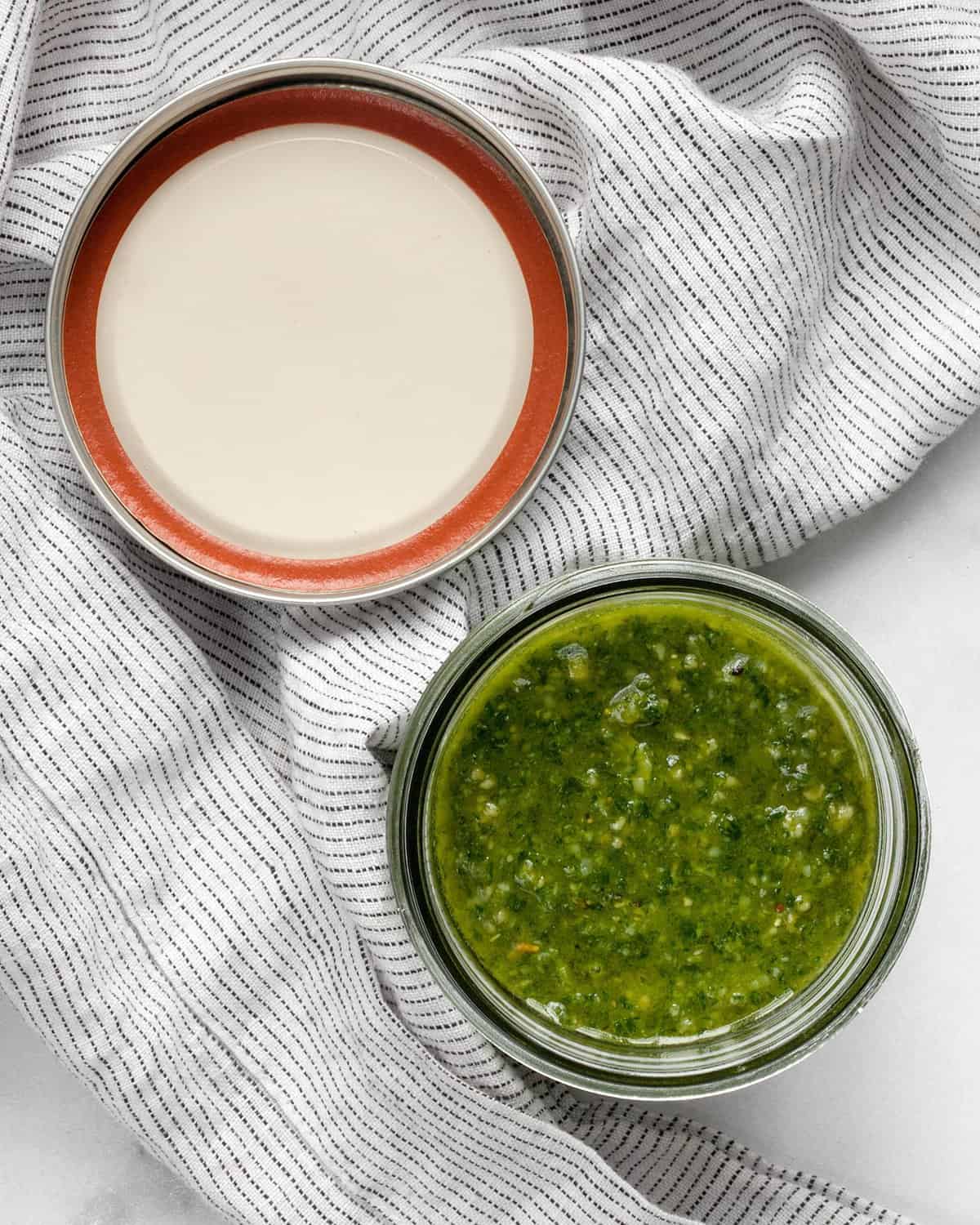 FAQs
Can you make nut-free pesto?
Absolutely! Just omit the nuts and make the recipe as it is written with garlic, basil, cheese and olive oil. Be aware that the yield will be slightly less, and you may not need as much olive oil.
When is basil in season?
Basil is definitely a summer herb. It loves warm weather and sun. More companies are growing basil hydroponically in water in greenhouses, so then you can buy it year round without the guilt of indulging in it off-season. And many are local to certain regions and cities, so that's a win for less food miles too.
Do you have to use basil leaves in pesto?
No, you can use other fresh herbs such as parsley and cilantro or greens like spinach and arugula.
Can you add lemon juice?
Yes. If you like the brightness of citrus, squeeze in the juice of a lemon when you puree the basil, cheese and nuts. Since this adds liquid, you might be able to slightly reduce the amount of much olive oil.
More Basil Pesto Recipes
Stone Fruit Salad with Gorgonzola
Pesto Eggs with Roasted Tomatoes
Blackberry Salad with Basil Vinaigrette
Roasted Tomato Potato Salad
Tomato Tartine
Caprese Avocado Toast
Caprese Bagel
Zucchini Noodles and Cherry Tomatoes
30-Minute Tomato Zucchini Orzo
Pesto Recipes Without Basil
Roasted Broccoli Pesto
Sweet Corn Pesto Pasta
Roasted Cauliflower Spinach Pesto Pasta
Grilled Corn and Avocado with Cilantro Pesto
Tomato Kale Pesto Frittata
Roasted Tomato Pesto Pasta Salad
Kale Arugula Vegan Pesto
Ramp Pesto
Parsley Walnut Pesto
Did you make this basic pesto recipe? Please leave a rating and a comment below. Thanks!
How To Make Pesto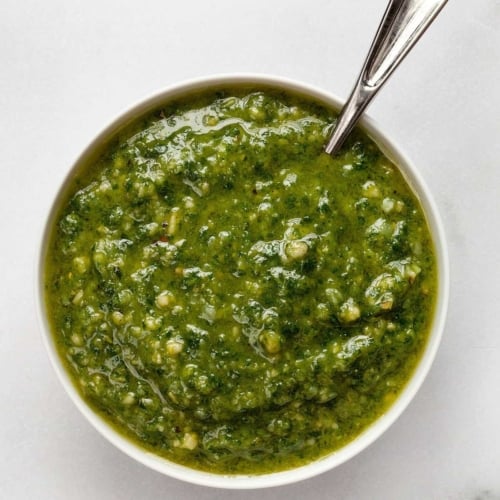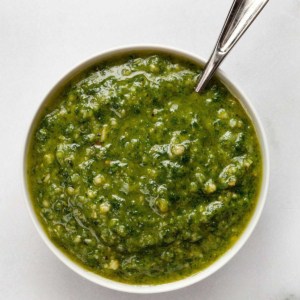 With a combination of fresh herbs, nuts, cheese and olive oil, it's so simple to master how to make pesto, one of the most versatile sauces.
Ingredients
2

garlic cloves

1

cup

packed basil leaves

1/4

cup

pine nuts

or chopped walnuts or almonds

1/2

ounce

grated Parmesan

about 1/4 cup

1/4

teaspoon

kosher salt

1/4

teaspoon

black pepper

1/4-1/3

cup

olive oil
Instructions
Mince the garlic in a food processor or blender.

Add the basil, nuts, Parmesan, salt and pepper. Process until finely chopped.

With the motor running, drizzle in the olive oil through the feeder tube until the pesto is pureed and combined.
Notes
This recipe can easily be doubled.
Store the pesto in an airtight container in the refrigerator.
To keep the pesto longer, you can freeze it up to 4 months in a single container or portion it out into ice cube trays. Thaw it at room temperature.
Nutrition
Calories:
195
kcal
|
Carbohydrates:
2
g
|
Protein:
3
g
|
Fat:
20
g
|
Saturated Fat:
3
g
|
Polyunsaturated Fat:
4
g
|
Monounsaturated Fat:
12
g
|
Cholesterol:
3
mg
|
Sodium:
208
mg
|
Potassium:
82
mg
|
Fiber:
0.5
g
|
Sugar:
0.3
g
|
Vitamin A:
350
IU
|
Vitamin C:
2
mg
|
Calcium:
47
mg
|
Iron:
1
mg
Nutrition information is automatically calculated, so should only be used as an approximation.