I spent the last days of 2015 in the depths of our closets and cabinets attempting to do some serious reorganization to start the new year.
Spring cleaning never hits me. It's always January 1st that puts me in the mood to do a purge. Getting rid of things is the ultimate cleanse when you can assess what you really need. Why is that it's so easy to accumulate too much stuff?
As expected, I only managed to sort my way through half of what I wanted, but I do feel a sense of relief from the kitchen to our closets.
The best part was shopping in my closet and making discoveries. I am kind of embarrassed at the clothes that I had forgotten about. What's old is new again!
The same can be said for the kitchen. I like looking around to see if there is a gadget or serving platter that's more likely to collect dust than to make an appearance on the counter or at the table.
The refrigerator was another spot I tried to tackle. In the freezer I found a bag of shelled edamame taking up valuable space.
A few months ago I over-bought for snack time at my son's school, and it ended up coming back to our house.
I love throwing edamame into salads, but this time I wanted to do something different.
With all these green little beans, I made a batch of edamame pesto. I used almonds and cilantro and skipped the cheese that us usually in pesto.
I debated what to call this. With the herbs and nuts, it says pesto to me, but it's thick enough to spread on crackers.
You can adjust the amount of olive oil to loosen it up if you want to toss it into a bowl of noodles or a stir-fry.
I've eaten it as a spread and as a sauce, and I can't decide which way I like better.
Print
Edamame Pesto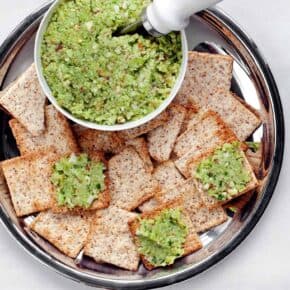 Total Time:

5 minutes

Yield:

2 cups

1

x
Scale
Ingredients
1 garlic clove, peeled
1 cup shelled edamame, cooked
1 handful cilantro
1/4 cup almonds
1 teaspoon kosher salt
1/4 teaspoon black pepper
1/2-3/4 cup olive oil
Instructions
Pulse the garlic in the bowl of a food processor until minced. Add the edamame, almonds, cilantro, salt and pepper. Puree the mixture. While the motor is running, drizzle the olive oil through the feeder tube until the pesto is fully combined.
Store in an airtight container in the refrigerator.
SHARE THIS