I take gluten very seriously, but not in an "I can't eat it" kind of way. It's the complete opposite.
I can't get enough!
Carbs are my main food group. When I tell people that, I am a little embarrassed because it sounds like I don't care about my health when I do.
I guess I'm fortunate that gluten has no other effect on me than pure joy. Too bad foods with gluten generally don't have the nutrition of fruits and veggies.
With gluten-free being all the rage, I find myself suffering from gluten-shame. I can't be the only one who has some guilt associated with traditional flours.
While I know I will never quit bread, lately I've been more motivated to embrace all sorts of creative gluten-free hacks.
There are so many good ones out there that even gluten-lovers like me get excited about them.

How great is it that restaurants offer more options for diners that swap out gluten for something else? Everyone should be able to dine out and not have trouble figuring out what to order.
Pizza is one of my all-time favorites. Our pantry is always stocked with yeast and flour, so I can whip up a batch of dough whenever a craving hits, which is at least once a week.
Yesterday instead of my usual recipe, I made cauliflower pizza crust that was nutty and soft instead of chewy like "normal" pizza.
You can do so many things with cauliflower. It is a definite wonder ingredient. What can't cauliflower do?
After I baked the cauliflower pizza crust, I topped it with tomato sauce roasted zucchini, arugula and Parmesan.
For my toddler, I did tomato sauce and mozzarella, and even he loved it. Of course I didn't tell him about the special ingredient. It was my secret.
SaveSave
Print
Cauliflower Pizza Crust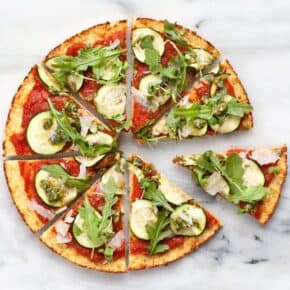 Prep Time:

5 minutes

Cook Time:

20-25 minutes

Total Time:

25-30 minutes

Yield: Two

10

-inch pizza crusts

1

x
Scale
Ingredients
1–1/4 pounds cauliflower florets, roughly chopped
3/4 cup almond meal
1/2 cup finely grated Parmesan
3 eggs lightly beaten
1/2 teaspoon kosher salt
1/4 teaspoon black pepper
Instructions
Preheat the oven to 400 degrees F. Line 2 sheet pans with parchment.
In a food processor, pulse the cauliflower until it resembles crumbs. In a large bowl, stir together the cauliflower, almond meal, Parmesan, eggs, salt and pepper. Pat the dough into two 10-inch-diameter circles, one on each prepared sheet pan. Bake for 20-25 minutes until golden brown.
Notes
Suggested toppings:
I roasted thinly sliced zucchini in the oven for 10 minutes while baking the pizza. I spread tomato sauce on the crust and topped it with zucchini, arugula, micro greens, shaved Parmesan and dollops of pesto.
For a traditional cheese pizza, I spread tomato sauce and sprinkled on shredded mozzarella. I put the pizza under the broiler for 1-2 minutes to melt the cheese.
SHARE THIS