Fire-Roasted Tomato Pizza

I eat a lot of pizza—I really mean A LOT!

From scratch in the kitchen or from a good place in our neighborhood, I don't think I could ever get bored with a slice.

Where we live, we are surrounded by pizza options. Each restaurant touts their own style of crust as the best.

For me the choice between thick or thin and New Haven or Detroit, just depends on my mood. I love any combination of dough, tomatoes and cheese.

On the walk home from school with my son, all it takes is the scent of tomatoes and garlic as we pass by a restaurant or someone with a pizza box in-hand to trigger a craving.

It's pretty much a guarantee that I will scrap our original plans for dinner.
If I don't have dough ready to be rolled out in my kitchen, we will end up picking up a pizza on our way home.

My homemade crust usually comes out somewhere between thick and thin. I make the dough in the food processor.

When I have the time, I like to knead dough by hand. It's a good workout, and I find it relaxing.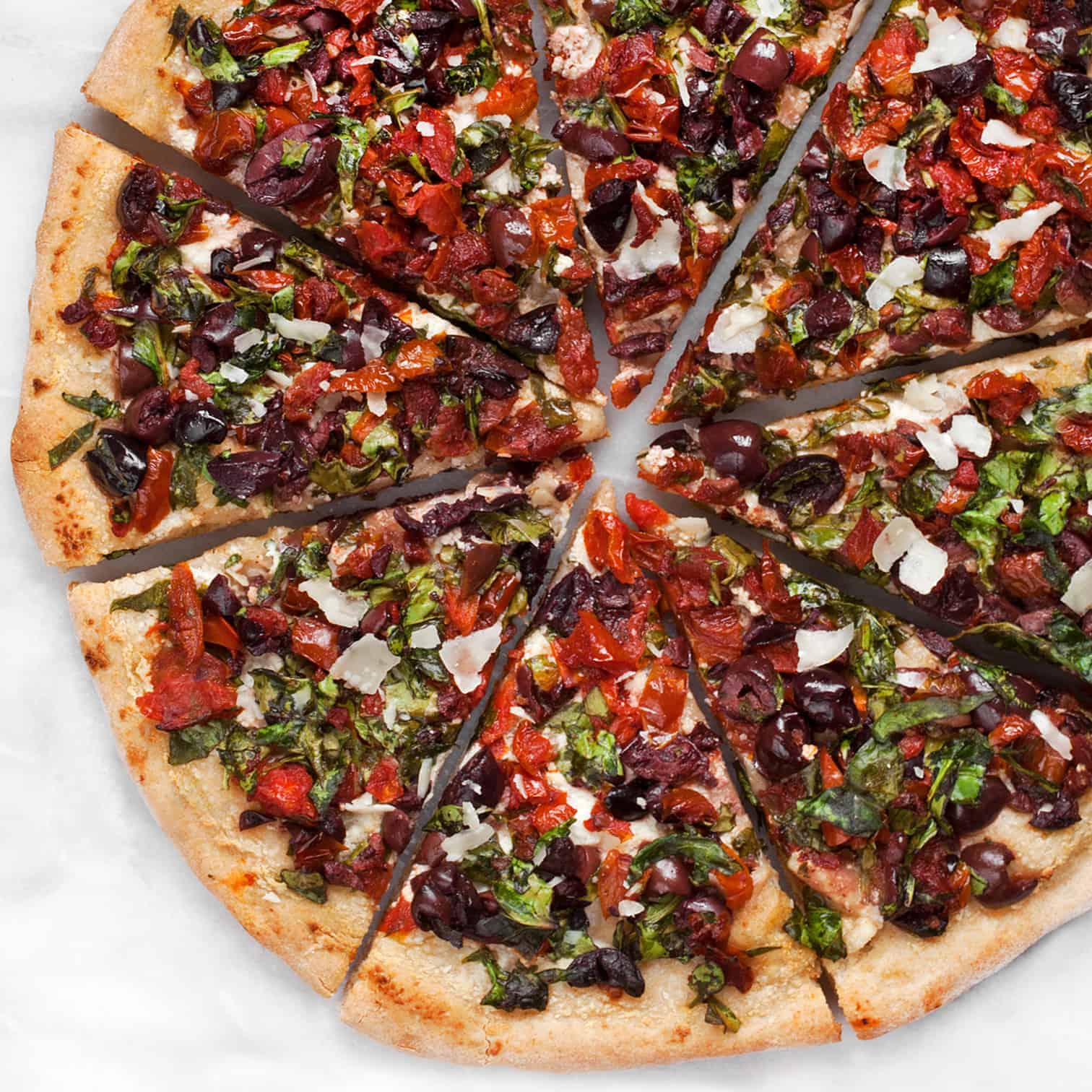 For this fire-roasted tomato pizza, I used ready-made ingredients from the antipasti bar at the grocery.

Once my pizza stone had heated up in the oven, I carefully placed the rolled-out dough on it.

Then I spread on a thin layer of ricotta cheese.

I skipped sauce and went straight for the toppings.

I'm a big fan of those marinated jarred roasted tomatoes. They are garlicky and wonderful.

In addition to the tomatoes, I included Kalamata olives and spinach.

I roughly chopped the tomatoes, olives and spinach together. That made it easy to completely cover the pizza, which was important since I wasn't using tomato sauce.

Veggie-forward pizzas are so much more interesting then those just loaded up with cheese. Since the base already had ricotta, I finished the fire-roasted tomato pizza with only a sprinkle of shaved Parmesan.
SaveSave
SaveSave
SaveSave
Print
Fire-Roasted Tomato Pizza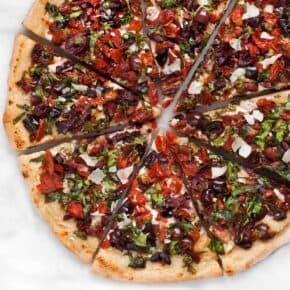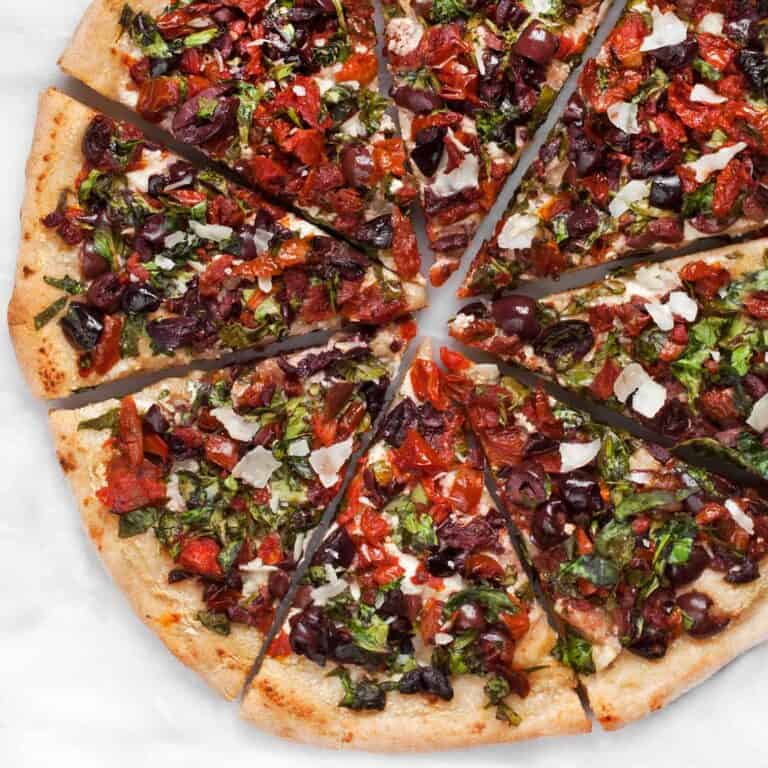 Prep Time:

2 hours

Cook Time:

12-15 minutes

Total Time:

2 hours 12-15 minutes

Yield: One

12

-inch pizza

1

x
Scale
Ingredients
2/3 cup warm water
1/2 teaspoon dry active yeast
1/2 teaspoon granulated sugar
1 teaspoon olive oil plus more for bowl and brushing pizza
1-1/2 cups bread flour plus more for work surface
1/2 teaspoon kosher salt
Cornmeal for pizza stone
1/2 cup ricotta
1 cup drained and roughly chopped fire-roasted or marinated roasted tomatoes
3/4 cup roughly chopped baby spinach
1 cup roughly chopped pitted Kalamata olives
Shaved Parmsan for serving
Instructions
In a small bowl, combine the water, yeast, sugar and olive oil. Let stand until foamy, about 5 minutes.
In the bowl of a food processor, pulse the flour and salt. Add the yeast mixture and process until a ball of dough forms. Transfer the dough to an oiled bowl. Cover and let rise until doubled in volume, about 2 hours or up to overnight in the refrigerator.
Preheat the oven to 450 degrees F with a pizza stone inside the oven.
On a lightly floured work surface, roll out the pizza dough into a 12-inch diameter circle. Sprinkle the preheated pizza stone with cornmeal and place the dough on it. Brush the dough with olive oil. Spread the ricotta leaving a 1/2-inch border. Top the pizza with fire-roasted tomatoes, olives and spinach.
Bake the pizza for 12-15 minutes until the crust is golden brown. Top with shaved Parmesan before serving.
SHARE THIS