Fresh Tomato Farro Puttanesca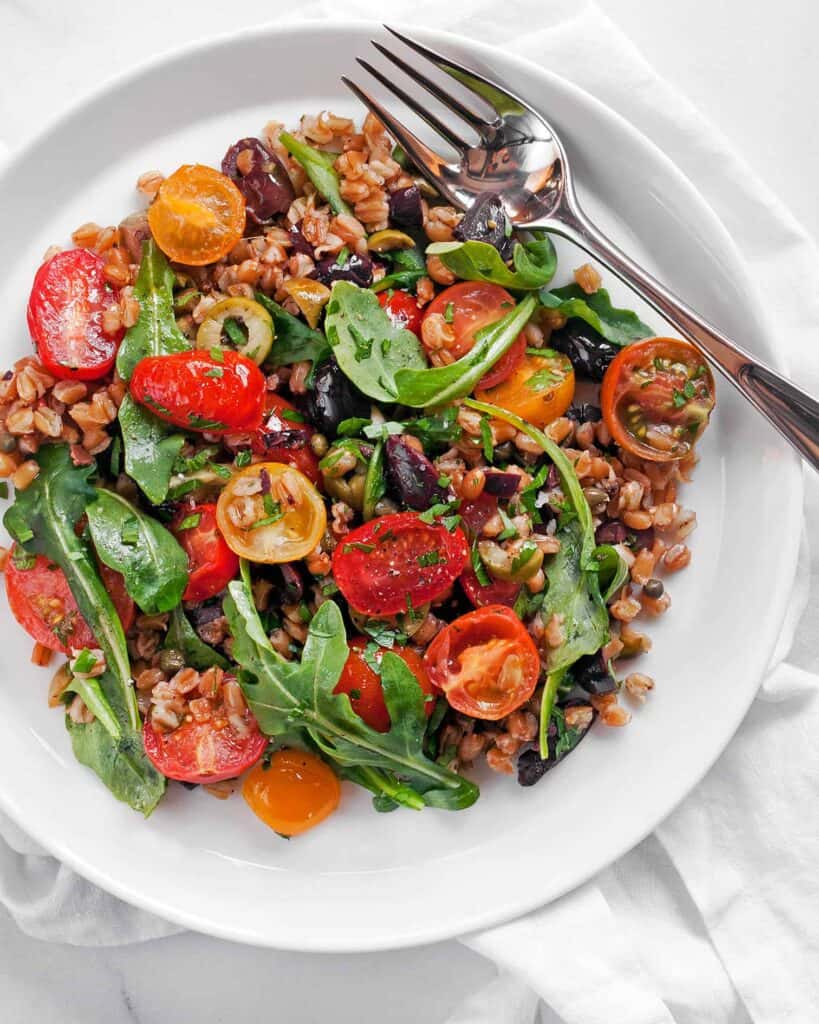 These days all I crave for dinner is pasta. I want giant bowls of noodles with juicy tomatoes and salty shards of Parmesan.
To me that just tastes like August.
But I am a guilt-ridden carb addict. I get derailed by any sort of white flour or bread product.
Please know that there is absolutely nothing wrong with pasta.

Lately, I've been into chickpea and other alternative pastas because they have more nutrition than the plain version.
I've also been experimenting–trying to swap out pasta with whole grains and more veggies.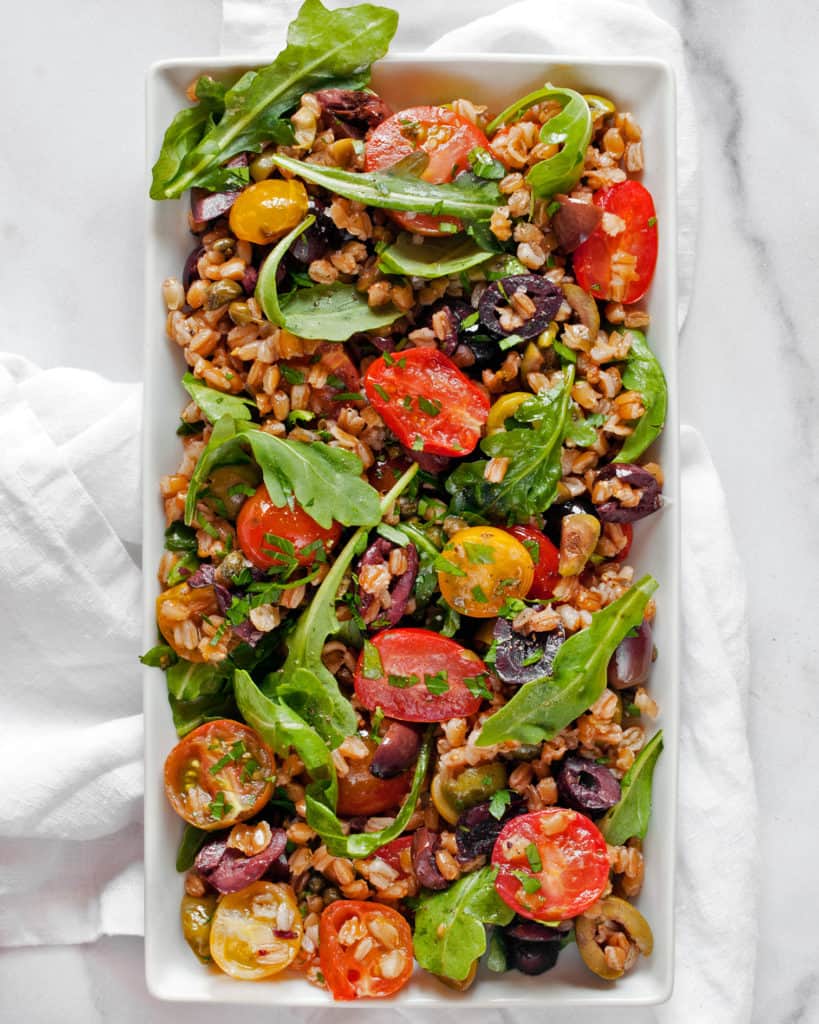 My latest test was a vegetarian version of a classic Italian sauce. I made fresh tomato farro puttanesca.
Farro looks like brown rice, but with a very satisfying chewy bite. It has a nutty flavor.
Farro has so much more going on than pasta.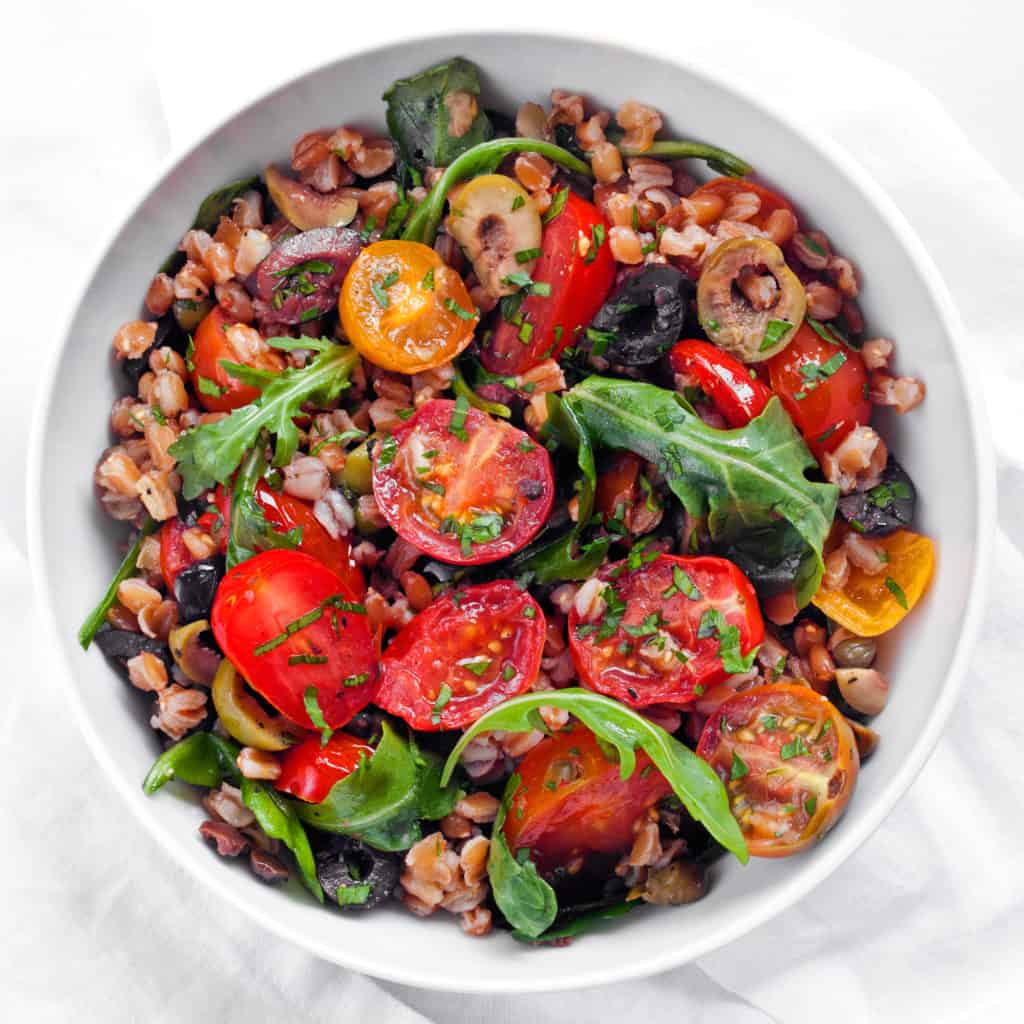 How To Make Fresh Tomato Farro Puttanesca
Sauce is the wrong word for how my fresh tomato farro puttanesca turned out. It was much chunkier.
I started by sautéing garlic and capers in olive oil until they were fragrant. Then I added Kalamata & Castelvetrano olives and halved cherry tomatoes.
It didn't take long for the most wonderful smell to takeover my kitchen from the garlic to the olive mix.
I kept the sautéing to a minimum.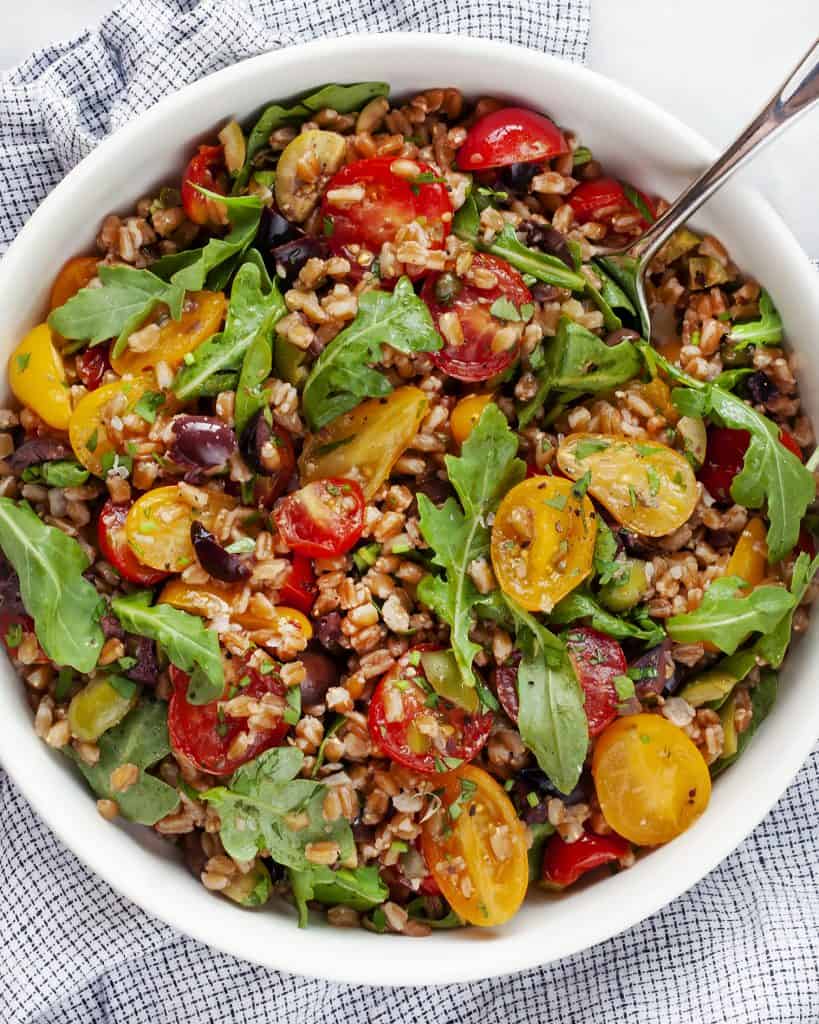 It was only another 5 minutes or so on the heat before I folded the veggies into the farro.
To keep things light and green, I tossed in arugula and sprinkled on fresh parsley.
I loved the combination of salty olives and sweet, barely cooked tomatoes.
This farro can of course be served warm straight from the pan. I really enjoyed it most as leftovers.
Since I cook so much, I am always eating leftovers for lunch at the office. I stirred in more arugula to transform my puttanesca into a grain and greens salad that didn't require any dressing.
Print
Fresh Tomato Farro Puttanesca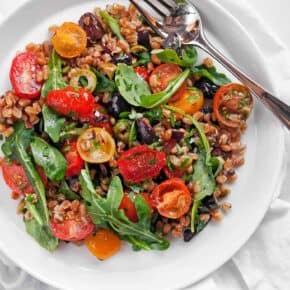 Prep Time:

10 minutes

Cook Time:

20-25 minutes

Total Time:

30-35 minutes

Yield: Serves

4

1

x
Scale
Ingredients
1 cup farro, rinsed
3 cups water
2 tablespoons olive oil
2 garlic cloves, minced
1 tablespoon capers, roughly chopped
1/2 cup roughly chopped Kalamata & Castelvetrano olives
2 cups halved cherry tomatoes
Pinch of red pepper flakes
1/2 teaspoon kosher salt
1/4 teaspoon black pepper
2 generous handfuls baby arugula
1 tablespoon chopped fresh parsley
Instructions
Combine the farro and 3 cups water over high heat. Bring to a boil, reduce the heat to simmer and cover. Let the grains cook for 20-25 minutes until tender. Drain any remaining water and transfer the farro to a large bowl.
Heat the olive oil in a large skillet over medium high heat. Add the garlic and capers and cook until fragrant, about 30 seconds. Stir in the olives, tomatoes, red pepper flakes salt & pepper and continue sautéing for 5-7 minutes until the tomatoes are a bit juicy. Fold the mixture into the farro along with the arugula and parsley.
Serve warm, at room temperature or chilled from the fridge.
SHARE THIS