Homemade Herb Crackers with Caviar and Mascarpone

With a combination of store-bought and from-scratch components, Homemade Herb Crackers with Caviar and Mascarpone are special hors d'oeuvres.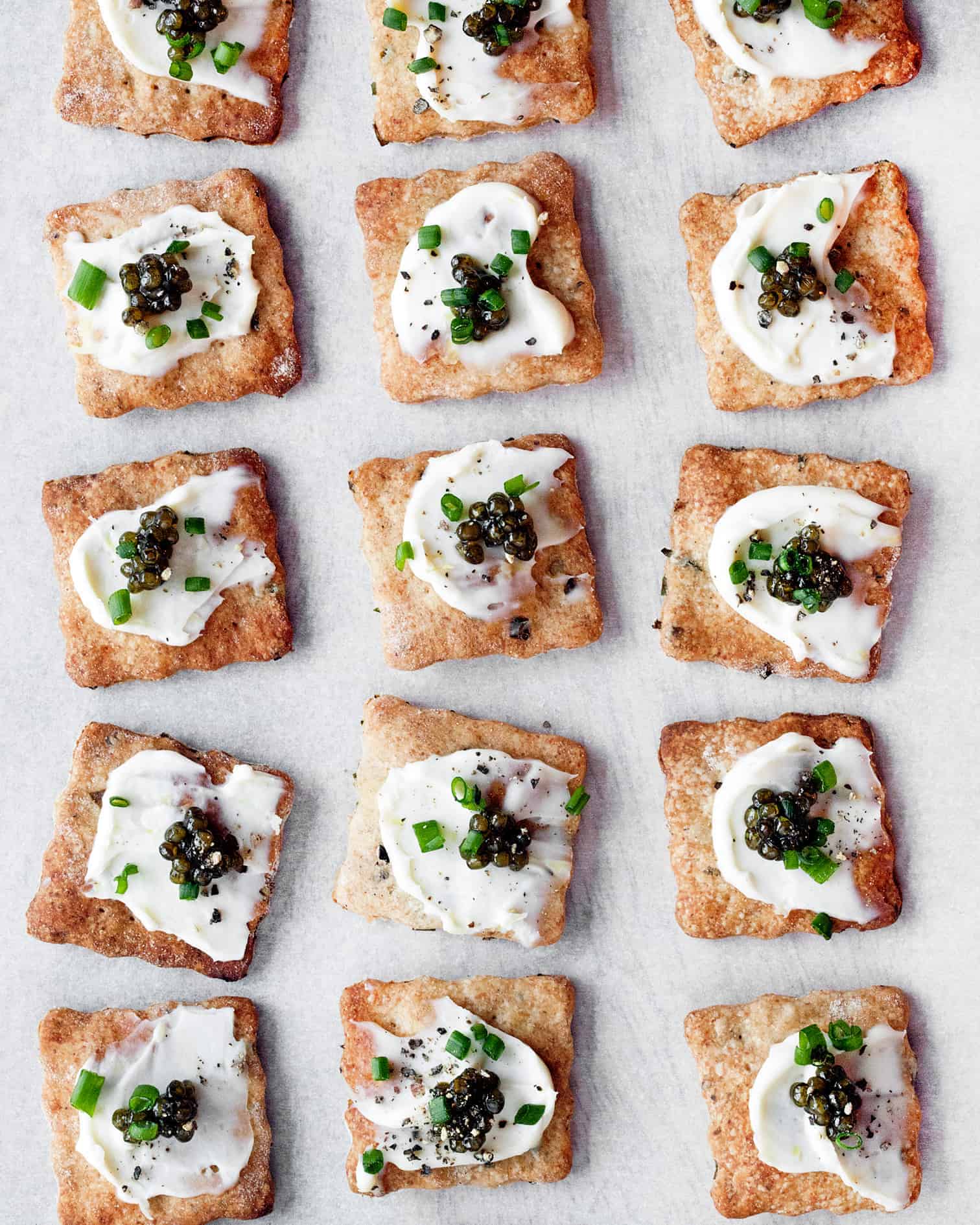 It makes sense that holiday season is the season of food in miniature.

The exceptions, of course, are the big meals on the actual holidays, but even they're kicked off with appetizers.

When you're bouncing around from party to party, it's a requirement to graze on bites of this and that.

I love sampling lots of things in a single evening instead of committing to an entrée for myself.

Sharing is a lot more fun.
It feels more festive.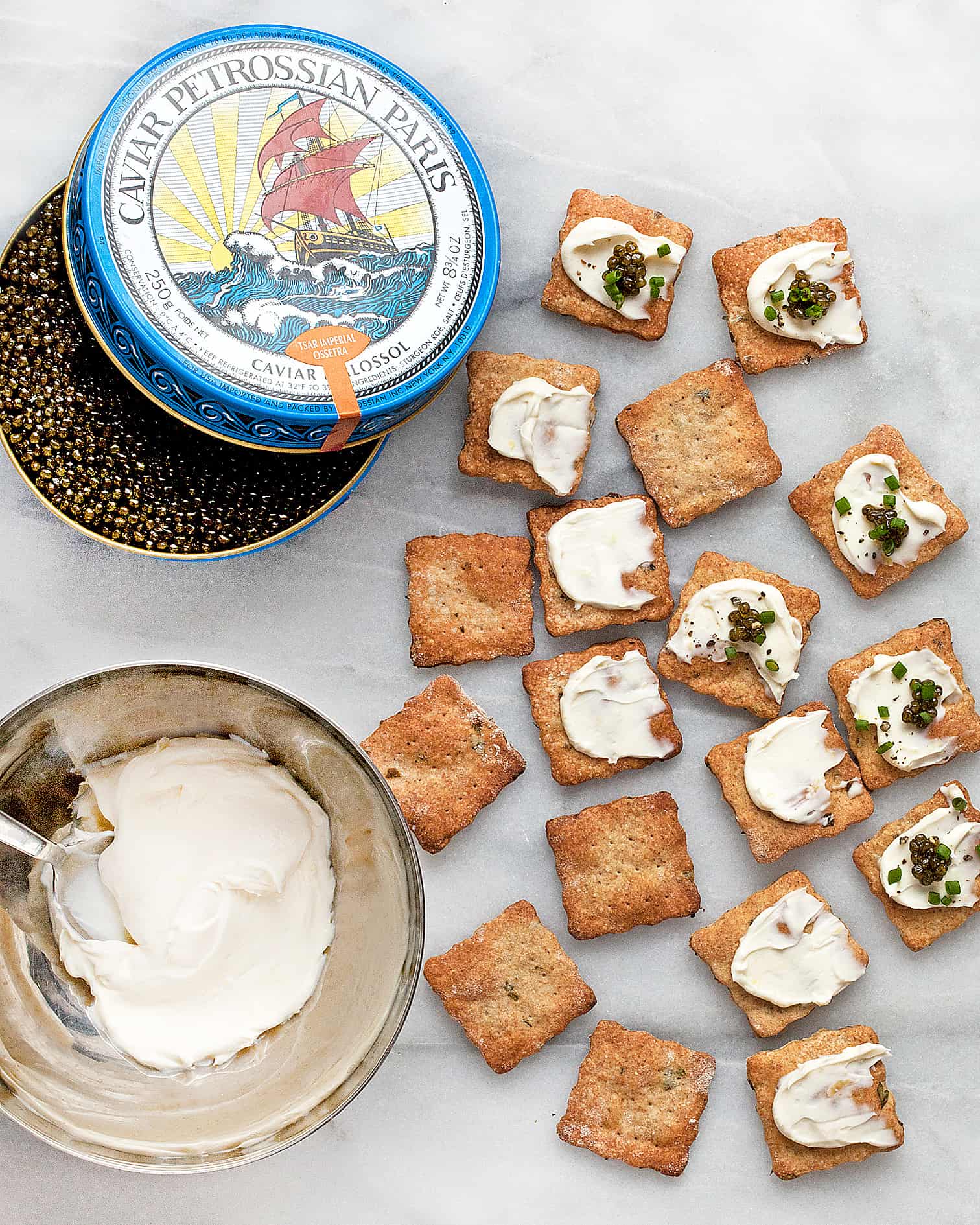 I take my hors d'oeuvres seriously.

Yes, you can buy a tray of them that are premade. But I recommend picking at least one component and making it from scratch like these homemade herb crackers with caviar and mascarpone.

Do a store-bought shortcut with an element that takes a little more effort.

You would be amazed how much you can elevate something that's off the shelf.
How To Make Homemade Herb Crackers with Caviar and Mascarpone
For this recipe, I go with from-scratch crackers. That's what makes it special.
Baking my own crackers allows me to do a custom flavor combination. I like fresh herbs including thyme, parsley and chives.
You could also use rosemary, dill or oregano.
First, I combine all-purpose and whole wheat flour with the herbs. Then I pour in water and olive oil creating a sticky dough.
On a floured work surface, I roll out the dough and cut them into crackers.
I bake them at 450 degrees F letting them turn golden brown.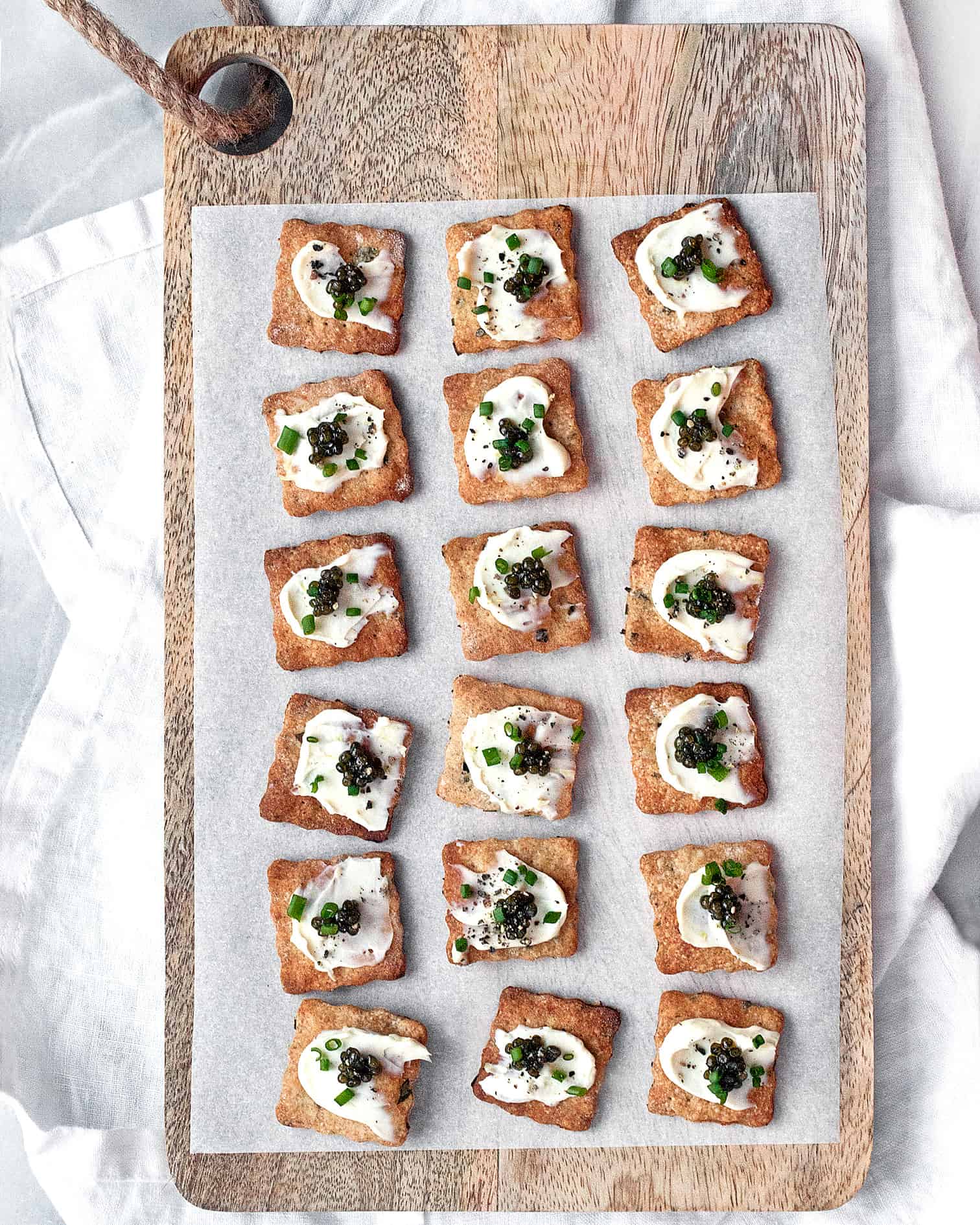 While the crackers are in the oven, I fold lemon zest into mascarpone to whip up a fresh and light spread for the crackers.

The most exciting addition is the caviar dollop on top courtesy of my friends at Petrossian.
I spoon on their Tsar Imperial Ossetra Caviar with its wonderfully briny and nutty grains.
I think a good canapé is mix of textures and flavors and most importantly, can be eaten neatly in a bite or two.
These special crackers ticked all those boxes.
This post is sponsored by Petrossian.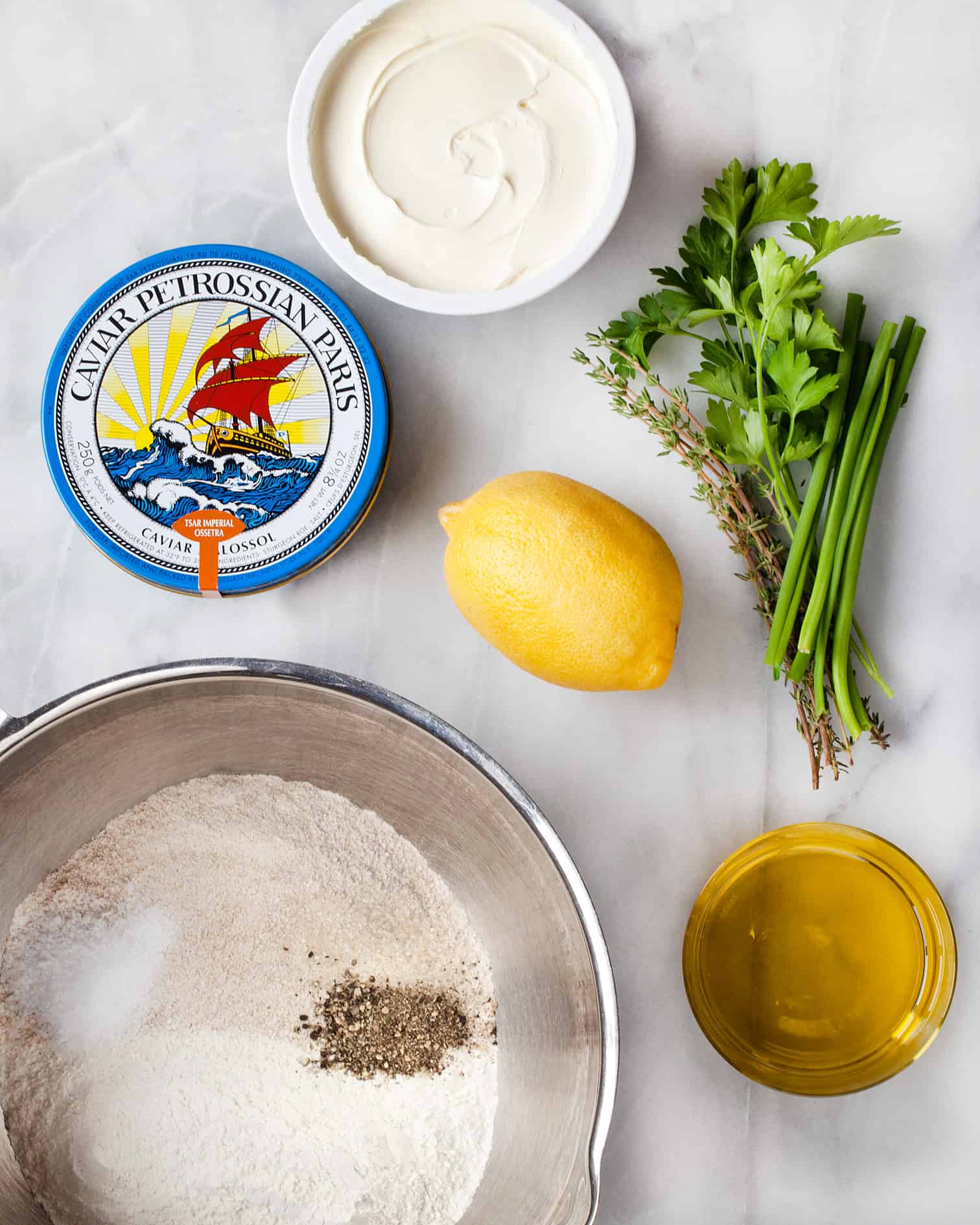 Print
Homemade Herb Crackers with Caviar and Mascarpone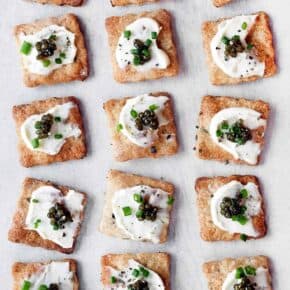 Author:
Prep Time:

20 minutes

Cook Time:

12-15 minutes

Total Time:

32-35 minutes

Yield:

50 crackers
Ingredients
1 cup all-purpose flour plus more for work surface

1/2 cup whole wheat flour

1 teaspoon granulated sugar

1 teaspoon kosher salt plus more for serving

1/4 teaspoon black pepper plus more for serving

2 tablespoons minced fresh herbs plus more for serving (chives, parsley, thyme, rosemary, dill, oregano)

2 tablespoons olive oil

1/2 cup water

1/2 cup mascarpone

Zest of 1 lemon

Instructions
Preheat the oven to 450 degrees F. Line 2 sheet pans with parchment.
In a large bowl, combine the flours, sugar, salt, pepper and herbs. Add the olive oil and water, stirring until a smooth but slightly sticky dough forms. Let the dough rest for 10 minutes before rolling out on a lightly floured work surface very thinly to about 1/16-inch – 1/8-inch thick. Use a cookie cutter or pizza roller to cut the crackers into 1-1/2-inch squares.
Place them on the prepared sheet pans about 1 inch apart. Prick the crackers with the tines of a fork. Bake for 12-15 minutes until golden brown. Cool completely on the pans.
In a medium bowl, fold the mascarpone with the lemon zest. Spread a thin layer of mascarpone on each cracker. Top with a small spoon of caviar. Sprinkle with fresh herbs, salt and pepper before serving.
SHARE THIS