Sheet Pan Cherry Tomato Gnocchi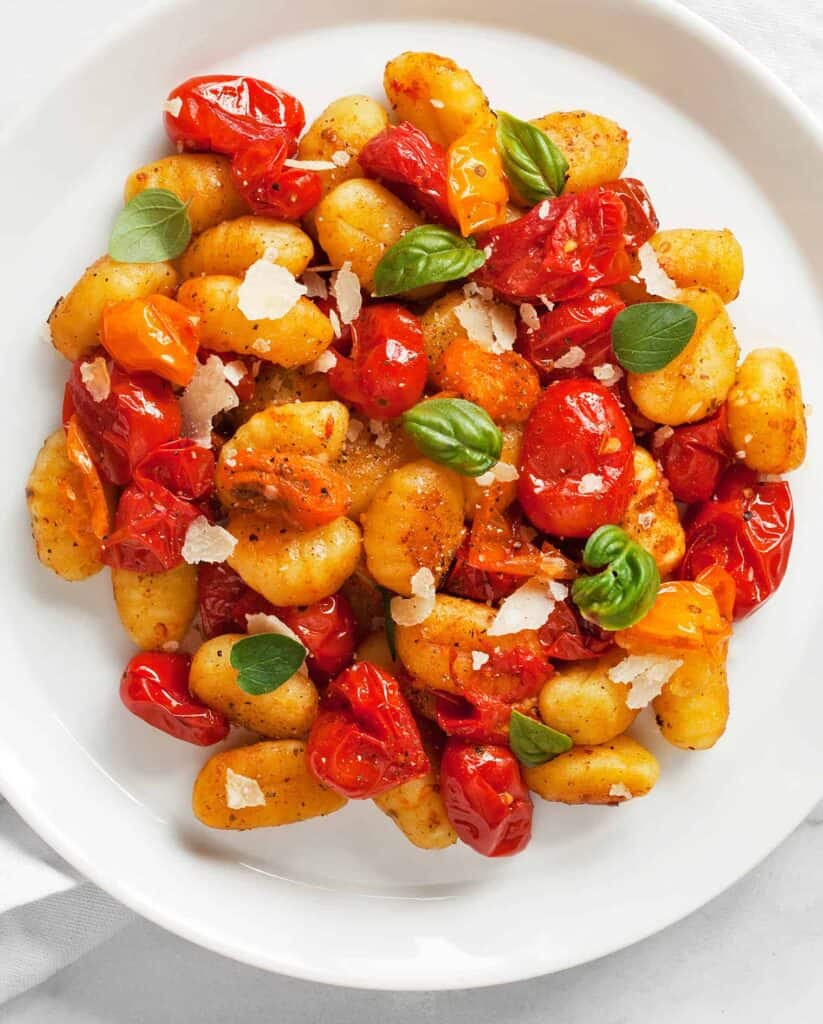 He may not eat them, but my six-year-old has been having the best time picking tiny tomatoes off the plants in our container garden.

They just started turning colors from green to yellow and red, so this is the start of our summer harvest.

The leaves of the plants are so thick that it can be hard to spot the tomatoes.

This hunt can seem like a game of hide and seek.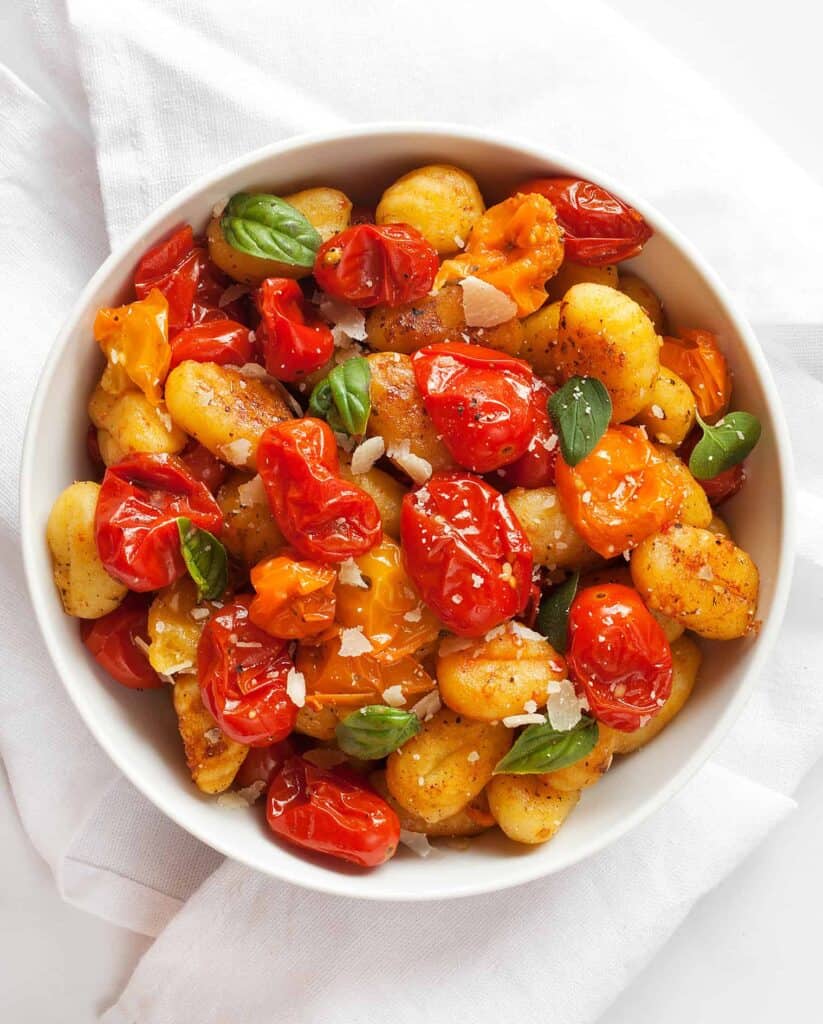 My son takes over, picking the tomatoes and handing them to me. I put them in my pockets to carefully transport them inside to the kitchen.

We always forget to bring a bowl with us before we go out to our back deck.

And most of the time we are surprised and overwhelmed by how many tomatoes are ripe.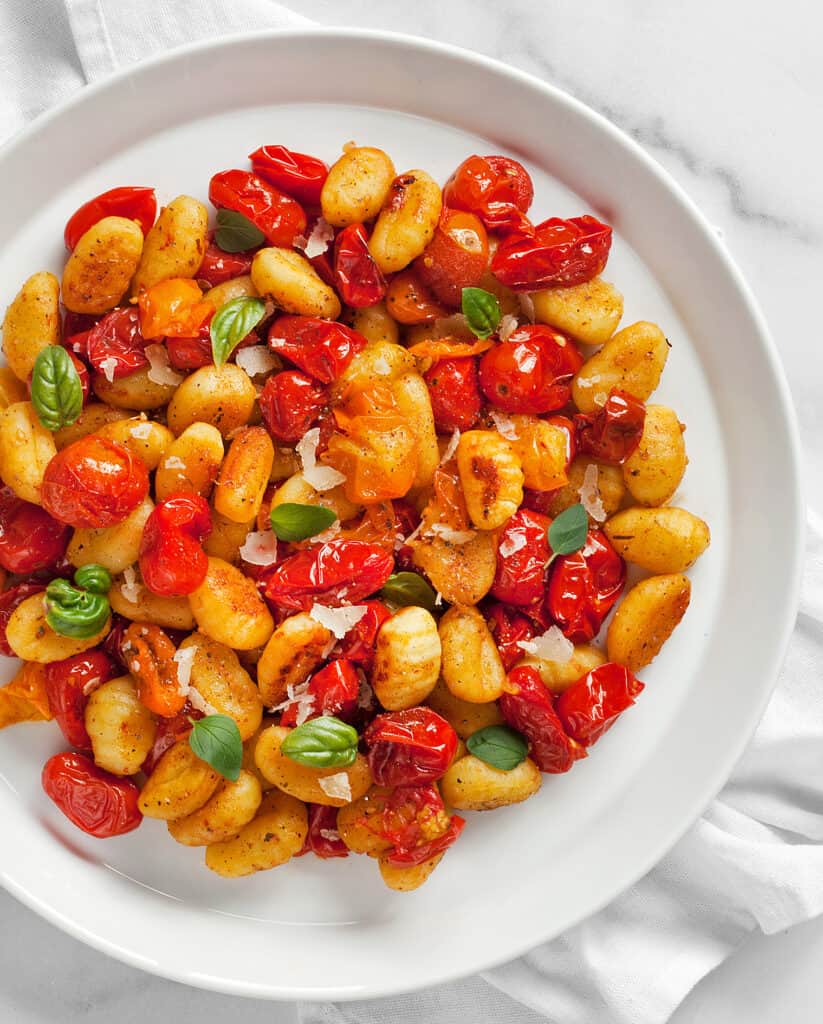 Lately I've been making classic caprese salads with fresh mozzarella, basil and a drizzle of olive oil.

Another way I use them is roasting sheet pan after sheet pan of halved cherry tomatoes.

They finish cooking in about 30-minutes. Then I stash the tomatoes in a jar in the fridge to be used in pasta, on pizza or even in scrambled eggs.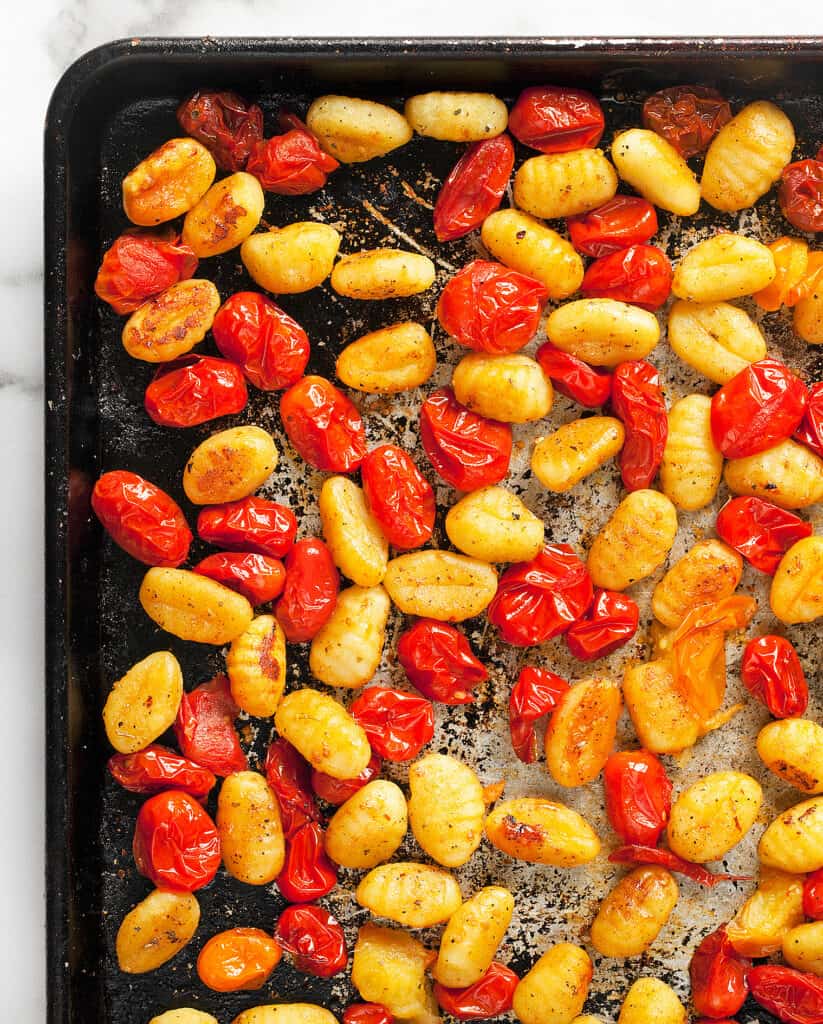 Sometimes I leave cherry tomatoes whole and sauté them in a skillet until they burst.

That same method can work in the oven, too.
With this sheet pan cherry tomato gnocchi, the tomatoes and gnocchi cook side-by-side for a true one-pan meal.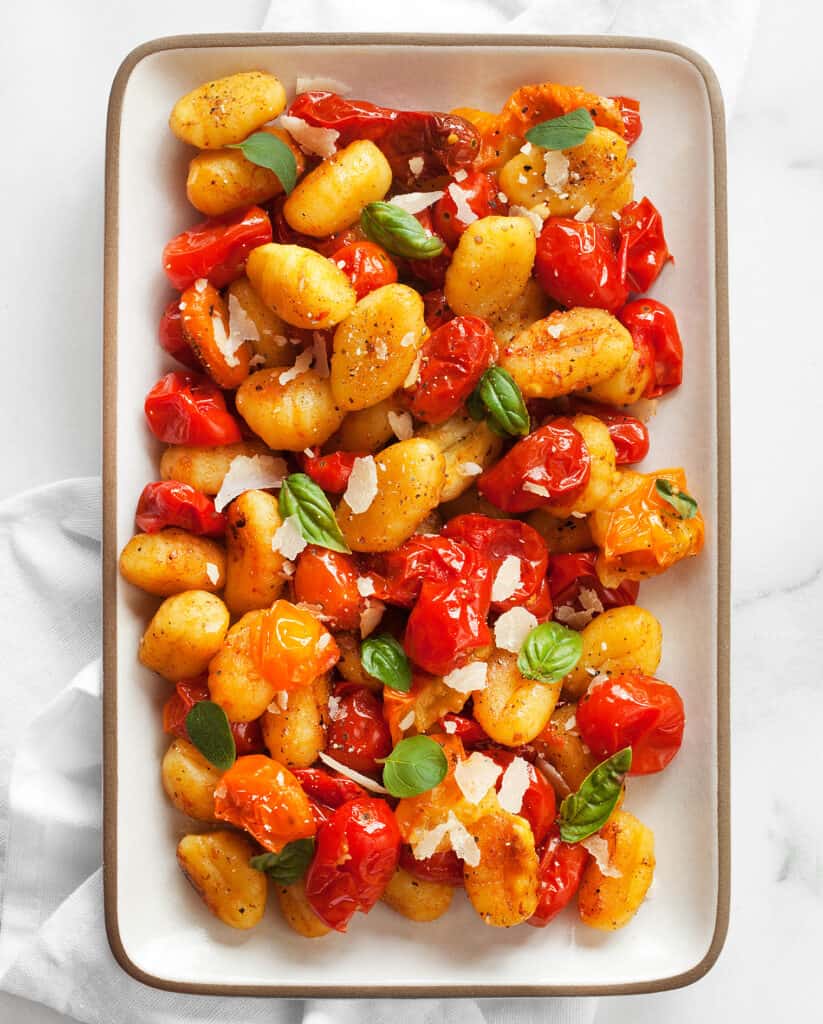 How To Make Sheet Pan Roasted Tomato Gnocchi
This recipe requires barely any prep work, which is one of the many reasons why I love it.

To start, I whisk together olive oil with a mix of dried spices including garlic powder, onion powder, dried oregano, red pepper flakes, salt and pepper.

This seasoning blend mimics some of the ingredients, such as onions and garlic, I would usually put in tomato sauce that I make on the stove.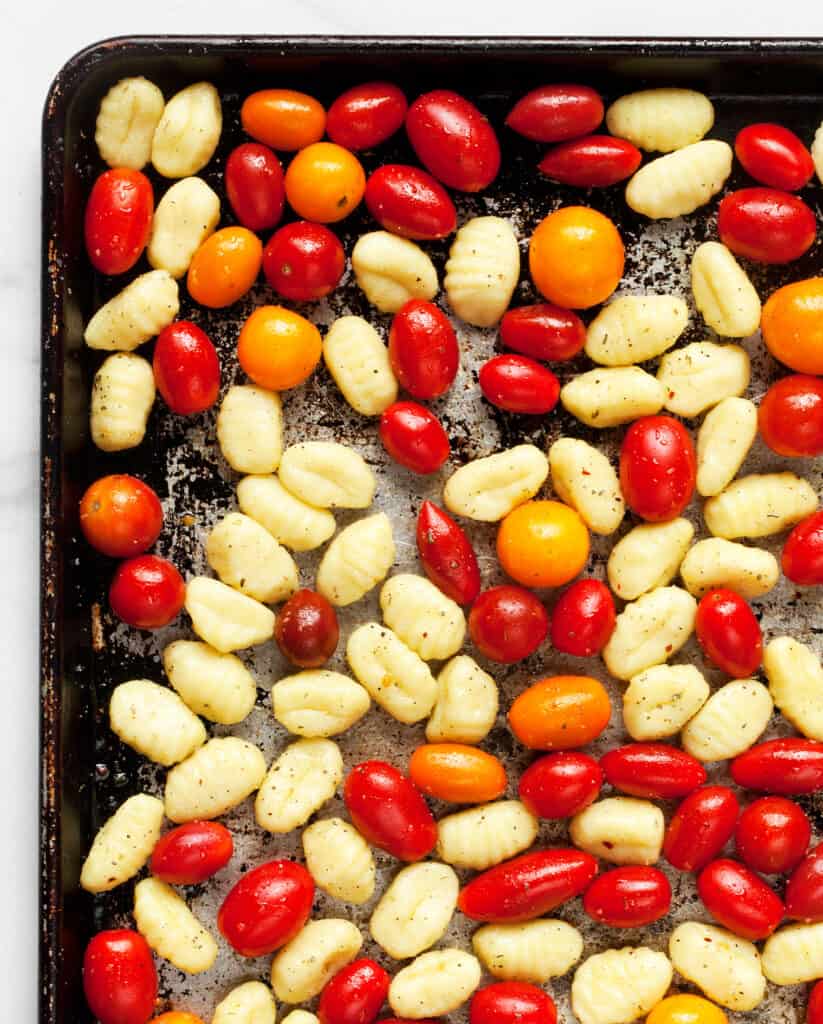 On a sheet pan I toss together the tomatoes and gnocchi with the infused olive oil and spread everything into a single layer.

The tomatoes and gnocchi roast for 25 minutes. They're ready when the gnocchi are golden and the tomatoes are juicy and wrinkled.
I slowly stir the roasted tomatoes with the gnocchi.

Some of the tomatoes break up coating the gnocchi in a very light, not quite sauce.

To finish this sheet pan cherry tomato gnocchi, I add shaved Parmesan and fresh basil and oregano leaves.

It's a super easy weeknight dinner that I know will continue to be on regular rotation as long as our tomato plants keep going strong.
Print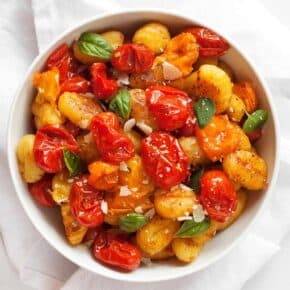 Prep Time:

5 minutes

Cook Time:

22-25 minutes

Total Time:

27-30 minutes

Yield: Serves

4

1

x
Scale
Ingredients
2 tablespoons olive oil
1/4 teaspoon garlic powder
1/4 teaspoon onion powder
1/4 teaspoon dried oregano
Pinch of red pepper flakes
1 teaspoon kosher salt
1/4 teaspoon black pepper
1 pound shelf stable or fresh gnocchi
2 pints cherry or grape tomatoes
Shaved Parmesan for serving
Fresh basil and oregano leaves for serving
Instructions
Preheat the oven to 450 degrees F.
In a small bowl, whisk together the olive oil, garlic powder, onion powder, dried oregano, red pepper flakes, salt and pepper.
On a sheet pan, toss the gnocchi and tomatoes with the olive oil mixture spreading them into a single layer.
Bake for 22-25 minutes until the gnocchi are lightly browned and the tomatoes are wrinkled and some have burst.
Stir the gnocchi and tomatoes together. The tomatoes will break up coating the gnocchi.
Top with basil and oregano leaves and Parmesan before serving.
SHARE THIS