Mango Avocado Salad
on May 19, 2022, Updated Jul 23, 2022
Crisp, fresh and spicy thanks to red chilies, this mango avocado salad combines sweet fruit with savory ingredients including bell peppers, red onions and lots of cilantro.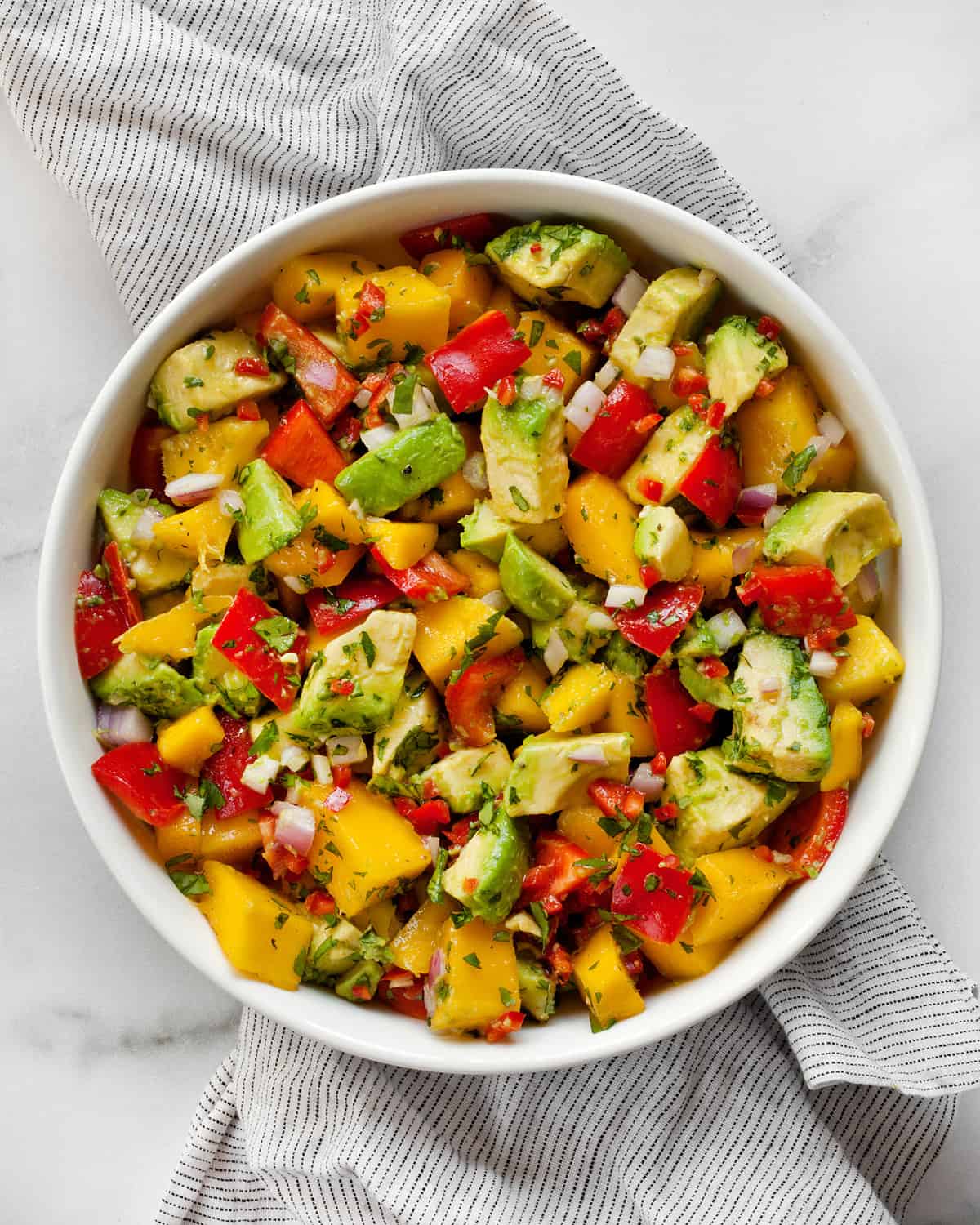 When you think about a salad, I have a feeling spicy isn't a word that comes to mind. But trust me, a salad with a little bit of a kick is really, really good. There is just something about that balance of cool ingredients and a buzz of heat.
With the creamy richness of ripe avocados, this easy mango salad recipe will give you a range of flavors that magically all come together into the perfect salad without leafy greens. If you haven't tried putting fruit in salads (not fruit salads), then you need to start immediately, especially as we are headed toward peak season in spring and summer.
Those sweet moments of fruit actually enhance the savory side of pretty much any salad. I love putting perfectly ripe fruit to use in more than just cakes, tarts and desserts. Also, there are more opportunities to eat them than only on their own for a snack. You need to toss them in a salad for a mix of taste and texture.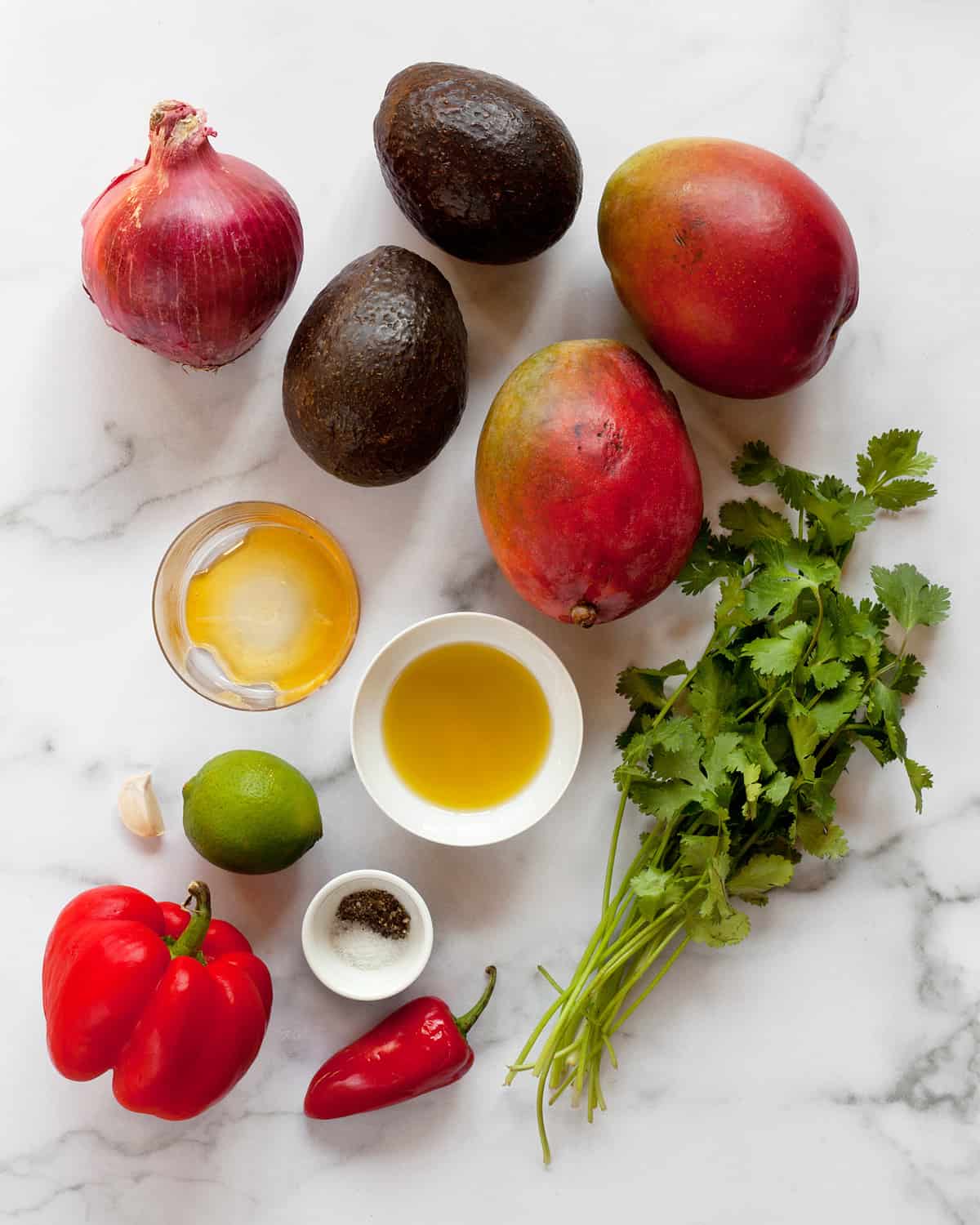 Ingredients & Substitutions
This is what you need:
Mangos: When you're picking a ripe mango at the grocery, it should give a little when you press it. If it's too soft, you won't be able to cleanly cut it into cubes. And if it's too firm, it will be under ripe and lack flavor. To prep, use a sharp knife to slice each mango on either side of the pit. Score cubes into the flesh and scoop them out.
Avocados: Make sure to use nice and ripe avocados. With their healthy fat, they will be soft and lend their overall creaminess to the dressing and the salad.
Red pepper: Dice a bell pepper to add a bite with crunch, freshness and more color.
Onion: Other than scallions, red onions are my go-to when keeping onions raw in a salad. Their flavor is mild enough that it's not too much especially with the balance of the rest of the ingredients.
Fresno chili: When minced, these red chilies spread their medium level of heat throughout the salad. You can use a jalapeno instead.
Cilantro: Fresh herbs are a must, specifically cilantro. It is just the right match with the lime juice and avocados.
Lime juice is the base for the citrus dressing.
Honey or maple syrup adds sweetness to the lime dressing. You can use either one. If you want to keep the salad vegan then use maple syrup.
Garlic is probably the most subtle savory ingredient in the recipe. I dice a clove and mix it with the vinaigrette.
Olive oil: Since it's a salad, definitely use extra-virgin olive oil.
Salt & pepper: I keep the seasonings simple with just kosher salt and black pepper.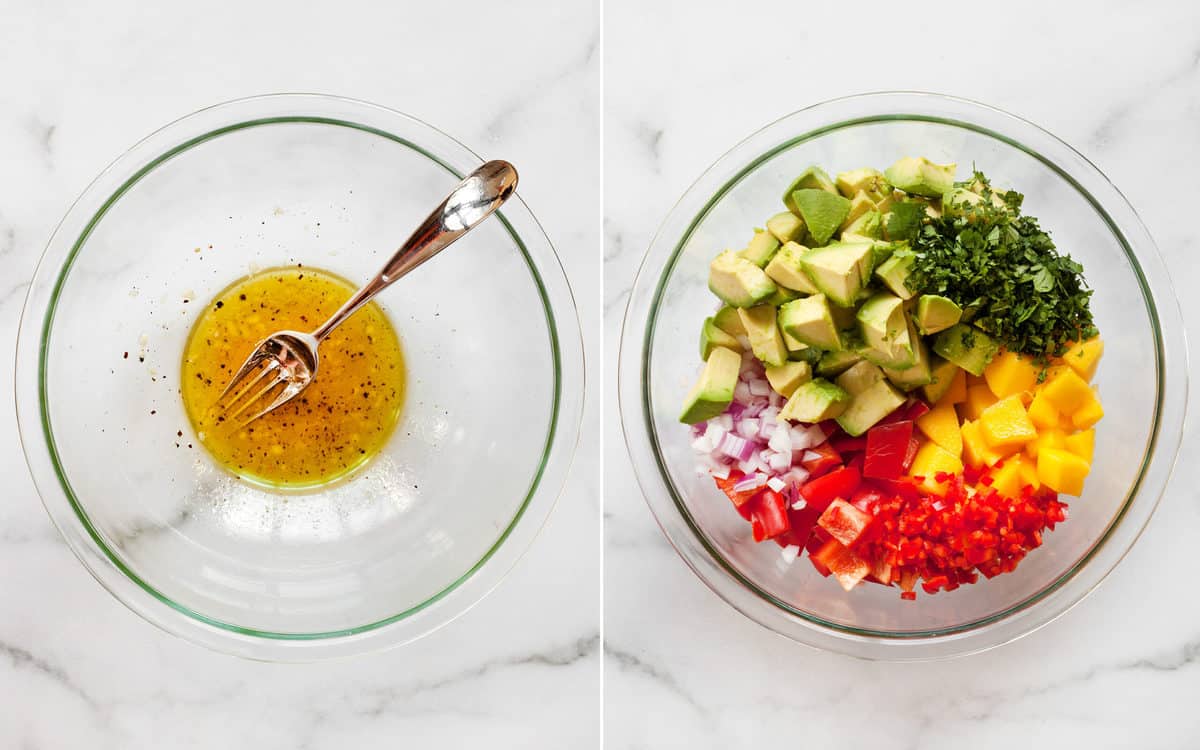 How To Make A Mango Avocado Salad
Make the dressing. In a big bowl, whisk together the lime juice, honey, garlic, olive oil, salt and pepper. By doing this in a bowl large enough to hold all the salad ingredients, you will save yourself from washing something else. Also, take advantage of this lettuce-free salad. You can just go for it and dress the whole thing without worrying that it will get soggy.
Stir the salad ingredients into the dressing including the sweet mangos, creamy avocados, red peppers, red onions, fresh cilantro and chilies.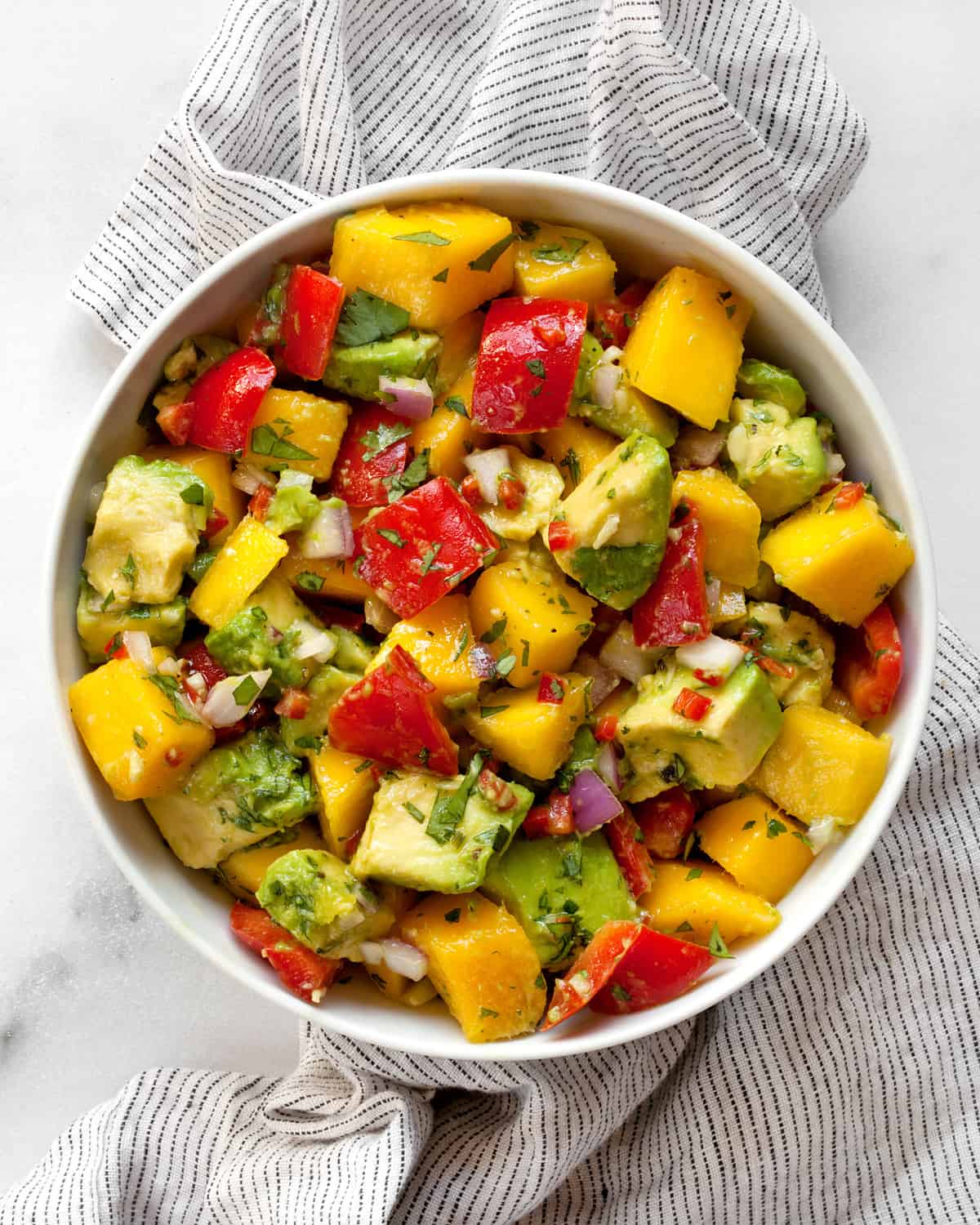 Serving This Mango Salad
It eats either like a salad or a side dish. Think about pairing it with anything grilled from salmon to shrimp to chicken to barbecue tofu veggie skewers. If you do want to stretch it into a main dish salad, I recommend adding baby arugula or chopped romaine, but wait to do this until you are ready to serve it.
More Additions
Even though this avocado mango salad has a lot of flavor and personality, it can be the base for other add-ons including diced cucumbers, halved cherry tomatoes or black beans. You can pair it with grains like quinoa or rice.
I also love eating this salad with grilled corn. It's to the point that I will slice the grilled kernels off a cob and toss them right in.
Can You Eat This Like Mango Salsa?
Yes! If you are planning to serve it more like salsa then I recommend dicing the mangos smaller, more like 1/4-inch cubes, so then it won't turn out too chunky to dip chips into. Or use it as a taco topping.
Leftovers
You can store leftovers in an airtight container in the refrigerator up to 3 days. Even though you toss the avocado with the rest of the salad in the lime juice-based dressing, it will likely turn brown the longer it sits.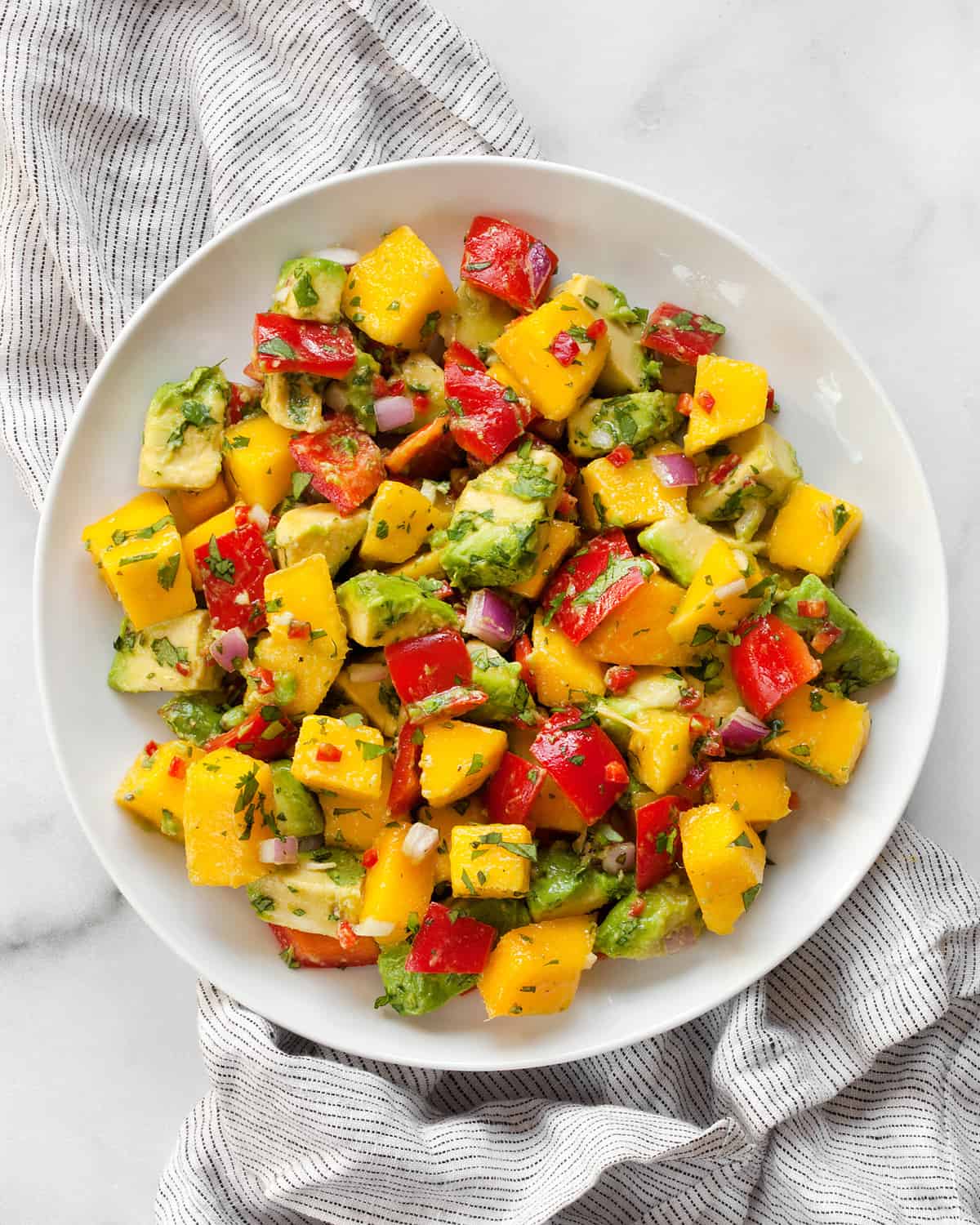 More Avocado Recipes
Caprese Avocado Toast
15-Minute Vegan Avocado Pasta
Grilled Corn with Avocado and Cilantro Pesto
Watermelon Radish Cucumber Salad
More Mango Recipes
Mango Avocado Salad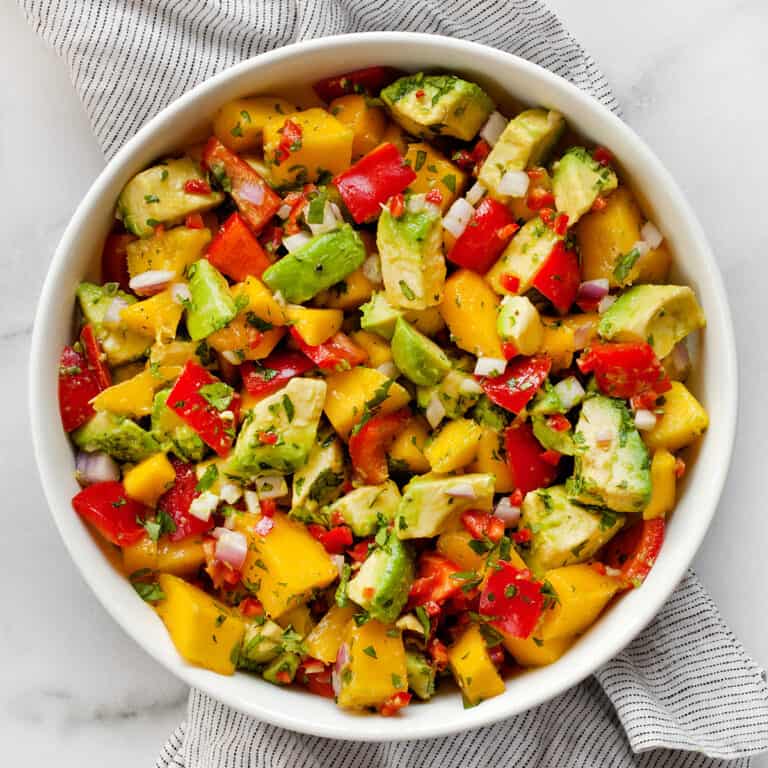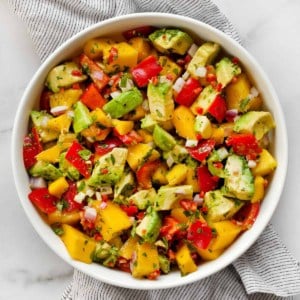 Crisp, fresh and spicy thanks to red chilies, this mango avocado salad combines sweet fruit with savory ingredients including bell peppers, onions and lots of cilantro.
Ingredients
Juice of 1 lime

1

teaspoon

honey or maple syrup

1

garlic clove

minced

2

tablespoons

olive oil

1/2

teaspoon

kosher salt

1/4

teaspoon

black pepper

3

mangoes

diced into 1/2-inch cubes

2

avocados

diced

1

red pepper

diced

1/4

cup

roughly chopped red onions

1

Fresno chili

minced

1/4

cup

chopped cilantro
Instructions
In a large bowl, whisk together the lime juice, honey, garlic, olive oil, salt and pepper.

Add the mangos, avocados, red peppers, red onions, cilantro and chilies to the dressing. Stir everything together.
Notes
Store leftovers in an airtight container up to 3 days. The avocados will brown the longer they are stored.
Nutrition
Calories:
339
kcal
|
Carbohydrates:
37
g
|
Protein:
4
g
|
Fat:
23
g
|
Saturated Fat:
3
g
|
Polyunsaturated Fat:
3
g
|
Monounsaturated Fat:
15
g
|
Sodium:
303
mg
|
Potassium:
873
mg
|
Fiber:
10
g
|
Sugar:
26
g
|
Vitamin A:
2934
IU
|
Vitamin C:
122
mg
|
Calcium:
38
mg
|
Iron:
1
mg
Nutrition information is automatically calculated, so should only be used as an approximation.