Barbecue Tofu Veggie Skewers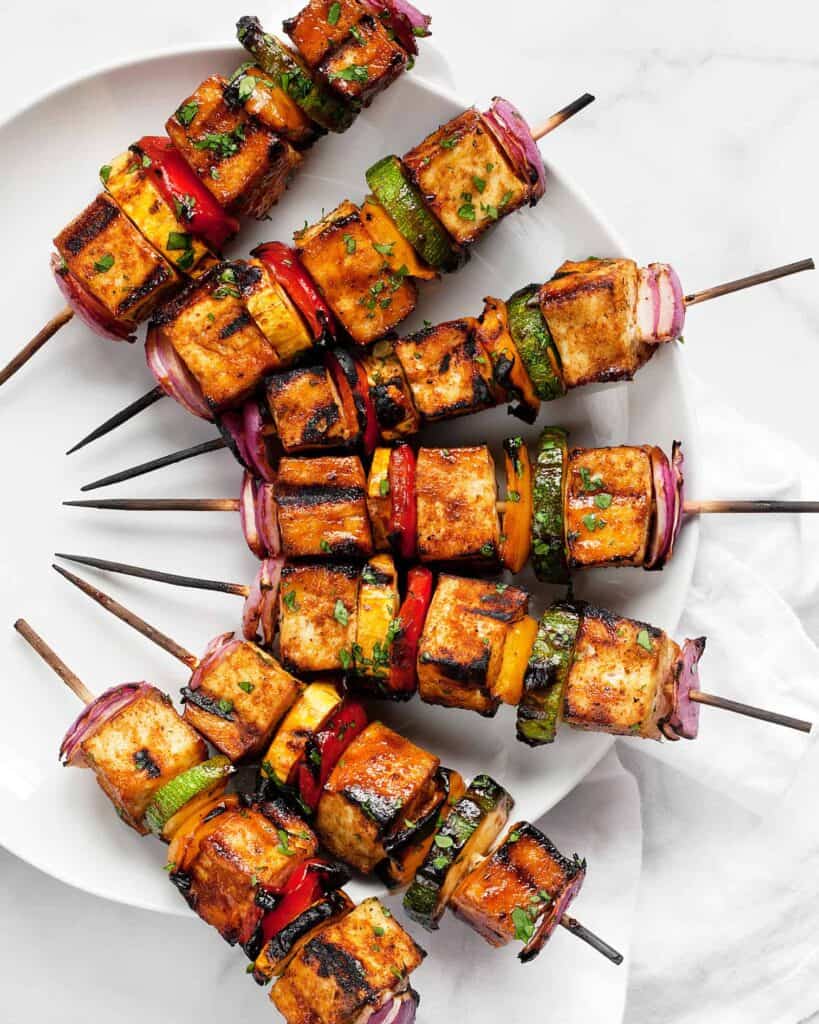 It's my brother's fault that my son is obsessed with barbecue sauce.

He was the first person to introduce it to my five-year-old, who is now a big fan of the stuff.

On Sunday nights we've gotten in the habit of grilled or baked chicken breasts slathered with sweet sauce.

I skip that part of the meal and toss together a big garbage salad made up of all sorts of leftovers from a weekend of recipe testing.

As a food blogger, you develop great affection for turning odds and ends into a meal. It's a very satisfying sense of accomplishment to repurpose things instead of letting them go to waste.

One of my experiments this weekend was homemade barbecue sauce. Unfortunately, I couldn't get the balance of sweet and tangy just right.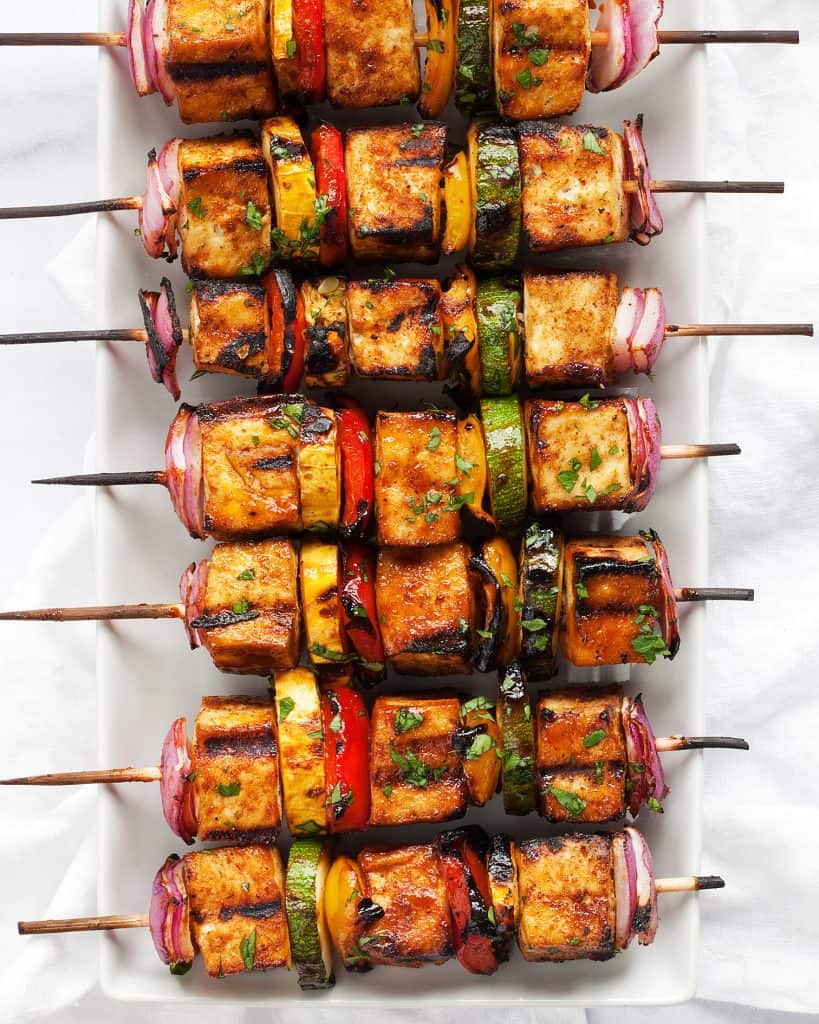 There's absolutely nothing wrong with bottled barbecue sauce. Just read the ingredients. Skip the brands with high fructose corn syrup or ingredients that you don't recognize and can't pronounce.
Go local! There are so many wonderful restaurants serving barbecue. Often you will find that they sell bottles of their secret sauce.
Chicken was on the menu for my husband and son, but I wanted something that could be cooked along with it.
I made barbecue tofu veggie skewers, however, I didn't rely completely on our favorite bottled sauce for flavor.
Liquid marinades can be tricky because they have a tendency to slide off. I much prefer dry seasoning mixes.
In my pantry I keep a jar with a spice blend that I use for a dry-rub turkey recipe. I put it on chicken and veggies, too.
Before I threaded the tofu onto the skewers, I sprinkled them with a mixture of cumin, hot smoked paprika, garlic powder and onion powder.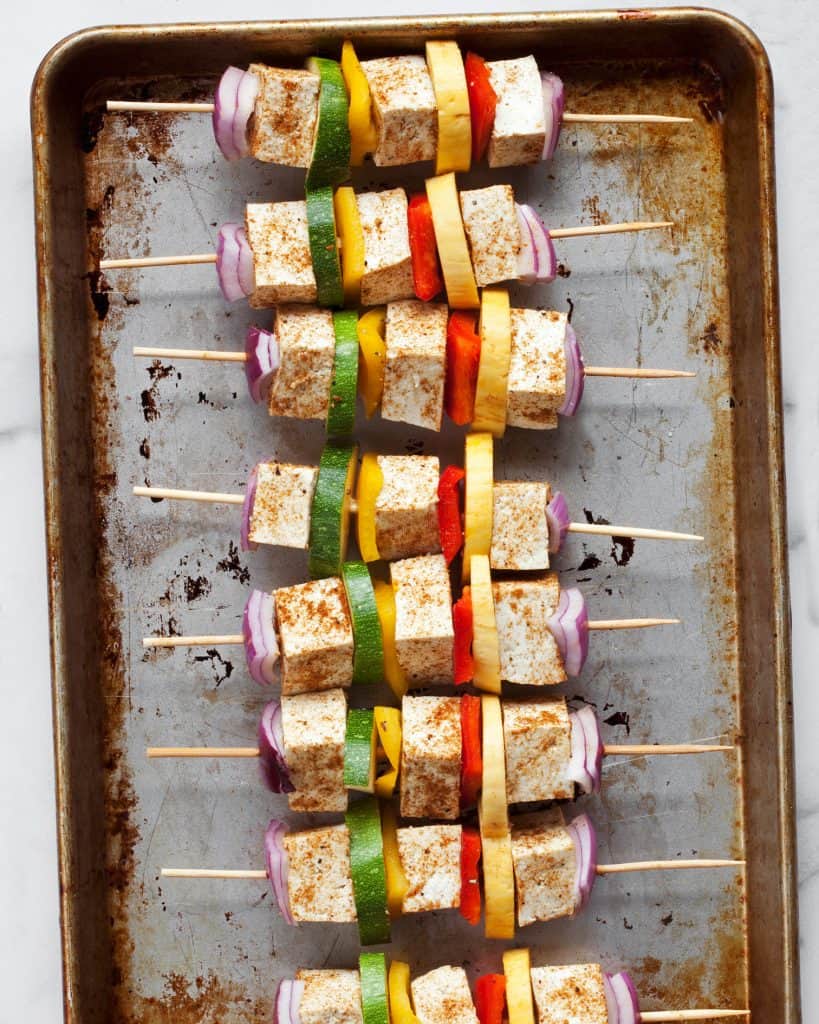 I alternated the barbecue tofu veggie skewers with zucchini, peppers, squash and onions.
Once the kabobs were almost finished on the grill, I brushed them with barbecue sauce in their last couple minutes of cooking.
Because of its sugar content, barbecue sauce has a tendency to burn, so it's best to wait to slather it on until the end.
Seasoning the tofu before grilling gave it a good savory spice to balance out the sweetness of the barbecue sauce.
I didn't finish all the grilled barbecue tofu veggie skewers, so the next day I added what was left to a bowl of chopped salad greens.
Print
Barbecue Tofu Veggie Skewers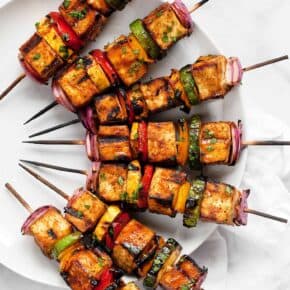 Prep Time:

40 minutes

Cook Time:

8 minutes

Total Time:

48 minutes

Yield:

8

skewers

1

x
Scale
Ingredients
1–14 ounce package extra form tofu
1 teaspoon cumin
1/2 teaspoon hot smoked paprika
1/4 teaspoon onion powder
1/4 teaspoon garlic powder
1/2 teaspoon kosher salt
1/4 teaspoon black pepper
1 zucchini, halved lengthwise and sliced 1/4-inch thick
1 summer squash, halved lengthwise and sliced 1/4-inch thick
1 red pepper, cut into 1" pieces
1 small red onion, cut into 1" pieces
Skewers, soaked in water if wood
1/4 cup barbecue sauce
Chopped parsley for serving
Instructions
Pat the tofu with a paper towel. Wrap with a dry paper towel and place a cast iron pan or cutting board on top to remove more liquid. Let stand for 30 minutes. Cut the tofu into 1-inch cubes.
In a small bowl, combine the cumin, paprika, onion powder, garlic powder, salt and pepper. Sprinkle the spice mix on the tofu.
Preheat a gas or charcoal grill on medium high heat. (You can also use a grill pan on the stove).
Thread the tofu and vegetables onto 8 skewers.
Grill until the tofu and veggies have grill marks and are charred at the edges, about 2 minutes per side. In the last few minutes of grilling, brush the skewers with barbecue sauce.
Sprinkle with parsley before serving.
SHARE THIS