Grilled Corn and Avocado with Cilantro Pesto

Looking for a way to celebrate corn season, try grilled corn and avocado with cilantro pesto. Serve it as a side or a salad with or without tortilla chips.
Sharing comes pretty easy when you cook and bake as much as I do.

Whether it's just ingredients or an entire cake, I am always offering something to someone.

There are exceptions.

I admit when I fall hard for things like salted chocolate chunk cookies or sriracha lime chickpeas, I kind of want to hoard them all to enjoy on my own.
But of course I never do that.

I definitely had those feelings when I made grilled corn and avocado with cilantro pesto.

It was so good that I had my husband add other things to his plate to guarantee that I would get at least one round of leftovers.

We both had a late lunch on Saturday, so he wasn't that hungry for dinner anyway.

During the summer I am always grilling corn.

Like asparagus, corn is one of those veggies that I don't enjoy eating off-season.

Wrapped sadly in plastic and not in green husks is how corn on the cob appears in the produce department during non-summer months.
How To Make Grilled Corn and Avocado with Cilantro Pesto
It could have been the grilled corn or the avocado, but I would say it's the cilantro pesto that really makes this dish.

While waiting for the grill to heat up for the corn, I was at my food processor whipping up pesto.

I started by mincing a couple garlic cloves. Then I added plenty of cilantro leaves, pumpkin seeds, the juice of a lime, salt and pepper.

When that mixture was chopped, I drizzled in olive oil to finish the pesto.

Then I headed to the hot grill.
I put 4 ears of corn, husks removed, straight on the grates. Using my tongs, I turned the ears, lightly charring them on all sides.

I let the corn cool a bit before slicing the kernels off the cobs.

In a big bowl I combined the corn with diced avocados and stirred in the cilantro pesto.
To stretch leftovers even further, I added arugula and crumbled lime-flavored tortilla chips on top for my version of croutons.

I am hoping for another round of corn in my CSA this week. Then I can make grilled corn and avocado with cilantro pesto again (and again).

Print
Grilled Corn and Avocado with Cilantro Pesto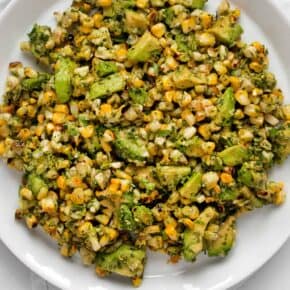 Author:
Prep Time:

15 minutes

Cook Time:

5-7 minutes

Total Time:

20-22 minutes

Yield: Serves

4

1

x
Scale
Ingredients
2 garlic gloves
1–1/2 cups packed cilantro leaves
1/4 cup raw pumpkin seeds
Juice of 1 lime
1 teaspoon kosher salt
1/2 teaspoon black pepper
1/4 cup + 1 teaspoon olive oil
4 ears corn, shucked
2 avocados, diced
Instructions
Mince the garlic cloves in the bowl of a food processor. Add the cilantro, pumpkin seeds, lime juice, kosher salt and pepper and finely chop. With the motor running, drizzle the olive oil through the feeder tube processing until the pesto is combined.
Preheat a gas or charcoal grill on high heat.
Toss the corn with 1 teaspoon olive oil. Grill the corn until it is lightly charred, about 5-7 minutes.
When the corn is cool enough to handle, slice the kernels off the cobs.
In a large bowl, combine the corn and avocado. Stir in the pesto.
SHARE THIS