Parmesan Roasted Lemon Garlic Asparagus

I like to keep the prep work simple with this parmesan roasted lemon garlic asparagus quickly cooking it in the oven with panko breadcrumbs.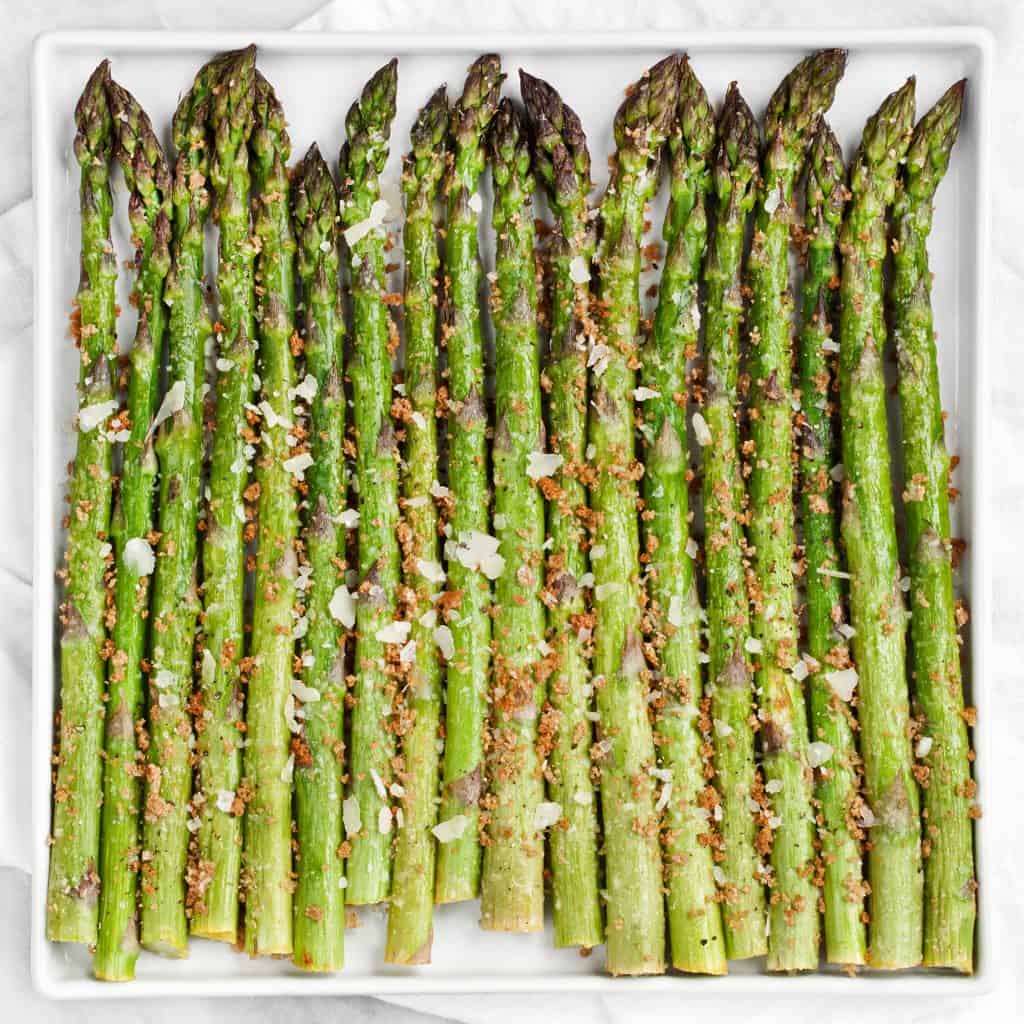 I can't consume enough asparagus right now because it makes me hopeful that someday soon it will actually feel like spring.

Asparagus is the kickoff to the joy that is spring produce and outdoor farmers markets. I cannot wait!
It's just about time to dust of my shopping bag to buy all those hearty leafy greens.
The first few weeks of farmers markets in May is a sea of green and lingering storage vegetables like potatoes.
Asparagus has such a specific flavor that you don't have to do much to those green stalks to turn them into something. And you shouldn't.
What would be the point of taking the asparagus out of the asparagus by letting it get lost with too many other things on the plate?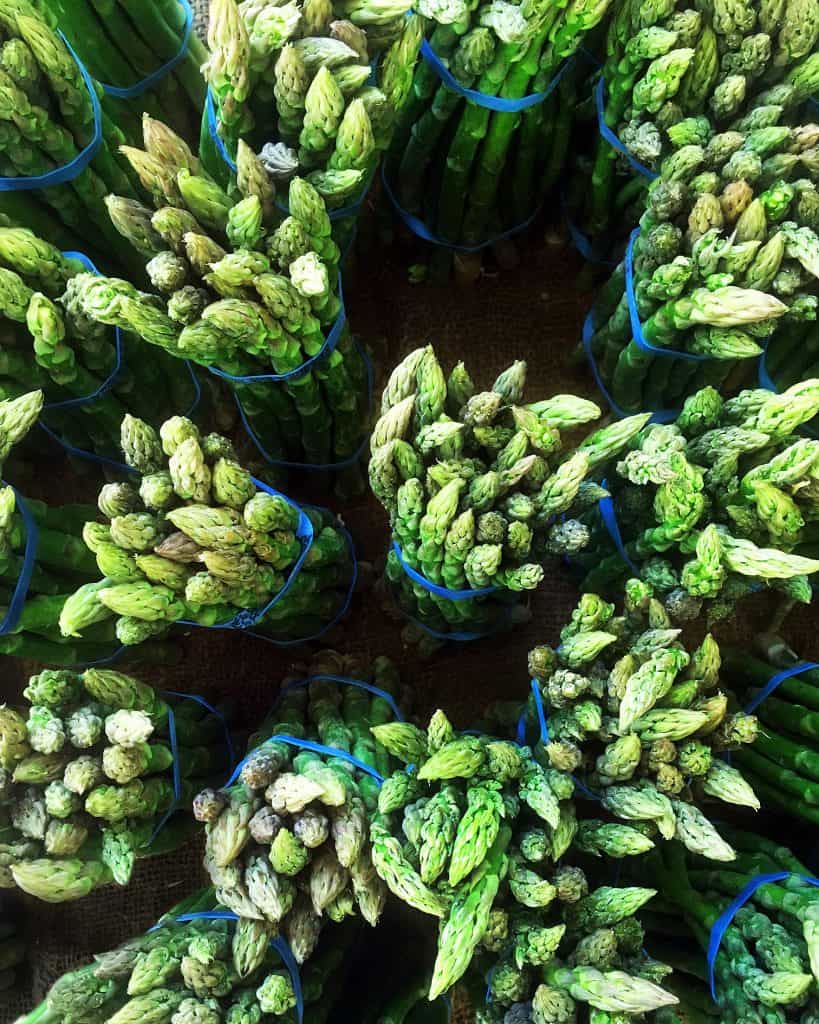 The less prep, the better it tastes.
I couldn't resist bringing home a bunch of asparagus to make a simple side: parmesan roasted lemon garlic asparagus.

It's a long recipe name, but trust me, it's very easy.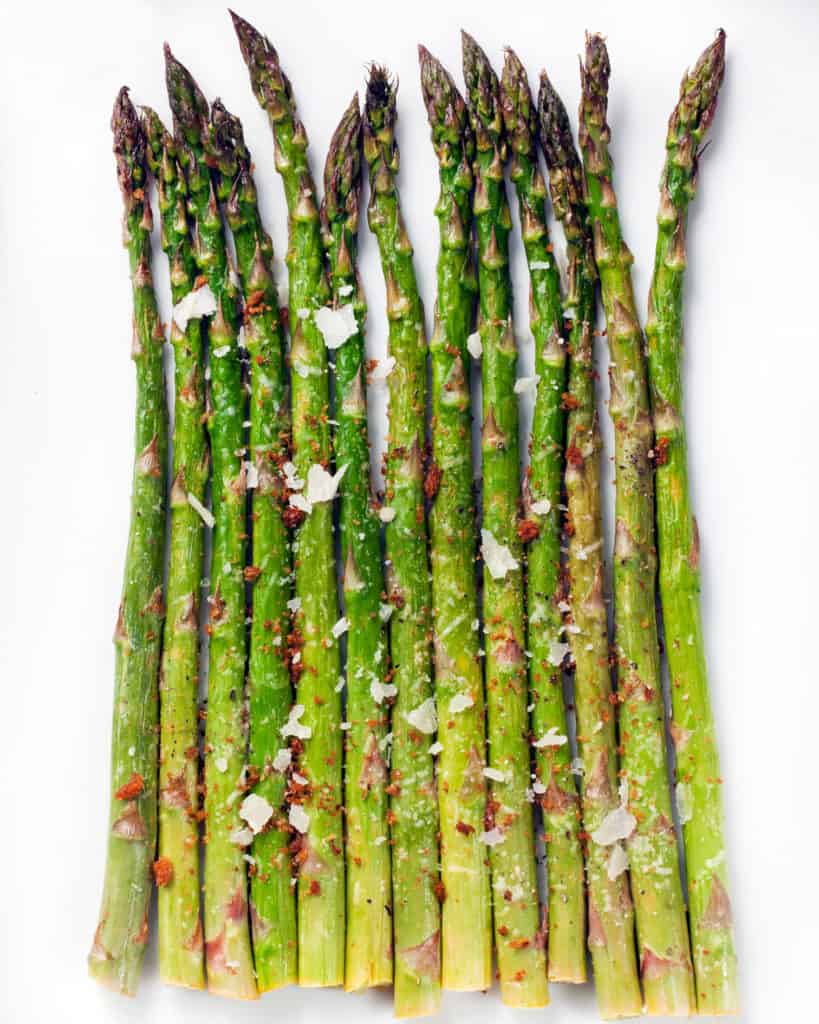 How To Make Parmesan Roasted Lemon Garlic Asparagus
Is it weird that I've been buying a bag of lemons each week? I've been making lemon vinaigrette and adding lemon zest to so many other things.
I started by whisking together olive oil, lemon juice, garlic, salt and pepper in a small bowl.
Instead of mincing the garlic with a knife, I turned it into a paste using a grater. Then I tossed the asparagus with the olive oil-lemon juice mixture.
I arranged the stalks a single layer on a sheet pan and sprinkled on crunchy Panko breadcrumbs and Parmesan.
In less than 10 minutes, the asparagus turned a vibrant green when they finished roasting.
I added more grated Parmesan as well as flaky sea salt before serving.
Any leftover asparagus can be sliced and folded into a grain bowl like quinoa or beans. I also love asparagus with scrambled eggs.
Print
Parmesan Roasted Lemon Garlic Asparagus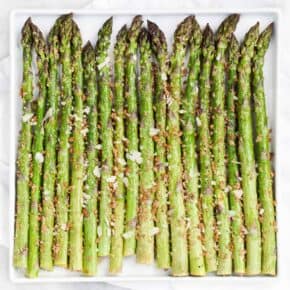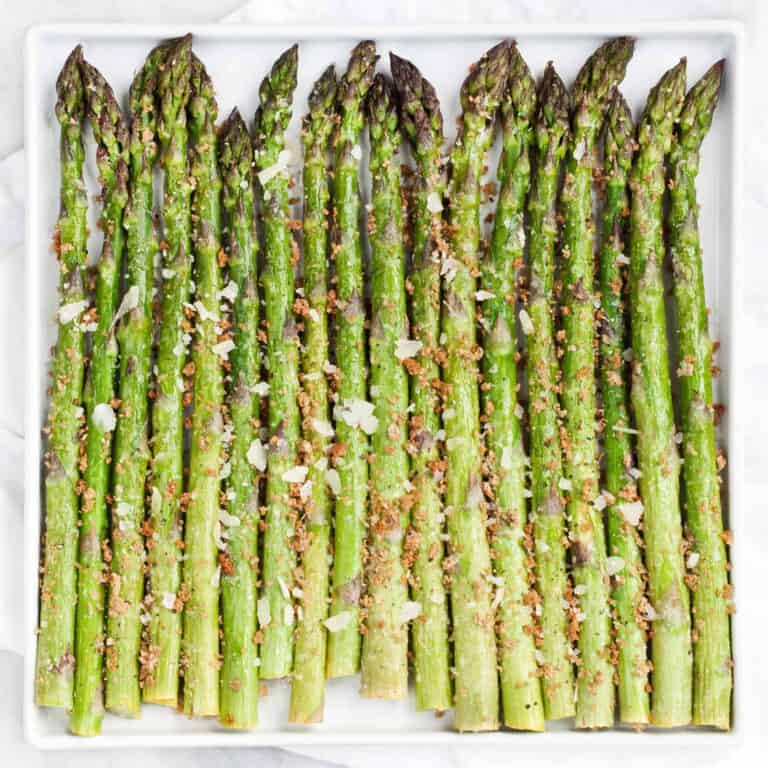 Author:
Prep Time:

5 minutes

Cook Time:

8 minutes

Total Time:

13 minutes

Yield: Serves

4

1

x
Scale
Ingredients
1 tablespoon olive oil
Juice of 1 lemon
1 garlic clove minced with a grater
1/2 teaspoon kosher salt
1/4 teaspoon black pepper
1 pound asparagus, ends trimmed
1/4 cup whole-wheat panko breadcrumbs
1/4 cup grated Parmesan plus more for serving
Flaky sea salt for serving
Instructions
Preheat the oven to 425 degrees F.
In a small bowl, whisk together the olive oil, lemon juice, garlic, salt and pepper. Toss with the asparagus and arrange in a single layer on a parchment-paper-lined sheet pan. Combine the Parmesan and breadcrumbs and sprinkle over the asparagus.
Roast for 8 minutes until the asparagus turns bright green. Season with flaky sea salt and top with additional Parmesan before serving.
SHARE THIS