Udon Noodle Stir-Fry with Asparagus, Mushrooms & Peas

The kitchen of my dreams doesn't have any upper cabinets. It's a very obvious theme on one of my Pinterest boards.
Of course, I know better than to actually do that when we eventually get around to renovating our dated kitchen.
I need every inch of shelf space that's possible. Even those unreachable top shelves are filled with items that I use on a regular basis.
I may be taller than average and have long arms, but I still end up standing on one of our dining chairs to get my hands on something high.
It's a balancing act. I always have visions of tumbling off the chair and really hurting myself.
When things are so out reach and out of sight, I forget about what I have stashed away. Then I end up buying ingredients that I already have.
Over the weekend, I found a pack of dried udon noodles that had been hiding on an upper shelf.
Lately, I've been on a mission trying to use up lots of dried pasta odds and ends. Those nearly empty boxes take a lot of valuable shelf real estate.
I had just been to the farmers market. In my shopping bag were mushrooms and a bunch of asparagus.
I found myself craving a springy noodle dish, so I made udon noodle stir-fry with asparagus, peas and mushrooms.
First I cooked the udon noodles and made sure the asparagus and mushrooms were cut and ready to be thrown into the skillet.
Immediately once the oil was hot, I spooned in the garlic, ginger and scallions, and they were fragrant right away. Then I added the mushrooms, asparagus and peas.
When the asparagus and peas were bright green, I stirred in the noodles and let everything bubble for a few minutes in soy sauce.
I finished this quick stir-fry with sliced green scallions and sesame seeds.
SaveSave
SaveSave
SaveSave
SaveSave
SaveSave
Print
Udon Noodle Stir-Fry with Asparagus, Mushrooms & Peas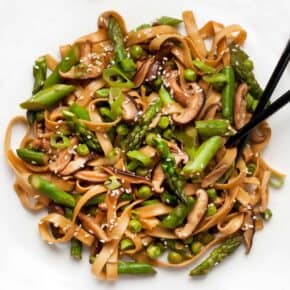 Prep Time:

10 minutes

Cook Time:

10 minutes

Total Time:

20 minutes

Yield: Serves

3

–

4

1

x
Scale
Ingredients
8 ounces dried wide udon noodles
1 tablespoon vegetable oil
1 garlic clove, minced
1 tablespoon minced fresh ginger
4 scallions, thinly sliced, white and green parts separated
4 ounces shitake mushrooms, sliced
1/2 pound asparagus, trimmed and cut into 1-inch pieces
3/4 cup peas, fresh or frozen
3 tablespoons low sodium soy sauce
1 tablespoon sesame seeds
Instructions
Cook the udon noodles according to package instructions. Transfer the noodles to a colander and rinse with cold water.
Heat a wok or large skillet over high heat and add the canola oil swirling to coat. When the oil is shimmering, add the garlic, ginger and the white parts of the scallions. Cook until fragrant, about 1 minute.
Add the mushrooms, asparagus and peas and sauté for 3-4 minutes until the asparagus turns bright green.
Add the soy sauce and let the mixture bubble for a minute before tossing in the udon noodles and the green parts of the scallions. Sauté for a few minutes until the noodles are heated through. Garnish with sesame seeds before serving.
SHARE THIS