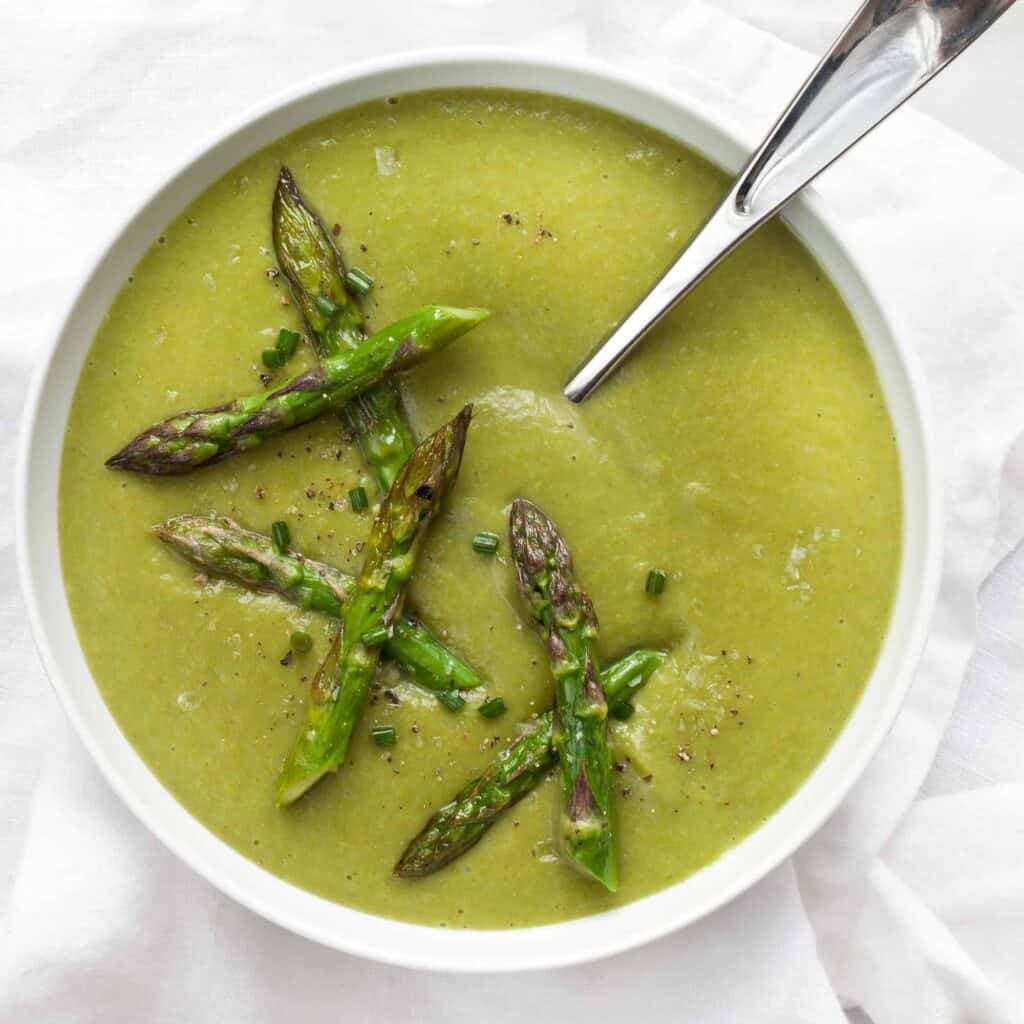 I'm pretty strict when it comes to asparagus. This vegetable is spring, so I don't eat it out of season.
It kind of makes me cringe when I see asparagus as a side on a restaurant menu in autumn or the dead of winter. I just can't do it.

We are a mere days away from the official season change, and I sort of broke my own rule. Bunches of asparagus were on sale at the grocery, and I bought one.
It's close enough to spring, right? I just love those crisp green stalks! They are too tough to resist when I've already been waiting for such a long time.

With asparagus, I like to roast or grill it, weather permitting. I'm not ready to fire-up the grill yet, so I turned on the oven.
I tossed a bunch of asparagus in olive oil, salt and pepper. In less than 10 minutes, the stalks turned a vibrant and bright shade of green.

Then it was time to move the cooking to the stove. I sautéed chopped onions until they were soft and then added minced garlic.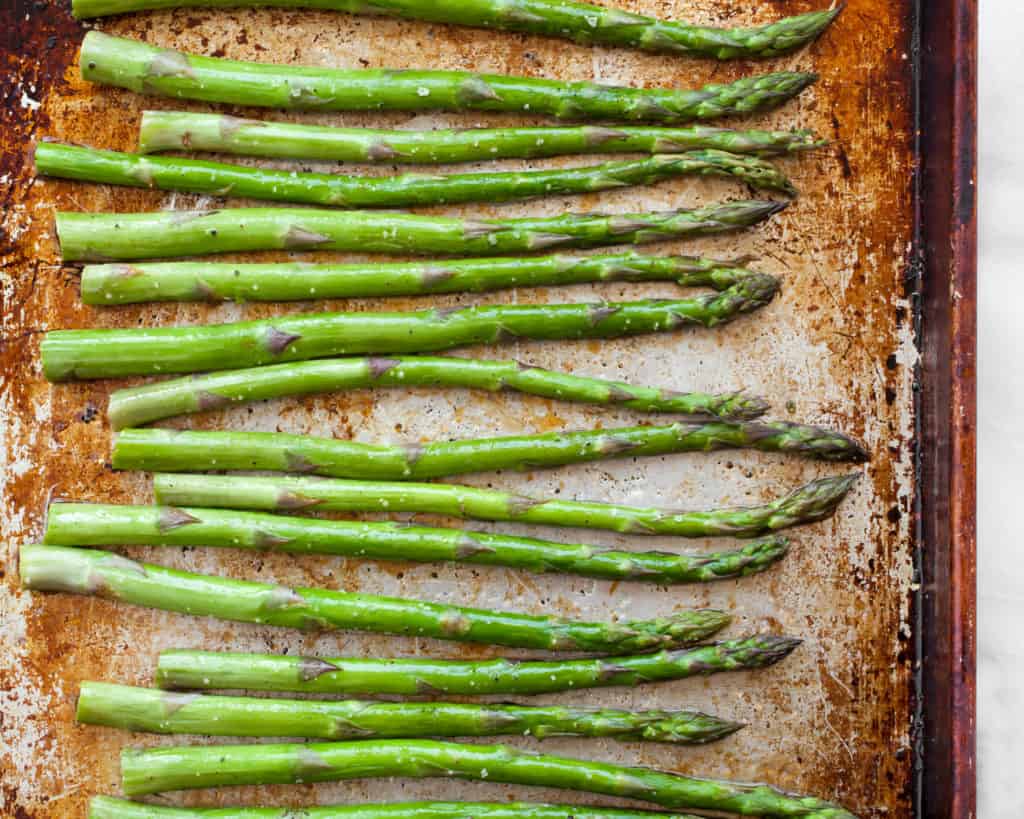 Once things were fragrant, I threw in the asparagus, spinach, potatoes and stock. It didn't take long for the mixture to come to a boil. Then I simmered it letting the potatoes fall apart and get tender.

The diced potatoes helped to thicken the roasted asparagus soup instead of using cream.

I pureed the soup in the blender until it was smooth. Asparagus can be a bit fibrous, so be patient with your blending. It might need longer than you think.

I reserved some of the asparagus tops, so I could garnish each bowl along with chives, flaky sea salt and black pepper.
Garlic, salt and pepper are the only aromatics and spices this soup needs. It's absolutely all about the asparagus. Hello, spring!
Print
Roasted Asparagus Soup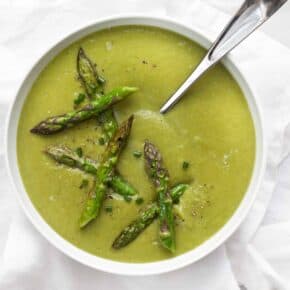 Prep Time:

10 minutes

Cook Time:

31-36 minutes

Total Time:

41-46 minutes

Yield:

Serves 4
Ingredients
For asparagus
1 pound asparagus, ends trimmed
1 tablespoon olive oil
1/2 teaspoon kosher salt
1/4 teaspoon black pepper
For soup
1 tablespoon olive oil
1 white onion, roughly chopped
2 garlic cloves minced
1 russet potato, peeled and diced
3 ounces baby spinach
1/2 teaspoon kosher salt
1/4 teaspoon black pepper plus more for serving
3 cups vegetable stock
Minced chives for serving
Flaky sea salt for serving
Instructions
Preheat the oven to 425 degrees F.
Toss the asparagus, olive oil, salt and pepper on a sheet pan and spread into a single layer. Roast for 8 minutes until the asparagus turns bright green. Let it cool for a few minutes, and then cut the stalks into 2-inch long pieces. Reserve about 8-10 asparagus tops to garnish the soup.
For the soup, heat olive oil in a large saucepan over medium heat. Add the onions and sauté for 5 minutes until they start to soften. Stir in the garlic and continue cooking until fragrant, about 1 minute. Add the potatoes, spinach, salt, pepper, asparagus and stock. Bring to a boil, reduce heat and simmer for 15-20 minutes, until the potatoes are tender.
Carefully transfer the soup in batches to a blender to puree. Return the soup to the saucepan to reheat before serving. Divide into bowls and top with the reserved asparagus tops, fresh chives, flaky sea salt and pepper.
SHARE THIS