Raspberry Buttermilk Cake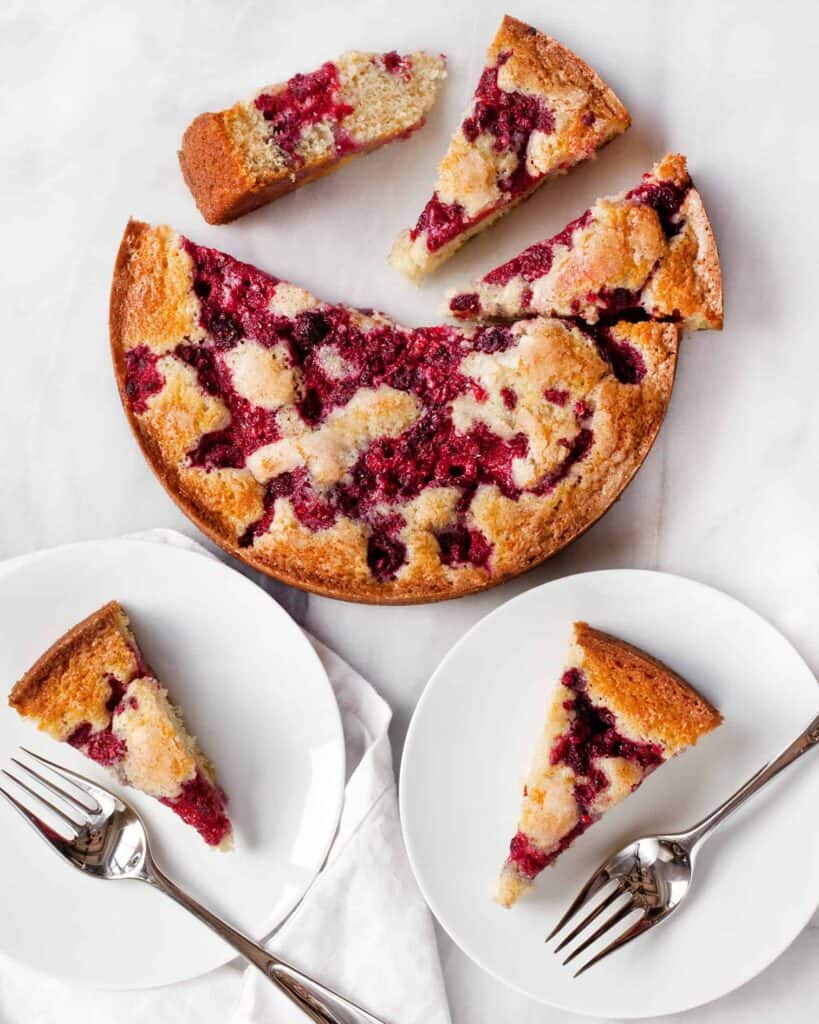 I've been turning back the clock and revisiting old recipes.
When you're a blogger, sometimes you are so consumed with creating new content that it's good to hit pause and revamp a recipe.

Buttermilk often lingers in my fridge. I used it in savory scones the other week, but of course I wanted to use up the rest of it. We had the expected waffles, but there are only so many times you can have breakfast for dinner or actual breakfast.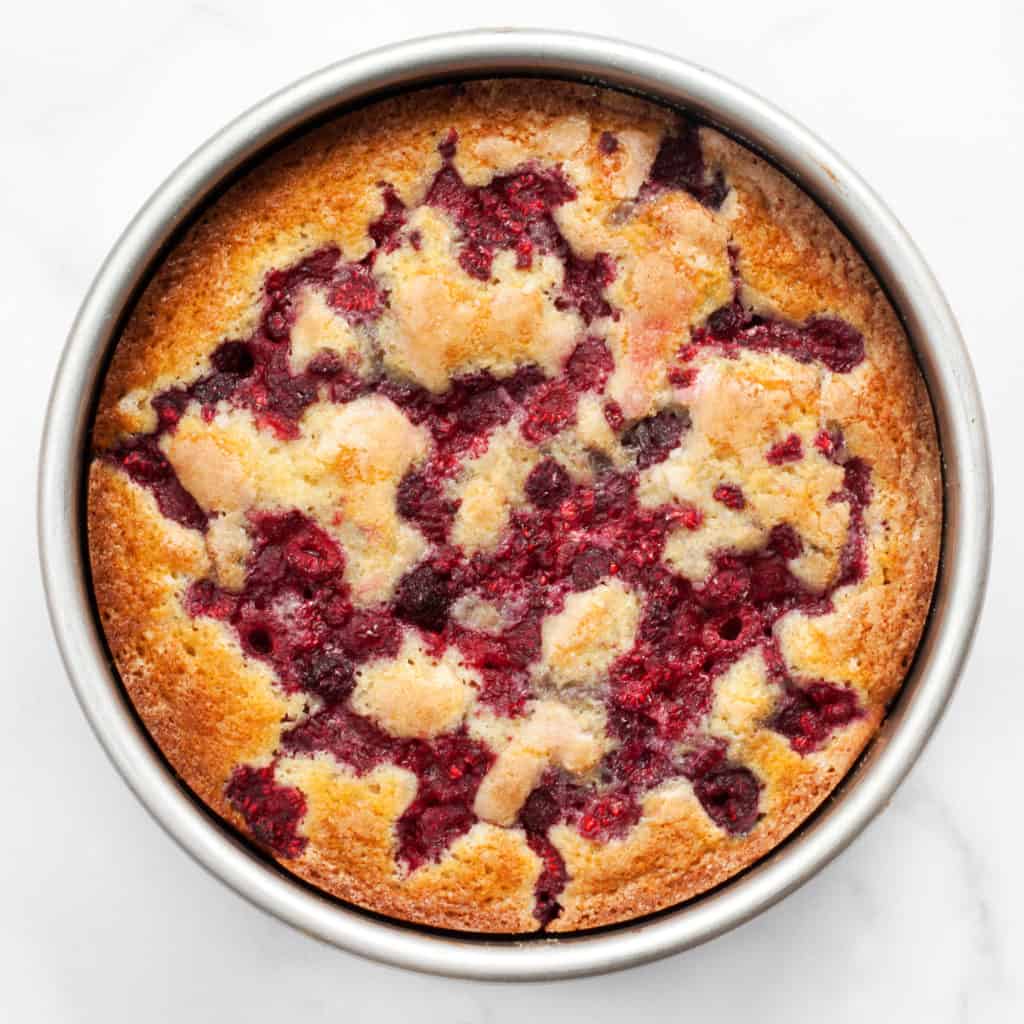 Raspberry Buttermilk Cake: Fresh vs. Frozen Berries
Then I remembered a raspberry buttermilk cake from almost 4 years ago. It's one of those simple fruity bakes that's always good to have around because it's appropriate for dessert, brunch or afternoon tea.

The first time I made it, I used fresh raspberries. As the cake rose, only a few berries were left peaking out by the time it was finished.

I was curious what would happen if I used frozen raspberries. Would there be a major difference in how it turned out?

Frozen berries are more convenient than fresh. They stay good longer and are flash frozen at peak ripeness. Plus I always have them in my freezer.

First I combined the dry ingredients. Then I creamed the butter and sugar until they were pale and fluffy. After that I beat in the eggs and vanilla extract.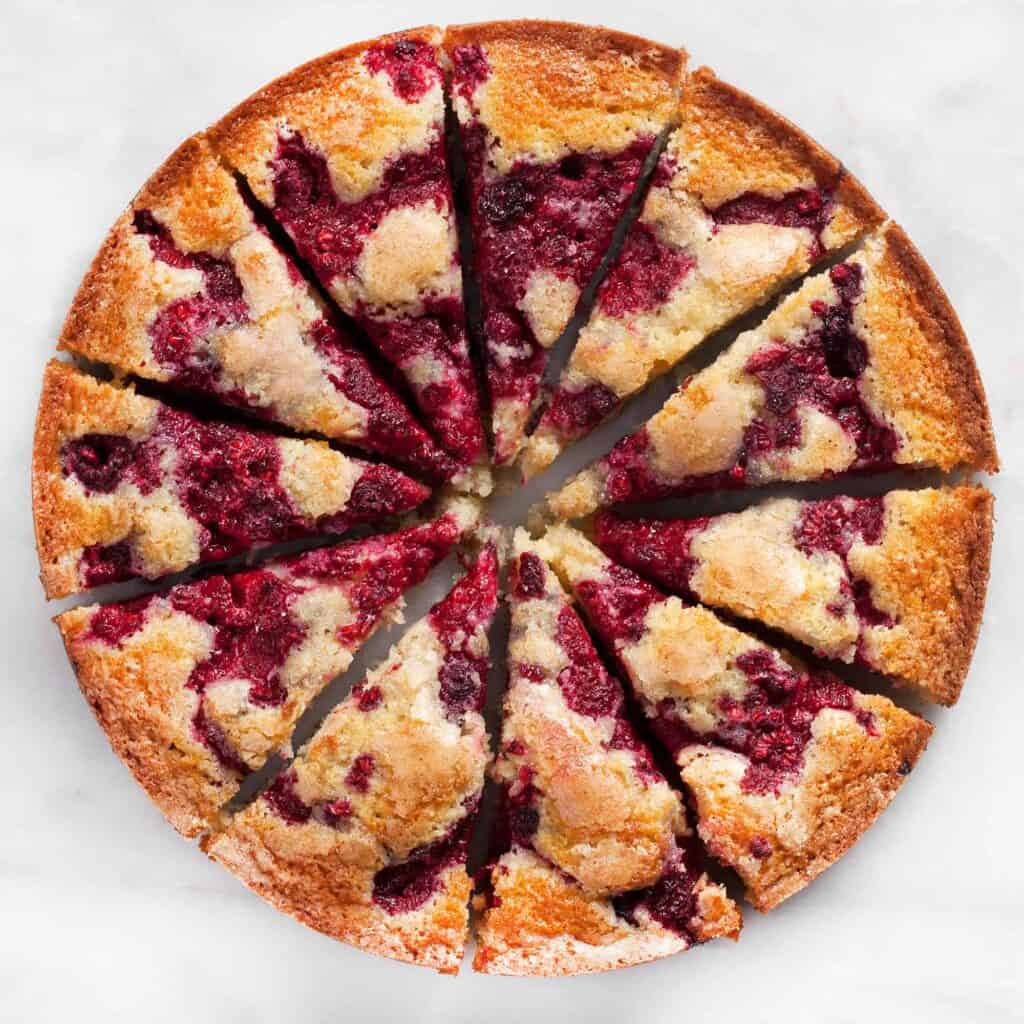 Assembling The Raspberry Buttermilk Cake
I spread the batter into a greased cake pan and scattered the frozen raspberries across the top.
The frozen raspberries were in lots of smaller and more fragmented pieces than fresh whole berries. At that moment I had a hint of how the cake would look.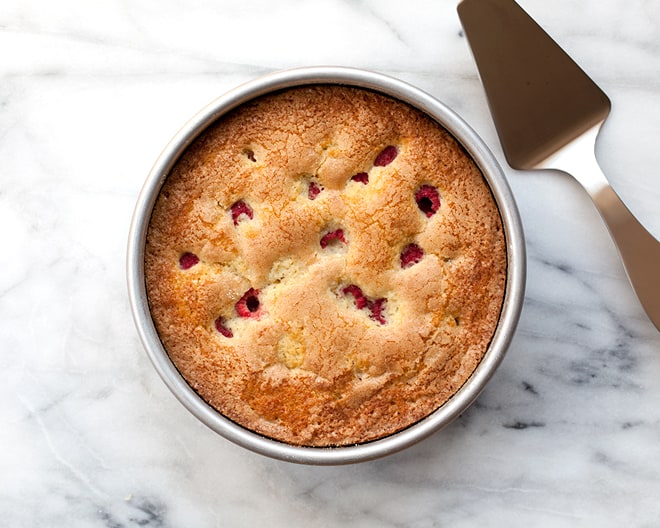 Before I put the pan in the oven, I sprinkled the top with granulated sugar. The berries started to melt a little, and I could see tiny puddles of pink—another clue about the final result.

Baking frozen berries into the raspberry buttermilk cake made the fruit more jammy with better distribution in nearly every bite.

I was taken with the streaks of berries all over the cake. Each slice was an irresistibly messy mix of cake and berry jam.

If I had to choose, I would vote frozen over fresh, but the cake is good both ways. It just depends if you like a more even balance of cake and fruit, then go frozen. If you like more cake and less fruit, then use fresh.
Print
Raspberry Buttermilk Cake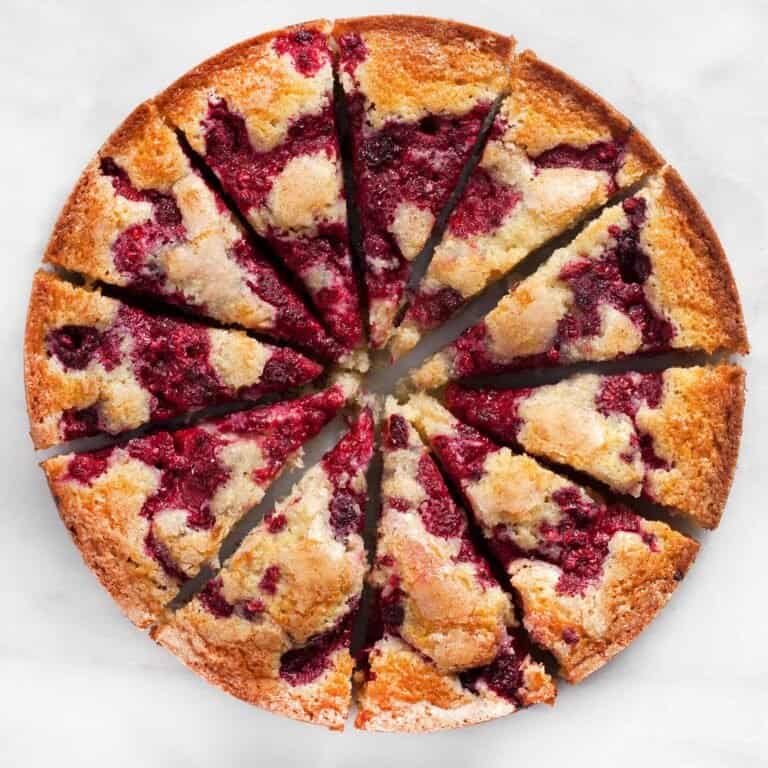 Prep Time:

20 minutes

Cook Time:

25-30 minutes

Total Time:

45-50 minutes plus cooling

Yield:

Makes 1 cake
Ingredients
Non-sticking cooking spray
1 cup all-purpose flour
1/2 teaspoon baking powder
1/2 teaspoon baking soda
1/4 teaspoon salt
1/2 stick unsalted butter, softened
2/3 cup plus 1-1/2 tablespoons granulated sugar
1 large egg
1/2 teaspoon vanilla extract
1/2 cup well-shaken buttermilk
1 cup fresh or frozen raspberries
Instructions
Preheat the oven to 400 degrees F. Grease a 9-inch cake pan with non-stick cooking spray.
In a medium bowl, combine the flour, baking powder, baking soda and salt.
In a large bowl, cream the butter and 2/3 cup sugar with an electric mixer until light and fluffy, about 2 minutes. Beat in the egg and vanilla extract.
On low speed, add the flour in 3 batches, alternating with the buttermilk. Mix until just combined.
Transfer the batter to the prepared cake pan smoothing into an even layer. Place the raspberries on top and sprinkle with the remaining sugar.
Bake the cake for 25-30 minutes until golden brown and a toothpick inserted into the center of the cake comes out clean. Cool the cake in the pan for 10 minutes before removing and cooling on a wire rack. Serve warm or at room temperature.
SHARE THIS