Roasted Vegetable Chickpea Pasta Salad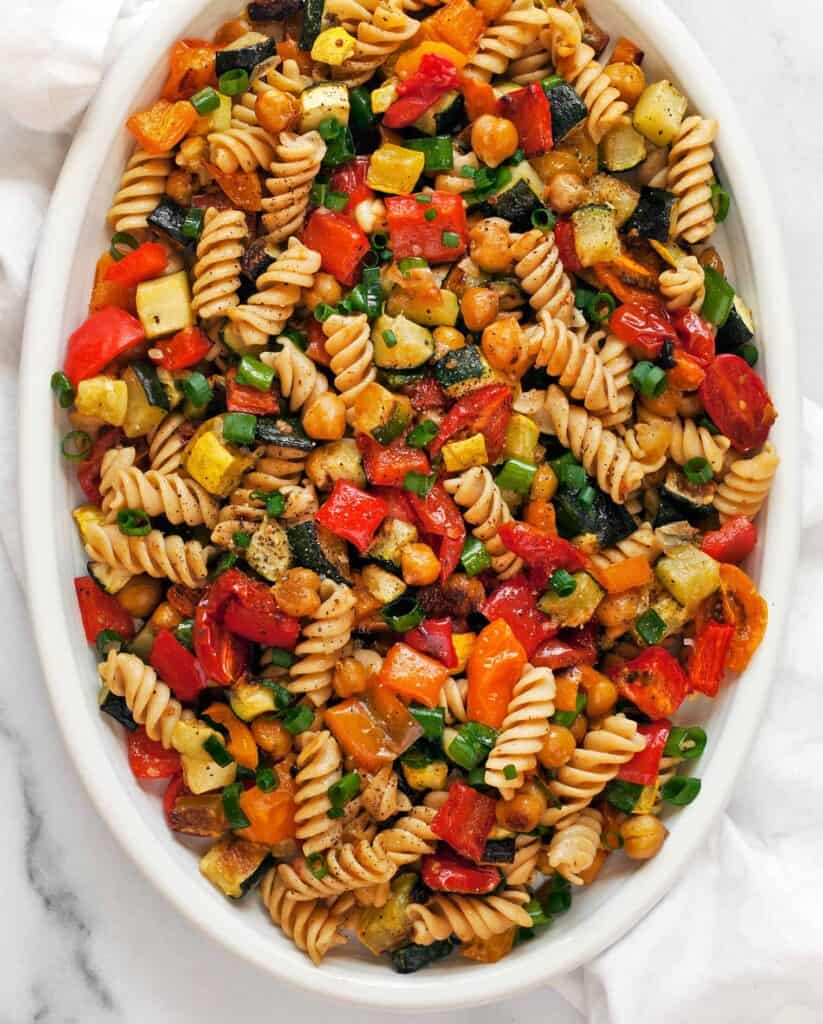 Saturday was the day—our first CSA pickup of the season.

This is only the second time that I've committed to a weekly fruit and veggie box instead of shopping myself at the farmers market.

Since it doesn't look like the markets will end up opening like usual this summer in Chicago, it's best way I could support a farm and get my weekly produce.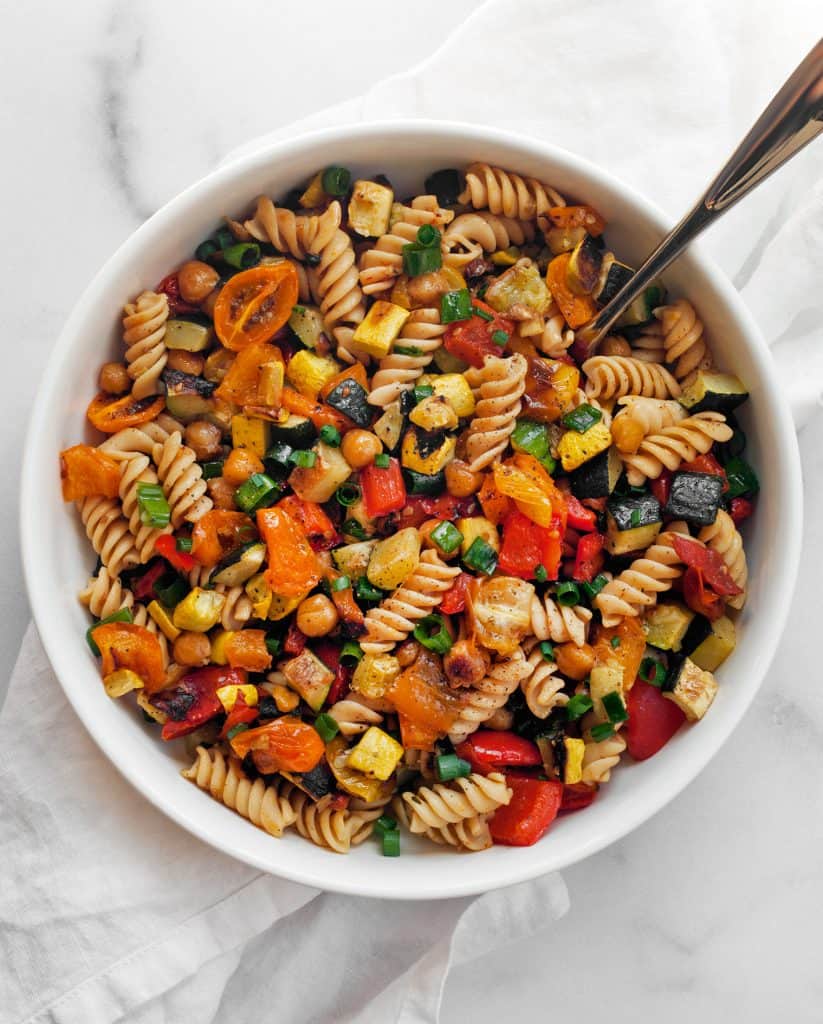 During my first CSA experience, the amount totally overwhelmed me even though it only ran from October to early December.

I chopped most of the veggies and stashed them in the freezer for soup. The squash and other root vegetables sat on the counter until I roasted them.
Spring and summer produce doesn't have that kind of shelf life. You have to use them pretty quickly or else they will go bad.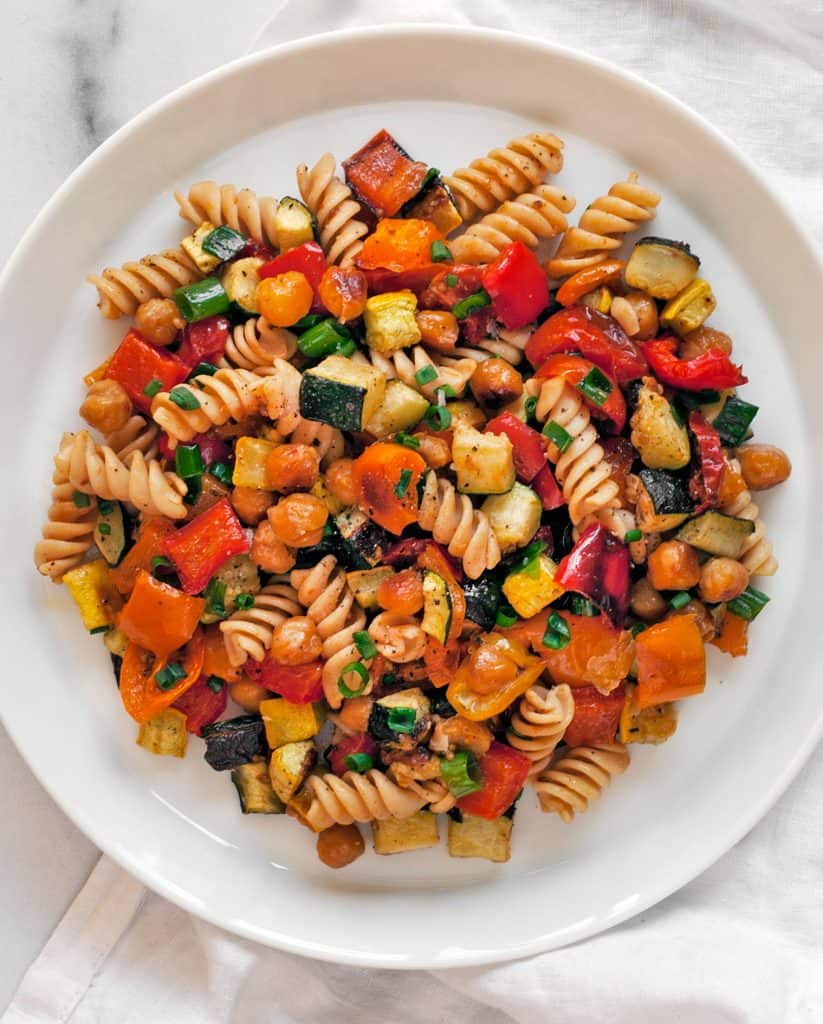 In anticipation of being bombarded, in a good way, with an assortment of greens, fruits and veggies, I decided to clean out what I had my kitchen.

I made roasted vegetable chickpea pasta salad.

It was a super easy way to use a lot all at once.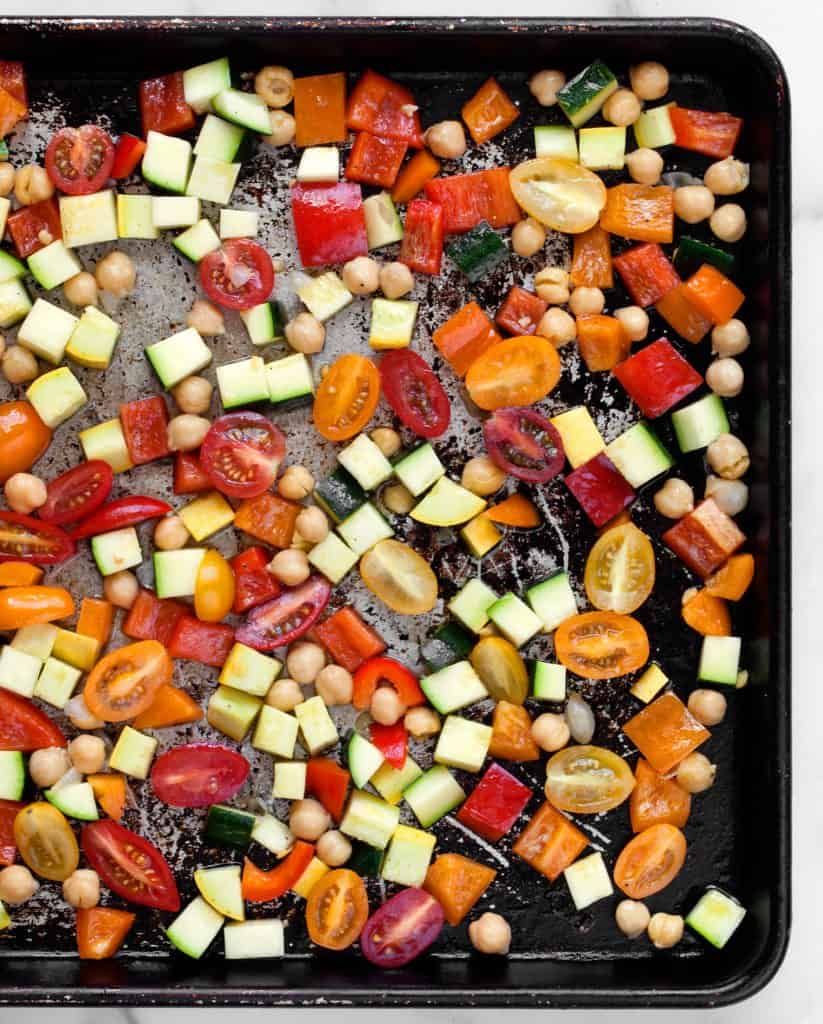 How To Make Roasted Vegetable Chickpea Pasta Salad
I started by preheating the oven to 400 degrees F.

In a big bowl, I combined diced zucchini, yellow squash, bell peppers, halved cherry tomatoes and chickpeas.

With a big glug of olive oil and a generous sprinkle salt and pepper, I tossed all the vegetables together and spread them across two sheet pans.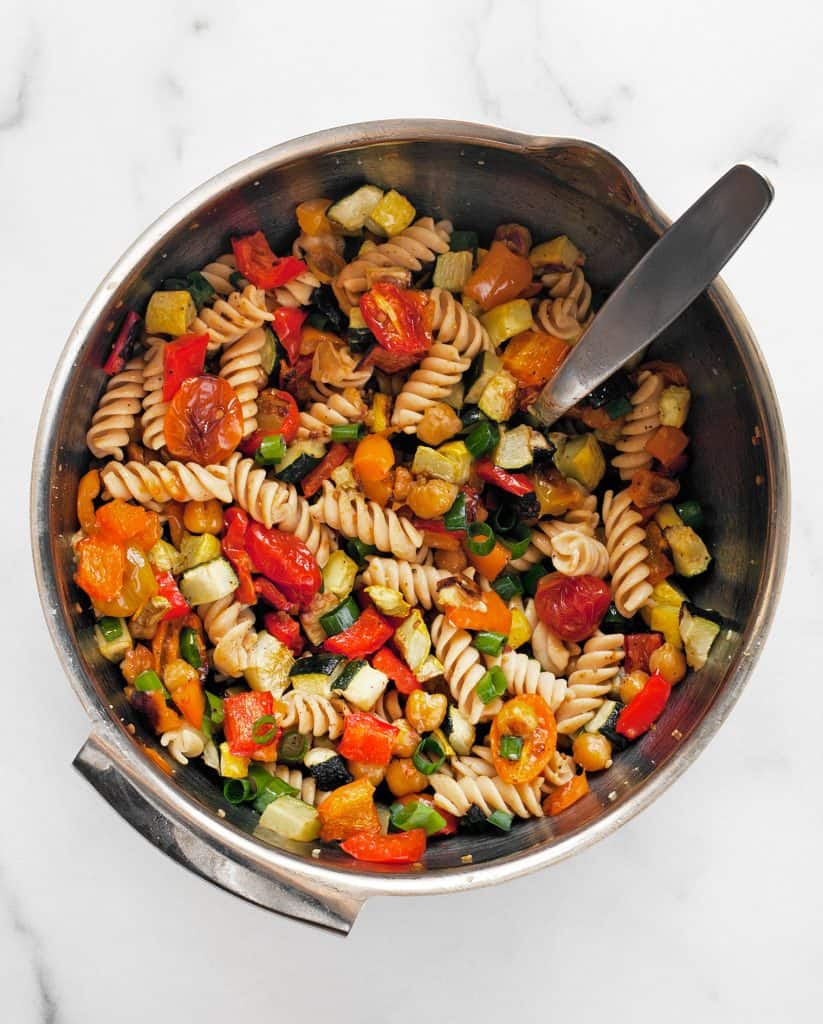 While they were in the oven, I made chickpea pasta on the stove.

Chickpea is my favorite kind of alternative pasta. And I love going all in eating it with actual chickpeas especially ones that have been roasted and are crispy.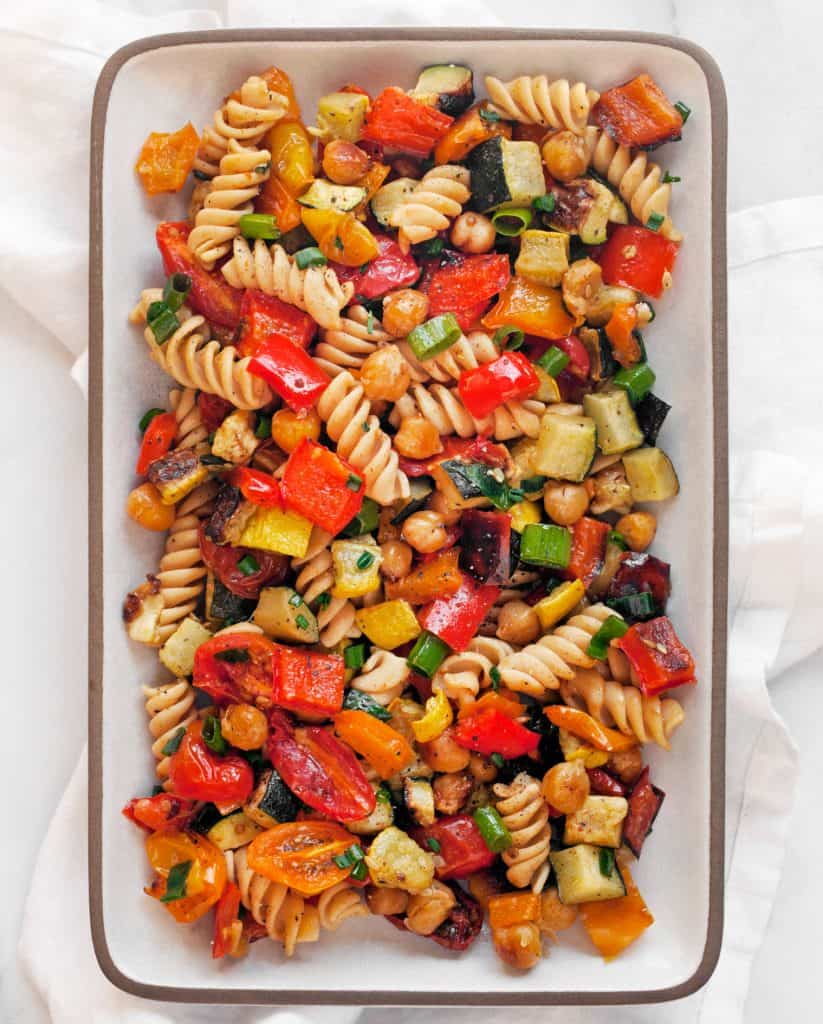 Once the vegetables were roasted and brown at the edges, I folded them warm into the corkscrew-shaped pasta with sliced scallions.

I used a spoon to scoop up all the olive oil leftover on the sheet pans.

The tomatoes broke up as they were stirred in, so they added more flavor. There was no need for anything else besides a little salt and pepper to taste.

You can eat this roasted vegetable chickpea pasta salad warm, at room temperature or cold from the fridge.
Print
Roasted Vegetable Chickpea Pasta Salad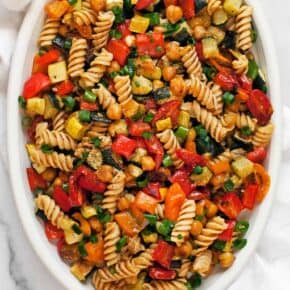 Prep Time:

5 minutes

Cook Time:

30 minutes

Total Time:

35 minutes

Yield: Serves

4

1

x
Scale
Ingredients
1 zucchini, diced
1 yellow squash, diced
2 bell peppers, diced
1 pint cherry tomatoes, halved
1–15 ounce can chickpeas, drained and rinsed
2 tablespoons olive oil
1 teaspoon kosher salt
1/2 teaspoon black pepper
4 ounces chickpea fusilli or rotini
2 scallions sliced
Salt and black pepper to taste
Instructions
Preheat the oven to 400 degrees F.
In a large bowl, combine the zucchini, squash, peppers, tomatoes and chickpeas. Toss with olive oil, salt and pepper.
Spread the vegetables in a single layer across 2 sheet pans.
Roast the vegetables until they are browned at the edges and the chickpeas are crispy, about 30 minutes.
While the vegetables are in the oven, cook the pasta according to the package instructions. Drain and rinse with cold water.
Transfer the pasta to a large bowl. Spoon the vegetables and leftover olive oil on the pans into the pasta stirring to combine. Season with salt and pepper to taste.
Serve warm, at room temperature or chilled from the refrigerator.
SHARE THIS