Each Sunday night I line up stacks of bread to make peanut butter and jelly sandwiches for the week's lunches.

PBJ has been my lunch of choice since kindergarten. I think I still love it so much because it makes me nostalgic.
Perhaps my mom wouldn't be as enthusiastic considering she was the one who had the task of doing the weekly sandwich assembly.
Looking back on it, my brother and I really should have offered to take over once we were old enough to wield a butter knife. You don't need much skill to make a classic PBJ.
I know my mom didn't mind lunch-making that much, but I'm sure she would have appreciated us taking a task off her plate.


There's a shelf in the freezer where I store the sandwiches in neat stacks. In the morning I throw one into my purse on my way to work, and my husband puts one in his bag.

Traveling with a frozen sandwich means it has built in protection. By lunchtime it is perfectly thawed without being smashed.

Despite all my efforts to make things from scratch, my PBJs end up on uninspired, squishy supermarket bread. That shelf-stable bread defies the odds of freshness thanks to some added ingredients.

Grocery bread isn't just a simple mix of flour, water and yeast.
Craving something more wholesome and feeling a bit ambitious, I baked two loaves of whole wheat bread from scratch. I used a mix of bread and whole wheat flour along with wheat germ.

The loaves were sweetened with a touch of honey.
I could hardly contain my excitement cutting off the first slices for the ultimate PBJ. Next time I will make sure to have homemade peanut butter and jam on hand, too.

It was such a treat to have my absolute favorite sandwich on this bread.
Print
Whole Wheat Bread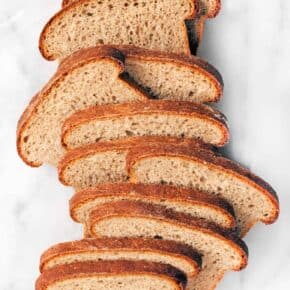 Prep Time:

20-25 minutes + 2 hours rising

Cook Time:

50-60 minutes

Total Time:

3 hours 20-25 minutes

Yield:

2

loaves

1

x
Scale
Ingredients
3–1/2 cups warm water
3 tablespoons honey
2 packets dry active yeast (about 4–1/2 teaspoons)
4 cups bread flour, plus more for dusting
3 cups whole-wheat flour
1 cup wheat germ
2 tablespoons kosher salt
Canola oil for, bowls, plastic wrap and pans
Instructions
In the bowl of a stand mixer fitted with the dough hook, combine the water, honey and yeast. Let stand for 10 minutes until the yeast is foamy.
In a large bowl, combine the bread flour, whole-wheat flour, wheat germ and salt. Stir the dry ingredients into the wet ingredients. Mix on medium speed kneading the dough until it is smooth and elastic, about 5-7 minutes. (Alternatively, you can knead the dough by hand, about 10-12 minutes.)
Shape the dough into a ball, transfer to an oiled boil and cover with plastic wrap. Let rise for 1-1/2 to 2 hours until it has doubled in size.
Preheat the oven to 400 degrees F. Grease two 9-inch by 5-inch loaf pans with canola oil.
On a lightly floured work surface, divide the dough into 2 equal pieces. Pat each into an oval and roll up lengthwise. Transfer the dough to the loaf pans placing them seam side down. Cover with oiled plastic wrap and let rise for 30-45 minutes until doubled in size.
Remove the plastic wrap and bake the loaves for 50-60 minutes until deep golden brown. Let the loaves cool for 5 minutes in the pan before transferring to a wire rack to cool completely.
SHARE THIS