Perfect for sharing, the garlic butter slathered between each layer of dough makes this Pull-Apart Bread pretty special. The final result is fluffy and tear-able loaf.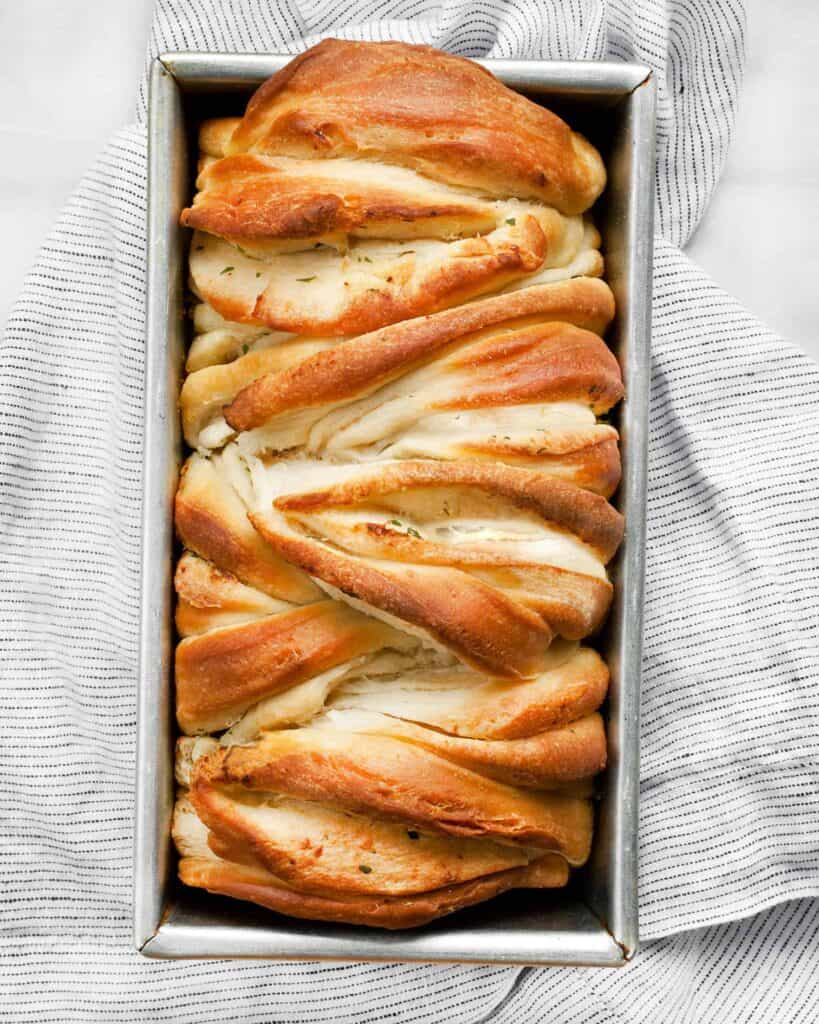 The countdown is on to Thanksgiving, my favorite food holiday of the year.
If you have been following along with the blog, you know I say that exact thing every November.
Apologies for the repetition! But I have talked to other people who feel the same way.
Per usual, I have sides and dessert on the brain right now and definitely bread since far too often it is a forgotten detail of a big meal.
Of course there's nothing wrong with a store-bought loaf.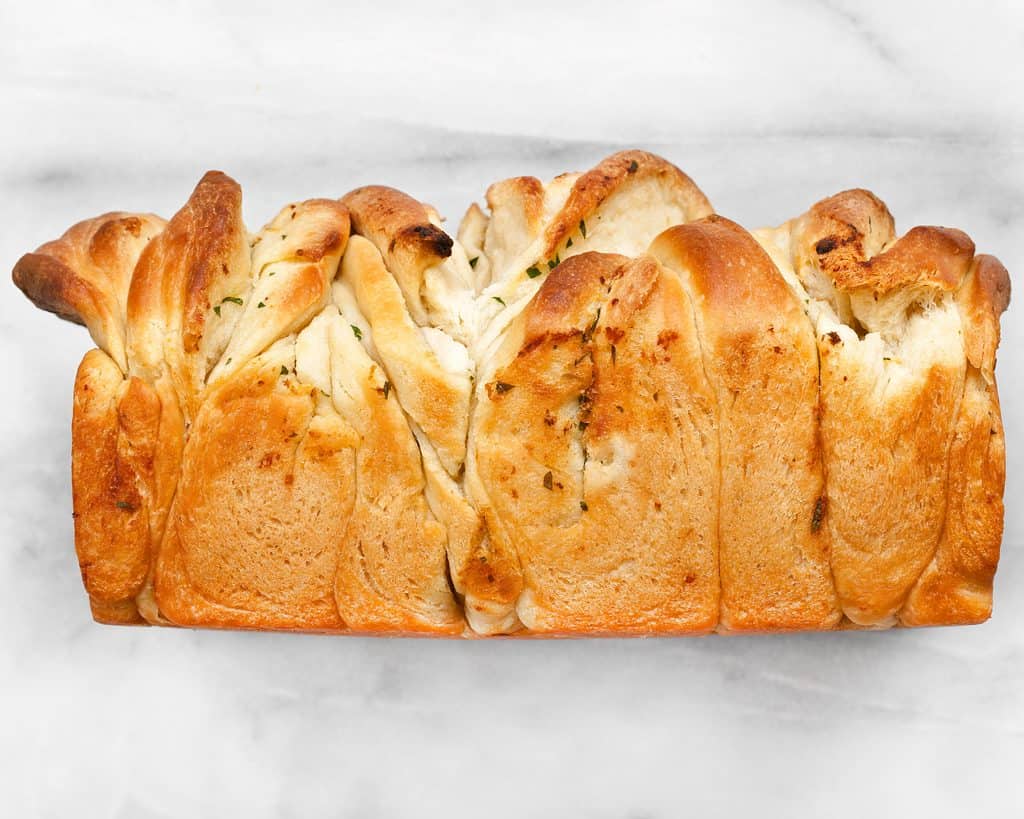 Actually, one of the best tips for any big meal is to figure out what shortcuts to take advantage of to relive some of the pressure of turning out a multi-dish meal.
If you are going to do homemade bread, then I say go all in.
A loaf of pull-apart bread is worthy of the extra work.
I try to figure out how to squeeze baking it in between all the classic oven hogs like turkey that take over on T-Day.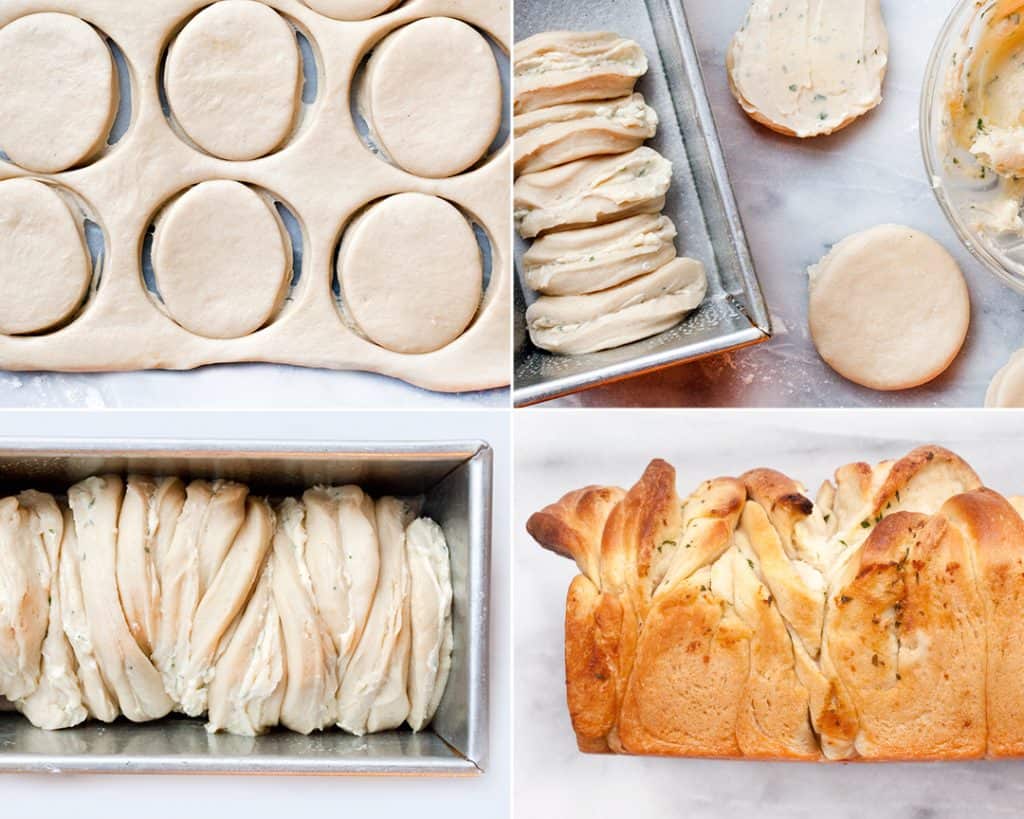 How To Make Pull-Apart Bread
The dough for pull-apart bread is enriched with milk and butter. After giving the yeast time to make the dough rise, then the real work starts.
Before tackling the dough, you make a fragrant garlic butter spread.
It's important to have the dough and the garlic butter ready in advance of assembly.

First you roll out the dough and use a 3-inch round cookie cutter to cut out circles.
With those dough cutouts, you spread the garlic butter on one side and fold them in half.
Then you tuck the half-moon garlic-buttered dough tightly into a loaf pan.
A second rise happens after that, so the dough really puffs up.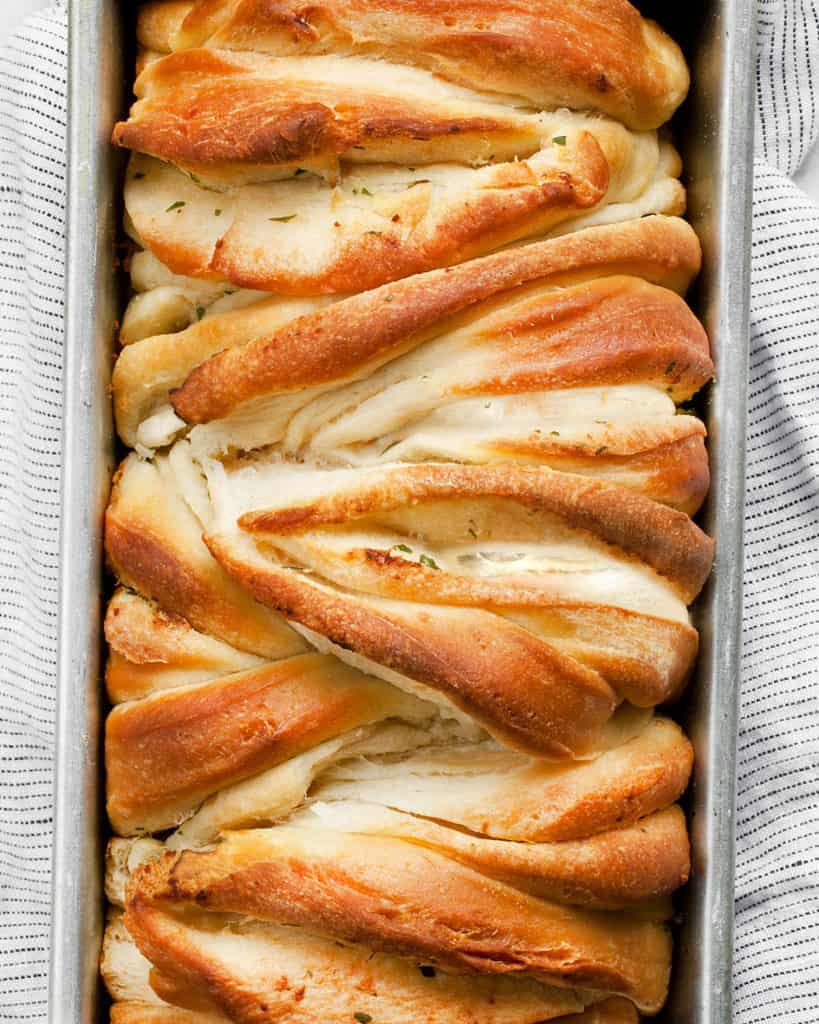 The final result is a beautiful bread with buttery layers that lend themselves to sharing.
When my husband tried pull-apart bread for the first time, he said it was like the Pepperidge Farm rolls he loved as a kid, which is a definite compliment in my book!
No knife is required. Just a gentle tug and the loaf splits into individual rough slices.
Print
Pull-Apart Bread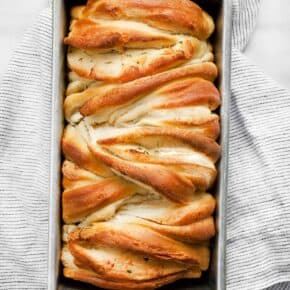 Author:
Prep Time:

3 hours 30 minutes – 4 hours

Cook Time:

30-40 minutes

Total Time:

4 hours – 4 hours 40 minutes

Yield:

1

loaf

1

x
Scale
Ingredients
For dough
1 cup milk
1/4 cup unsalted butter
3 tablespoons sugar
2 teaspoons kosher salt
2 large eggs
2 teaspoons active dry yeast
4 cups all-purpose flour plus more for work surface
1 tablespoon potato flour
For filling
1/2 cup (1 stick) unsalted butter at room temperature
1/2 teaspoon kosher salt
1 garlic clove, minced
1 tablespoon chopped fresh parsley
Instructions
In a large saucepan over low heat, warm the milk, butter, sugar and salt, stirring until the butter has melted. Allow the mixture to cool to lukewarm. Pour into the bowl of a stand mixer fitted with the dough hook. Add the eggs, yeast and flour. Mix on low for a couple minutes until the dough is shaggy. Increase the speed slightly and knead the dough until smooth and elastic, about 3-4 minutes. Transfer the dough to an oiled bowl, cover and let rise for 1-1/2 to 2 hours until nearly doubled in volume.
While the dough is rising, make the filling in a small bowl by whisking together the butter, salt, garlic and parsley.
On a lightly floured work surface, roll out the dough until it is about 1/4-inch thick. Use a 3-inch round cookie cutter to cut out circles. Reroll the scraps and repeat. Spread the butter filling on one side of the circles and fold in half. Place in a greased 9-inch by 5-inch loaf pan round side up. Once the pan is full, cover with greased plastic wrap and let it puff up for 1-1/2 hours.
Preheat the oven to 350 degrees F. Bake the bread for 30-40 minutes until golden brown. Let the bread cool for 10 minutes before removing from the pan. Serve warm.
SHARE THIS