Sheet Pan Nachos
on Jan 22, 2018, Updated Jul 09, 2023
Topped with black beans, refried beans, corn, red onions and tomatoes, these sheet pan nachos can be kept vegetarian, or you can add shredded rotisserie chicken or taco-seasoned ground beef.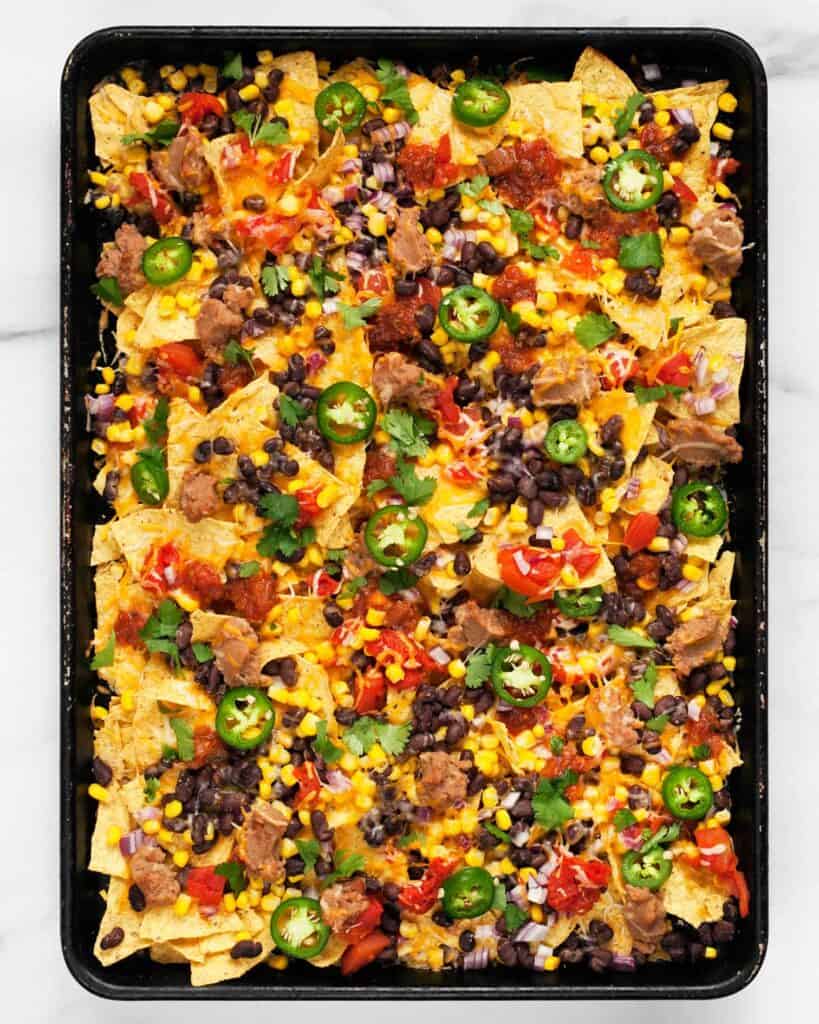 We had football on TV yesterday afternoon, but I didn't care who won either game. Even though my team didn't make it to the playoffs once again, I still like watching sports.
Now I am fully focused on snacks like chips. They are the most important part of any sporting event, right? I know I'm not the only one who likes to crunch my way through both halves of a football game.
With the Super Bowl only weeks away, I was experimenting with all sorts of things to see what would qualify as worthy of the ultimate game-day snack. The requirements are that it has to be tasty, uncomplicated, feed a crowd and be customizable.
When you're entertaining a group, recipes that are adaptable to a range of tastes and dietary restrictions are key to keeping everyone full and happy, even though you can't control the outcome of the game.
These sheet pan nachos manage to meet my lengthy list of requirements. With a combination of beans, tomatoes, cilantro, corn and shredded cheese on these tortilla chips, they are very simple to throw together and bake in the oven. It is the kind straightforward recipe that you can make with your friends are already over at your house.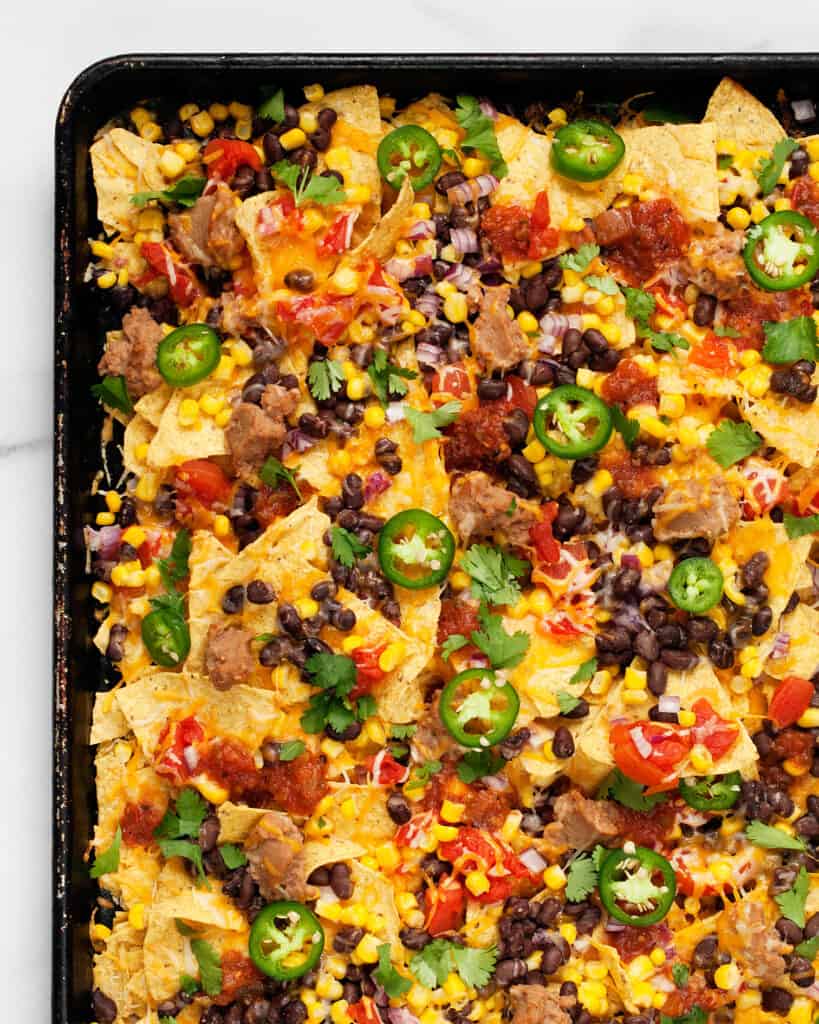 The Ingredients
This is what you need for this nacho recipe:
Tortilla chips: Use whatever chip brand is your favorite. Sometimes I will go for the flavors with a hint of lime.
Shredded cheese: If you can, try to find a Tex Mex cheese blend that includes Monterey jack cheese and cheddar. This is a good choice for melty cheese.
Black beans: I love black beans in this recipe, but you can also use pinto beans.
Corn: It doesn't matter that if it's not corn season. Canned or frozen corn works fine. If the corn is frozen make sure to run it under cold water in a strainer to thaw it in advance.
Tomatoes: I dice a medium sized tomato.
Onions: My preference is chopping up a red onion.
Refried beans: Creamy refried beans are another hearty and filling ingredient especially if you are planning to keep these vegetarian.
Jalapeños: For a little heat, I add sliced jalapenos.
Cilantro: As a cilantro-lover, I always finish my nachos with torn cilantro leaves. Since I know this is a love-it or hate-it herb, you can skip if if you fall in the other camp.
Salsa: Use a store bought salsa. You can also swap it out for pico de gallo or include both.
Cooked chicken or ground beef: Including a protein is totally optional. Split your nachos onto smaller sheet pans or add the proteins when your finished baking them to satisfy everyone's dietary preferences.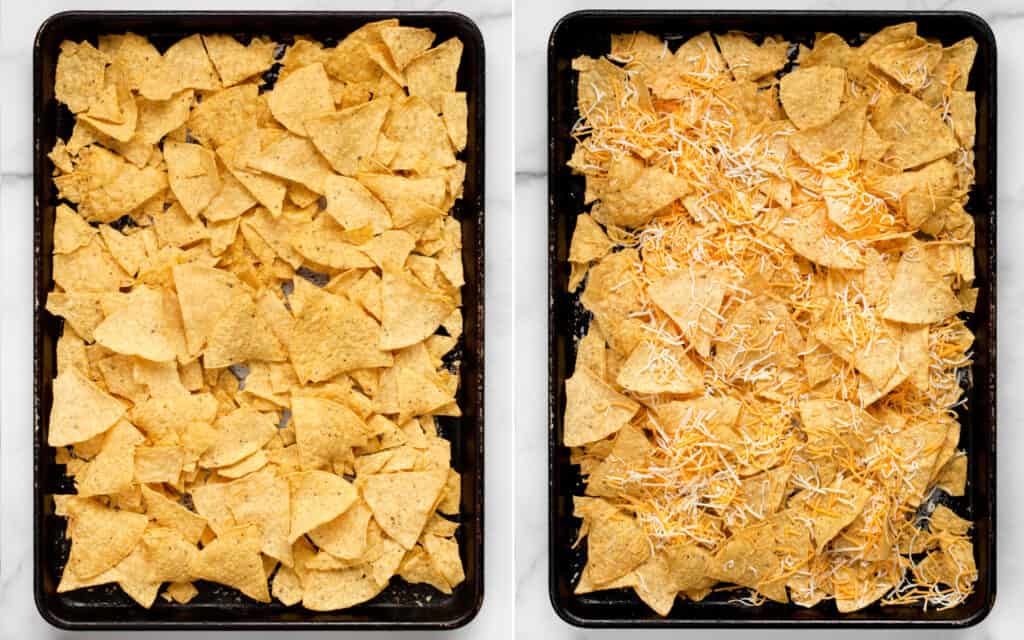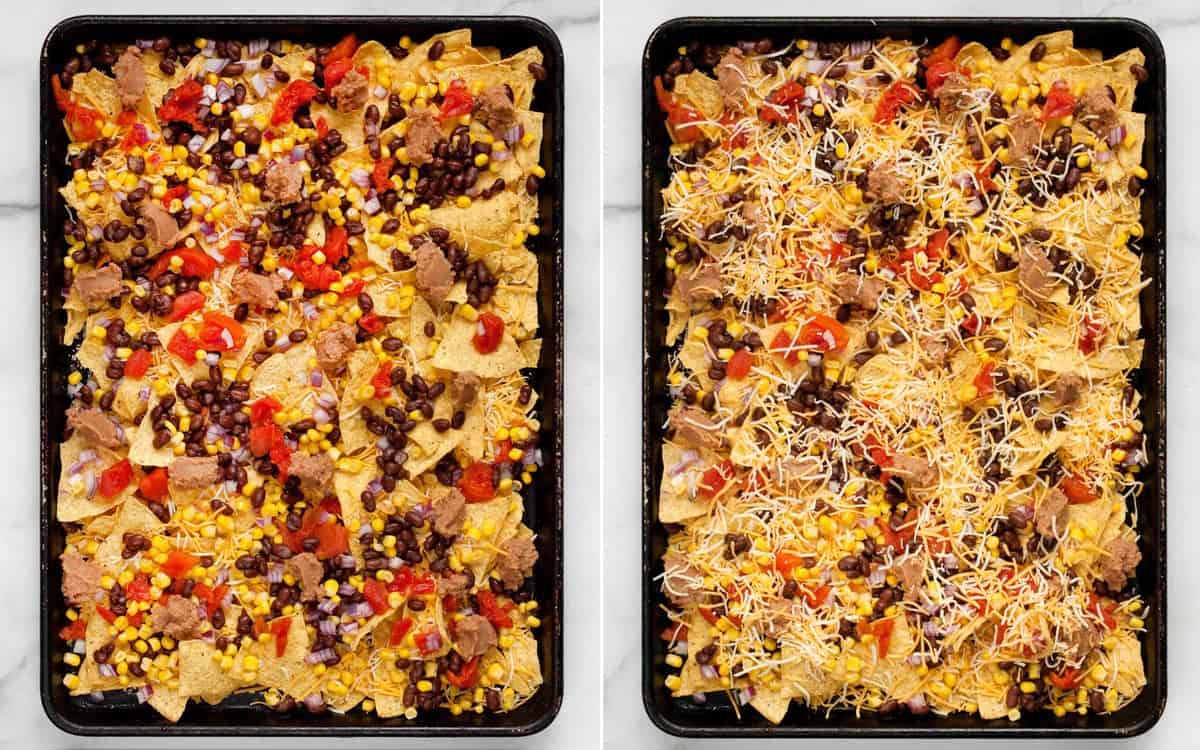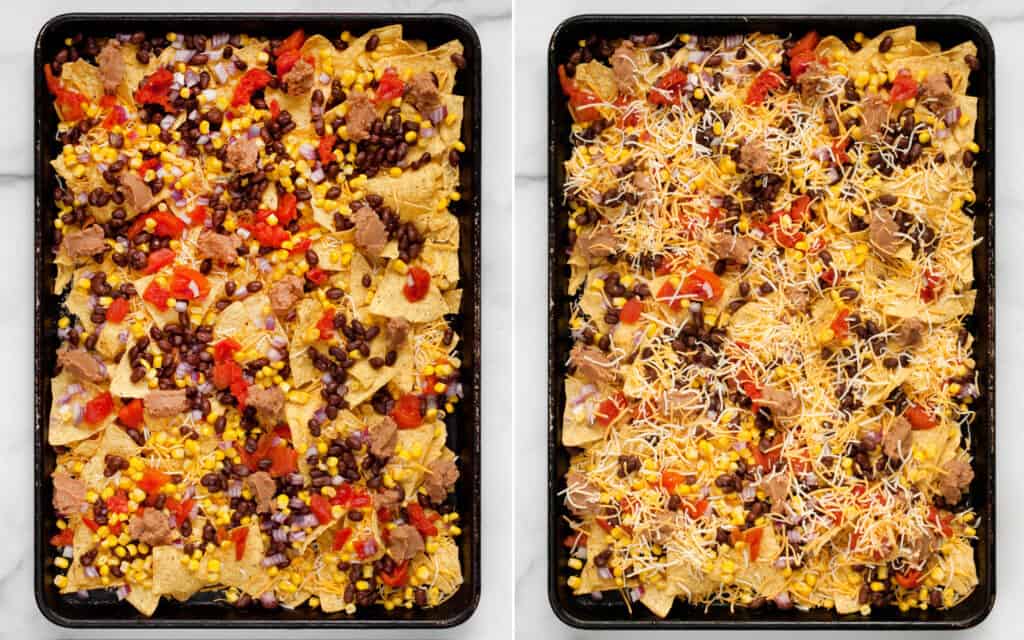 Assembling Your Nachos
This is all about layering. First, I scatter a bag of tortilla chips over a large baking sheet into an even layer.
Then I sprinkle on about a cup of melty shredded Mexican cheese blend which is usually is a mixture that includes cheddar cheese, Monterrey jack and more.
I like giving the chips a little bit of a toss to make sure there is cheese underneath them since you don't want to end up with any chips that are plain.
Then I add black beans, corn, chopped red onions and diced tomatoes.
After that, I dollop on refried beans with a spoon. I am a big fan of this bean mixture with whole beans and mashed beans.
Finally, I top the nachos with another half cup to a cup of cheese. It depends on your personal preference of how much cheese you like on your chips.
It only takes 5-7 minutes in the oven at 400 degrees F for the chips to warm and for the cheese to melt.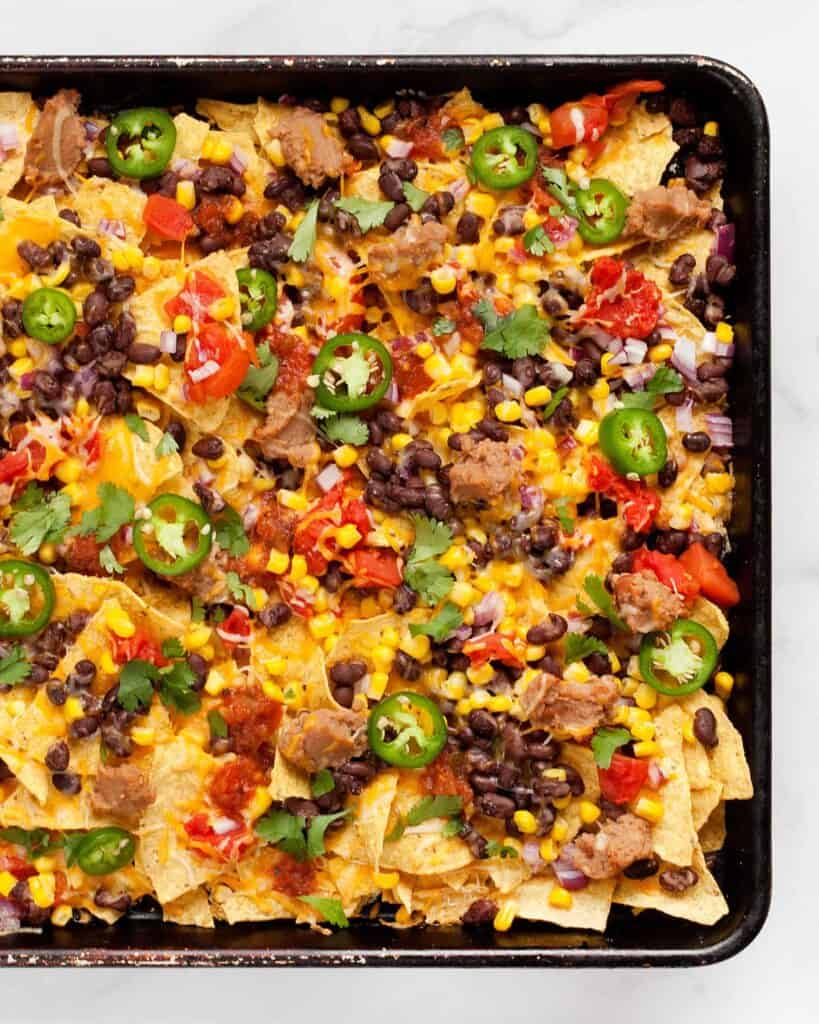 How To Customize for Vegetarians & Meat-Eaters (Variations)
I usually keep my nachos vegetarian, but you can add shredded chicken, steak or taco-seasoned ground beef. Just make sure that any protein that you add is already cooked.
Depending on your group, you can even put the chicken or meat on after the nachos have finished baking.
Then you can satisfy the vegetarians and the carnivores letting them do their own additions.
You also can split the nachos onto two quarter-sized sheet pans and add the protein before you bake the nachos in the oven. Again, this is a nacho recipe that makes customizing extremely easy.
Topping The Nachos
I finish the nachos with sliced jalapenos, chopped cilantro and salsa, and then let everyone dive in. You can also add sliced radishes, black olives, Greek yogurt or sour cream.
If you really want to go all in on the tomatoes, you can spoon on a homemade or store-bought pico de gallo. This will add more fresh tomato and onion flavor.
Remember, you don't need a game for a reason to make these sheet pan nachos. I admit we've had them for a snack meal!
Sheet Pan Nachos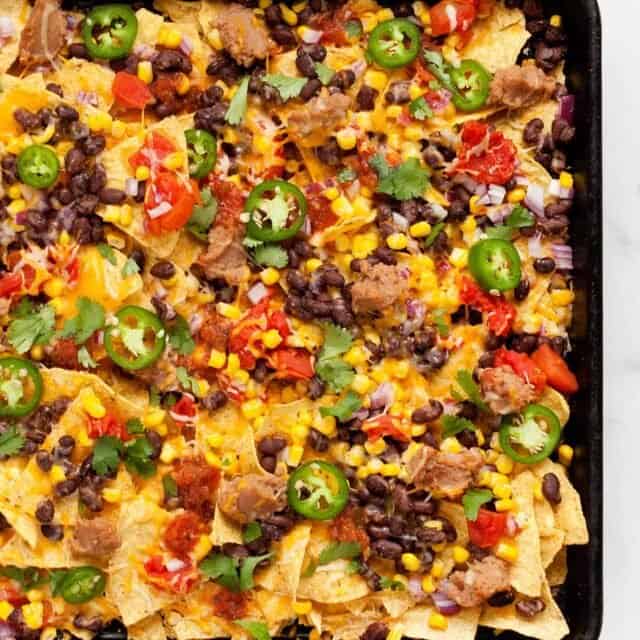 Topped with black beans, refried beans, corn, red onions and tomatoes, these sheet pan nachos can be kept vegetarian, or you can add shredded rotisserie chicken or taco-seasoned ground beef.
Ingredients
1-10

oz.

bag tortilla chips

1-1/2 – 2

cups

shredded Mexican cheese blend

1-15

ounce

can black beans

rinsed and drained

1

cup

canned or frozen corn

thawed if frozen

1

medium tomato

diced

1

small red onion

diced

1

cup

refried beans

Cooked chicken or ground beef

optional

1

jalapeno

thinly sliced

1

handful cilantro leaves

torn

1/3

cup

salsa
Instructions
Preheat the oven to 400 degrees F.

Spread the chips across a 13-inch by 18-inch sheet pan. Add half the cheese and toss around the chips, so there is some cheese underneath the chips.

Top with black beans, corn, tomatoes and onions. Use a spoon to dollop the refried beans over the chips. Add chicken or ground beef, if using. Sprinkle with the remaining cheese

Bake the nachos until the cheese melts, about 5-7 minutes. Top with jalapenos, cilantro and salsa before serving.
Notes
You can bake the nachos on smaller sheet pans if you want to do vegetarian and non-vegetarian versions.
Also, if you are adding chicken or beef, you can wait to top the cooked nachos once they are out of the oven.
Nutrition
Calories:
286
kcal
|
Carbohydrates:
43
g
|
Protein:
10
g
|
Fat:
9
g
|
Saturated Fat:
2
g
|
Polyunsaturated Fat:
4
g
|
Monounsaturated Fat:
2
g
|
Trans Fat:
0.03
g
|
Cholesterol:
4
mg
|
Sodium:
620
mg
|
Potassium:
367
mg
|
Fiber:
8
g
|
Sugar:
3
g
|
Vitamin A:
336
IU
|
Vitamin C:
8
mg
|
Calcium:
155
mg
|
Iron:
2
mg
Nutrition information is automatically calculated, so should only be used as an approximation.