Shishito Pepper and Cucumber Salad

With smoky, spicy flavor, this grilled shishito pepper and cucumber salad is balanced with cool cucumbers, cherry tomatoes and lemon vinaigrette.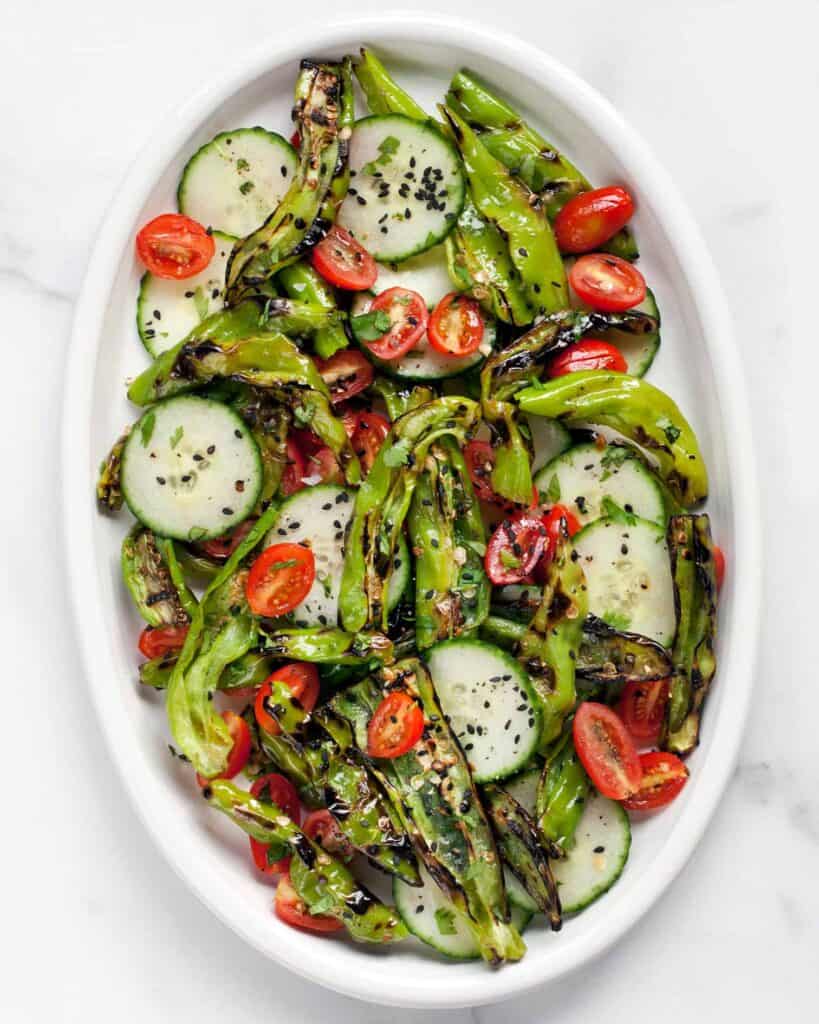 The first time I tried a shishito pepper I was so scared my palms were practically sweating.
I like spicy food, but I'm kind of a novice. Again, I think it was the fear of breathing fire that kept me away from hot things.

Only in the last few years have I fully embraced fiery foods.

I still approach them with caution, but I also think about the time wasted that I could have been enjoying lots of spicy culinary options.

Lately I've had a thing for shishito peppers.

They have a medium heat level. Shishito peppers are smoky and meant to be cooked in a hot skillet on the stove or on the grill. Both are the best ways to blister the skin and further enhance their flavor.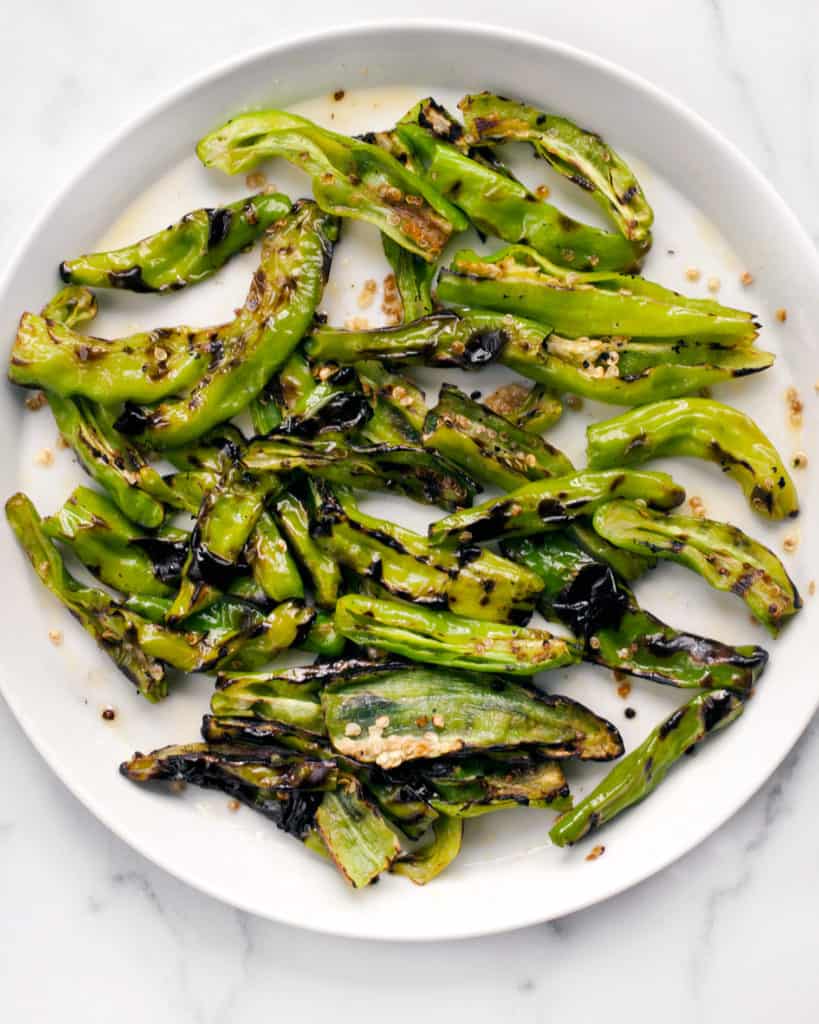 How To Make A Shishito Pepper and Cucumber Salad
Usually when I make shishitos, they are for an appetizer. I leave them whole and do no other prep than make a dipping sauce.
But I had a big debate when I decided to make this shishito pepper and cucumber salad. The tops of these peppers act as a handle, and you don't eat them.

The thought of having to slice off the tops as I ate the salad, did not appeal to me. I had visions of a clean plate with piled-up pepper tops pushed to one side.
Before I grilled the shishitos, I sliced the tops off and halved them lengthwise. Then I tossed them in olive oil, salt and pepper. There were some loose seeds that fell out, but they weren't that messy.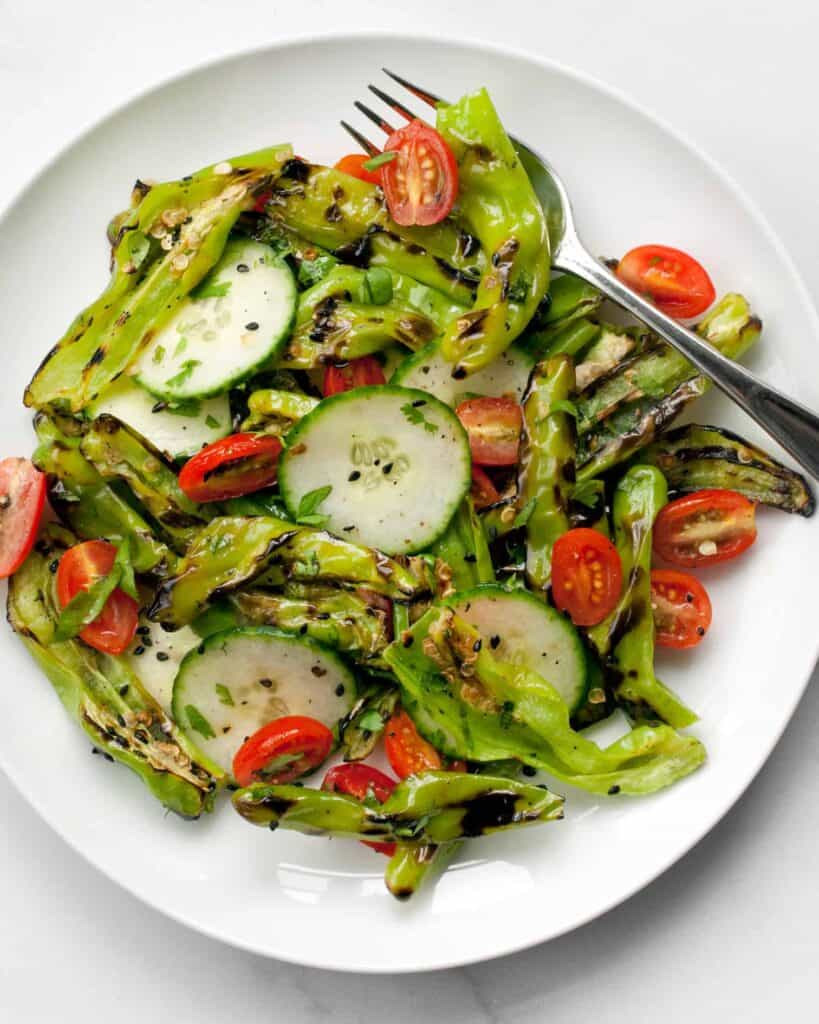 On the hot grill, I carefully arranged the peppers so they wouldn't slip between the grates. I lost only 3. If you are concerned, you can use a grill pan.

Once the peppers were blistered, I combined them with some fresh and more mild elements. I wanted to offset the spicy heat.

I included sliced cucumbers and halved cherry tomatoes. Then I sprinkled on chopped cilantro.

To finish off the shishito pepper and cucumber salad, I drizzled on lemon vinaigrette with rice wine vinegar and black sesame seeds.
Print
Shishito Pepper and Cucumber Salad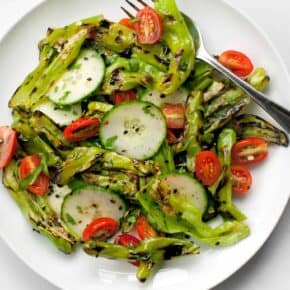 Author:
Prep Time:

10 minutes

Cook Time:

2 minutes

Total Time:

12 minutes

Yield: Serves

4

1

x
Scale
Ingredients
For salad
12 ounces shishito peppers
2 teaspoons olive oil
1/2 teaspoon kosher salt
1/4 teaspoon black pepper
1/2 English cucumber, thinly sliced
1 cup halved grape or cherry tomatoes
1/4 cup roughly chopped cilantro
2 teaspoons black sesame seeds
For vinaigrette
2 tablespoons lemon juice
1 tablespoon rice wine vinegar
2 tablespoons olive oil
1/2 teaspoon kosher salt
1/4 teaspoon black pepper
Instructions
Preheat a gas or charcoal grill on high heat.
Toss the shishito peppers in olive oil, salt and pepper. Grill the peppers on both sides until they are blistered, about 1 minute per side.
In a large bowl, combine the peppers with the cucumbers, tomatoes and cilantro.
For the vinaigrette, whisk together the lemon juice, rice wine vinegar, olive oil, salt and pepper in a small bowl.
Drizzle the vinaigrette over the salad.
SHARE THIS