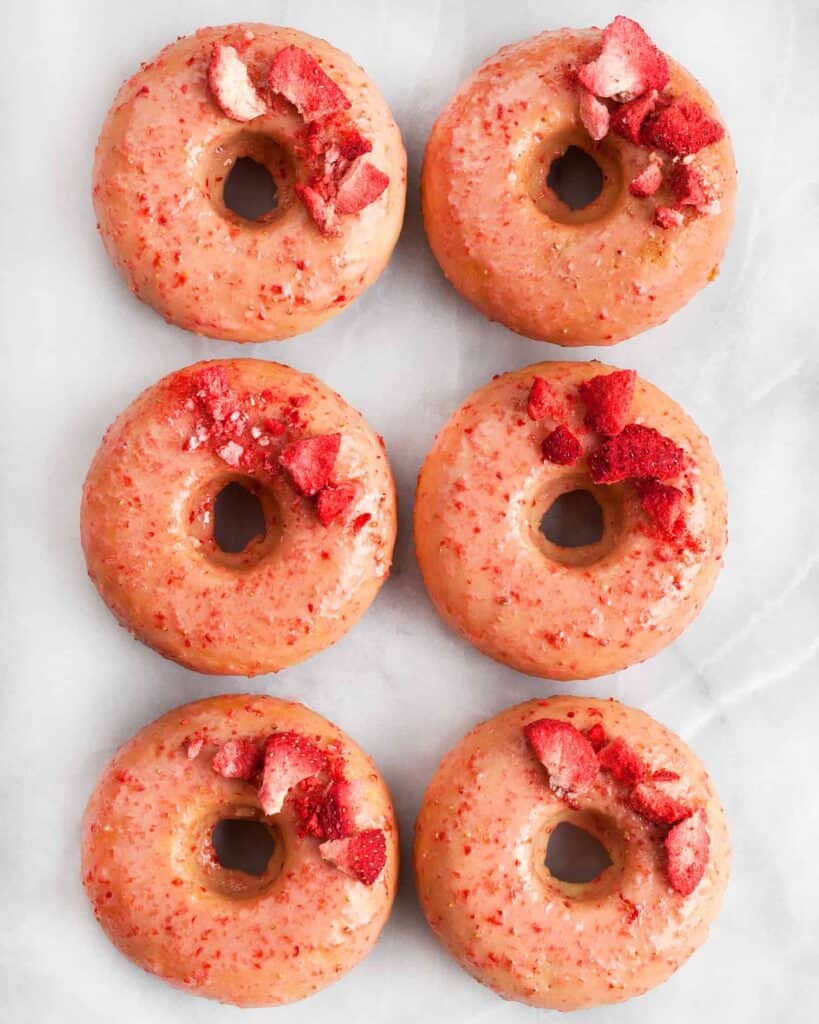 If you saw a crazy lady at the grocery last week jumping up and down in front of the organic strawberries, it could have been me.

Just kidding! I contained myself. It was tough, but that was what actually was happening in my mind when I spotted those gorgeous red berries on sale for $2.99 a pound. I know, $2.99 for organic! Crazy!
I wanted to fill my entire cart. My son, my husband and I love strawberries. How many could we eat before they went bad?
After that debate, I bought just 4 containers. That still seemed like a lot of berries, so my brain immediately went to baking.
I know in my recent raspberry buttermilk cake post I was all about frozen berries, but there's a place for fresh, too, as long as they are in season and economical.

Thinking about pastels and spring treats, I baked strawberry lemon donuts. They turned out pretty and pink!

For the donuts, I beat together the butter, oil, granulated sugar and light brown sugar. After that it was time for the eggs and vanilla extract.

In another bowl, I combined the dry ingredients with lemon zest. Then I alternated mixing the flour mixture into the wet ingredients along with buttermilk. Lemon and strawberries go so well with the tang of buttermilk.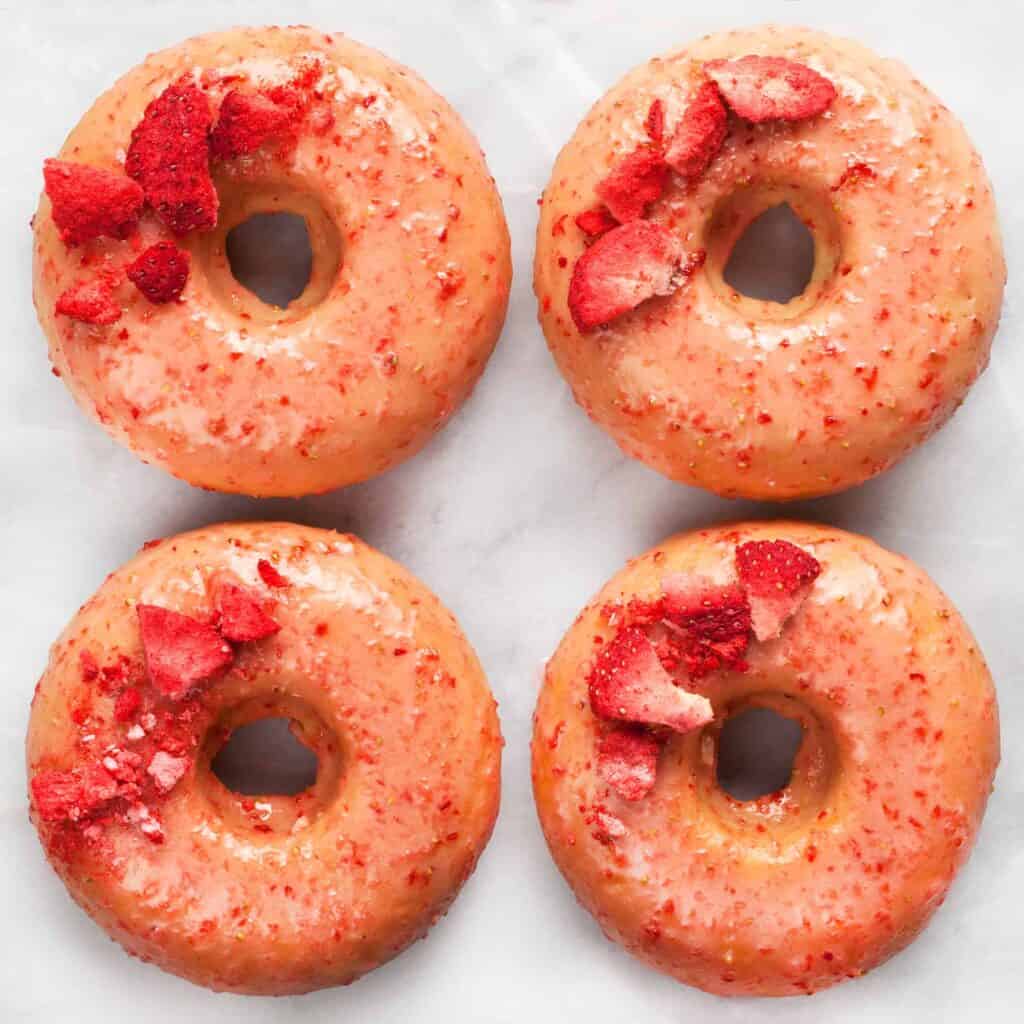 I let the donuts cool completely after they finished baking to prepare them for icing.

To start, I pureed fresh strawberries in the food processor along with buttermilk and lemon juice. I preferred using fresh berries since they aren't as watery as thawed frozen ones.

There were tiny specs of berries that still remained, but I decided against straining them out. It's up to you. I liked the streaks all over the donuts. They were almost like sprinkles.
I dunked the top of each donut into the icing letting the excess drip back into the bowl. For a final decoration, I sprinkled freeze-dried strawberries on top.
Print
Strawberry Lemon Donuts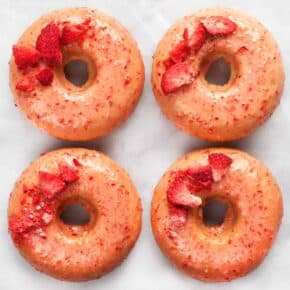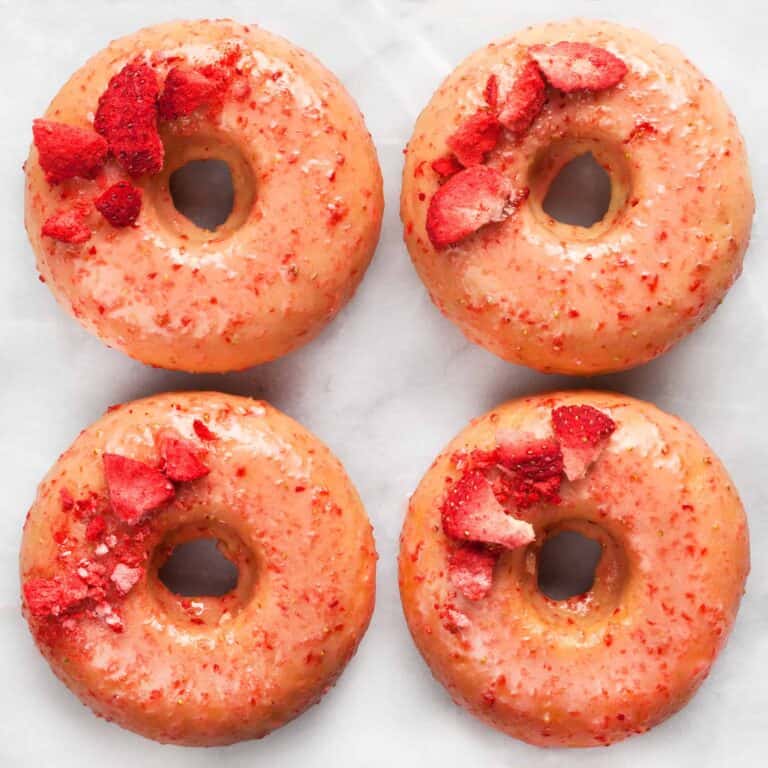 Prep Time:

1 hour 30 minutes plus cooling

Cook Time:

10-12 minutes

Total Time:

1 hour 40-42 minutes plus cooling

Yield:

15 donuts
Ingredients
For donuts
Non-stick cooking spray
1/4 cup (4 tablespoons) unsalted butter at room temperature
1/4 cup vegetable oil
1/2 cup granulated sugar
1/3 cup light brown sugar
2 large eggs
1 teaspoon vanilla extract
2-2/3 cups all-purpose flour
1-1/2 teaspoon baking powder
1/4 teaspoon baking soda
3/4 teaspoon kosher salt
Zest of 1 lemon
1 cup buttermilk
For icing
3/4 cup fresh hulled strawberries
1 teaspoon lemon juice
1 tablespoon buttermilk
1 teaspoon vanilla extract
3 cups confectioners' sugar, sifted
Freeze-dried strawberries for decorating
Instructions
Preheat the oven to 350 degrees F. Grease a 6-cup donut pan with non-stick cooking spray. In the bowl of a stand mixer fitted with the paddle attachment, beat the butter, oil, granulated sugar and light brown sugar until smooth, about 3 minutes. Beat in the eggs followed by the vanilla extract. In a large bowl, combine the flour, baking powder, baking soda, salt and lemon zest. Mix in the flour in 3 additions alternating with the buttermilk in 2 additions, starting and finishing with the flour
Transfer the batter to a piping bag or a Ziploc bag with a corner cut off, and pipe the batter into the pan. Bake for 10-12 minutes until a toothpick inserted into a donut comes out clean. Wait 3 minutes before carefully removing the donuts from the pan and letting them cool on a wire rack. Bake the remaining batter in the donut pan.
Once the donuts have cooled completely, make the icing. Puree the strawberries with the lemon juice, buttermilk and vanilla extract in a food processor. In a large bowl, whisk the pureed strawberries with the confectioners' sugar until smooth. Dip the tops of the donuts into the icing letting the excess drip back into the bowl. Decorate with freeze-dried strawberries. Let set for 1 hour before serving.
SHARE THIS