Spinach Feta Egg White Bites
on Jan 02, 2022, Updated Jul 08, 2022
Perfect for busy mornings, these healthy spinach feta egg white bites are easy to assemble. The best part is that they bake in a muffin pan, so they are already portioned out. They also look great if you want to serve them for weekend brunch. Inspired by Starbucks egg white bites, I use roasted tomatoes, but you can chop up roasted red peppers instead if you would rather stay closer to the original.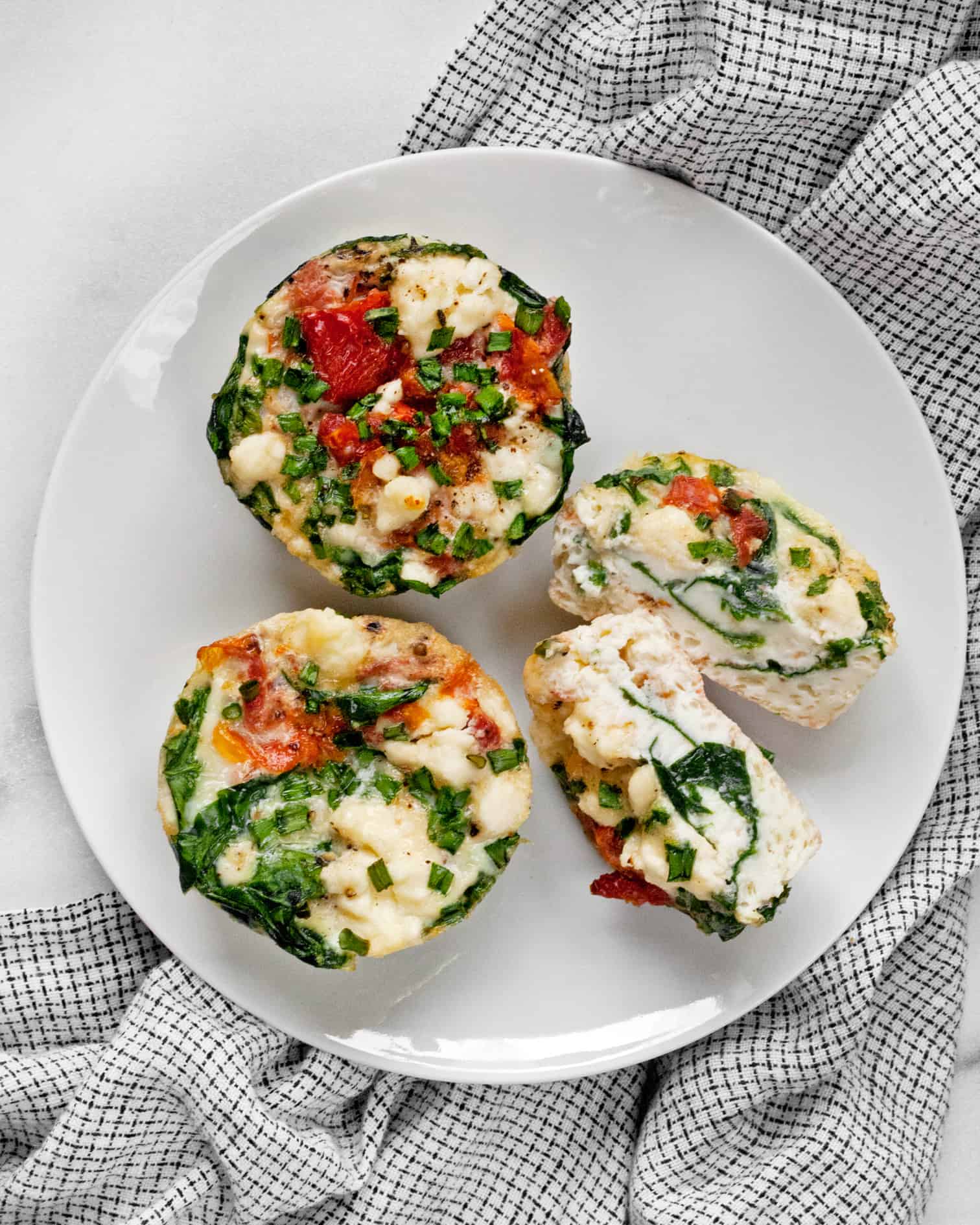 I didn't get into egg whites by choice or for health. That makes no sense. So let me explain. As a lover of cooking all things from scratch including dessert, I learned pretty quickly that the consequences of my batches homemade ice cream were leftover egg whites. If you've never made custard for ice cream, it takes A LOT of egg yolks. And they don't sell cartons of yolks like they do whites at the grocery.
And I think we can agree that egg whites can be kind of boring, but they don't have to be! In fact, they are a great base for adding lots of vegetables and greens. There is so much more that you can do with them other than scrambles and omelets. Baked egg whites are probably one of my favorite ways to prepare them, and it is the best way to put a lot to use in a single recipe.
So Why Eat Egg Whites?
All joking and eye rolling aside about egg whites being a cliché diet food, they manage to be high in protein while being low in calories, cholesterol and fat. See, there's a reason they are sold in cartons and that they are so popular.
Also, eggs are one of the most convenient things to have in your fridge to turn out a fast meal no matter the time of the day.
Baking Egg Whites In A Muffin Pan
Using a muffin pan to bake eggs is great if you are feeding a crowd for breakfast or brunch or if you are looking for timesaving meal prep for the work week ahead for yourself. That's why I have always been a fan of this recipe and my Mini Spinach Frittatas.
For this recipe, I take loose inspiration from those sous vide egg white bites at Starbucks. They have saved me many times when I have been traveling and find myself at a hotel or in an airport and away from my blender and my usual berry smoothie breakfast. I always make it a point to start my day with something nutritious, even better if it's high protein.
In my egg white bites recipe, I go heavier on the spinach because it is such a simple way to incorporate greens into the first meal of the day. This is the kind of effort I think always deserves a high five.
Ingredients & Substitutions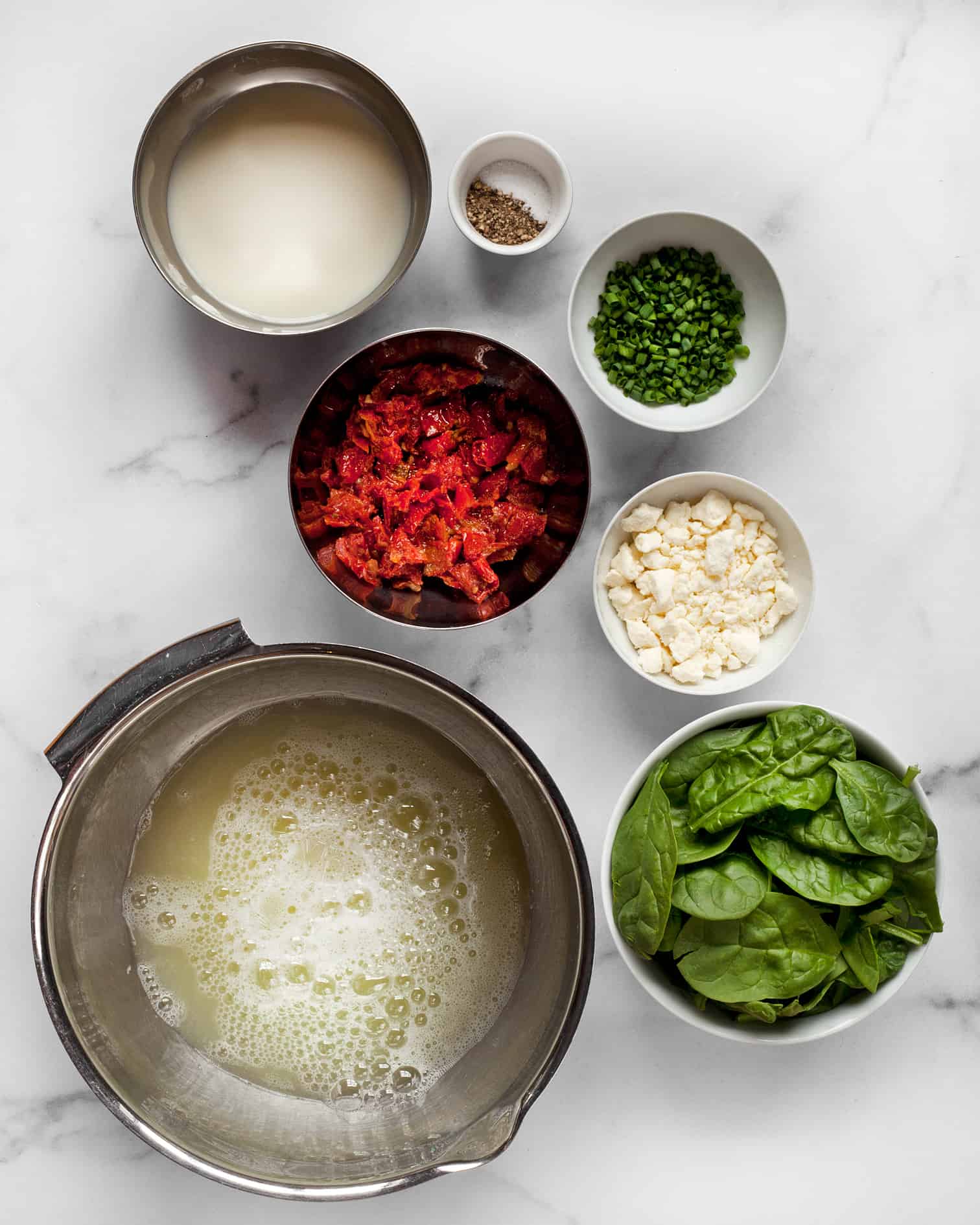 This is what you need:
Egg whites: The recipes calls for a 16-ounce carton of egg whites, which is 2 cups. This makes it, so you polish off the entire container and won't end up with a weird amount of extra whites.
Milk: You can use any kind of milk including cow's milk or a plant-based milk like oat or almond. I reach for whatever I have in my fridge.
Roasted tomatoes (or roasted red peppers): It is up to you if you include roasted tomatoes or roasted red peppers. These should be the jarred kind that you find with the other antipasti and olives in the Italian section at the grocery. If you want to be more true to the Starbucks version, then go with red peppers.
Spinach: Tender baby spinach leaves are preferred because they will wilt slightly as they bake in the eggs.
Feta: A little salty, pungent crumbled feta cheese goes a long way. I love this cheese's strong flavor. It doesn't take much to make its presence known.
Chives: Maybe it's just me, but I think eggs always need something oniony, and chives do that in a delicate way. You could also finely chop green onions or scallions.
Salt and pepper: It is so important to season the egg whites with plenty of kosher salt and black pepper.
How To Make Spinach Feta Egg White Bites
Preheat the oven to 350 degrees F. Grease a 12-cup muffin pan with non-stick cooking spray.
1. Stir together the egg whites, milk, salt and pepper in a large bowl. If you have a mixing bowl that has a spout at one end, this will make it easier to pour into the cups.
2. Fill the muffin cups with fresh spinach and chopped tomatoes or red peppers, depending which you are using.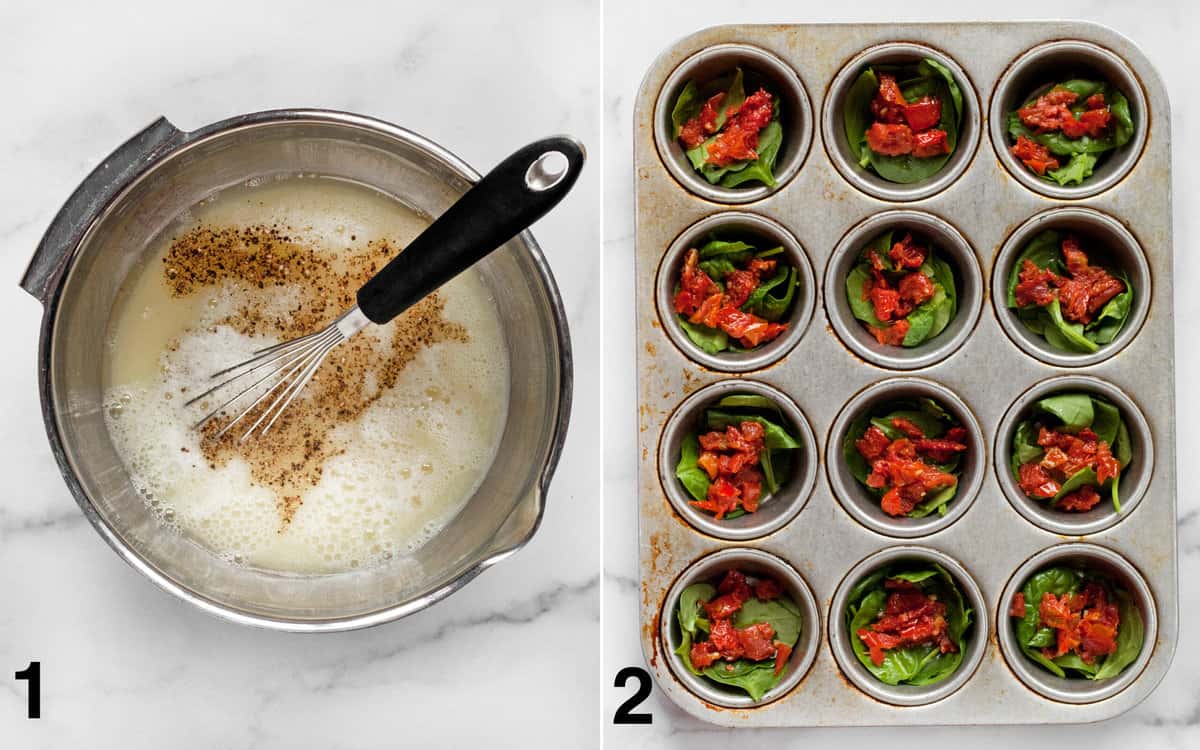 3. Pour in the egg mixture. The cups should end up nearly three-fourths full. The eggs will puff up as they bake, so you don't want to fill them all the way to the top. Top each cup with crumbled feta and chives. Assembling them in this order prevents the cheese from getting lost at the bottom.
4. Bake the egg bites for 12-15 minutes until they are just set. The non-stick cooking spray will prevent them from sticking to the muffin tins. You can run a small paring knife around each cup as needed to help get them out.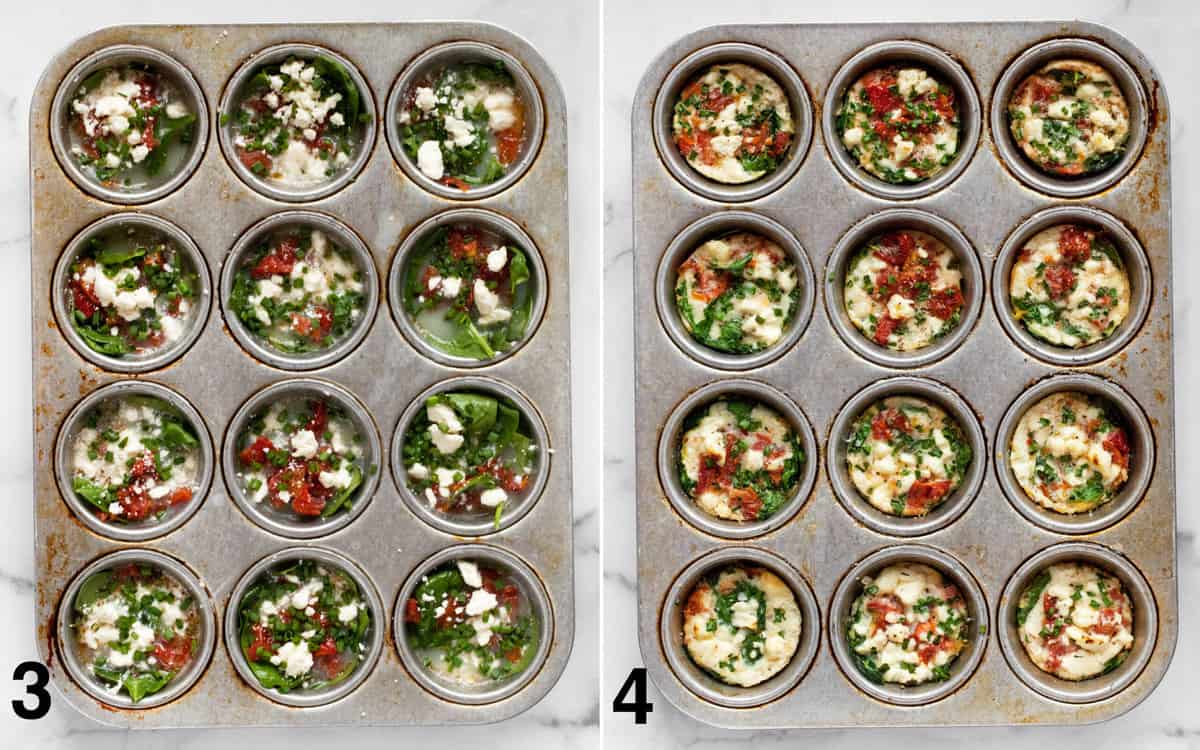 Can You Use Whole Eggs?
Yes. If you prefer using whole eggs, yolk and all, swap out the egg whites, and use 9 large eggs instead. The cook time will be 15-20 minutes.
Serving & Leftovers
The bites can be served warm or at room temperature. They are a good choice for weekend brunch if you are entertaining. I like that they are small especially when you have a full spread and there are lots of different dishes to choose from. Include a bottle of hot sauce on the side, always a must with eggs.
Most of the time I make these egg white bites for myself with the plan to eat them as leftovers. I chop them and toss them with greens in a salad or with cooked grains. This is very much my "put an egg on it" approach to garbage salads that look like a mess, but are incredibly tasty and satisfying especially for lunch.
Rather than warming leftover bites and risk them turning rubbery, I just eat them cold from the refrigerator. If you don't want them that chilled, give them time to sit out on the kitchen counter, so they aren't so "fridge cold."
You can store the bites in an airtight container in the refrigerator up to 5 days.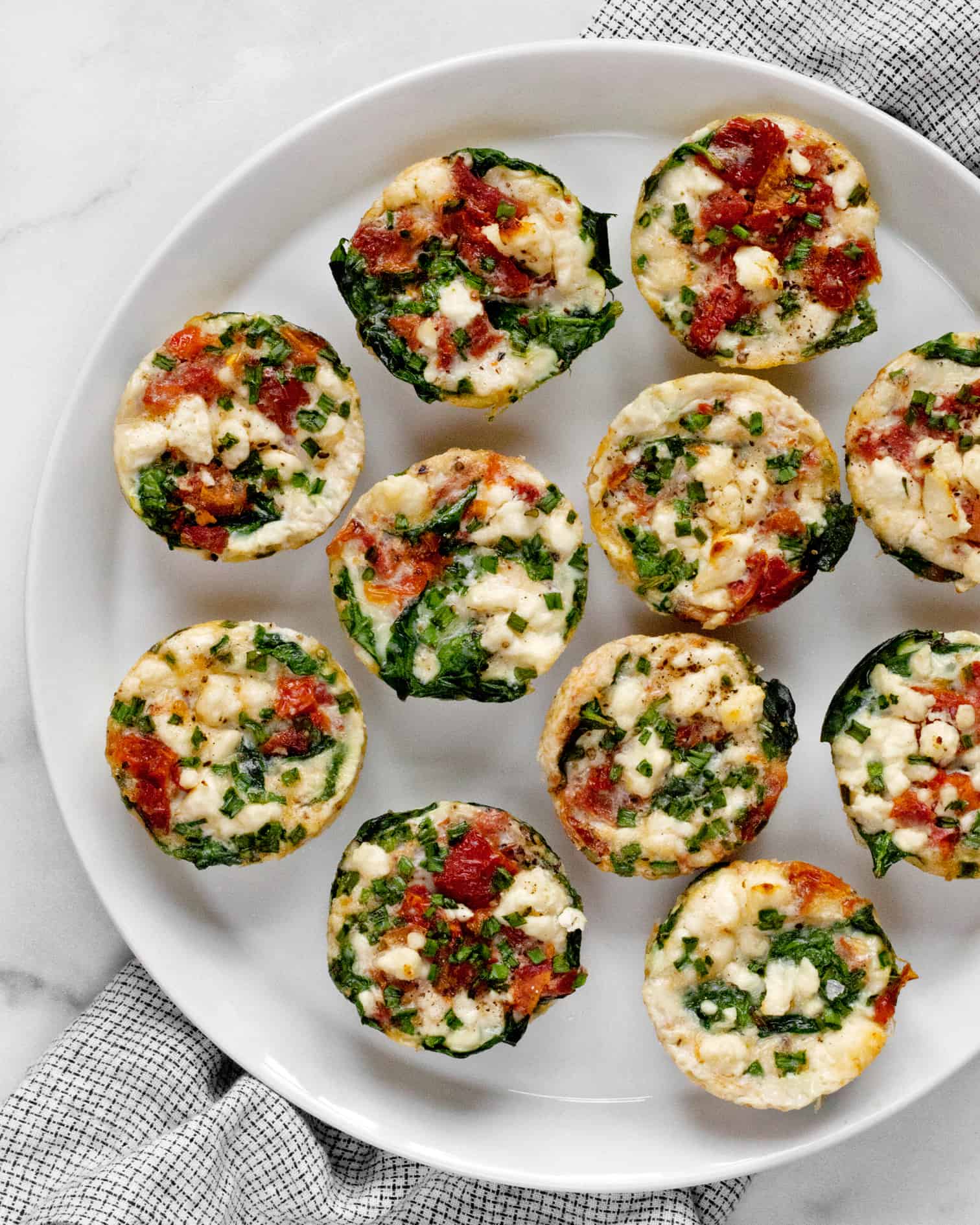 FAQs
Are egg white bites healthy?
Since egg whites are low in calories, cholesterol and fat while being high in protein, these bites are a great healthy choice for breakfast.
How long do egg white bites last?
Store them in an airtight container in the refrigerator up to 5 days.
More Breakfast Recipes
Mini Roasted Broccoli Onion Frittatas
Mini Spinach Frittatas
Mushroom Pepper Feta Crustless Quiche
Tomato Kale Pesto Frittata
Black Bean Roasted Pepper Frittata
Mushroom Tomato Frittata
Spinach Feta Egg White Bites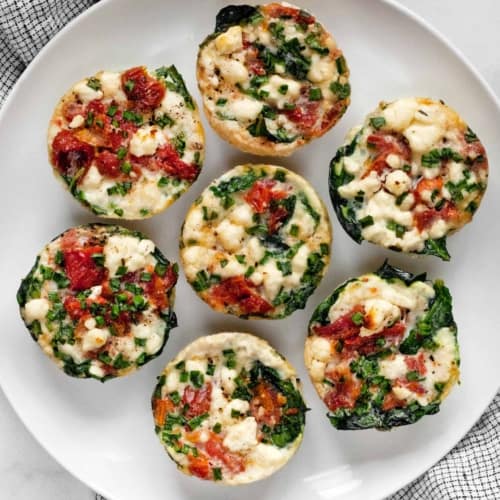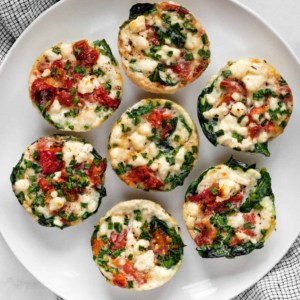 Baked in a muffin pan, these easy egg white bites are loaded with baby spinach, feta, chives, and either roasted tomatoes or roasted red peppers.
Ingredients
Non-stick cooking spray

1-16

ounce

carton egg whites

1/2

cup

milk

1

teaspoon

kosher salt

1/2

teaspoon

black pepper

2

cups

baby spinach

1/2

cup

chopped jarred roasted tomatoes or roasted red peppers

1/3

cup

crumbled feta

2

tablespoons

minced chives
Instructions
Preheat the oven to 350 degrees F.

Grease a 12-cup muffin pan with non-stick cooking spray.

In a large bowl, whisk together the egg whites, milk, salt and pepper.

Place equal amounts of the chopped roasted tomatoes (or red peppers) and spinach in each of the muffin cups. Pour in the egg whites until they are nearly three-quarters full and top with crumbled feta and chives.

Baked the egg white bites until they are just set, about 12-15 minutes. Run a paring knife around the cups as needed to release them from the pan.
Notes
Store leftover bites in an airtight container in the refrigerator up to 5 days. Enjoy them cold on their own or with a salad or cooked grains. Leftovers are best not warmed. Let them warm up at room temperature if you prefer them not fridge cold.
Instead of egg whites, you can use 9 whole eggs. Increase the cook time to 15-20 minutes.
You can use goat cheese instead of feta.
Nutrition
Calories:
32
kcal
|
Carbohydrates:
3
g
|
Protein:
2
g
|
Fat:
1
g
|
Saturated Fat:
1
g
|
Polyunsaturated Fat:
0.1
g
|
Monounsaturated Fat:
0.3
g
|
Cholesterol:
5
mg
|
Sodium:
258
mg
|
Potassium:
209
mg
|
Fiber:
1
g
|
Sugar:
2
g
|
Vitamin A:
565
IU
|
Vitamin C:
3
mg
|
Calcium:
44
mg
|
Iron:
1
mg
Nutrition information is automatically calculated, so should only be used as an approximation.