Sweet Potato Poblano Soup

Sweet potatoes are my absolute favorite spud.
From their bright orange color to their wonderful flavor, I could figure out a way to consume at least one per meal.
I love peeling sweet potatoes, dicing them and roasting them until they get a little brown at the edges. Roasted sweet potatoes are great to throw into salads or just eat on their own.
I always make extra roasted potatoes because I eat so many straight off the sheet pan when they are warm from the oven.
Besides roasting, sweet potatoes are the perfect vegetable to be transformed into soup.
Sweet potatoes are very smooth and fluffy when they're cooked. They just lend themselves to be mashed or pureed into soup.
I have a go-to base recipe for sweet potato soup. It doesn't involve much more than the potatoes, garlic and onions. I don't like to mask the sweet potatoes, so I keep the ingredients simple.

This time I was craving a bit more, maybe even something with a little kick to it.
I scanned the pepper selection at the grocery and decided on a deep green poblano pepper.
If you've never had a poblano, they are spicy with a pleasant amount of heat, but also smoky.
For the soup, I started by sautéing red onions in olive oil. Once they began to soften, I added minced poblano peppers followed by garlic, cumin, salt and pepper.
I stirred in the sweet potatoes and vegetable stock. When the mixture was boiling, I turned down the heat and simmered it for 15 minutes until the potatoes were tender.
Instead of pureeing everything, I scooped out a cup of the sweet potatoes and used an immersion blender to puree the soup until it was smooth.
I divided the sweet potato poblano soup into bowls and topped them with the diced sweet potatoes and cilantro.
Print
Sweet Potato Poblano Soup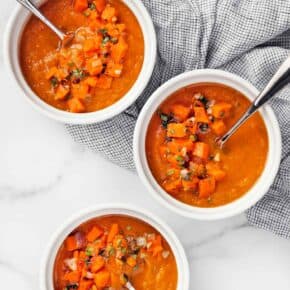 Prep Time:

5 minutes

Cook Time:

20-25 minutes

Total Time:

30-35 minutes

Yield: Serves

4

1

x
Scale
Ingredients
1 tablespoon olive oil
1 red onion, roughly chopped
1 poblano pepper, deseeded and minced
2 garlic cloves, minced
1 teaspoon ground cumin
1/2 teaspoon kosher salt
1/4 teaspoon black pepper
2 medium sweet potatoes (about 1–1/2 pounds), peeled and diced
3 cups vegetable stock
Chopped cilantro for serving
Instructions
Heat the olive oil in a large saucepan over medium heat. Add the onions and sauté for 5 minutes until they start to soften. Stir in the poblano peppers, garlic, cumin, salt and pepper and continue cooking for an additional 3 minutes. Add the sweet potatoes and stock. Bring the soup to a simmer and cook for 15-20 minutes until the potatoes are soft.
Reserve 1 cup of sweet potatoes. Use an immersion blender to puree the soup in the pot or carefully transfer in batches to a blender to puree. Return the soup to the saucepan to reheat before serving.
Divide the soup into bowls. Top with the reserved sweet potatoes and cilantro.
SHARE THIS