Grilled Corn Poblano Salad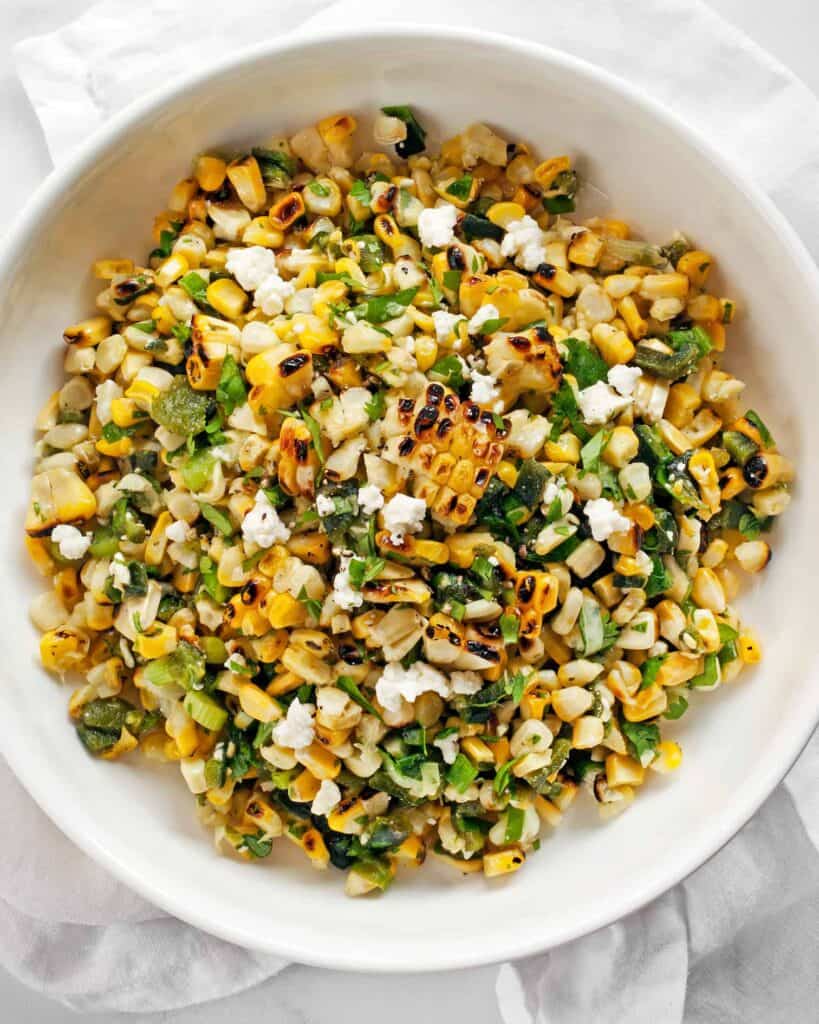 I am bad at relaxing. Being busy is exhausting, but it keeps me happy.

My days are planned down to the minute, not that I don't throw in something spontaneous here and there.
Friday is my shopping day for food and what else we need to survive at home.
For clothes and other essentials, it's late night and online. I blame my end-of-the-day exhaustion and tempting sales for any unsuccessful fashion purchases. My decision-making gets a little foggy after 11:00pm.
Thank goodness for returns!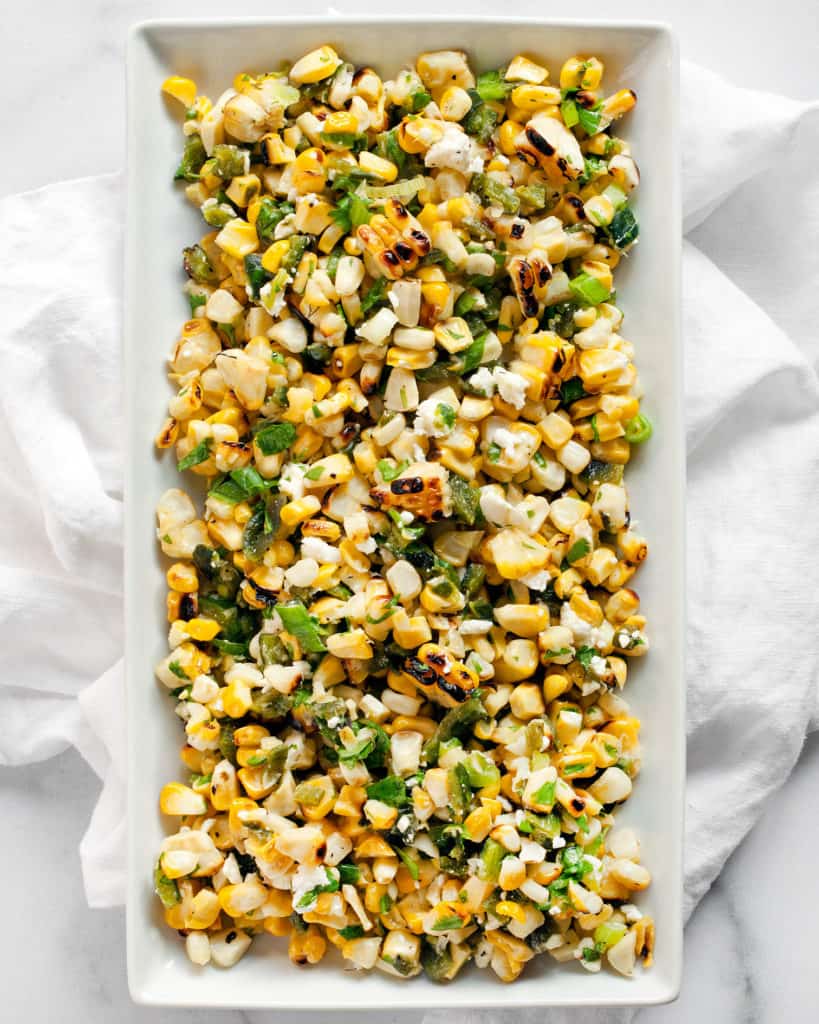 I am pretty careful with my grocery list, so episodes of buyer's remorse are few and far between.
Last week I went overboard with corn at the supermarket. With the cold, rainy start to summer, bins of corn haven't appeared at the farmer's market yet. At 2 for $1, I bought a lot of corn.
But can you ever have too much corn in July?
No way!

I decided take care of all those ears of corn at once to make a grilled corn poblano salad.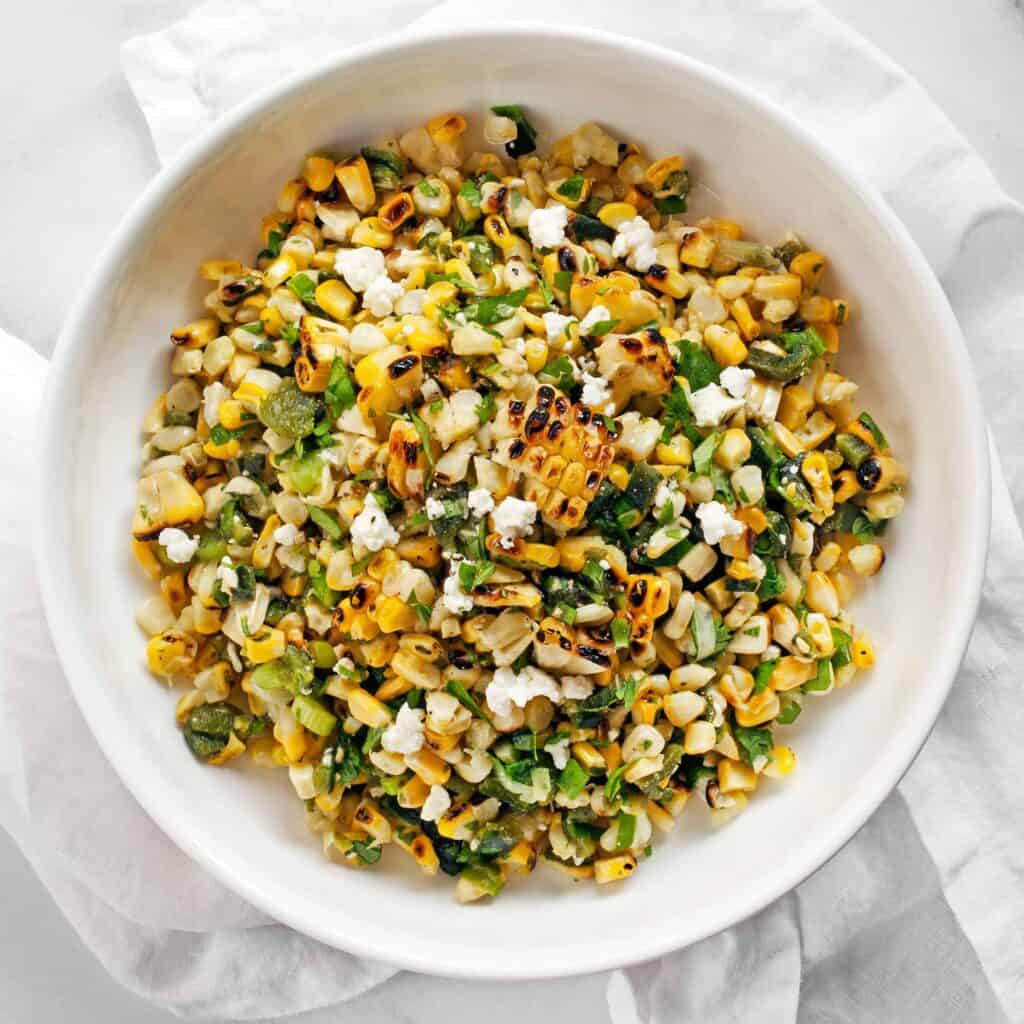 How To Make Grilled Corn Poblano Salad
After I fired up the grill, I lined up the corn on the grates with two poblano peppers next to my organized rows.

I didn't do anything to prep the peppers. Instead I kept them whole. It didn't take long for them to get blistered. Then I put them in a bowl, covering the top with a plate. This allowed the steam time to do its work.
When the peppers were cool enough to handle, I rubbed off their skin and roughly chopped them, discarding the seeds and stem.
With the corn charred, I used a knife to slice the kernels off the cobs.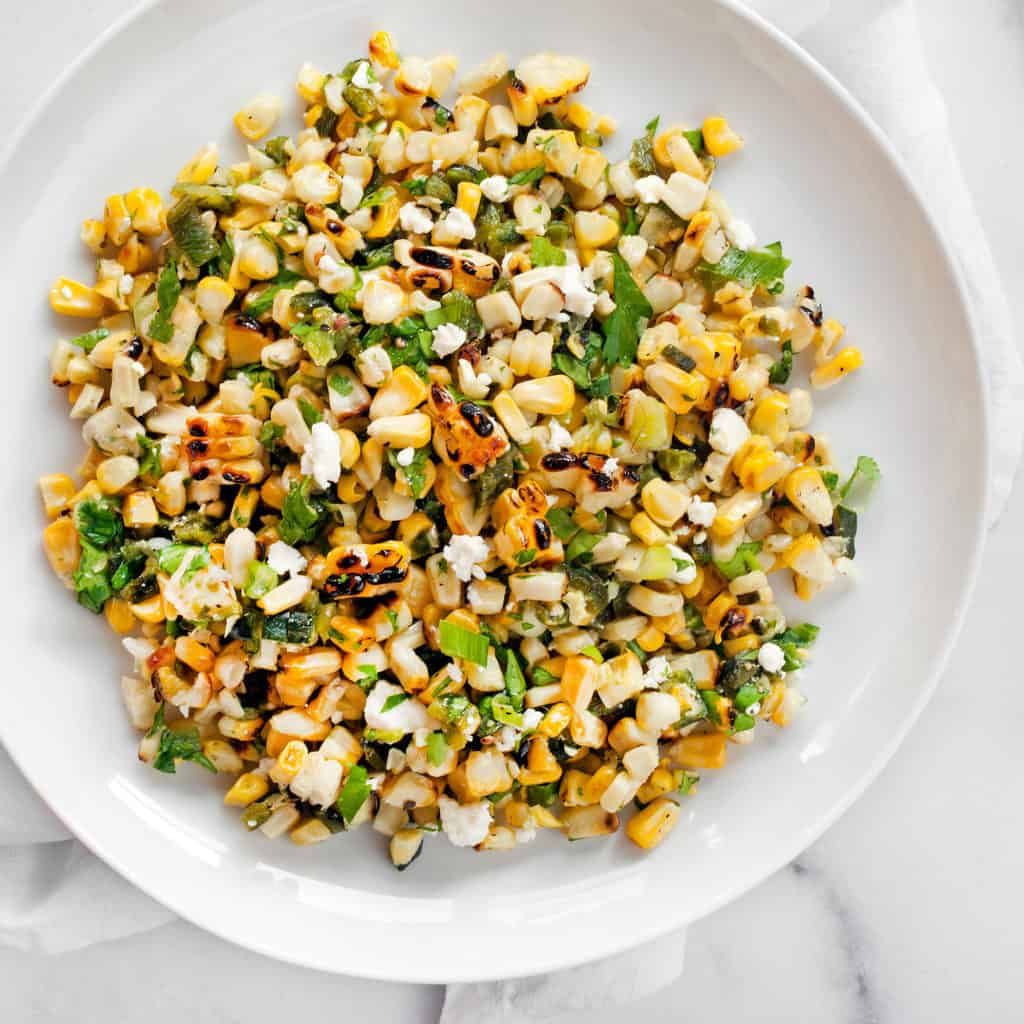 In a big bowl, I combined the corn and peppers.

No surprise, this grilled corn poblano salad is spicy. To cool things off a bit, I folded in feta, scallions and lots of cilantro. After that I squeezed in the juice of a lime.

To stretch the leftovers, I combined them with chopped romaine and also with quinoa. You could even use the corn and poblano mix for a vegetarian taco filling.
Print
Grilled Corn Poblano Salad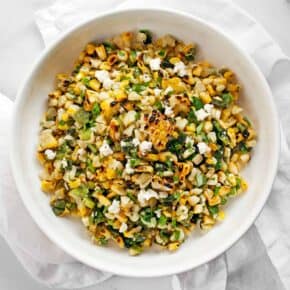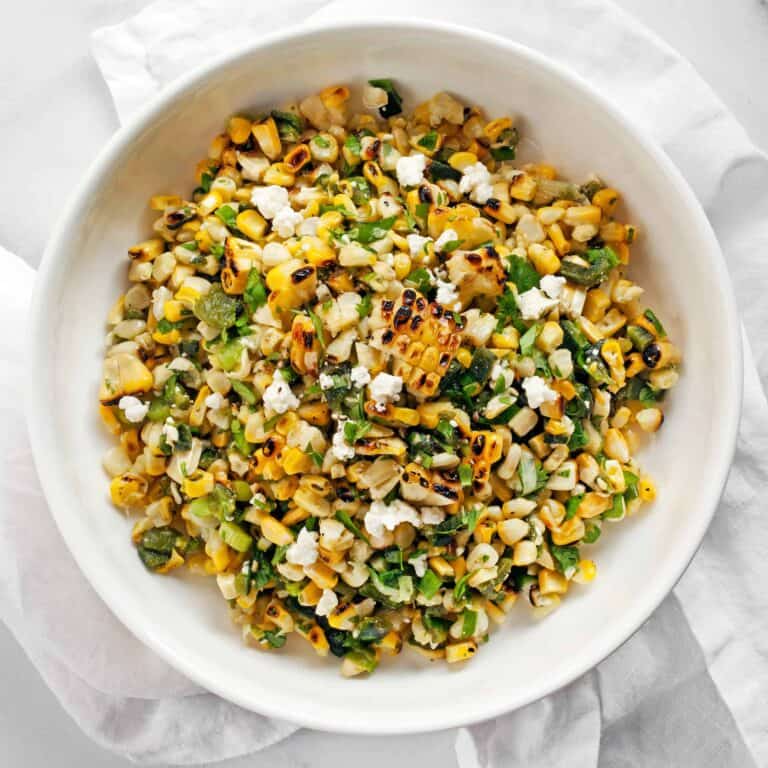 Prep Time:

10 minutes

Cook Time:

7-13 minutes

Total Time:

17-23 minutes

Yield: Serves

4

1

x
Scale
Ingredients
2 poblano peppers
6 corn cobs, shucked
1 tablespoon olive oil
2 scallions, thinly sliced
1/2 cup roughly chopped cilantro
1/4 cup crumbled feta
Juice of 1 lime
1/2 teaspoon kosher salt
1/4 teaspoon black pepper
Instructions
Preheat a gas or charcoal grill on high heat.
Grill the poblano peppers until they are charred and blistered, about 2-3 minutes per side. Transfer them to a bowl and cover. Once the poblanos are cool enough to handle, rub off the skin and discard the seeds and stems. Roughly chop the peppers.
Rub the corn with olive oil. Grill the corn until it is lightly charred, about 5-7 minutes. Let the corn cool slightly before slicing the kernels off the cobs.
Place the poblanos and corn in a large bowl. Stir in the scallions, cilantro, feta, lime juice, salt and pepper.
SHARE THIS