Tomato Arugula Feta Biscuits

The best thing about these Tomato Arugula Feta Biscuits is the subtle garlic flavor in each bite thanks to the jarred marinated roasted tomatoes.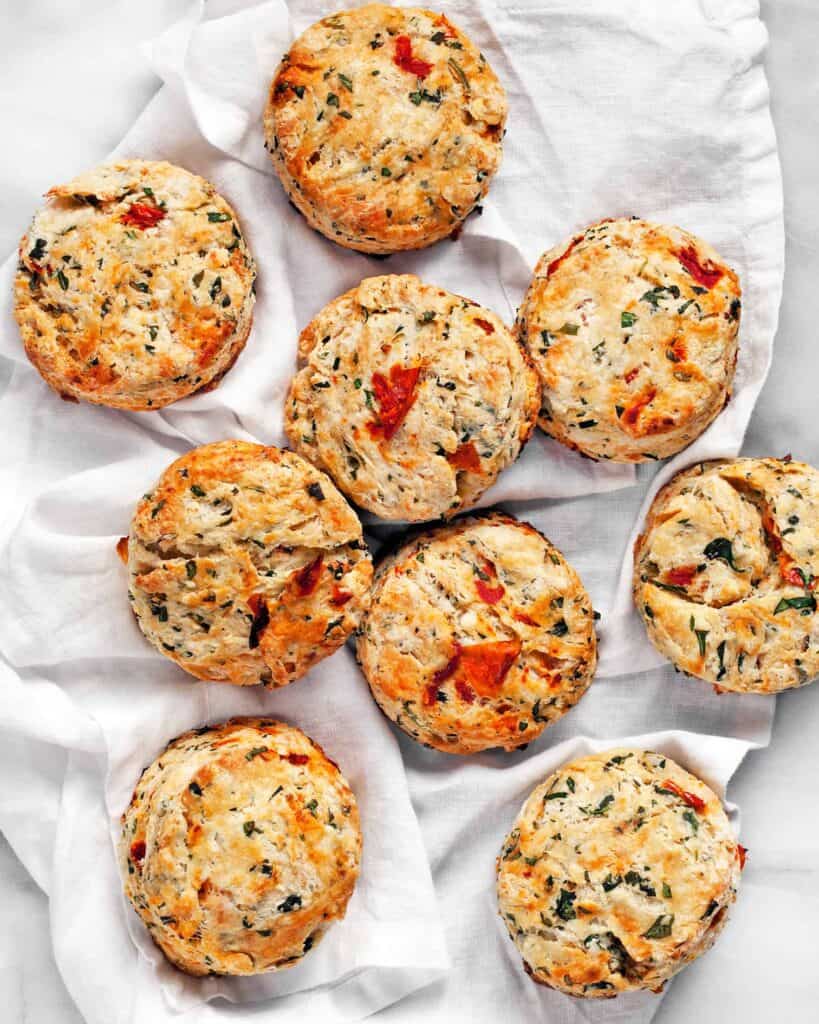 I planned to make savory scones, but they ended up being accidental biscuits.

Scones and biscuits are very similar when it comes to ingredients and method.

We could get into a debate about specific base ingredients, but it's not worth arguing over the details.

They are the kind of recipes that are very personal since they are often family recipes. If your grandmother did it a certain way then everything else is wrong.
What it really comes down to is the crumb or their layers.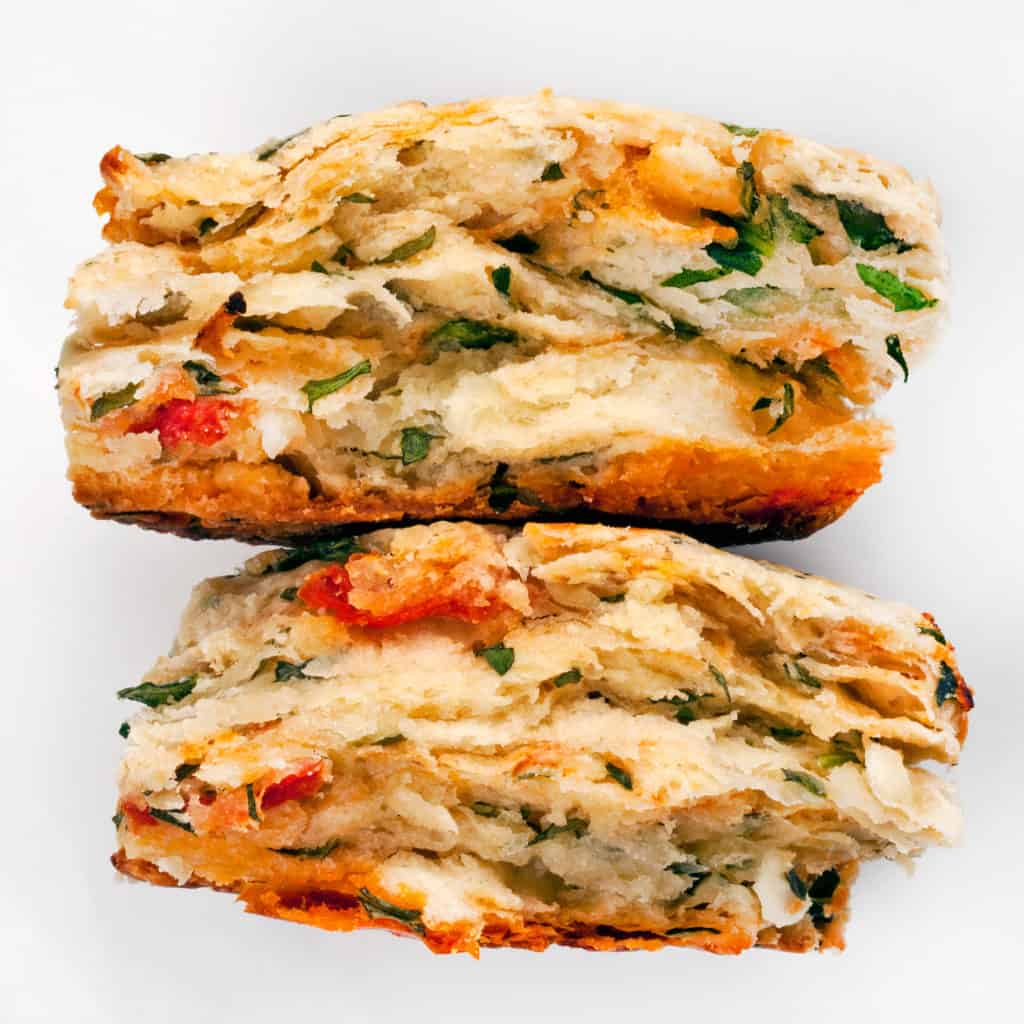 I have a special place in my heart for classic British scones with their wonderfully crumbly bite.

Part of it is because my son is obsessed with scones. We like to bake them together.

Biscuits are different. When you break one in half, their distinct layered insides are revealed.
How To Make Tomato Arugula Feta Biscuits
So why did these tomato arugula feta biscuits turn out to be biscuits instead of scones?
I started by combining the dry ingredients, cutting in the butter and then stirring in the wet ingredients until I had a shaggy dough.
Next it was time for the feature ingredients. The chopped jarred roasted tomatoes.

They definitely had an effect on the final texture. That extra moisture resulted in the flaky center.
But what I loved most about those marinated roasted tomatoes was how they left behind a subtle garlic flavor even in the bites without tomatoes.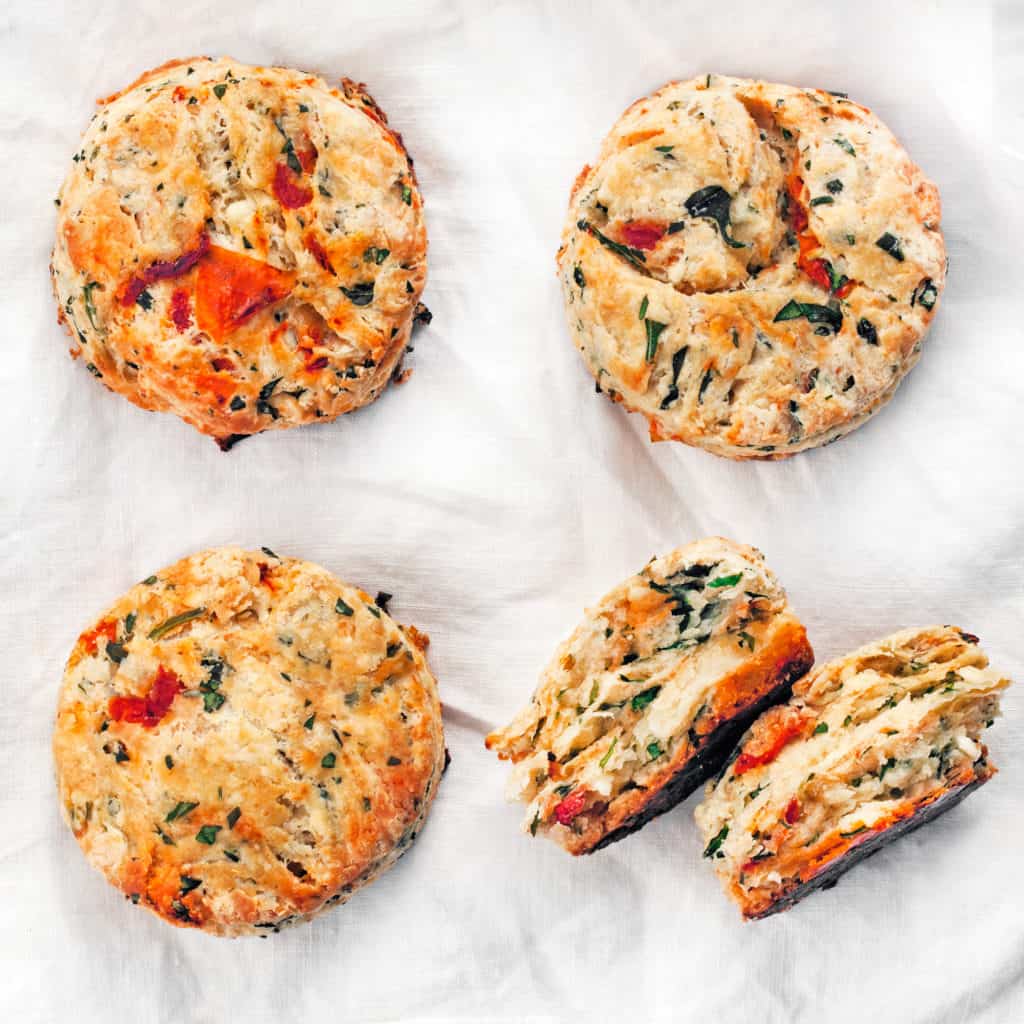 The arugula gave the biscuits a peppery kick. The tomatoes and arugula were balanced with salty crumbled feta.
After the dough chilled, I used a round cutter to cut out the biscuits.

Once they turned golden brown in the oven, I ate the first one warm from the cooling rack.
I served them as a side with a Sunday roasted chicken dinner. Then I teetered a biscuit on the edge of a bowl with a big salad.
I have a feeling I am going to be on a savory biscuit/scone kick for the foreseeable future.
Print
Tomato Arugula Feta Biscuits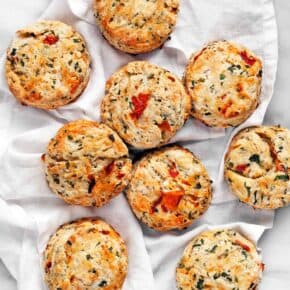 Prep Time:

45 minutes

Cook Time:

20-25 minutes

Total Time:

1 hour 5-10 minutes

Yield: Serves

10

1

x
Scale
Ingredients
3 cups + 1 tablespoon all-purpose flour plus more for dusting
1 teaspoon granulated sugar
1 teaspoon kosher salt
1/4 teaspoon black pepper
3 teaspoons baking powder
6 ounces (1–1/2 sticks) unsalted butter, chilled, cut into cubes
1 large egg
3/4 cup buttermilk plus more for brushing biscuits
1/2 cup chopped jarred roasted tomatoes
1 cup finely chopped arugula
1/4 cup crumbled feta
Instructions
In a large bowl, combine 3 cups flour, granulated sugar, salt, pepper and baking powder. Rub the butter into the flour mixture using your fingers or a pastry blender until the butter resembles pea-sized clumps distributed through the flour.
In a small bowl, whisk together the egg and buttermilk. Stir the wet ingredients into the dry ingredients to create a shaggy dough. Fold in the tomatoes, arugula and feta. The dough will be crumbly, but pat it into a rectangle about 1-inch thick on a flour-dusted sheet pan. Cover with plastic wrap and chill the dough in the refrigerator for 30 minutes.
Preheat the oven to 400 degrees F.
Use a 3-inch round cookie cutter to cut out the biscuits. Pat the scraps back together and cut again. Transfer the scones to the prepared sheet pan placing them 2 inches apart.
Brush the tops of the biscuits with buttermilk. Bake for 20-25 minutes until they are golden brown. Cool on a wire rack.
Biscuits are best eaten the day they are baked. Store in an airtight container and refresh in a 300 degree F oven for 5 minutes.
SHARE THIS