You can repurpose day-old cornbread to make these easy cornbread croutons. After they toast in the oven, they become golden brown and crisp. Then they are ready for you to toss them into salads or enjoy them as toppings for soups and chilis.
You can use this buttermilk cornbread recipe or corn muffins to make these croutons.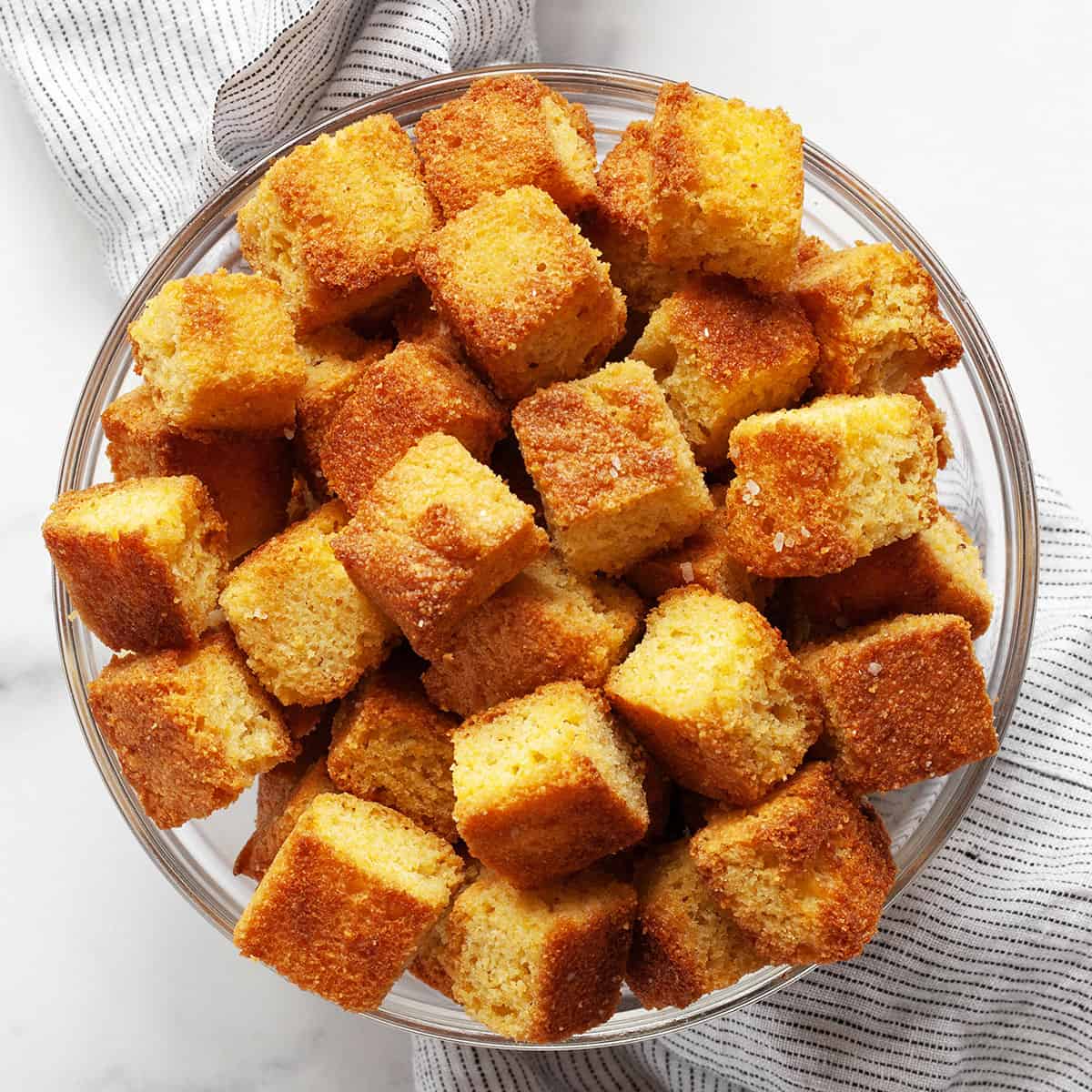 Why You'll Love This Recipe
It's a great way to use leftover cornbread or corn muffins. So often I bake an entire batch of something, and then my family can't eat it all when it's at peak freshness. Homemade croutons are a simple way to extend the shelf-life of bread and repurpose it.
These croutons are a special addition to salads. I know when I see cornbread croutons on a restaurant menu I immediately want that salad. It's their texture and buttery flavor that go so well with greens, vegetables and vinaigrette. They would be fantastic for a Thanksgiving salad.
You can make them with a store-bought loaf from the grocery bakery or a boxed cornbread mix. Of course, it is great to bake your own cornbread from scratch, but don't let that be the reason why you don't make make this cornbread crouton recipe. Don't hesitate to use one of these shortcuts.
The Ingredients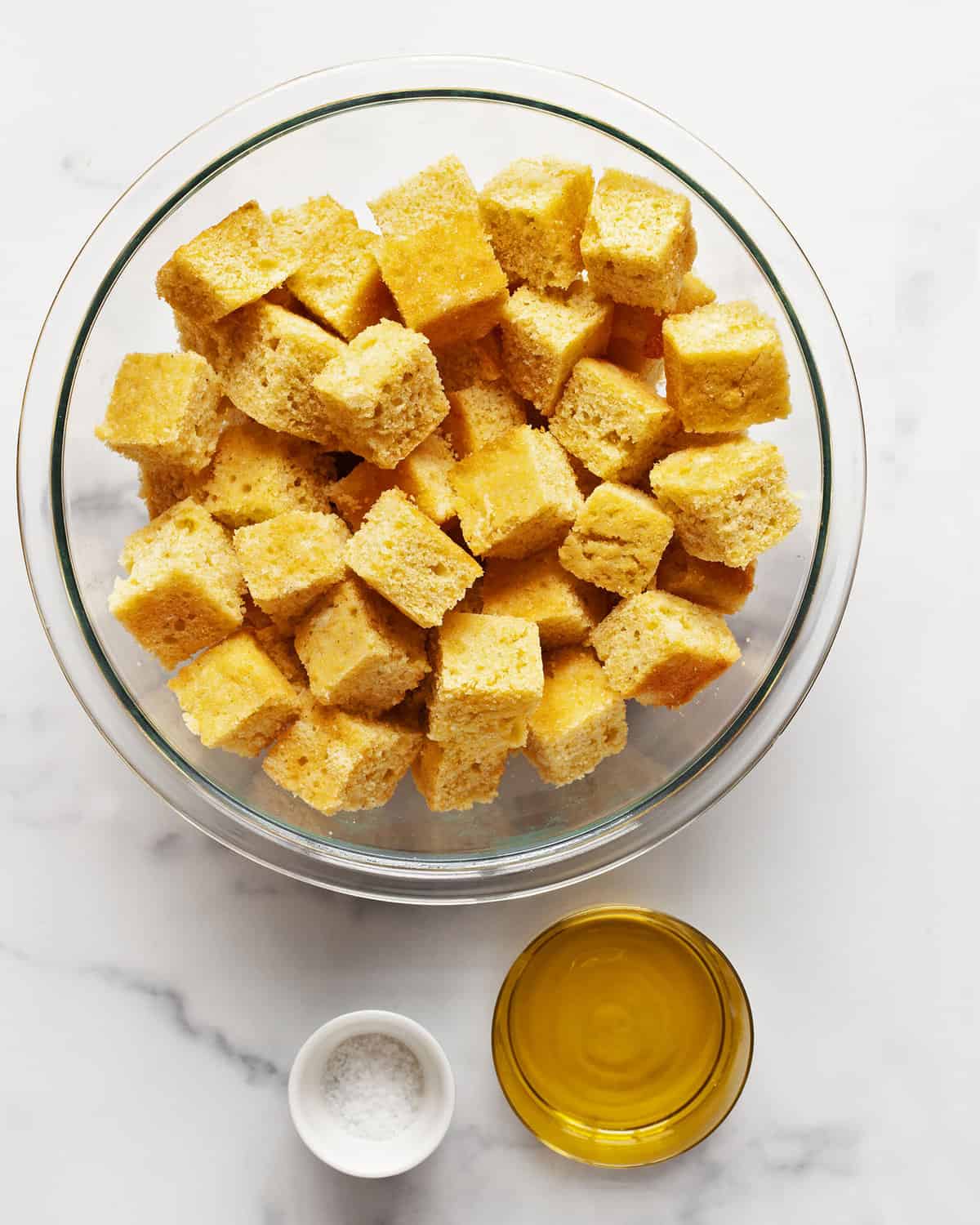 This is what you need:
Cornbread: As mentioned, it can be store-bought or homemade, it doesn't matter. Also, if you have cornbread that has corn kernels in it, that will work too. You can also use muffins. All you have to do is cut the cornbread or tear it into cubes that are about 1 inch.
Olive oil: For the best flavor, I like to use extra virgin olive oil.
Kosher salt: This is where you need to taste the cornbread to figure out how much seasoning it needs. If it is on the saltier side to begin with, then use less salt.
How To Make Homemade Cornbread Croutons
Preheat the oven to 375 degrees F.
Toss the cornbread cubes with half the olive oil on a sheet pan. Then sprinkle them with salt and toss them with the remaining olive oil. Spread them into a single layer, so they are all making direct contact with the metal of the baking sheet. The bread should be lightly moist with oil and not soaking in it. I prefer doing this on the pan because there is more space than if you stir it all together in a large bowl.
Bake the croutons until they are golden brown and toasted, flipping halfway through baking. This will take 20-25 minutes. They will still be kind of soft in the middle, but give them time to cool off. Then they will crisp up.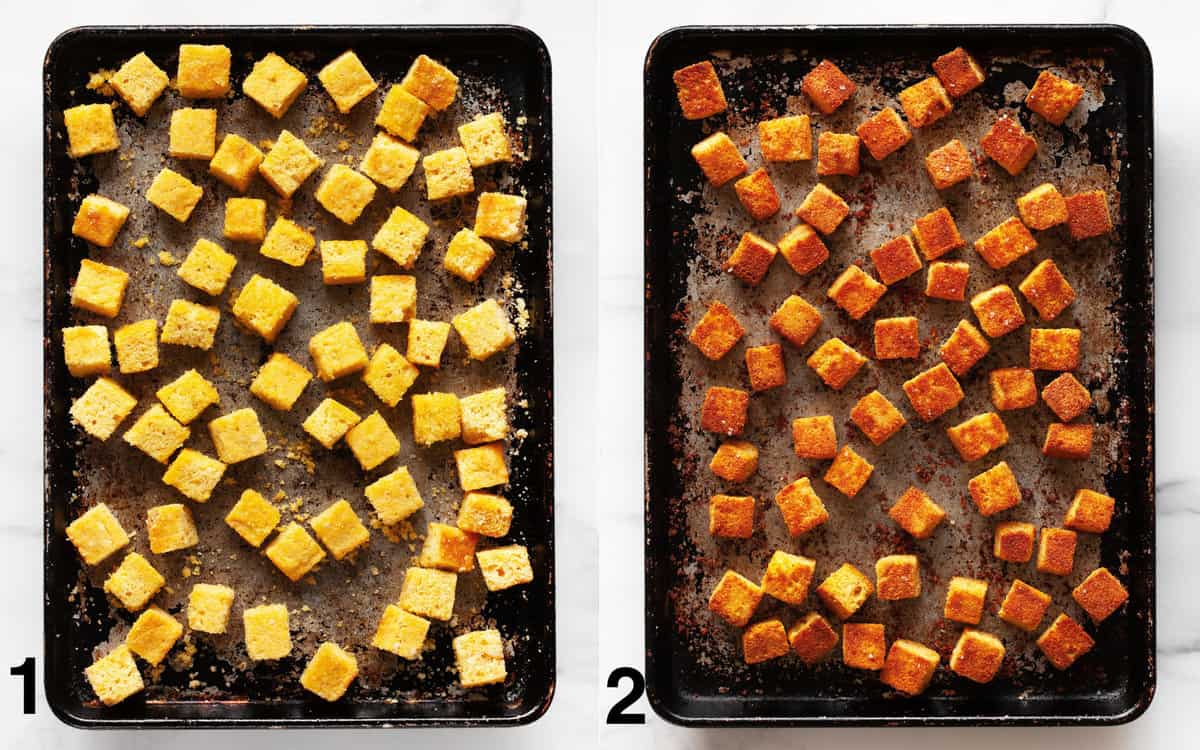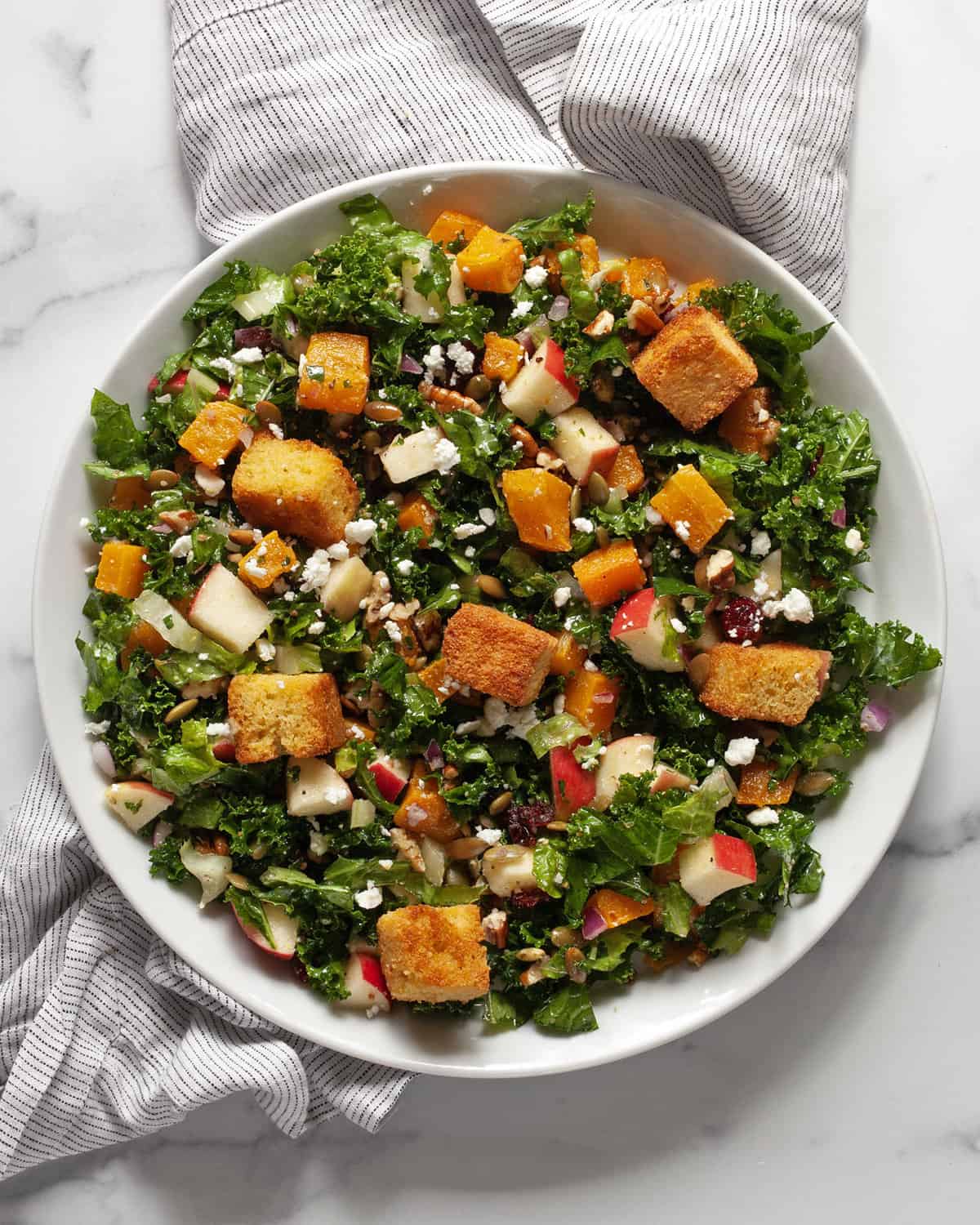 Storage & Freezing
You can store leftover croutons in an airtight container at room temperature up to 1 week. If you want to keep them longer, up to 1 month, you can freeze them. Just warm them on a sheet pan in a 350-degree F oven for 10 minutes. You do not need to thaw them first.
Recipe Tips
If possible, use cornbread that is 1-2 days old rather than one you just baked. It will toast to a more crisp texture because it will already have started to lose some of its moisture.
Use a serrated knife to cut the cornbread into cubes. Because cornbread is crumbly, using a sawing motion with a serrated knife is the best way to cut it cleanly.
Gently toss the bread with the olive oil and salt on the baking sheet, so it doesn't fall apart as much. If you end up with a lot of crumbs on the pan, use your hands or a spoon to remove them.
If you are looking for very crunchy croutons, you should use country bread or sourdough. Cornbread is a quick bread with a much softer crumb than one of these yeast breads that is more chewy and has a strong crust. If crunch is what you're after, try these classic homemade croutons.
Don't cut your cornbread larger than 1-inch cubes. Bigger than that and they will stay soft in the center. You can cut them smaller, but then keep an eye on them in the oven because they will toast and brown faster.
If you want you croutons to have a kick, you can add 1/4 teaspoon black pepper. Do this when you sprinkle them with salt before they go in the oven.
Recipe FAQs
Can you make these croutons gluten free?
Yes, as long as you use gluten-free cornbread.
How do you make the croutons vegan?
Use vegan cornbread or corn muffins.
Is is ok to use corn muffins instead of cornbread?
Yes. Muffins will be harder to cut into uniform cubes, but do your best. It may be easier to carefully tear them apart and end up with different shapes and sizes. Then just watch the cook time if you have small, medium and large croutons.
Cornbread Croutons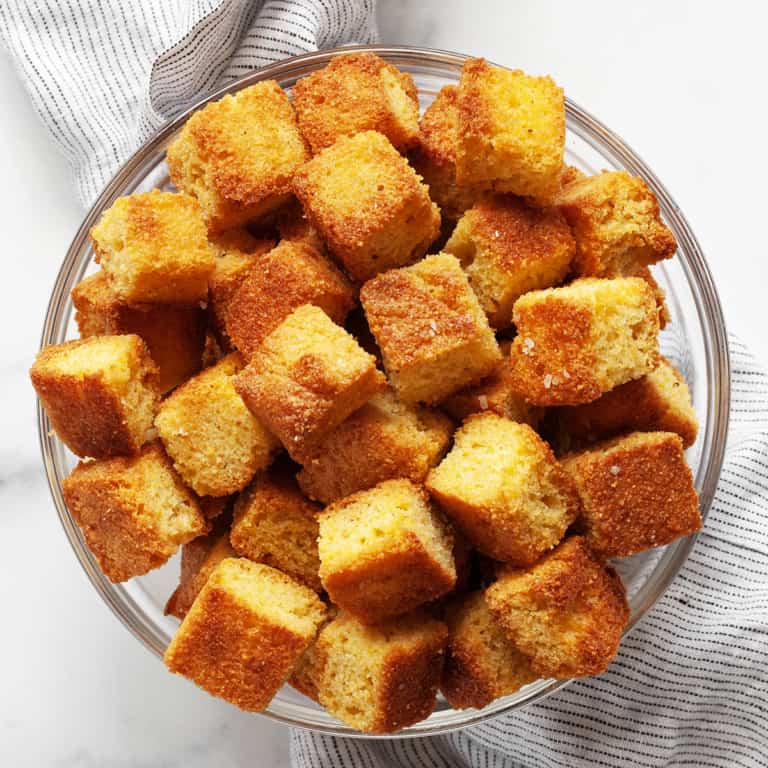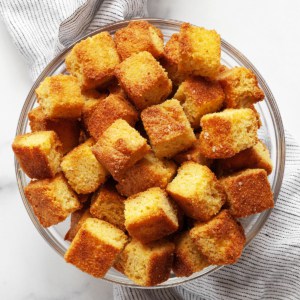 After you toast these cornbread croutons, and they become golden brown and crisp, you can toss them into salads or enjoy them as toppings for soups, stews and chilis.
Ingredients
5

cups

1-inch cornbread cubes

1/4

cup

olive oil

1/4-1/2

teaspoon

kosher salt
Instructions
Preheat the oven to 375 degrees F.

On a sheet pan, toss the cornbread with half the olive oil. Spread into a single layer and drizzle with the remaining olive oil and season with salt. Toss corn bread again and remove any excess crumbs from the pan.

Bake for 20-25 minutes, flipping over halfway through baking, until the bread is golden, crisp and toasted.
Notes
Store leftovers in an airtight container up to 1 week.
You can freeze them up to 1 month. Warm frozen croutons on a sheet pan in a 350-degree F oven for 10 minutes.
Taste your cornbread to figure out how much salt to season the croutons with. If it already has salty flavor, then you can use less.
You can use corn muffins instead of cornbread. It may be easier to tear it into pieces rather than cutting into cubes.
Nutrition
Calories:
147
kcal
|
Carbohydrates:
16
g
|
Protein:
2
g
|
Fat:
8
g
|
Saturated Fat:
2
g
|
Polyunsaturated Fat:
1
g
|
Monounsaturated Fat:
5
g
|
Trans Fat:
0.1
g
|
Cholesterol:
17
mg
|
Sodium:
238
mg
|
Potassium:
40
mg
|
Fiber:
1
g
|
Sugar:
5
g
|
Vitamin A:
50
IU
|
Vitamin C:
0.03
mg
|
Calcium:
41
mg
|
Iron:
1
mg
Nutrition information is automatically calculated, so should only be used as an approximation.