This hearty tomato-based Tuscan ribollita soup is thickened with leftover bread and is loaded with vegetables and beans and a hint of rosemary.
Life has felt pretty hectic ever since a few days before Thanksgiving.

Our little guy turned 4 over the weekend, so post-holiday it's been party planning and celebrating with family & friends.
Like so many moms, I was in overachiever mode with decorations and the party theme.

I love Pinterest because it's full of endless inspiration, but I definitely suffer from Pinterest-induced stress in an attempt to make everything perfect.
It took work, but I had to keep my priorities in check.
The point of a birthday party is that everyone has fun including the guest of honor. Impeccably designed decor is not required.
It feels like a break to put my feet up, collect my thoughts and write this post.

Between baking treats and everything else, I didn't have much time to cook. As a result, I clicked into one-pot meal mode.
I made a comforting dump-it-all-in kind of meal, Tuscan ribollita soup.
Tuscan Ribolitta Soup: The Ingredients
If you've never had ribollita, it's a hearty tomato-based soup thickened with leftover bread.
Tomato-based soups are my favorite kind of soup, so I am always looking for variations.

For that reason, I guarantee you will find at least one can of tomatoes in my pantry because it's so easy to turn them into a hearty and healthy meal.
Each tomatoey spoonful of Tuscan ribolitta soup is loaded with vegetables like onions, celery and carrots.
Cannellini beans make it even more filling. I mash a quarter cup of the beans to thicken the broth along with the bread.
Simmering fresh rosemary sprigs as the soup cooks gives it a subtly herby flavor. Plus I love smelling anything with rosemary in my kitchen.
I added a little shaved Parmesan on top before I ate my first bowl.

Knowing I was going to stretch this soup over a few days, I saved some of the bread to add each time I reheated the soup on the stove.
Print
Tuscan Ribollita Soup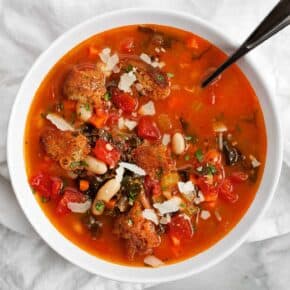 Author:
Prep Time:

15 minutes

Cook Time:

30 minutes

Total Time:

45 minutes

Yield: Serves

4

1

x
Scale
Ingredients
3 slices crusty bread, torn into pieces
1–1/2 teaspoons kosher salt
3/4 teaspoon black pepper
2 tablespoons olive oil
1 white onion, roughly chopped
2 celery stalks, roughly chopped
3 carrots, trimmed, peeled & roughly chopped
3 garlic coves, minced
1/4 teaspoon red pepper flakes
1 tablespoon tomato paste
1 cup roughly chopped kale, stems removed
1–15 ounce can diced tomatoes
1–15 ounce can cannellini beans, rinsed and drained
4 cups vegetable stock
2 sprigs fresh rosemary
1 bay leaf
Shaved Parmesan for serving
1 tablespoon chopped fresh parsley
Instructions
Preheat the oven to 400 degrees F.
Toss the bread, 1 tablespoon olive oil, 1/2 teaspoon salt and 1/4 teaspoon black pepper on a sheet pan and spread into a single layer. Bake for 12-15 minutes until toasted and golden brown.
Heat the remaining olive oil in a large saucepan over medium high heat. Then sauté the onions, celery and carrots until they start to soften, about 3-5 minutes. Add the garlic and cook for another minute until fragrant. Stir in the red pepper flakes, tomato paste and remaining salt and pepper. Then add the kale and tomatoes.
Using a fork, mash about 1/4 cup of the beans before adding the mashed beans and the whole beans into the saucepan. Add the stock, rosemary and bay leaf. Bring everything to a boil before reducing the heat and simmering for 20-25 minutes.
Remove the rosemary sprigs and bay leaf and discard. Add about a third of the bread and continue simmering until the bread softens and starts to thicken the soup, about 5 minutes.
Then top each bowl with pieces of the remaining bread, Parmesan and parsley before serving.
SHARE THIS