With a mix of broccoli, cauliflower, carrots and green beans, this hearty vegetable soup gets spicy warming heat thanks to cumin, red pepper flakes and smoked paprika.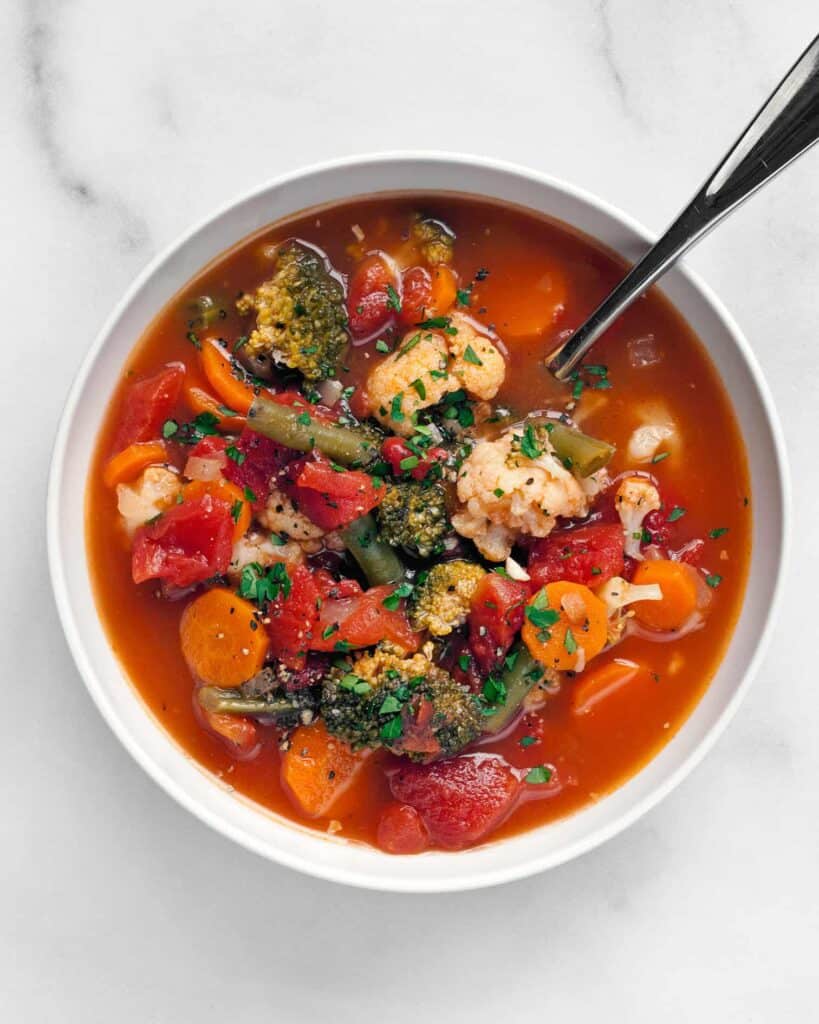 With the holiday season in the rearview mirror, comes a month of restriction.
So often resolutions are about doing less of an activity or habit. That's why I think January can be kind of a bummer.

For most of us, it's cold and gray, which is not the best atmosphere to change a routine.

As I shared in 2019's first post of the year, my health/workout epiphany happened in April of 2018.

There was no resolution pressure. I was ready for new beginnings and the date on the calendar didn't matter to me.

And it shouldn't to you either.

No matter the month, day, hour or minute, you can try something new or do something different.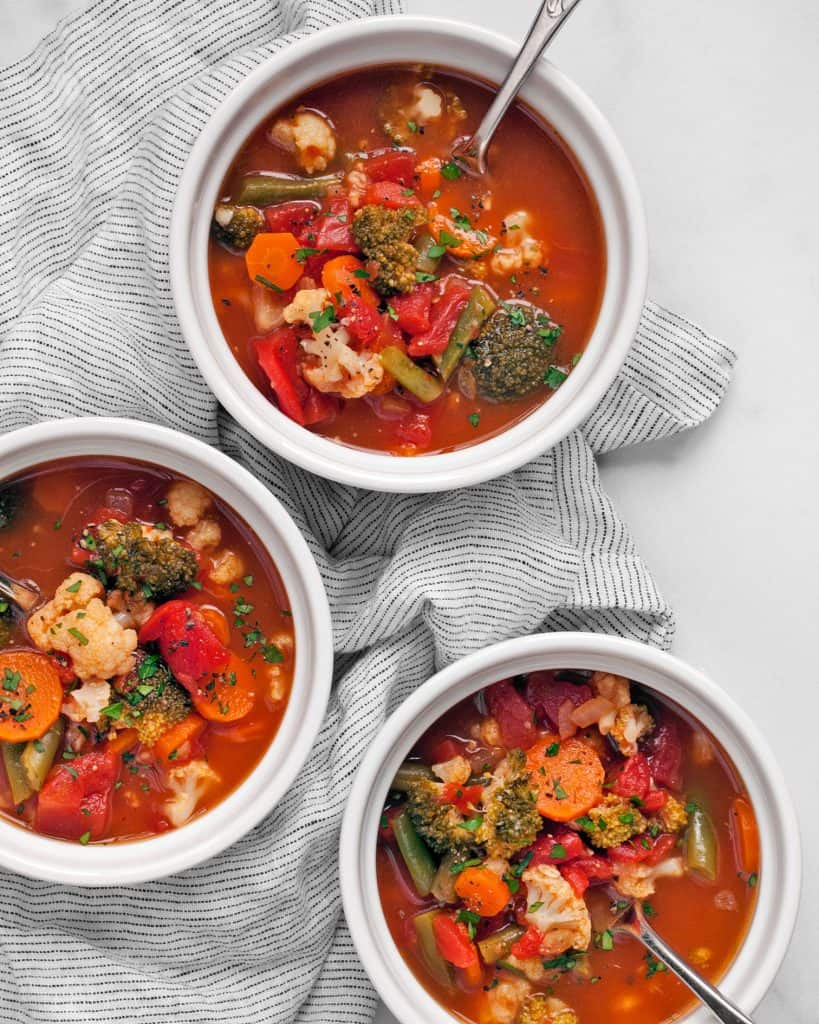 Of course with resolutions on the brain, I do think it is worth writing down what you hope to accomplish this year.

Put pen to paper. It feels more real when you write it down.

Just make sure that at least of half of these goals are not about forbidding yourself from eating or doing something.

In the spirit of fresh starts, I say ease in.
For a week, I toyed with the idea of going vegan in January for the blog.
Then I decided against it. I am already a very veggie-centric eater, so I didn't necessarily think that made sense.
Instead I will be sharing recipes and tips for eating more vegetables. That fits with so many diets, and we all could use an extra serving of veggies.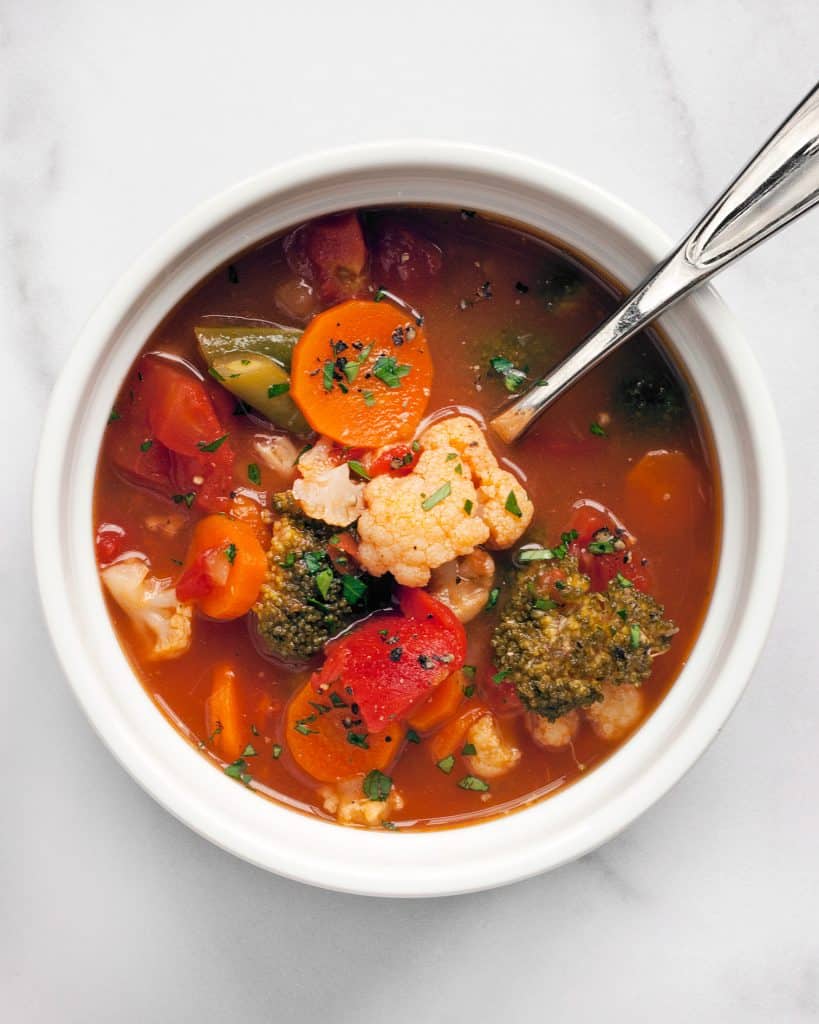 How To Make Hearty Vegetable Soup
This hearty vegetable soup is just the right way to kick off 2020.

Soup during the winter months is such a great vehicle for vegetables.

And the best part is that you can end up with freezable leftovers.

My freezer is stocked with individually frozen soups. I can't emphasize how handy they are, especially for workday lunches.

To be honest, vegetable soup can be kind of boring from lack of flavor to limp vegetables, but I go big on the dried seasonings and limit the sauté time to avoid these pitfalls.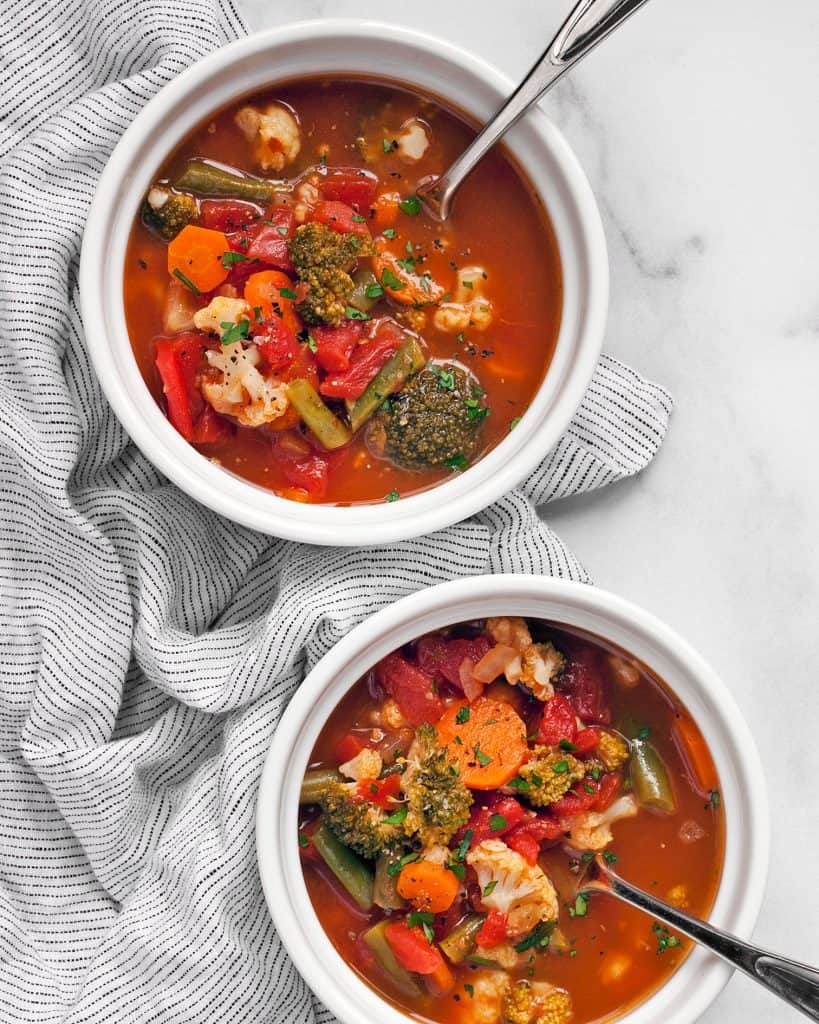 Onions and garlic are the starting point for my hearty vegetable soup.

After they have started to soften and are fragrant, I add a mix of cumin, red pepper flakes, smoked paprika, salt and pepper, which give the soup a good amount of spice and heat.

Next I put all the veggies in the pot: broccoli, cauliflower, carrots and green beans.

I only sauté the vegetables for a couple minutes before pouring in a big can of diced tomatoes along with veggie broth.
The soup simmers for just 20 minutes before all the flavors meld together and the hearty vegetable soup is ready.
Try these veggie-filled soups:
White Bean, Sweet Potato and Kale Soup

Tomato, Carrot and Lentil Soup

Slow Cooker Moroccan Chickpea Stew
Print
Hearty Vegetable Soup
With a mix of broccoli, cauliflower, carrots and green beans, this hearty vegetable soup gets spicy warming heat thanks to cumin, red pepper flakes and smoked paprika.
Author:
Prep Time:

10 minutes

Cook Time:

30 minutes

Total Time:

40 minutes

Yield: Serves

4

–

6

1

x
Scale
Ingredients
1 tablespoon olive oil
1 small white onion, roughly chopped
3 garlic cloves, minced
1 teaspoon cumin
1/4 teaspoon smoked paprika
1/4 teaspoon red pepper flakes
1 teaspoon kosher salt
1/2 teaspoon black pepper
1 cup small broccoli florets
1 cup small cauliflower florets
3 medium carrots, peeled and cut into 1/4-inch thick rounds
1 cup trimmed green beans, 1/2-inch long
1–28 ounce can diced tomatoes
4 cups low-sodium vegetable broth
1 cup water
Chopped fresh parsley for serving
Instructions
Heat the oil in a large saucepan over medium heat. Add the onions and sauté for 4 minutes until they start to soften. Stir in the garlic and cook until fragrant, about 1 minute.
Add the cumin, smoked paprika, red pepper flakes, salt and pepper. Continue cooking for 3 minutes until the onions are soft and translucent.
Add the broccoli, cauliflower, carrots and green beans and sauté for 2 minutes.
Pour in the tomatoes, vegetable broth and water. Bring the soup to a boil and reduce the heat to simmer for 20 minutes.
When the soup has reduced slightly, it is ready. Divide into bowls and sprinkle with parsley before serving.
SHARE THIS