Brussels Sprout Caesar Salad

Raw shredded brussels sprouts are the perfect base for a crisp Brussels Sprout Caesar Salad with parmesan, toasted croutons and lemon vinaigrette.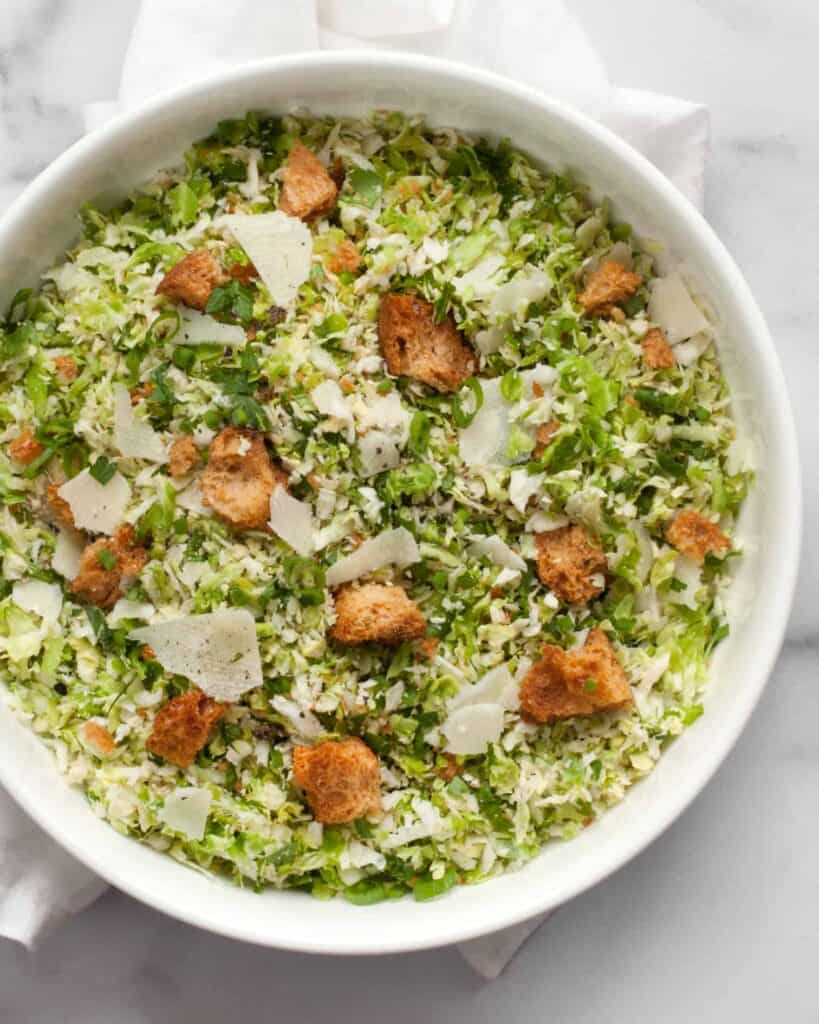 If you need a restaurant recommendation, I used to be your go-to gal. When a new place opened in Chicago, I had to get there as soon as possible to try it.
No surprise, with a 4-year-old at home, my priorities have changed, but you won't hear me reliving the good old days.

Of course they were fun, but I don't have FOMO.

The only thing I miss is the inspiration.

Dining out is such a good education for a home cook about different techniques and ingredient combinations.

At this point I think I might have earned my graduate degree.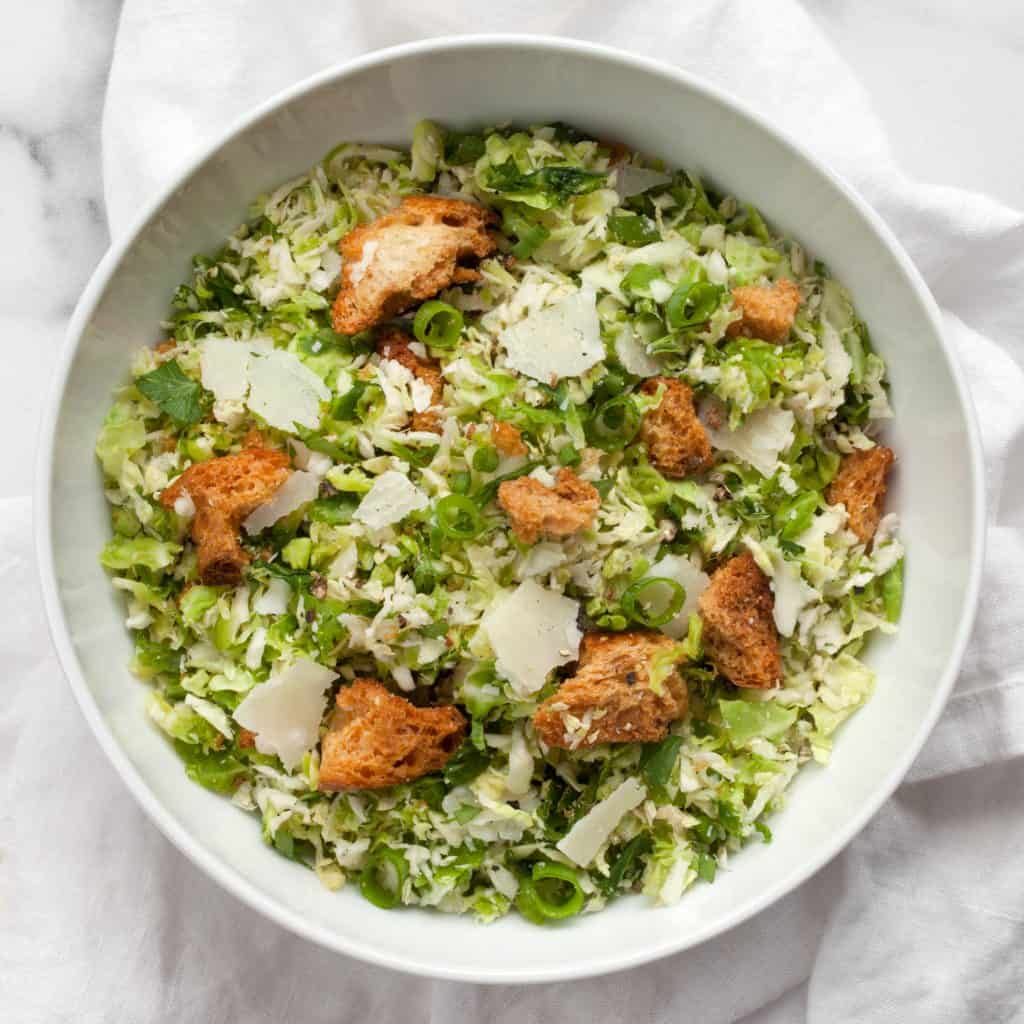 I actually don't mind that we don't get out as often as the pre-kid days. It means there's more time to cook and share at home.

We have people come to us to enjoy a meal. I love the laid back vibe better than any restaurant.

My brother is our most frequent guest, and he's usually game to try whatever I'm whipping up. It's about us all hanging out and not what's on the menu.
At first he was skeptical about this brussels sprout caesar salad, not being a huge sprout fan, but it only took a few bites for him to tell me how much he liked it.

I knew he would!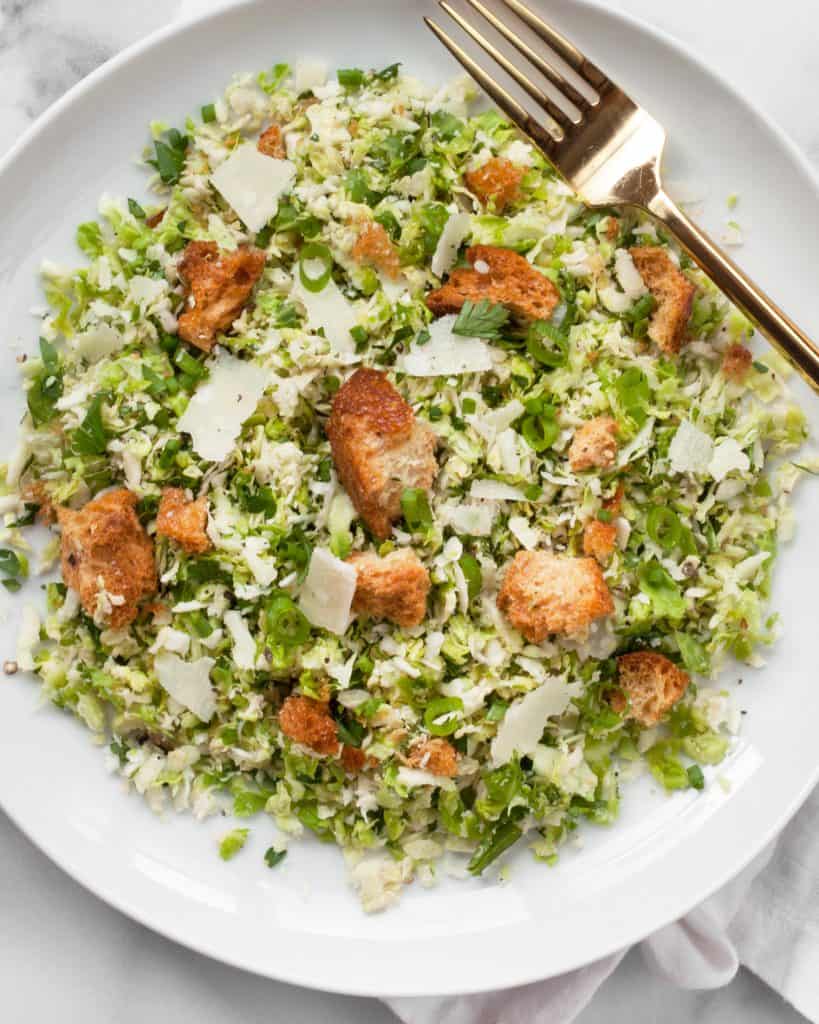 Brussels Sprout Caesar Salad: Making The Case For Raw Sprouts
Roasted brussels sprouts are good, but raw ones are even better.

I shred them with a mandolin or my food processor fitted with the shredding disc for super-charged, nutritious lettuce.

To Caesar-ize this salad, I add lots of Parmesan and make lemon vinaigrette with a little anchovy paste. If you're a vegetarian, you can leave out the anchovies.

Once the toasted cubes of crusty sourdough are out of the oven, I crush them into even smaller croutons. Then I toss parsley and scallions into the crunchy brussels sprout Caesar salad.

I know my brother won't be the only one convinced to join the raw sprout fan club after eating this salad.
Print
Brussels Sprout Caesar Salad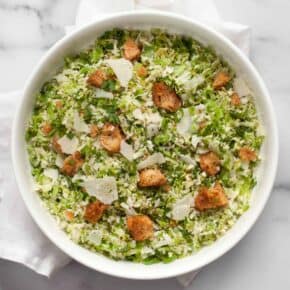 Prep Time:

10 minutes

Cook Time:

12-15 minutes

Total Time:

22-25 minutes

Yield:

Serves 4
Ingredients
For croutons
1-1/2 cups cubed sourdough bread
1 tablespoon olive oil
1 teaspoon kosher salt
1/4 teaspoon black pepper
For vinaigrette
Juice of 1 lemon
1 teaspoon Dijon mustard
1 garlic clove, minced
3 anchovies, minced (optional)
1/4 teaspoon kosher salt
1/4 teaspoon black pepper
1/4 cup olive oil
For salad
2 pounds brussels sprouts, shaved thinly with a mandolin or a food processor fitted with the slicing disc
1/4 cup chopped fresh parsley
1 scallion, thinly sliced
1 tablespoon minced chives
1/3 cup grated Parmesan cheese plus more for serving
Instructions
For the croutons, preheat the oven to 400 degrees F. Toss the bread, olive oil, salt and black pepper on a sheet pan and spread into a single layer. Bake for 12-15 minutes until toasted and golden brown. Once they are cool, used the back of a knife or the bottom of the pan to crush them.
For the vinaigrette, combine the lemon juice, Dijon mustard, garlic, anchovies, salt and pepper. Slowly whisk in the olive oil until fully combined.
In a large bowl, combine the brussels sprouts, parsley, scallions, chives, Parmesan and croutons and toss with the vinaigrette. Top with Parmesan cheese before serving.
SHARE THIS