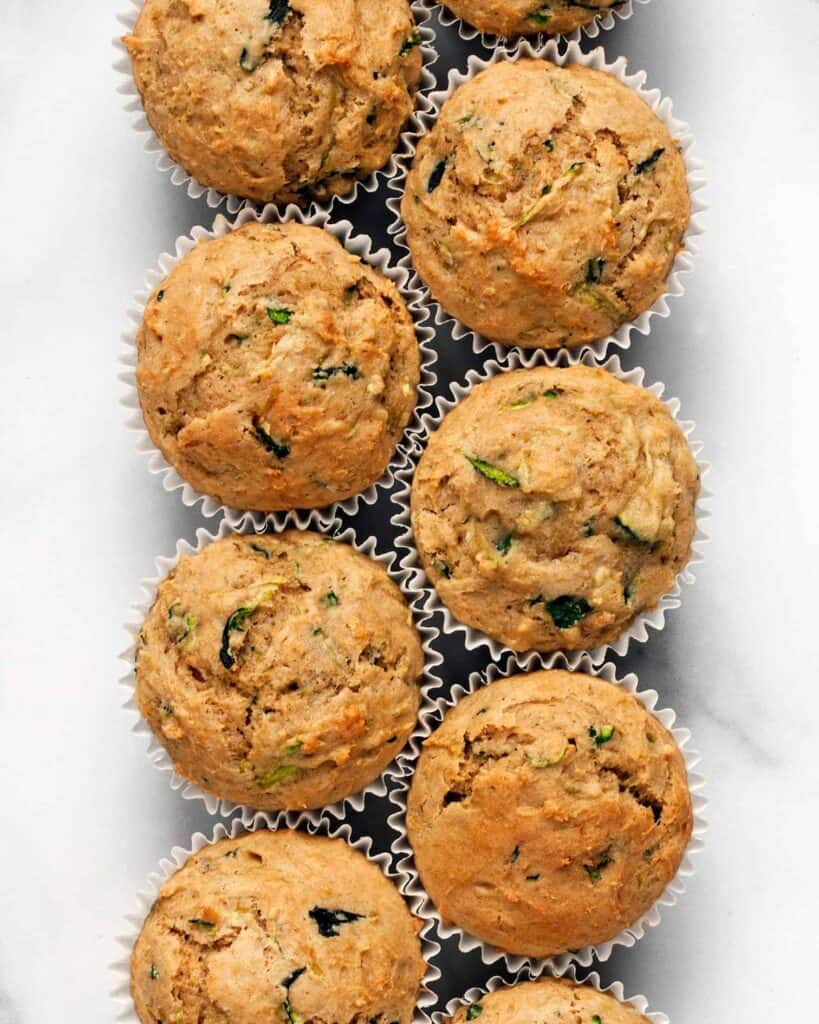 Now that it's officially fall, I don't have to hide my obsession with all things chai.
Not that I was ever ashamed!

I am such a fan of the mix of cinnamon and other spices that I consume chai year round. Iced in the summer and hot in the winter.

Making your own chai concentrate is very simple. I recommend doing it because the homemade version is much more tea-forward instead of being all about sugar.
When you go to a coffee shop and order a chai latte, they typically use chai concentrate from a carton. The result is sweet to the point of being basically a drinkable dessert.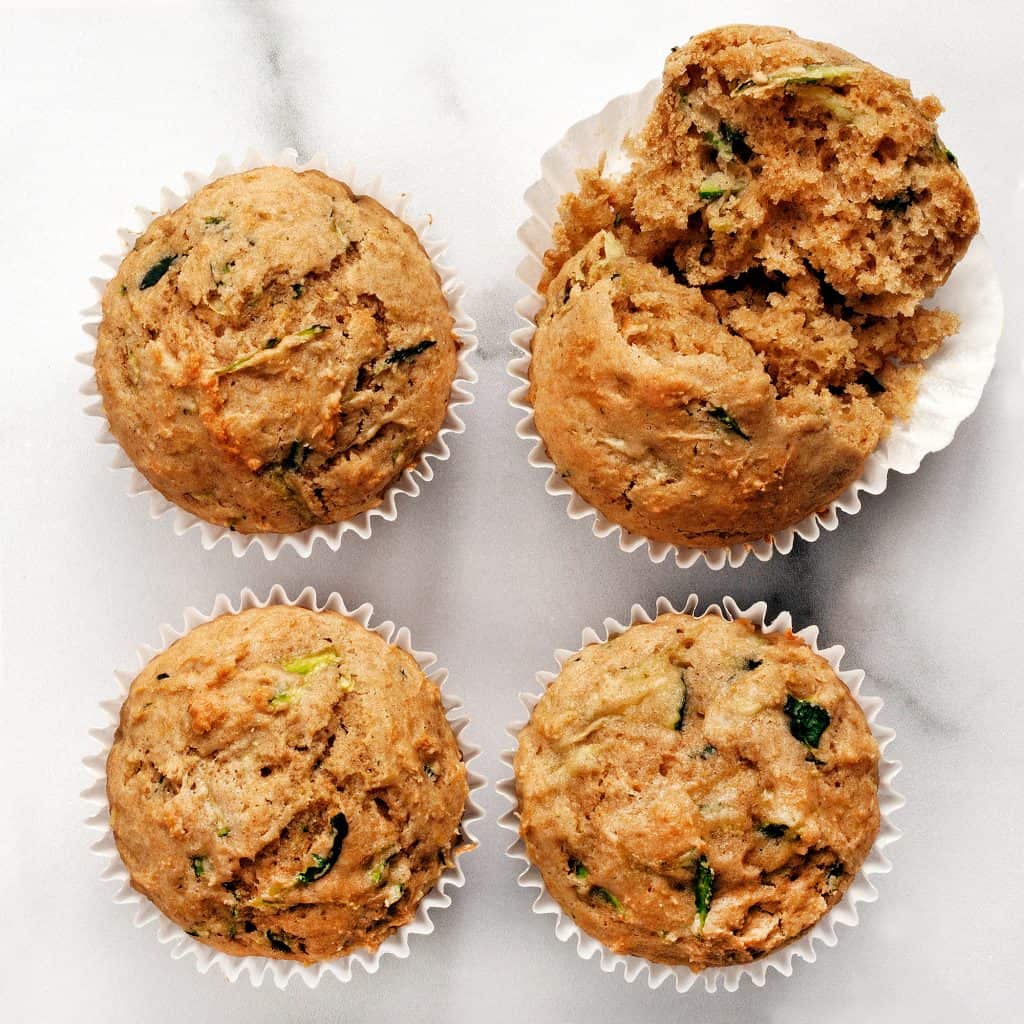 Also, if the barista doesn't get the balance of chai to milk just right, you get a weird tingly burn in your throat.
Just like it's cousin pumpkin spice, chai can take on more forms than just a beverage. I make overnight chai oatmeal that is great topped with fruit and granola.
These fall flavors lend themselves really well to baked goods.
Healthier Zucchini Chai Muffins
I took inspiration from that classic spice blend and baked zucchini chai muffins that are a lighter version of your typical muffins.
Having such a fragrant combination of cinnamon, ginger, cardamom, nutmeg and cloves, allowed me to make healthy tweaks that didn't sacrifice flavor or texture.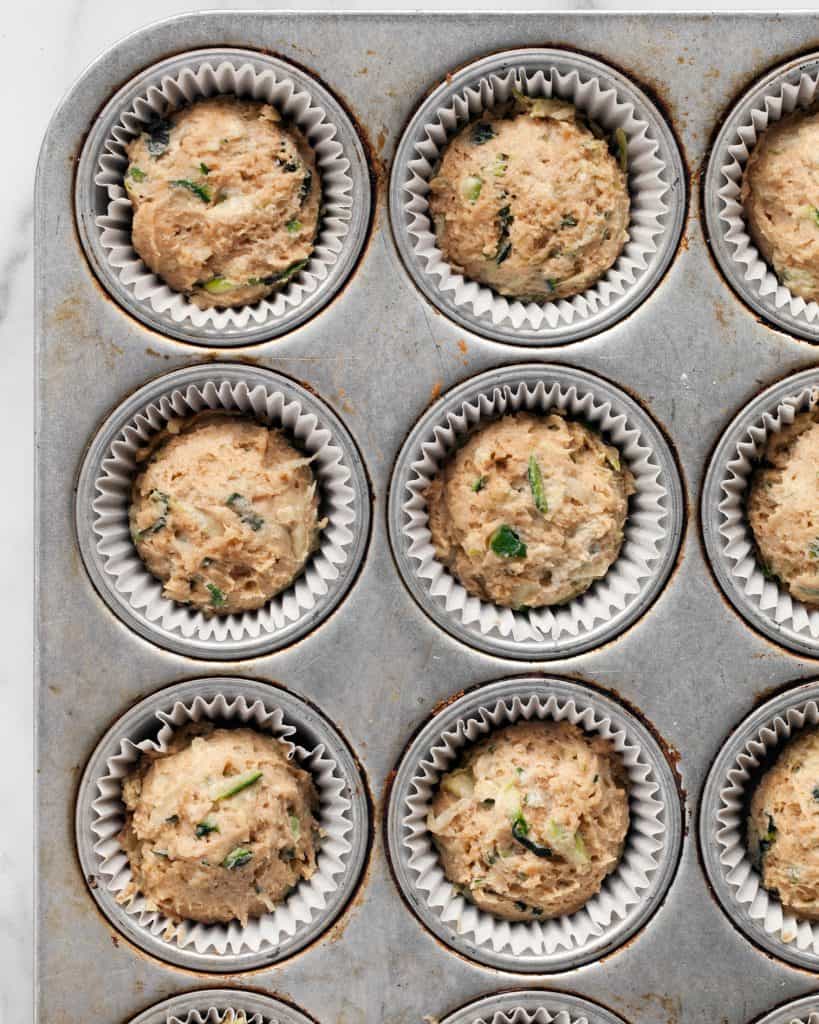 Regular muffins are pretty much cake with another name, right?

With these zucchini chai muffins, I used whole wheat pastry flour, which has a finer consistency. The muffins are whole grain while keeping their tender crumb.
I skipped granulated sugar. Instead for sweetness, I used maple syrup.

Besides flour selection and skipping refined sugar, I folded Greek yogurt into the batter, too.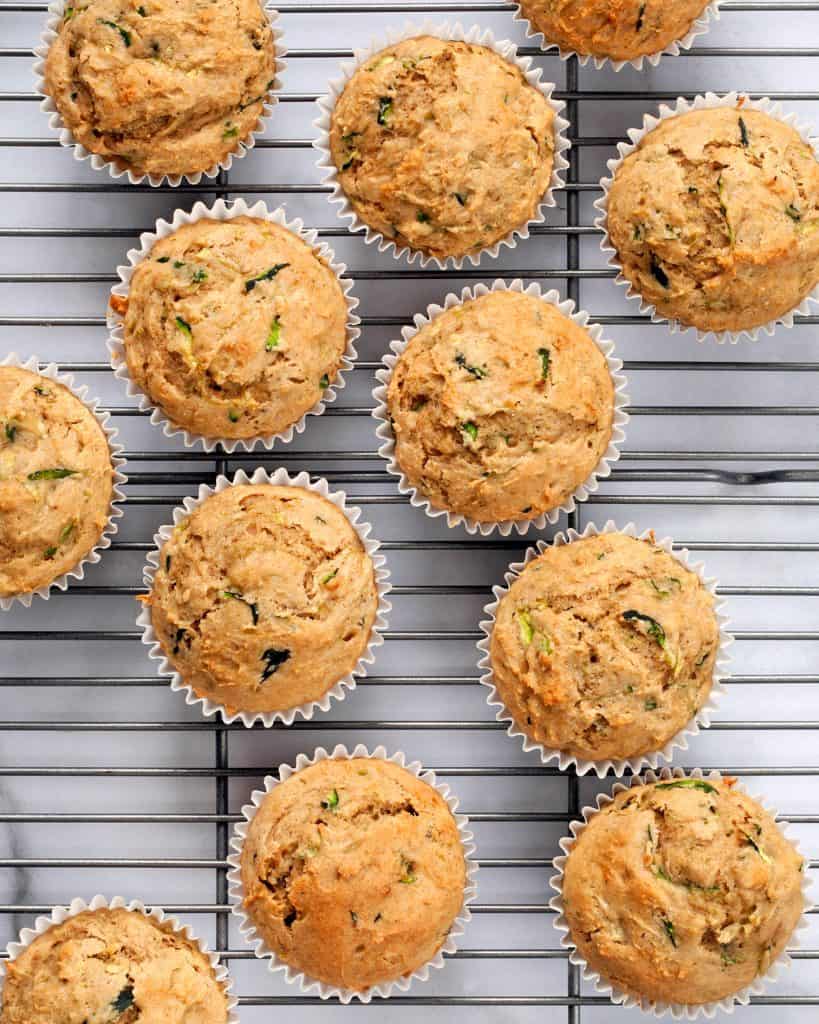 I knew I wouldn't be able to finish off this batch of muffins, so I ended up freezing them.
These zucchini chai muffins freeze beautifully. Just take one out, let it thaw at room temperature and the muffin will be good to go!
Print
Zucchini Chai Muffins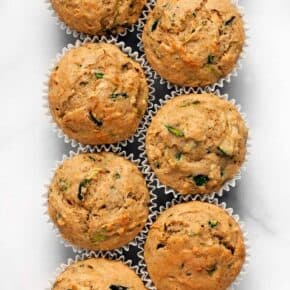 Prep Time:

10 minutes

Cook Time:

20-22 minutes

Total Time:

30-32 minutes

Yield:

12

muffins

1

x
Scale
Ingredients
2 cups whole wheat pastry flour
1 teaspoon baking powder
1/2 teaspoon baking soda
1-1/2 teaspoons cinnamon
1 teaspoon ginger
1/4 teaspoon cardamom
1/4 teaspoon nutmeg
1/4 teaspoon ground cloves
1/2 teaspoon salt
1/3 cup melted coconut oil
1/2 cup maple syrup
2 large eggs
1 teaspoon vanilla extract
1/2 cup Greek yogurt
1-1/2 cups grated zucchini, (about 2 zucchinis), excess water squeezed out
Instructions
Preheat the oven to 400 degrees F. Line a 12-cup muffin pan with paper liners.
In a large bowl stir together the flour, baking powder, baking soda, cinnamon, ginger, cardamom, nutmeg, cloves and salt.
In a medium bowl, whisk the coconut oil, maple syrup, eggs, and vanilla extract until fully combined.
Fold the wet ingredients into the dry ingredients. When they are almost combined, fold in the Greek yogurt and zucchini. Spoon the batter into the muffin cups.
Bake 20-22 minutes until golden brown and a toothpick inserted in the center of a muffin comes out clean.
Cool on a wire rack.
Store in an airtight container.
Notes
Muffins can be frozen in an airtight container up to 1 month. Thaw at room temperature.
SHARE THIS