Flourless Chocolate Almond Olive Oil Cake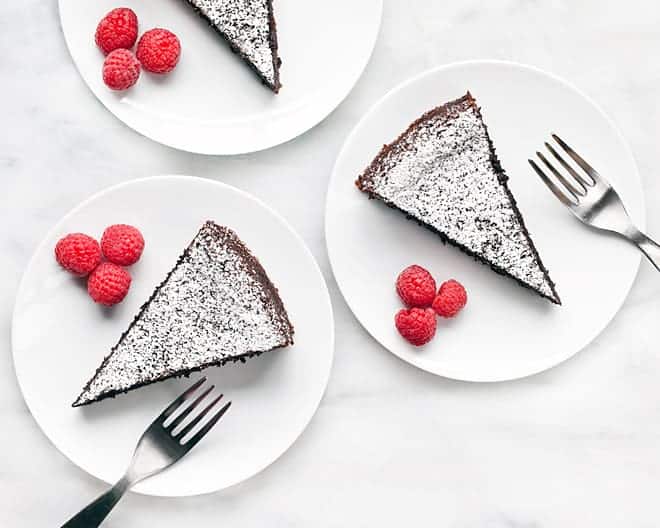 This will probably offend some people, but I live for gluten. I am a carb gal through and through. If I admit how fast I go through 5-pound sacks of all-purpose flour and bread flour, you will think I have a problem. I bake at least twice a week from savory to sweet. Just the other morning I managed to whip up a batch of pizza dough before taking my son to preschool. I let it slowly rise in the fridge, so it was ready in time for dinner.
To change up my baking routine, I made a flourless chocolate almond olive oil cake with almond meal and a little almond extract. I felt out of my element, swapping out the butter and flour, but I loved the combination of chocolate, olive oil and almonds. For a flourless cake, every bite was very chocolatey, but still light. I dusted the top with lots of confectioners' sugar and served each slice with a few fresh raspberries.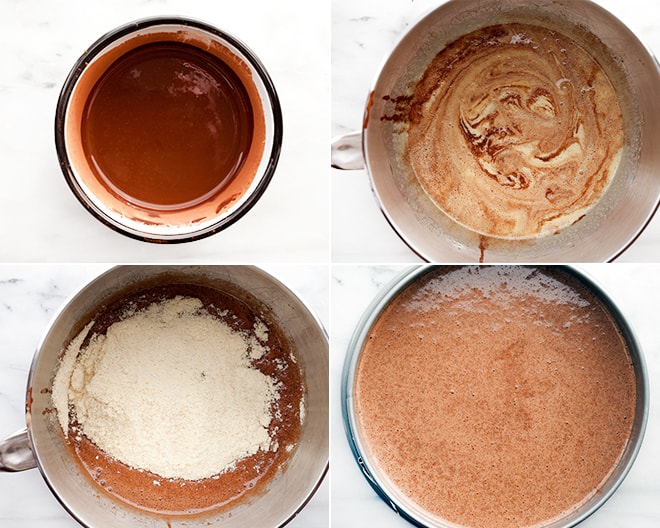 Flourless Chocolate Almond Olive Oil Cake
Adapted from Nigellissima by Nigella Lawson
Makes one 9-inch round cake
2/3 cup extra virgin olive oil plus more for greasing pan
1/2 cup boiling water
6 tablespoons unsweetened cocoa powder, sifted
2 teaspoons vanilla extract
1/4 teaspoon almond extract
1-1/2 cups almond meal
1/2 teaspoon baking soda
1/4 teaspoon sea salt
1 cup granulated sugar
3 large eggs
Confectioners' sugar for dusting
Raspberries for serving
Preheat the oven to 325 degrees F. Grease a 9-inch springform pan with olive oil and line the bottom with parchment.
In a small bowl, whisk the boiling water into the cocoa powder and then add the vanilla extract and almond extract. Set aside to cool slightly.
In a medium bowl, combine the almond meal, baking soda and sea salt.
In the bowl of a stand mixer fitted with the paddle attachment, beat the olive oil, sugar and eggs on medium speed until fully combined and thickened, about 3 minutes. With the mixer on low speed, add the cocoa mixture and then the dry ingredients. Transfer the batter to the prepared pan and bake for 40-45 minutes until a toothpick inserted into the center of the cake comes out with a few crumbs.
Cool the cake in the pan on a wire rack for 10 minutes before carefully removing it. Serve warm or at room temperature dusted with confectioners' sugar and with raspberries.