Salt & Vinegar Potato Salad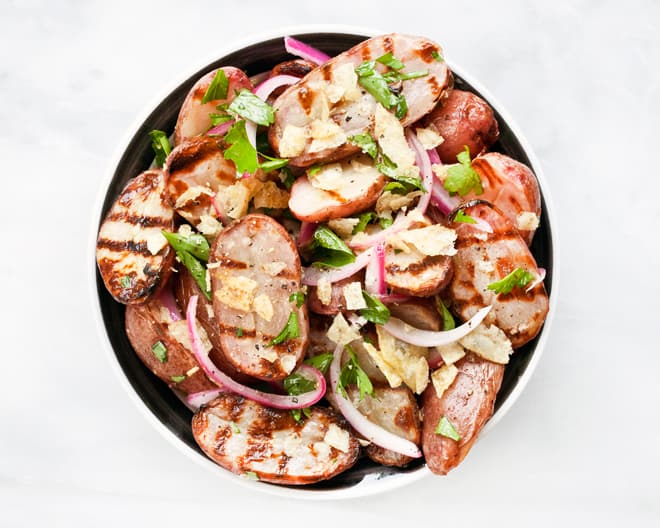 Week 2 of farmers market season and the pickings were just as slim as week 1. Please forgive my complaining. I know I am being impatient. I did see a stand that had Sun Gold tomatoes, so it won't be long before all the leafy greens and asparagus transform into everyone's favorite rainbow of fruits and veggies.
I left the market with a few things including a paper bag filled with fingerling potatoes. Instead of roasting them, I boiled the potatoes and threw them on the grill. I tossed those charred spuds with pickled red onions, champagne vinegar, olive oil, parsley and potato chips to make this salt & vinegar potato salad.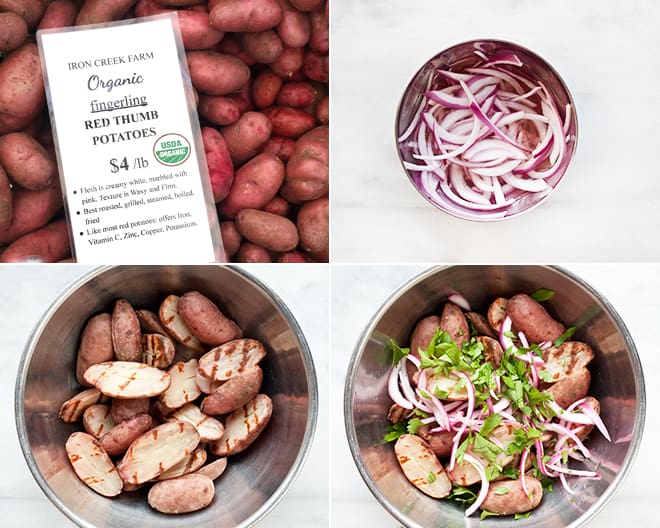 Salt & Vinegar Potato Salad
Adapted from Food & Wine June 2017
Serves 8
3 pounds fingerling potatoes (I used Red Thumb potatoes.)
Kosher salt & black pepper
1 small red onion, sliced thinly
1/2 cup champagne vinegar
1/4 cup olive oil
1 cup lightly packed parsley leaves, roughly chopped
2 cups kettle-cooked salt & vinegar potato chips, crushed
Place the potatoes in a large saucepan filled with salted water. Bring the water to a boil and cook the potatoes until tender, about 20 minutes. Use a slotted spoon to transfer the potatoes to a plate to cool. Halve the potatoes lengthwise.
While the potatoes are cooking, combine the onions and vinegar in a small bowl. Let stand for 10 minutes.
Heat a gas or charcoal grill on medium high heat. Place the potatoes on the grates cut side down and grill until they are slightly charred and grill-marked, about 5 minutes.
In a large bowl, combine the potatoes, onions, vinegar, olive oil, parsley and chips. Season with salt and pepper.