30-Minute Roasted Tomatoes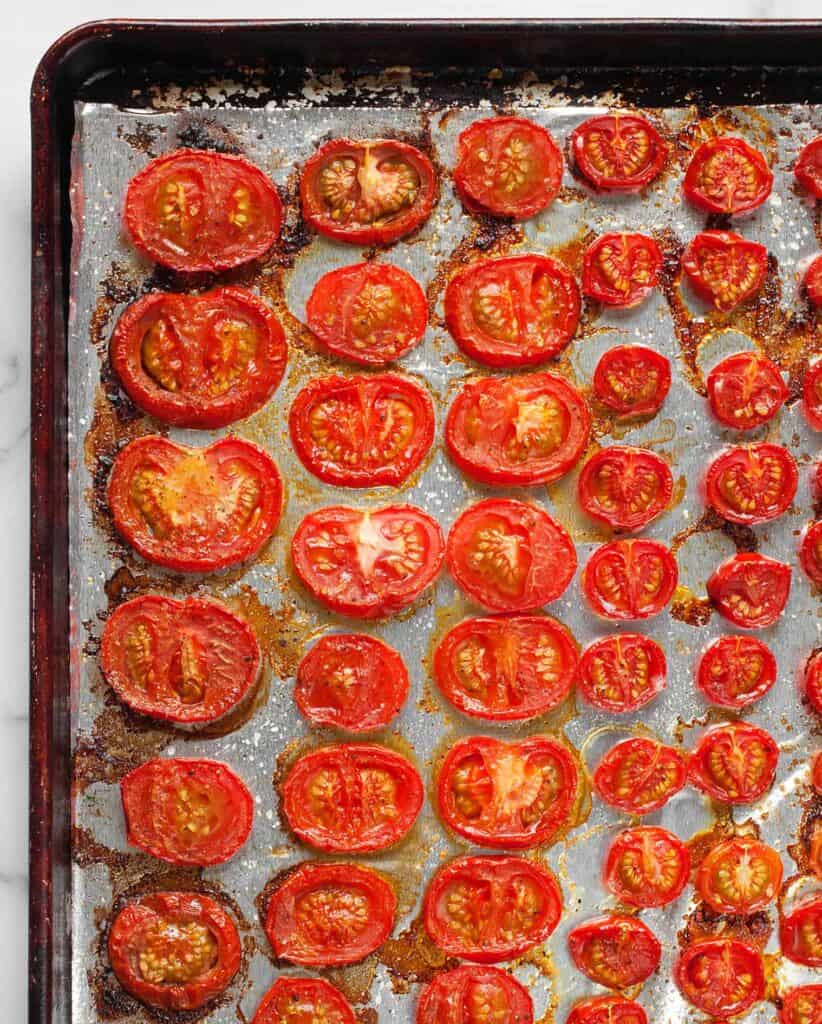 It was weeks ago that I planned a special date for last Saturday.

My calendar was marked, and I was counting down the days.

Too bad Mother Nature had other plans.
I am thrilled to report that the kale, arugula and mesclun greens are thriving in this weather.

Fingers crossed.

Every morning I wake up and peek out the back door to make sure they look taller and aren't drooping.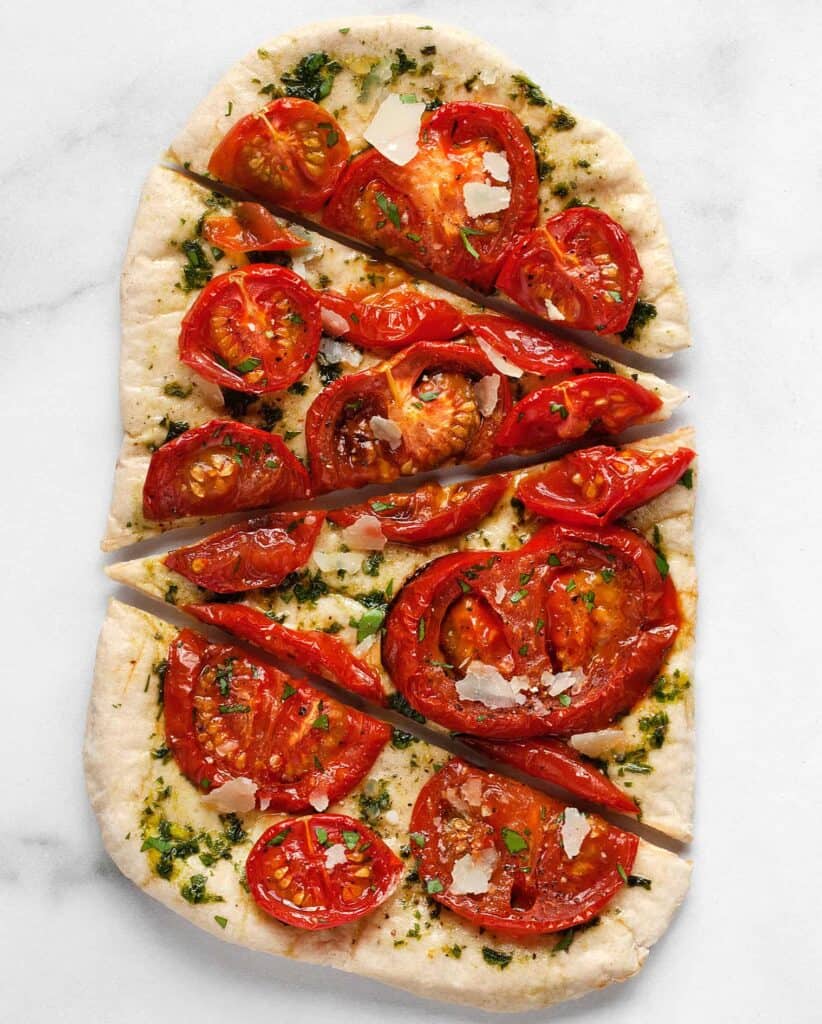 We were supposed to pick-up a couple tomato plants and a lemon tree for our containers to be complete, but a freeze warning changed things.

Early Saturday morning I got an email from the garden center saying they wouldn't be open over the weekend because they were scrambling to protect their inventory from the unexpected chill.
Hopefully we will be able to bring home our plants next week.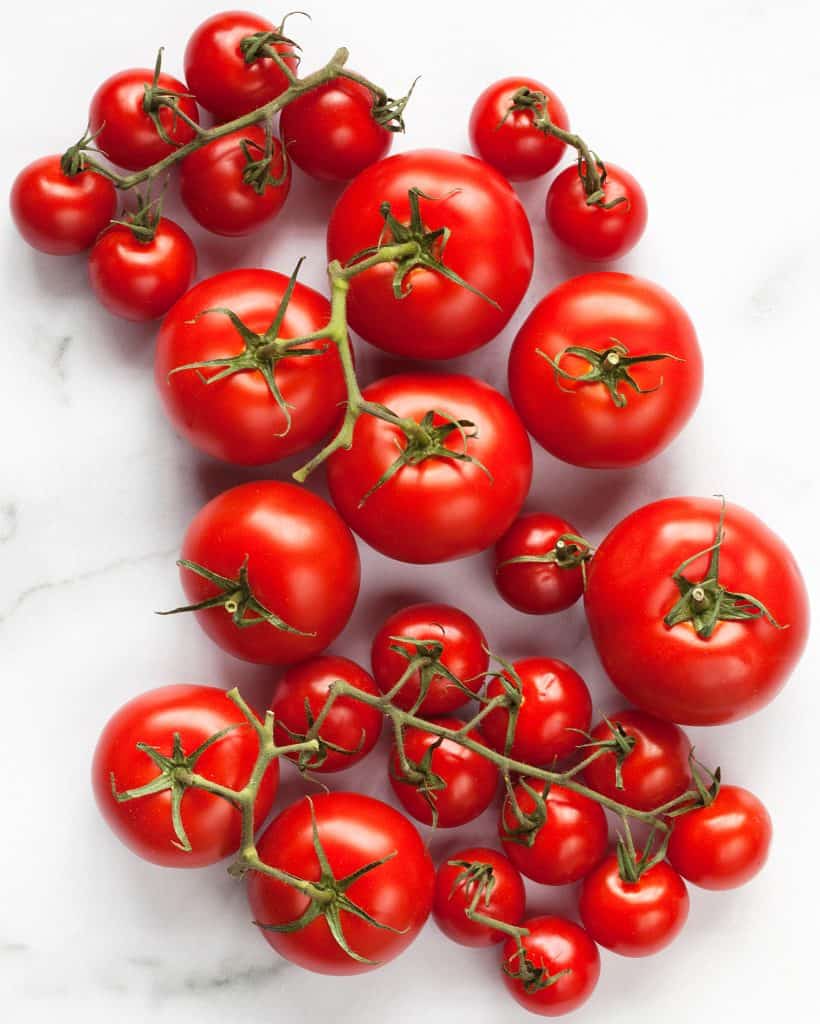 Having a kitchen garden is one of my favorite things about summer.

Tomatoes are what I look forward to most, so I like getting them into the soil as early as possible.

It's no big deal that I will have to wait another week.

In the mean time, I am slicing and roasting my store-bought tomatoes in the oven.
There is no better way to bring out strong-tomatoey flavor than roasting.
And it doesn't take much time or effort.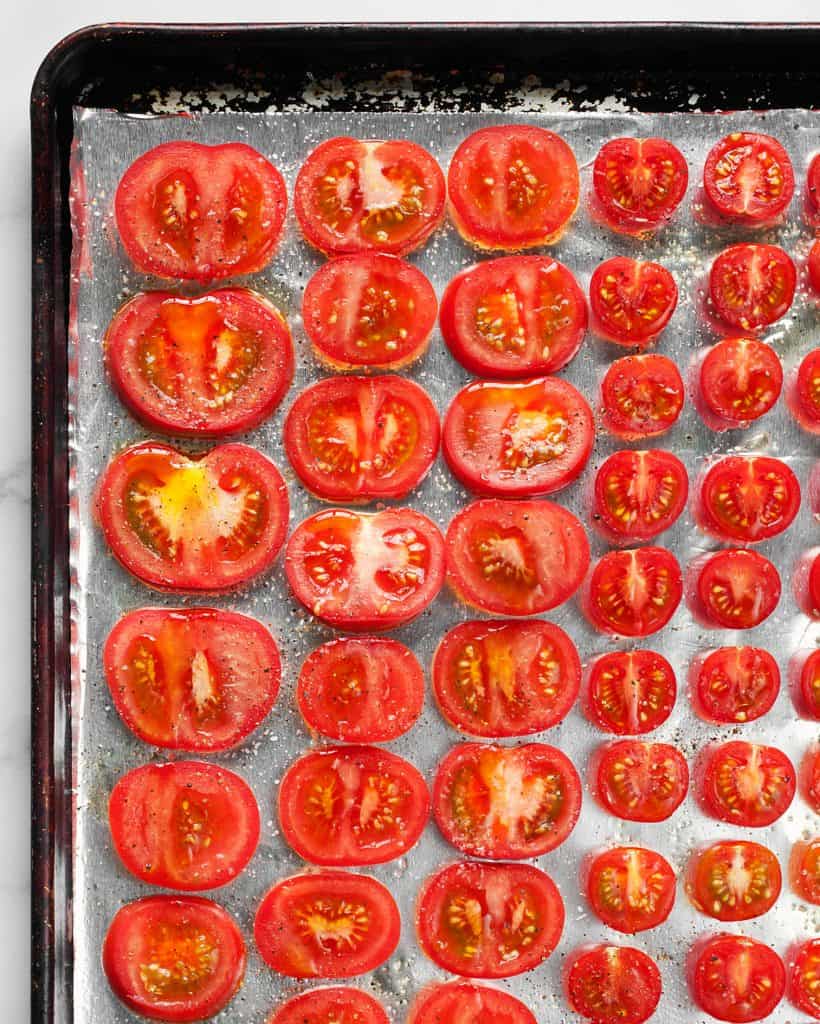 How To Make 30-Minute Roasted Tomatoes
For the tomatoes, I halve smaller ones like cherry or grape.With larger ones, I slice them 1/4-inch-thick.
I always line my sheet pan with aluminum foil. Yes, you can put tomatoes right on the pan, but I find this makes clean up much easier.
Using greased foil instead of parchment paper gives the tomatoes more opportunity to get a little brown and crisp on the bottom.
Once the tomatoes are arranged on the sheet pan, I drizzled them with olive oil and sprinkle on salt and pepper.
After they've been cooking for 25 minutes, I check on the tomatoes. They should be wrinkled, but still juicy.

Usually, I end up roasting them for another 5 minutes.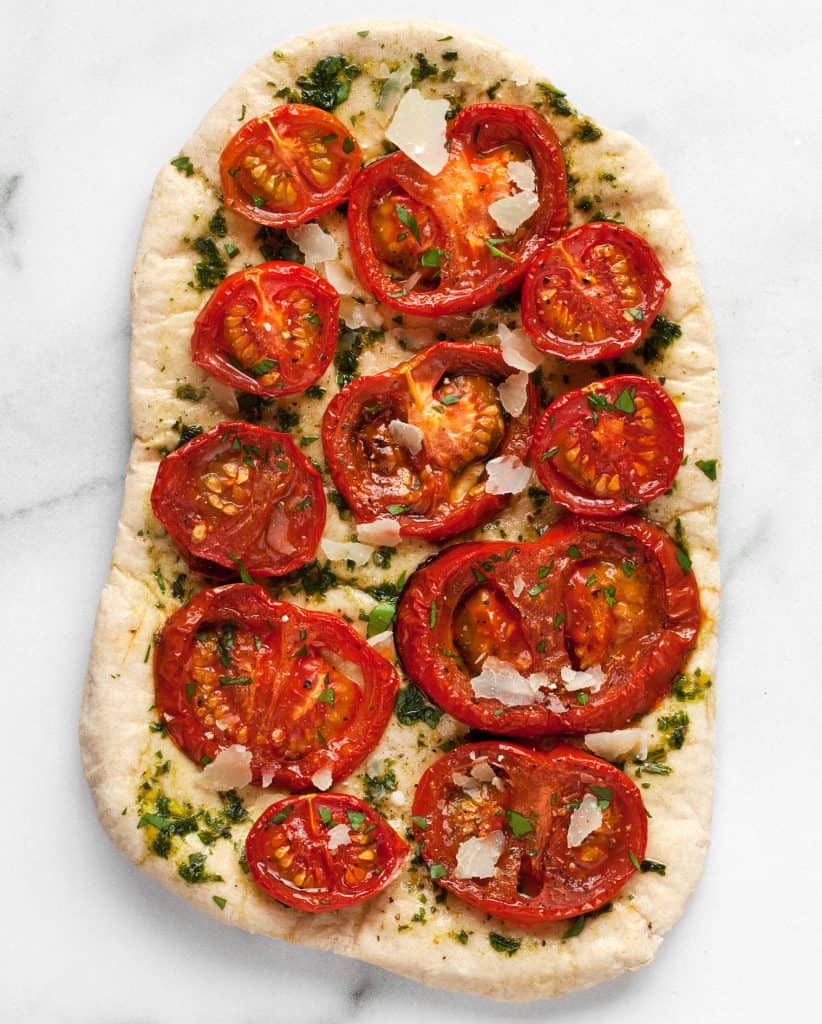 How To Use Your Tomatoes
These 30-minute roasted tomatoes are great on pizza.

You can stir them into pasta, grains or eggs. Cherry and grape tomatoes will hold their shape better than sliced tomatoes.
Besides pizza, you can use sliced tomatoes on sandwiches or on avocado toast.
No matter the season, I am always roasting tomatoes.
Print
30-Minute Roasted Tomatoes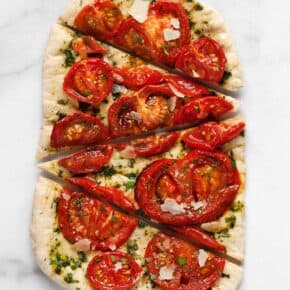 Prep Time:

5 minutes

Cook Time:

25-30 minutes

Total Time:

30-35 minutes

Yield: About

1

–

1/2

to 2 cups

1

x
Scale
Ingredients
1 tablespoon olive oil plus more for greasing pan
1–1/2 – 2 pounds assorted tomatoes, cherry & grape tomatoes halved, larger tomatoes sliced 1/4-inch-thick
1/2 teaspoon kosher salt
1/4 teaspoon black pepper
Instructions
Preheat the oven to 400 degrees F. Line a sheet pan with aluminum foil and grease it with a light coating of olive oil.
Arrange the tomatoes in a single layer. Drizzle them with 1 tablespoon olive oil and sprinkle with salt and pepper.
Roast for 25 minutes before checking on the tomatoes. They should be wrinkled, but still juicy. If not, let them cook another 5 minutes.
Warm tomatoes can be used immediately.
Cool to room temperature before storing in an airtight container in the refrigerator up to 2 weeks.
SHARE THIS