Easy Oven-Roasted Tomatoes
There's no better way to make fresh tomatoes even more special than by roasting them. With these easy oven-roasted tomatoes, you can fill a baking pan with sliced tomatoes, drizzle them with olive oil, sprinkle them with salt and pepper and let the heat do the rest. You will end up with tomatoes that you can use in countless ways including pasta, pizza, salads and so much more.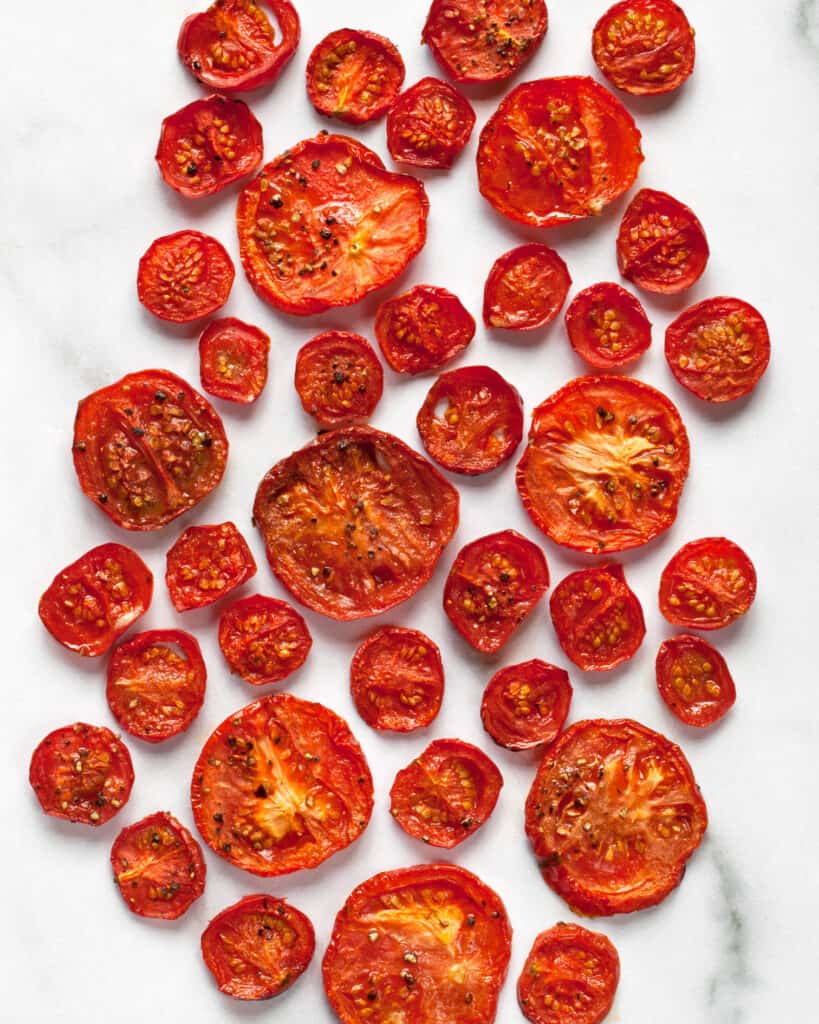 Why You'll Love This Recipe
It's a quick and easy way to roast different sizes and kinds of tomatoes at once. You don't have to stick to a single variety or a uniform size. Larger tomatoes can be sliced and smaller tomatoes can just be halved. The diameter doesn't matter. As long as they are all a similar thickness they will roast in about 25-30 minutes in a 400-degree F oven.
You can roast a lot of tomatoes at once. It's a good problem when you have more tomatoes than you know what to do with, right? This recipe is very easy to double. You can keep your oven going with multiple rounds of roasting.
The tomatoes are freezable. If you want to preserve peak season tomatoes, you can roast them and then freeze them. They thaw quickly at room temperature or you can put them frozen on pizza before it goes in the oven to bake.
Quick-Roasted vs. Slow-Roasted Tomatoes
There are 2 strategies to making oven-roasted tomatoes: slow-roasting or quick-roasting. They are both great. It just depends on how much time you have, and how you want the tomatoes to turn out even though the differences are subtle. You can roast tomatoes for a shorter amount of time at a higher temperature or for longer at a lower temperature.
Slow-roasted tomatoes turn out a little bit drier. When you roast them at a higher heat for less time, like I do for this recipe, they are juicier. Again, with either version you will have tomatoes that have tons of flavor.
What Kind of Tomatoes are Best for Roasting?
You can roast any size from big beefsteaks to cherry tomatoes. Even tomatoes that you think of for sauce such as plum tomatoes or roma tomatoes can be roasted. As mentioned, make sure you have some consistency in thickness when you slice them. The diameter of the tomatoes can vary.
If you have medium to large tomatoes, slice them about a quarter-inch thick. For smaller grape tomatoes and cherry tomatoes, all you have to do is cut them in half.
The Ingredients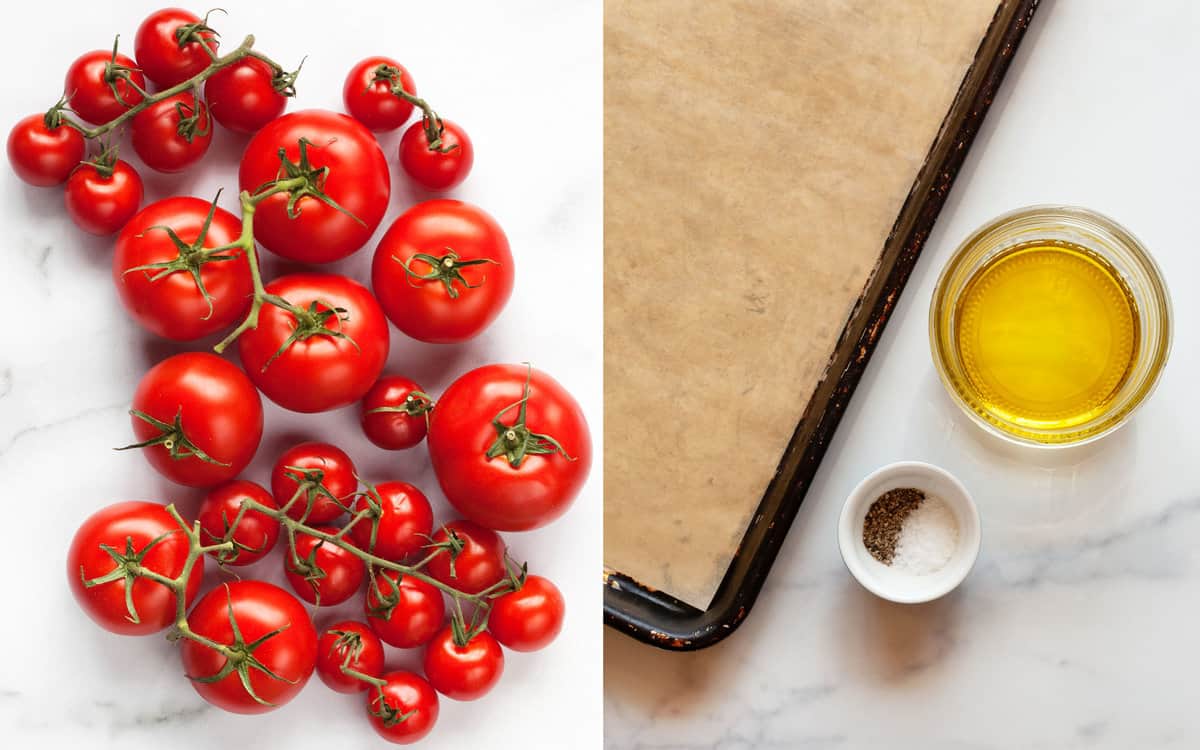 This is what you need:
Tomatoes: You can roast multiple types of tomatoes on the same pan as long you slice them about same thickness. This recipe is a great way to make the most of tomatoes from your garden or ones you buy at the farmer's market.
Olive oil: Since there are very few ingredients, I use extra virgin olive oil for the best taste.
Kosher salt & black pepper: It's important to season the tomatoes before they go into the oven.
How To Make Oven-Roasted Tomatoes
Preheat the oven to 400 degrees F. Line a rimmed baking sheet with parchment paper.
Place the tomatoes on the pan, drizzle them with olive oil and season them with salt and pepper. The tomatoes should be in a single layer. They can be close together, but they should not be overlapping.
Roast the tomatoes. Check on them after 25 minutes. The tomatoes are ready when they are wrinkled, but they should still look juicy in the middle. Usually, I end up roasting them for another 5 minutes, but it's always good to look at them at the 25-minute mark. If some tomatoes are done and others aren't, take them off the pan and continue roasting the rest.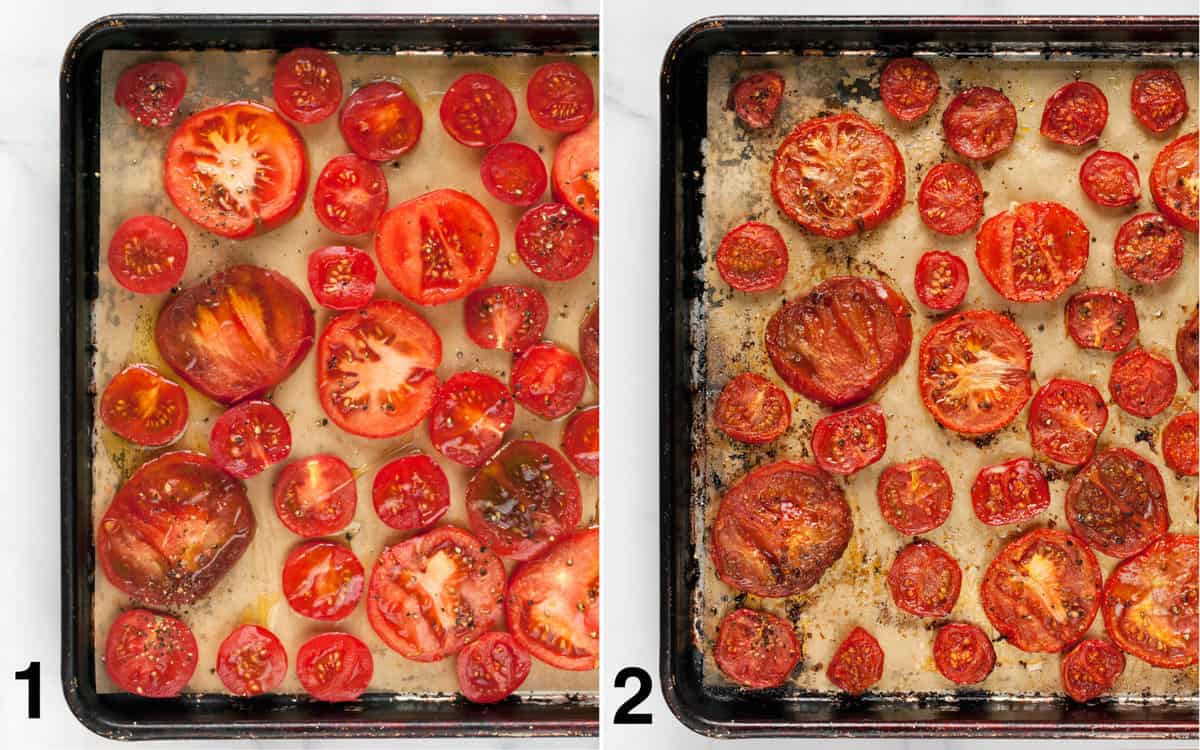 How To Use Roasted Tomatoes
Pasta, of course. With tomatoes, they are a total dream team. Simmer your noodles until they are al dente. If your tomatoes are cold because you've had them stored in the fridge, warm them in a skillet with some olive oil over low heat, Then when the pasta is ready, you can use tongs to transfer them from the pot to the tomatoes in the skillet. Stir everything together and finish with Parmesan cheese.
Pizza: When you bake pizza in the oven, it is not enough time to cook the toppings. That's what's so handy about make-ahead toppings like roasted tomatoes. You can put refrigerated or frozen tomatoes right on the pizza with the cheese and everything else.
Bruschetta traditionally uses raw tomatoes, but you can make a roasted tomato version instead and garnish it with basil leaves or other fresh herbs. If you add mozzarella, you can make caprese bruschetta.
Burrata or mozzarella: These soft, milky fresh cheeses are wonderful with roasted tomatoes for an appetizer. Or with mozzarella you can make a roasted tomato caprese salad.
Grains: Stir the tomatoes into cooked grains such as farro, barley, quinoa or even brown rice. You can add basil pesto too.
Chicken, fish or meat: Whether it's grilled, baked or roasted, you can top a protein with roasted tomatoes as a condiment.
Eggs: You can make an omelette or scrambled eggs and stir in these tomatoes with spinach or other vegetables like mushrooms.
Sandwiches: You will never go back to raw sliced tomatoes on your sandwiches once you take that first bite with roasted ones. I love them on avocado toast too.
Salads: Add the tomatoes to a simple arugula salad with shaved Parmesan or an Italian chopped salad dressed in balsamic vinegar and oil.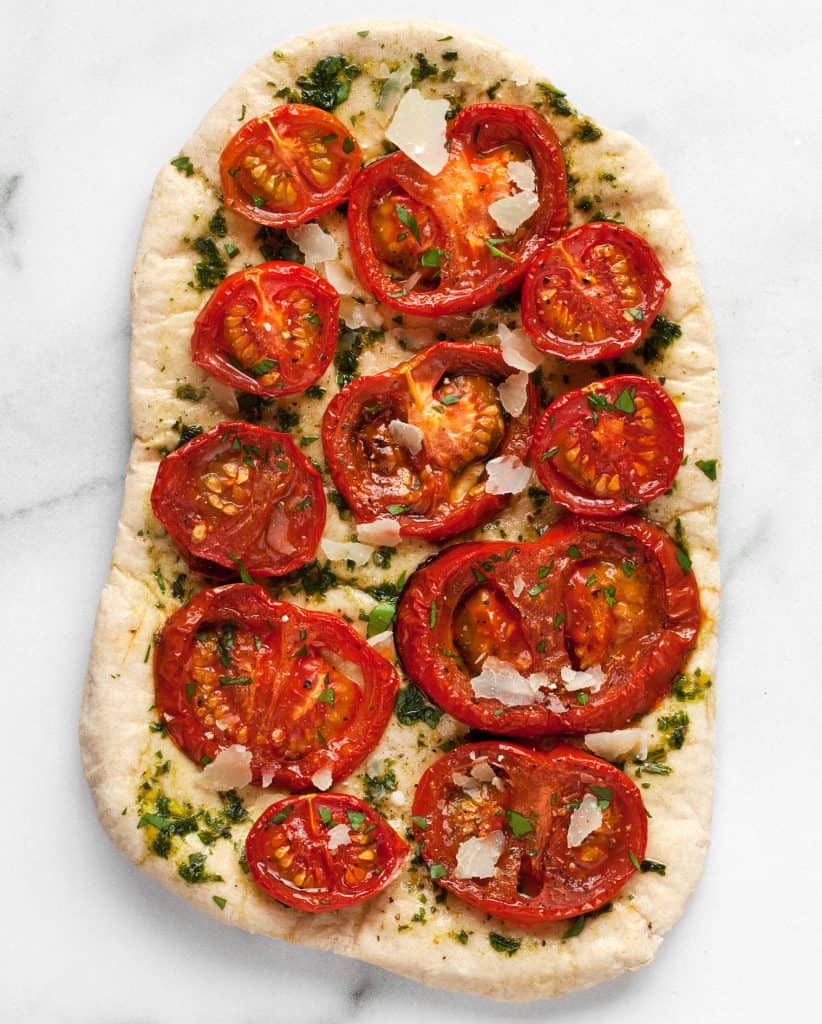 Storage & Freezing Instructions
The tomatoes will stay good in an airtight container in the fridge for 2 weeks. I put all the tomatoes in the same container no matter the size; however, I like stack the roasted tomato slices on top of each other. Then they will keep their shape.
To freeze, put the tomatoes on a wax paper-lined pan or plate in the freezer. They should not be touching. Then once they are frozen, you can combine them in a one bag or container. When you do it this way, they will all be individually frozen instead of in a clump. They will stay good frozen up to 2 months.
Recipe Tips
Use a serrated knife to cut the tomatoes. The teeth on the blade easily go through the thin skin without tearing it. With this type of knife, you should be doing a sawing motion, back and forth. If you press your knife down, you will squash the tomatoes.
Use fresh tomatoes that aren't mushy and overripe or hard and underripe. Roasting can rescue tomatoes that are not in prime condition, but it's best if you have good tomatoes from the start. A wrinkle or blemish here and there is ok, and you can cut around it as necessary.
Sliced roasted tomatoes are more delicate than halved smaller tomatoes. The skin on the tomatoes gives them structure. For example, there's nothing wrong with stirring sliced roasted tomatoes into pasta, but roasted cherry or grape tomatoes will hold their shape better when they are mixed into other ingredients.
Halved tomatoes should be arranged cut side up on the roasting pan. When they are in this position with their skins down, they roast better and you won't lose any of their juiciness.
Recipe FAQs
Can you roast garlic with tomatoes?
Yes. If you want, you can take advantage of the heat in the oven and multi-task. Throw a few garlic cloves, in their skins, on the sheet pan. After they finish roasting, you can squeeze out that magical roasted garlic and stir it into tomato sauce, spread it on bread, or stir it into olive oil, which is what I do for my Sheet Pan Gnocchi and Vegetables recipe.
Do you need to peel tomatoes when you roast them?
No. Unlike sauce, you want the skin because it is the structure the tomatoes need to maintain their shape. Also, it adds good texture and flavor to roasted tomatoes.
Can you add fresh herbs when you roast tomatoes?
You can scatter fresh thyme sprigs over the tomatoes before they go into the oven.
Roasted Tomato Recipes
Appetizer:
Burrata with Roasted Tomatoes
Roasted Tomato Toast
Side Dish:
Balsamic Zucchini Tomato Bake
Roasted Eggplant, Tomatoes and Chickpeas
30-Minute Tomato Zucchini Orzo
Salad:
Mediterranean Chickpea Quinoa
Roasted Zucchini Tomato Lentil Salad
Roasted Tomato Pesto Potato Salad
Main Dish:
Sheet Pan Baked Feta with Vegetables
Roasted Mediterranean Vegetables and Halloumi
Oven-Roasted Tomatoes Recipe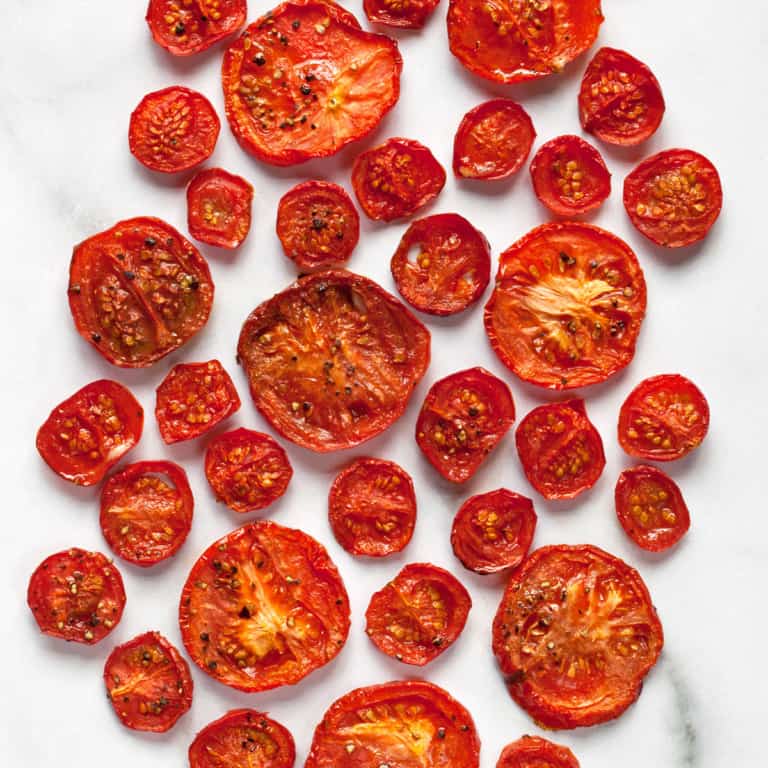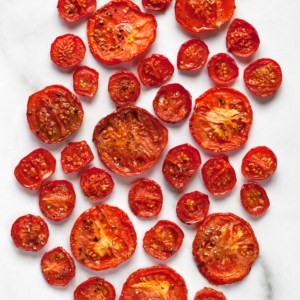 With these oven-roasted tomatoes, you can roast multiple sizes and types of tomatoes at once in only 30 minutes just drizzled with olive oil and seasoned with salt and pepper.
Ingredients
2

tablespoons

olive oil

1-1/2

– 2 pounds assorted tomatoes

cherry & grape tomatoes halved, larger tomatoes sliced 1/4-inch-thick

1/2

teaspoon

kosher salt

1/4

teaspoon

black pepper
Instructions
Preheat the oven to 400 degrees F. Line a sheet pan with parchment paper.

Arrange the tomatoes in a single layer. The halved tomatoes should be cut side up. Drizzle them with olive oil and sprinkle with salt and pepper.

Roast for 25 minutes before checking on the tomatoes. They should be wrinkled, but still juicy. If not, roast another 5 minutes.

Warm tomatoes can be used immediately.
Notes
Recipe makes about 1-1/2 to 2 cups tomatoes.
Cool to room temperature before storing the tomatoes. They can be stored in an airtight container in the fridge up to 2 weeks. It is best to stack sliced tomatoes on top of each other if you want them to hold their shape.
To freeze, put the tomatoes on a wax paper-lined pan or plate in the freezer without them touching each other. After they have frozen, you can combine them in a single freezer bag or container.
You can warm the tomatoes in a skillet over medium heat with a little olive oil. This is best if you are planning to use them in pasta or grains, especially for halved cherry and grape tomatoes.
Let sliced tomatoes sit out at room temperature to warm up from the fridge or thaw from the freezer. You can put frozen tomatoes on a pizza with the rest of the toppings before it goes into the oven.
Nutrition
Calories:
73
kcal
|
Carbohydrates:
2
g
|
Protein:
1
g
|
Fat:
7
g
|
Saturated Fat:
1
g
|
Polyunsaturated Fat:
1
g
|
Monounsaturated Fat:
5
g
|
Sodium:
294
mg
|
Potassium:
148
mg
|
Fiber:
1
g
|
Sugar:
2
g
|
Vitamin A:
513
IU
|
Vitamin C:
8
mg
|
Calcium:
7
mg
|
Iron:
0.2
mg
Nutrition information is automatically calculated, so should only be used as an approximation.