T-minus 2 weeks until Thanksgiving, my favorite food holiday of the year. I have sides and dessert on the brain right now and of course bread. It's often a forgotten detail of a big meal, and there's nothing wrong with a store-bought loaf, but this pull-apart bread has me trying to figure out how I can squeeze baking it in between all the classic oven hogs that take over on T-Day.
What makes this bread so special is the garlic butter spread between each layer of dough. The final result is fluffy, light and a little bit buttery. When my husband tried it, he said it was like the Pepperidge Farm rolls he loved as a kid. A definite compliment in my book! The pull-apart layers made it easy to share. No serrated knife required. Just a gentle tug and the loaf split into individual slices.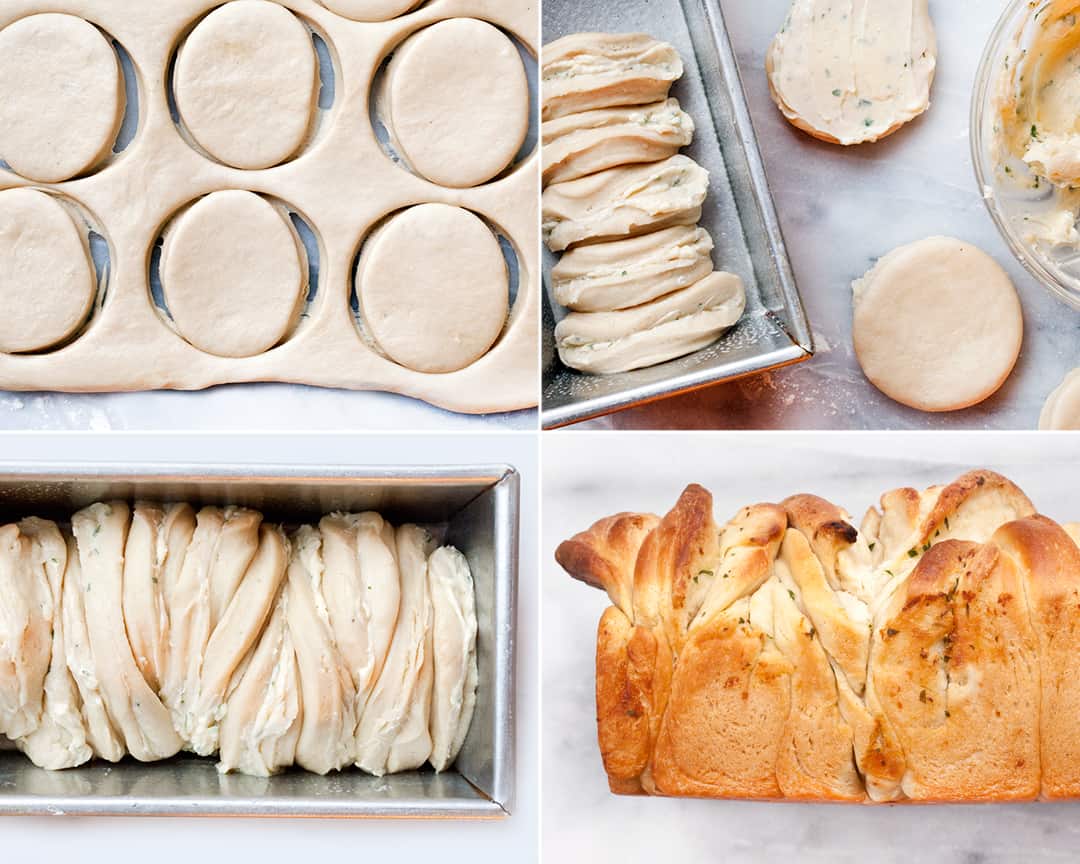 Pull-Apart Bread
Adapted from King Arthur Flour
Makes 1 loaf
For dough
1 cup milk
1/4 cup unsalted butter
3 tablespoons sugar
2 teaspoons kosher salt
2 large eggs
2 teaspoons active dry yeast
4 cups all-purpose flour plus more for work surface
1 tablespoon potato flour
For filling
1/2 cup (1 stick) unsalted butter at room temperature
1/2 teaspoon kosher salt
1 garlic clove, minced
1 tablespoon chopped fresh parsley
In a large saucepan over low heat, warm the milk, butter, sugar and salt, stirring until the butter has melted. Allow the mixture to cool to lukewarm. Pour into the bowl of a stand mixer fitted with the dough hook. Add the eggs, yeast and flour. Mix on low for a couple minutes until the dough is shaggy. Increase the speed slightly and knead the dough until smooth and elastic, about 3-4 minutes. Transfer the dough to an oiled bowl, cover and let rise for 1-1/2 to 2 hours until nearly doubled in volume.
While the dough is rising, make the filling in a small bowl by whisking together the butter, salt, garlic and parsley.
On a lightly floured work surface, roll out the dough until it is about 1/4-inch thick. Use a 3-inch round cookie cutter to cut out circles. Reroll the scraps and repeat. Spread the butter filling on one side of the circles and fold in half. Place in a greased 9-inch by 5-inch loaf pan crease side down. Once the pan is full, cover with greased plastic wrap and let it puff up for 1-1/2 hours.
Preheat the oven to 350 degrees F. Bake the bread for 30-40 minutes until golden brown. Let the bread cool for 10 minutes before removing from the pan. Serve warm.
SaveSave