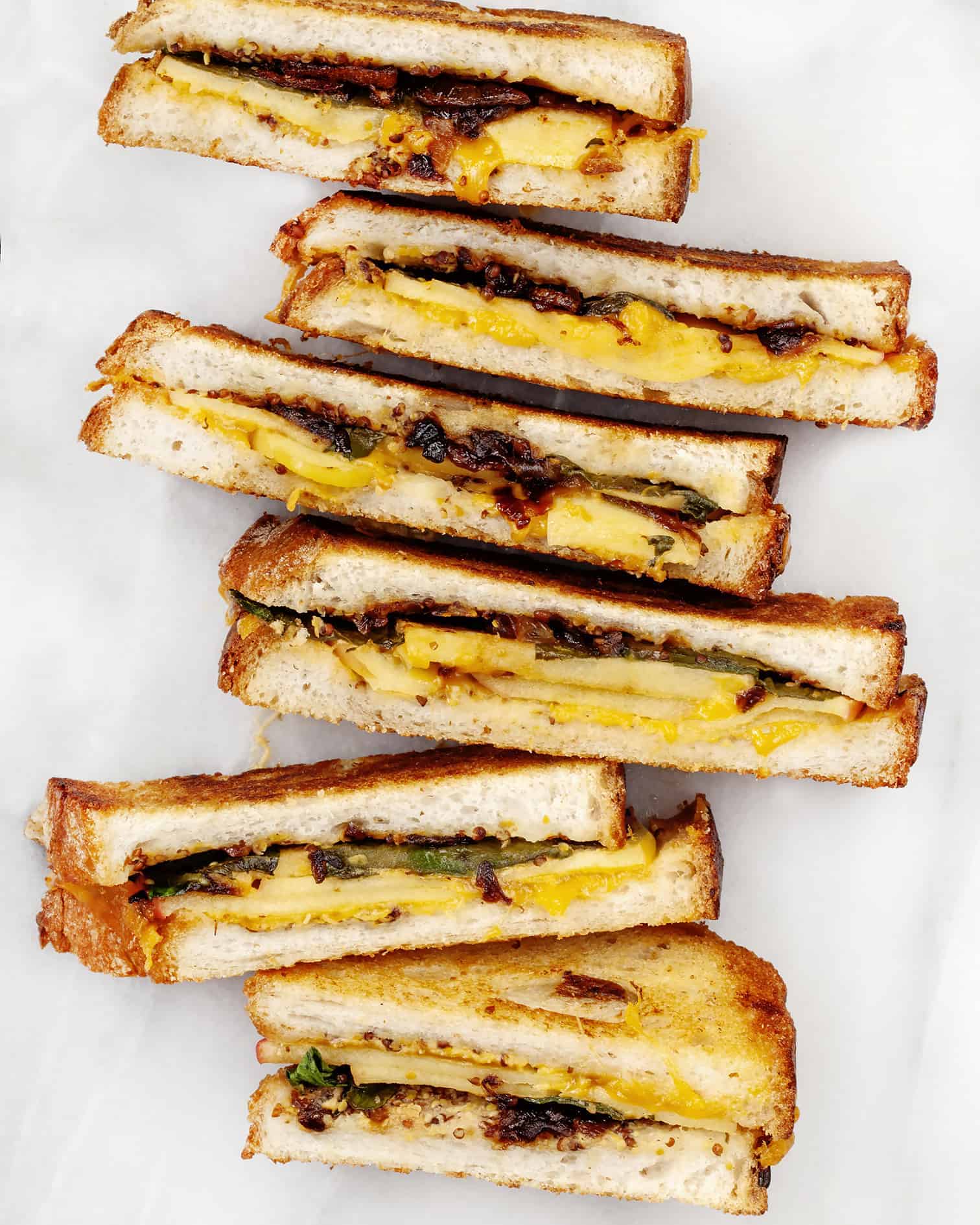 Apples have taken over the farmer's market officially signaling that fall is here to stay. Helpful laminated cards are tucked into each of the apple bins explaining the story of their varieties and recommending how they should be used whether eaten fresh, pureed into applesauce or baked into a pie. Cortland apples are a favorite for their tart crispness and their slow to brown snow white flesh. They add the perfect crunchy juiciness to salads, but sometimes I think they are best eaten whole as a healthy afternoon snack.
Grilled cheese is one of my no-fuss, go-to bites to eat. I decided to elevate the sandwich even further than the usual crusty bread and artisan cheese by making an apple grilled cheese. Part of yesterday's market trip was spent finding the right cheddar for those Cortland apples. I learned that while aged cheddars have a more complex flavor profile, they lack the moisture needed for a good melt. I settled on a young cheddar that gave the sandwiches just the right amount of gooeyness to bring together the apples, shallots and arugula.

Apple Grilled Cheese
Makes 2 sandwiches
1 tablespoon olive oil
4 shallots, peeled, trimmed and sliced
1/4 teaspoon salt
1/4 teaspoon black pepper
4 slices country bread
1 tablespoon whole grain mustard
3/4 – 1 cup young mild cheddar, thinly sliced
1 tart and crisp apple, cored and thinly sliced
1 handful baby arugula or spinach
1-2 tablespoons butter at room temperature
Heat the olive oil in a medium saucepan over medium heat. When the oil is shimmering, add the shallots, salt and pepper and cook stirring occasionally for 12-15 minutes until the shallots have browned and caramelized. (If the shallots are drying out or starting to burn, add a little water and reduce the heat.)
To assemble the sandwiches, spread one side of the bread with whole grain mustard. Arrange the cheddar, apples, arugula and shallots on two of the bread slices and top with the remaining bread. Lightly butter the outside of the sandwiches.
Melt 1 tablespoon butter in a skillet or griddle over low to medium heat and add the sandwiches. Cook until the bread has browned and the cheese has started to melt. Flip continue cooking until the bread is golden brown and the cheese has fully melted. (Cooking low and slow is best–be patient!) Serve immediately.
SaveSave
SHARE THIS